Contopus virens
Status: Common regular spring and fall migrant and breeder east, rare central, rare casual west.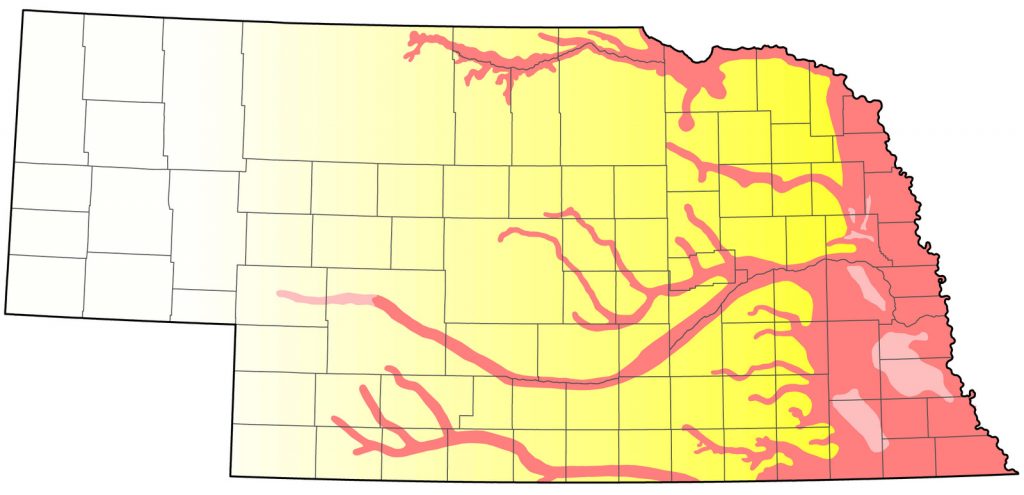 Documentation: Specimen: UNSM ZM10565, 4 Sep 1909 Roca, Lancaster Co.
Taxonomy: No subspecies are recognized (Pyle 1997).
Hybridization between Eastern and Western Wood-Pewees does occur in a narrow contact zone, see the Western x Eastern Wood-Pewee species account.
Spring: May 1, 2, 2 <<<>>> summer
We believe that published Nebraska reports prior to May 1 are likely to be of Eastern Phoebe, an early migrant, or if heard only, various calls of European Starling. The earliest South Dakota records are in the first week of May (Tallman et al 2002), and in Iowa there are only two late Apr records (Kent and Dinsmore 1996). The earliest Kansas specimen is 9 May (Thompson et al 2011).
The only Panhandle report is of one calling and photographed on the White River Trail, Fort Robinson SHP, Dawes Co 27 May 2021 (Mlodinow, eBird.org). Westerly reports are of one seen by several observers at Lake Ogallala, Keith Co 15 May 2004 (Silcock 2004) that had an entirely yellow lower mandible, and singles were there 27 May 2016, 4 Jun 2015, and 5 Jun 2017. One was along the South Platte River in Keith Co 20 May 2016. Sightings of 1-2 birds 22 May-3 Jun in Lincoln Co in the period 2002-2015 accounted for nine reports of 13 in all in that county during those years. One was at NNF Bessey, Thomas Co 31 May 2021. One was in Custer Co 19 May 2009, and one was in Dundy Co 19 May 2019. One at Chadron SP, Dawes 28 May 2020 was recorded (Kent Skaggs, eBird.org).
Presumed migrants have been reported recently westward in the Republican River Valley: 30 May 2012 at two locations near Oxford, Harlan Co and one in Phelps Co 26 May 2016. Reports of presumed migrants in the Medicine Creek drainage, Frontier Co are 27 May 2015, 10 May 2008 and 30 May 2010. One was at Rock Creek SRA, Dundy Co 9 Jun 2020.
High counts: 25 at Fontenelle Forest, Sarpy Co 23 May 2020, 20 there 10 May 2007, 15 at Indian Cave SP, Nemaha and Richardson Cos 28 May 2001, 15 at Fontenelle Forest 7 Jun 2019, 15 at Indian Cave SP 29 May 2020, and 15 at Neale Woods, Douglas Co 3 Jun 2020.
Summer: Eastern Wood-Pewee is most numerous in deciduous forest along the Missouri, Elkhorn, and Platte Rivers, and within the upland oak-hickory region of the extreme southeast. Elsewhere it is found westward along major river valleys, but numbers decline rapidly, with few reports from the west since 2000. During the 20th Century, Eastern Wood-Pewee slowly extended its range to the west, resulting in contact zones with the more-rapidly eastward-expanding Western Wood-Pewee on the Niobrara River in Sheridan Co (Short 1961; Grzybowski 1988), the lower North Platte Valley in Garden, Keith (Brown et al 1996), and Lincoln Cos, and probably in Deuel Co along the South Platte River (Short 1961) although there are no reports from Deuel Co since 2000.
The species occurs west along the Niobrara River Valley to the Valentine, Cherry Co area and nearby Niobrara River tributaries. Nesting was observed in western Keya Paha Co (Mossman and Brogie 1983) and it has nested at Valentine NWR where It is "uncommon" (USFWS Checklist Valentine NWR). Recent summer reports from northeast Cherry Co are of one at HS Ranch, about 13 miles south of Nenzel, 27 Aug 2013, one was reported as "Eastern/Western" near Merriman 19 Aug 2012, and two were at Steer Creek Campground, NNF McKelvie, 14 Jul 2017.
Short (1961) suggested that there may be contact between this species and Western Wood-Pewee in the Niobrara River Valley between Valentine and the Pine Ridge area, although numbers of either wood-pewee species in this area are limited (see Comments).
Rosche (1982) considered Eastern Wood-Pewee a "very rare summer visitor" in the northwest, with dates for singing birds in the period 29 Jun-28 Aug only; most sightings in the northwest are from cottonwood forest at Box Butte Reservoir, Dawes Co. Additional Dawes Co reports, probably also from Box Butte Reservoir, are 7 Jun 1996 (Grzybowski 1996), 29 Jun 1966, and 1 Jul 1968. The only recent Pine Ridge report is of one at Fort Robinson SP, Dawes Co 10 Jun 2010. Additional reports from the Panhandle are 9 Jul 1968 and 14 Jul 1987, both in Scotts Bluff Co (Williams 1987).
Reports from the western Sandhills are few. Fred Zeillemaker (personal communication) netted birds identified as this species near Crescent Lake in Garden Co 1-3 Jun 1980 and 12 Jul-24 Aug 1979, singing birds were there 12-13 Jul 1982 (Williams 1979), and four were present 20 May 2015. There are a few summer reports from the Loup River drainage. In the North Loup River valley, one was at Almeria, Loup Co 1 Jul 2011 and one at the US Highway 183 crossing 14 Jun 2014. In the Middle Loup River valley and its tributary Victoria Creek, two were at NNF Bessey, Thomas Co both on 19 Aug 2014 and 3 Jun 2017, singles were there 26 Jun 2018 and 30 Jun 2019, one was at Milburn 28 Jun 2010, and there were reports from Victoria Springs SRA, Custer Co 3 Jun 2010, 25 Jun 2004, 4 Jul 2011, 10 Jul 2010, and 6 Sep 2005. On the South Loup River tributary Mud Creek, one was near Broken Bow 26 May 2010, and, along the South Loup River itself, reports from Pressey WMA, Custer Co are of two on 19 May 2009, 1-2 on 19-20 May 2012, and two on 7 Aug 2010. There is a report 6 Jun 1989 Custer Co. Bray (1994) listed Eastern Wood-Pewee only as a "rare migrant" at NNF Bessey.
Although in the 1940s Tout (1947) considered Eastern Wood-Pewee "very rare" in Lincoln Co in the Platte River Valley, it now occurs west to the North Platte area, where it has been found in four summers since 2002, and the Lake McConaughy area in Keith Co. Rosche (1994) considered Eastern Wood Pewee a "casual summer visitant" in the Lake McConaughy area, and Brown et al (2012) described it as a "rare summer resident" there, noting that singing males were heard below the Keystone Diversion Dam in 1993, and that a juvenile netted 12 Aug 1993 "might have been from a nest in the area". Rosche (1994) found a singing bird 16 Jul 1987 within 220 yards of a Western Wood-Pewee pair carrying food, and one "sang repeatedly" from cottonwood forest in Eagle Canyon, Lake McConaughy 4 Jun 1992 (Grzybowski 1992, Morris 1992, Rosche 1994). Since 2000, there have been only eight reports from the Lake Ogallala area, all probably of migrants (see Spring, Fall), although one on 18 Jun 2017 may have been a potential breeder.
Short (1961) noted Eastern Wood-Pewee breeding along the South Platte River to the Colorado border, where it was thought to make contact with Western Wood-Pewee. There are six recent occurrences along the South Platte River within 40 miles of Nebraska in the period 24 May-18 Aug, all but one since 2012, and including 1-2 at Tamarack Ranch State Wildlife Area, Logan Co 3 Jun-6 Aug 2016 (eBird.org, accessed October 2017).
It has been stated that this species breeds west in the Republican River Valley to Dundy Co (Johnsgard 1979, 1980), although there are only a few breeding season reports west of Harlan Co, where it was found at Hunter's Cove, Harlan County Reservoir, 3-4 Jun and 11 Sep 2005, at two locations 17 and 19 Jun 2014, and at Methodist Cove, Harlan County Reservoir, where three were singing 11 Jun 2015. In recent years, breeding season reports further west have increased; singles were near Oxford, Harlan Co 24 Jun 2008 and at two locations there 11 Jul 2014, and singles were in Red Willow Co prior to 2000 and 23 Jul 2010. In addition, there are several reports in the Medicine Creek drainage; this stream drains into the Republican River in extreme northwest Furnas Co. These reports extend northward into southeast Lincoln Co, where singles were found 14 Jun 2011 and 2 Aug 2011; in the lower drainage there are reports in Frontier Co, including Medicine Creek Reservoir, 10 Jun 2009, 19 Jun 1991, 23 Jun and 21 Jul 2011, and 10 Aug 2013. A few May and Aug reports in these areas may be of potential breeding birds; these dates are cited in Spring and Fall. There are two recent reports in the Republican River-Arikaree drainage in extreme northwest Kansas in Sep 2013 and Sep 2015 (Bill Kaempfer post to NEBIRDS 14 Jun 2016); it breeds west to Jewell Co in Kansas (Thompson et al 2011, Busby and Zimmerman 2001), with an isolated confirmed breeding record as far west as Seward Co (Busby and Zimmerman 2001).
Breeding Phenology:
Nest-building: 15 Jun
Incubation: 18 Jun
Eggs: 6 Jun- 4 Jul (Mollhoff 2022)
Fledglings: 28 Jun- 13 Sep
Fall: summer <<<>>> Oct 4, 5, 6
Later dates are 11 Oct 2011 Dixon Co, 12 Oct 2011 Douglas Co, 14 Oct 1986 Pierce Co, 17 Oct 1964 Gage Co, and 19 Oct 2009 photo Sarpy Co.
Departure is generally complete by late Sep. The latest Kansas specimen date is 23 Sep (Thompson and Ely 1992).
Only casual in the Panhandle, it may be more numerous than currently thought; identification in fall is difficult. A juvenile was captured and photographed at Oliver Reservoir, Kimball Co 31 Aug 2000; appearance (lower mandible was entirely yellow, it had a light breast-band with no vest effect) and measurements indicated this species (Dinsmore 2000, Jorgensen 2002). Singles were at Lake Ogallala 2 Sep 2006 and 20 Aug 2017.
Recent reports in the Republican River drainage are 10 Aug 2014 Furnas Co, 21 Aug 2011 near Oxford, Harlan Co, and 27 Aug 2011 Curtis, Frontier Co.
High counts: 25 at Fontenelle Forest 6 Sep 2007, 25 at Ponca SP, Dixon Co 2 Sep 2018, and 23 at Fontenelle Forest 13 Aug 2018.
Comments: Determination of the range limits of this species and Western Wood-Pewee is difficult because of the problems of identification of the two species away from their regular breeding grounds. They are very similar in appearance, even sometimes considered conspecific (Mayr and Short 1970), and may hybridize, although probably only to a limited extent (see the Western x Eastern Wood-Pewee species account). Plumage characteristics are at best suggestive, and vocalizations may be misleading, although generally species-specific if carefully heard (Rising and Schueler 1980). Short (1961) studied the wood-pewees in Nebraska, and noted that while songs usually identify these species, "occasional songs of Western Wood-Pewee are virtually indistinguishable from Eastern Wood-Pewee singing abbreviated [rather than full] songs." Songs with the pattern of Eastern Wood-Pewee but tonal quality of Western Wood-Pewee were heard in eastern Cherry Co 21 May 1989 (Grzybowski 1989, Ducey 1989), and singing birds of both species were found "side-by-side" in Sheridan Co in 1988 (Grzybowski 1988). Both species were found breeding at Smith Lake WMA, Sheridan Co, in the period 1989-2008, although Eastern Wood-Pewee was considered "rare" (Steven Jones, pers. comm.). Rosche (1994) found a singing bird 16 Jul 1987 within 200 m (220 yards) of a Western Wood-Pewee pair carrying food at the west end of Lake McConaughy.
Thompson et al (2011) cited information regarding eight pewee specimens collected in southwestern Kansas 7 Jun-6 Aug; they were identified as one Eastern Wood-Pewee, five Western Wood-Pewees, and two intermediate but somewhat closer by coloration to Western Wood-Pewee.
The identification problem may not have been important earlier in the 20th century, as Swenk and Dawson (1921) indicated that Western Wood-Pewee occurred only west of the 100th meridian and its range and that of Eastern Wood-Pewee "do not anywhere meet."
Images
Abbreviations
NNF: Nebraska National Forest
NWR: National Wildlife Refuge
SP: State Park
SRA: State Recreation Area
UNSM: University of Nebraska State Museum
USFWS: United States Fish and Wildlife Service
WMA: Wildlife Management Area (State)
Literature Cited
Bray, T.E. 1994. Habitat utilization by birds in a man-made forest in the Nebraska Sandhills. Master's thesis. University of Nebraska-Omaha, Omaha, Nebraska, USA.
Brown, C.R., M.B. Brown, P.A. Johnsgard, J. Kren, and W.C. Scharf. 1996. Birds of the Cedar Point Biological Station area, Keith and Garden Counties, Nebraska: Seasonal occurrence and breeding data. Transactions of the Nebraska Academy of Sciences 23: 91-108.
Brown, M.B., S.J. Dinsmore, and C.R. Brown. 2012. Birds of Southwestern Nebraska. Conservation and Survey Division, Institute of Agriculture and Natural Resources, University of Nebraska—Lincoln, Lincoln, Nebraska, USA.
Busby, W.H., and J.L. Zimmerman. 2001. Kansas Breeding Bird Atlas. University Press of Kansas, Lawrence, Kansas, USA.
Dinsmore, S.J. 2000. Mist netting at Oliver State Recreation Area. NBR 68: 177-179.
Ducey, J.E. 1989. Birds of the Niobrara River valley, Nebraska. Transactions of the Nebraska Academy of Sciences 27: 37-60.
Grzybowski, J.A. 1988. Southern Great Plains Region. American Birds 42: 1308-1310.
Grzybowski, J.A. 1989. Southern Great Plains Region. American Birds 43: 499-501.
Grzybowski, J.A. 1992. Southern Great Plains Region. American Birds 46: 1151-1152.
Grzybowski, J.A. 1996. Southern Great Plains Region. Field Notes 50: 965-968.
Johnsgard, P.A. 1979. Birds of the Great Plains: breeding species and their distribution. University of Nebraska Press, Lincoln, Nebraska, USA.
Johnsgard, P. A. 1980. A preliminary list of the birds of Nebraska and adjacent Great Plains states. Published by the author, University of Nebraska, Lincoln, USA.
Jorgensen, J.G. 2002. 2002 (sic; =2000). (12th) Report of the NOU Records Committee. NBR 70: 84-90.
Kent, T.H., and J.J. Dinsmore. 1996. Birds in Iowa. Publshed by the authors, Iowa City and Ames, Iowa, USA.
Mayr, E., and L.L. Short. 1970. Species taxa of North American birds, a contribution to avian systematics. Publications of the Nuttall Ornithological Club, No. 9. Nuttall Ornithological Club, Cambridge, Massachussetts, USA.
Mollhoff, W.J. 2022. Nest records of Nebraska birds. Nebraska Ornithologists' Union Occasional Paper Number 9.
Morris, R. 1992. Spring 1992 Occurrence Report. NBR 60: 79-149.
Mossman, M.J., and M.A. Brogie. 1983. Breeding status of selected bird species on the Niobrara Valley Preserve, Nebraska. NBR 51: 52-62.
Pyle, P. 1997. Identification Guide to North American Birds. Part I, Columbidae to Ploceidae. Slate Creek Press, Bolinas, California, USA.
Rising, J.D., and F.W. Schueler. 1980. Identification and status of wood-pewees (Contopus) from the Great Plains: what are sibling species? Condor 82: 301-308.
Rosche, R.C. 1982. Birds of northwestern Nebraska and southwestern South Dakota, an annotated checklist. Cottonwood Press, Crawford, Nebraska, USA.
Rosche, R.C. 1994. Birds of the Lake McConaughy area and the North Platte River valley, Nebraska. Published by the author, Chadron, Nebraska, USA.
Short, L.L., Jr. 1961. Notes on bird distribution in the central Plains. NBR 29: 2-22.
Silcock, W.R. 2004. Spring Field Report, March-May 2004. NBR 72: 38-58.
Swenk, M.H., and R.W. Dawson. 1921. Notes on the distribution and migration of Nebraska birds I. Tyrant Flycatchers (Tyrannidae). Wilson Bulletin 33: 132-141.
Tallman, D.A., Swanson, D.L., and J.S. Palmer. 2002. Birds of South Dakota. Midstates/Quality Quick Print, Aberdeen, South Dakota, USA.
Thompson, M.C., and C.A. Ely. 1989. Birds in Kansas. Vol. 1. University of Kansas Museum Natural History Publications Educational Series No. 11, Lawrence, Kansas, USA.
Thompson, M.C., C.A. Ely, B. Gress, C. Otte, S.T. Patti, D. Seibel, and E.A. Young. 2011. Birds of Kansas. University Press of Kansas, Lawrence, Kansas, USA.
Tout, W. 1947. Lincoln County birds. North Platte, NE: Tout.
Williams, F. 1979. Southern Great Plains Region. American Birds 33: 876-877.
Williams, F. 1987. Southern Great Plains Region. American Birds 41: 1455-1458.
Recommended Citation
Silcock, W.R., and J.G. Jorgensen. 2022. Eastern Wood-Pewee (Contopus virens). In Birds of Nebraska — Online. www.BirdsofNebraska.org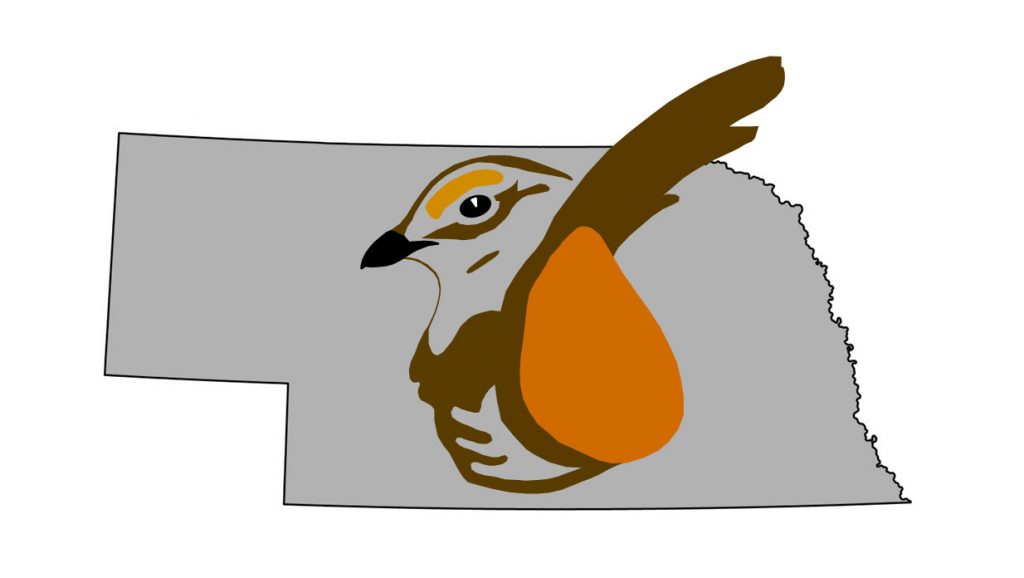 Birds of Nebraska – Online
Updated 21 Aug 2022