Sturnus vulgaris vulgaris
Status: Common regular resident statewide except uncommon northwest. Common breeder (non-resident) statewide. Abundant regular spring and fall migrant statewide. Common regular winter visitor south and east, uncommon north and west.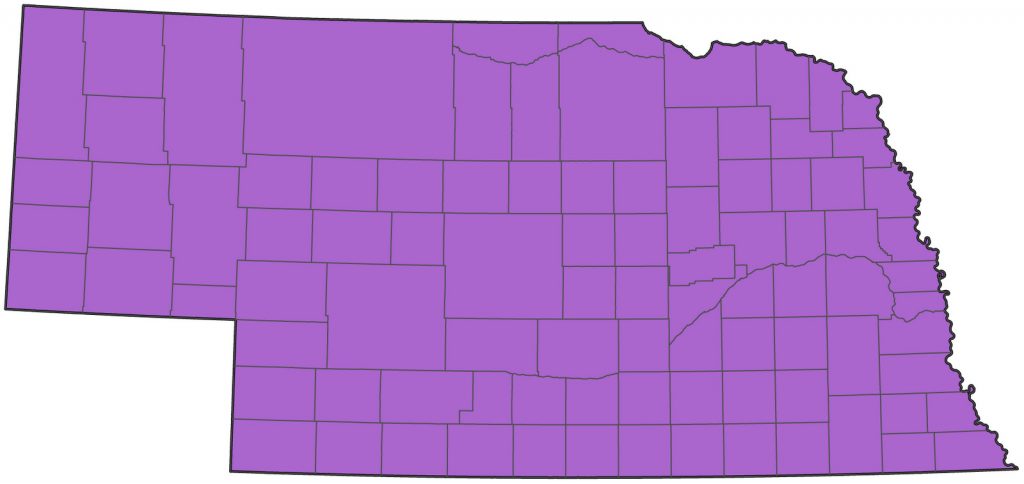 Documentation: UNSM ZM6755, 7 Jun 1932 Saline Co.
Taxonomy: There are 12-13 subspecies recognized, all but one in Eurasia (Pyle 1997). The only subspecies in the New World is the introduced vulgaris, which is found over most of Eurasia (Gill and Donsker 2017).
Resident: Cabe (2020) stated that "Starlings vary regionally and individually in their migration patterns", and that "breeders south of 40 degrees [latitude] rarely migrate". The southern border of Nebraska follows the 40th latitude. Banding data indicate that birds banded in Nebraska tend to be resident. Of 30 records of birds banded in Nebraska at all times of the year, all but six were recovered up to eight years later at the same place they were banded although at various times of the year. One banded 6 Oct 1982 in Lancaster Co was recovered at the same place 2 Mar 1990. On the other hand, however, in its native Europe this species migrates northeast in spring and southwest in fall, a pattern which has carried over to the central United States (Kessel 1953). Despite a likely strong resident component, Nebraska banding data support a migratory component of the summer population. Recoveries of birds banded in Nebraska were in Iowa, Minnesota, Kansas, Oklahoma, and Nevada, while recoveries in Nebraska were of birds banded in North Dakota, South Dakota, Minnesota, Kansas, Colorado, and Utah. Plotting these states on a map shows a northeast-southwest pattern of movement. The Nevada record was of a bird banded in Nebraska 20 Jan 1983 and recovered in Nevada 3 Dec 1990.
Spring: In the north and west, where wintering birds are scarce, arrival dates are concentrated in the period mid-Apr to early May, somewhat later than in southeast Nebraska. High Counts (below) suggest that there is a major passage in the southeast in early to mid-Mar, with flocks of adults into mid-Apr.
High counts: 3000 in Dawson Co 31 Mar 2019, 3000 at Marsh Wren Community Wetlands, Lancaster Co 21 Apr 2021, "thousands" in Omaha, Douglas Co 20 Mar 2013, 2000 in Hall Co 19 Apr 2018, 2000 at Willow Island, Dawson Co 21 Apr 2021, and 2000 at Rowe Sanctuary, Buffalo Co 8 Mar 2022.
Summer:  It has long been assumed that all North American birds descend from a single successful introduction of 80–100 birds released in 1890 and 1891 in Central Park, New York City by a Shakespeare aficionado named Eugene Schieffelin (Cabe 2020). However, research by Fugate and Miller (2021) revealed wild starlings reported at several locations prior to the New York release, including Cincinnati, Ohio in 1872, Massachusetts in 1876, and New Jersey in 1884. Fugate and Miller (2021) also state genetic studies have not supported the idea of a single source for all North American starlings.
Starlings were first reported in Nebraska in 1930, when they were found nesting in Lancaster Co (Swenk 1933). The earliest specimen is 7 Jun 1932 Saline Co (UNSM ZM6755), described on its label as the "1st state record of an adult." Starlings were not recorded in northwest Nebraska until 1942 (Rosche 1982).
BBS data (Sauer et al 2017) and Breeding Bird Atlas data (Mollhoff 2106) indicate that this species is evenly distributed across Nebraska in summer, perhaps with slightly lower numbers in the Sandhills. Mapping on eBird shows a strong bias in distribution towards towns and cities, major roadways, and populated river valleys; this pattern is especially striking in Jun-Jul along and westward near the Platte and North and South Platte River Valleys but is also obvious along the Elkhorn and Republican River Valleys.
In North America, starlings generally nest as isolated pairs, but when nest sites are scarce, may nest colonially (Busby and Zimmerman 2001). A Nebraska example was six pairs building nests in a single cottonwood near Mitchell, Scotts Bluff Co 8 Apr 2001.
Breeding phenology:
Nest-building: 10 Mar- 7 Jun (Mollhoff 2022)
Eggs: 26 Apr-14 Jun (Mollhoff 2022)
Nestlings: 26 Apr-28 Jun (Mollhoff 2022)
Fledglings: 14 May- 4 Jul
Fall: Flocks of juveniles appear in Jun; a flock of 75 was seen near Winnetoon, Knox Co 7 Jun 2003, 250 were at Wood Duck WMA, Stanton Co 11 Jun 2020, and a surprisingly large flock of 1100 was at Harvard WPA, Clay Co 17 Jun 2021.
Winter recoveries of birds banded in summer north of the recovery site all show that fall migration was undertaken prior to Dec or Jan and may be underway by mid-Oct; groups of 8-35 birds were flying over Forest Lawn Cemetery, Omaha, 13 Oct 2002.
Largest flocks are present in Dec; the largest CBC total was 250,444 at North Platte, Lincoln Co 15 Dec 2012, and 101,384 were at Lincoln, Lancaster Co in 1975-76. A large flock of 100,000 was at Clear Creek WMA, Keith Co 14 Dec 1993. These large, early winter concentrations probably are composed of migrants, as such large flocks are rarely seen in midwinter.
Winter: Winter distribution resembles that in summer, but for different reasons. While summer distribution depends on availability of nest sites, winter distribution is limited by availability of food and shelter. This is best provided around human habitation, especially farm and livestock-related facilities such as feedlots and sale barns, but also towns and cities. As noted above (see Summer), a striking pattern of distribution along major river valleys is discernible in Jan, especially westward.
Good mid-winter (Jan-Feb) counts are 4000 at the Gavin's Point Dam area, Knox Co 26 Jan 2019, 3000 near Minatare, Scotts Bluff Co 20 Jan 2022, and 3000 near Cozad, Dawson Co 26 Jan 2022.
Images
Abbreviations
CBC: Christmas Bird Count
UNSM: University of Nebraska State Museum
WMA: Wildlife Management Area (State)
Literature Cited
Busby, W.H., and J.L. Zimmerman. 2001. Kansas Breeding Bird Atlas. University Press of Kansas, Lawrence, Kansas, USA.
Cabe, P.R. 2020. European Starling (Sturnus vulgaris), version 1.0. In Birds of the World (S. M. Billerman, Editor). Cornell Lab of Ornithology, Ithaca, NY, USA. https://doi.org/10.2173/bow.eursta.01.
Fugate, L., and J.M. Miller. 2021. Shakespeare's Starlings: Literary History and the Fictions of Invasiveness. Environmental Humanities 13: 301–322. https://doi.org/10.1215/22011919-9320167.
Gill, F., and D. Donsker (Eds). 2017. IOC World Bird List (v 7.3), accessed 30 January 2018.
Kessel, B. 1953. Distribution and migration of the European Starling in North America. Condor 55: 49-67.
Mollhoff, W.J. 2022. Nest records of Nebraska birds. Nebraska Ornithologists' Union Occasional Paper Number 9.
Pyle, P. 1997. Identification Guide to North American Birds. Part I, Columbidae to Ploceidae. Slate Creek Press, Bolinas, California, USA.
Rosche, R.C. 1982. Birds of northwestern Nebraska and southwestern South Dakota, an annotated checklist. Cottonwood Press, Crawford, Nebraska, USA.
Sauer, J.R., D.K. Niven, J.E. Hines, D.J. Ziolkowski, Jr, K.L. Pardieck, J.E. Fallon, and W.A. Link. 2017. The North American Breeding Bird Survey, Results and Analysis 1966 – 2015 (Nebraska). Version 2.07. USGS Patuxent Wildlife Research Center, Laurel, Maryland, USA.
Swenk, M.H. 1933. A second record of the European Starling in Nebraska. NBR 1: 15.
Recommended Citation
Silcock, W.R., and J.G. Jorgensen. 2022. European Starling (Sturnus vulgaris). In Birds of Nebraska — Online. www.BirdsofNebraska.org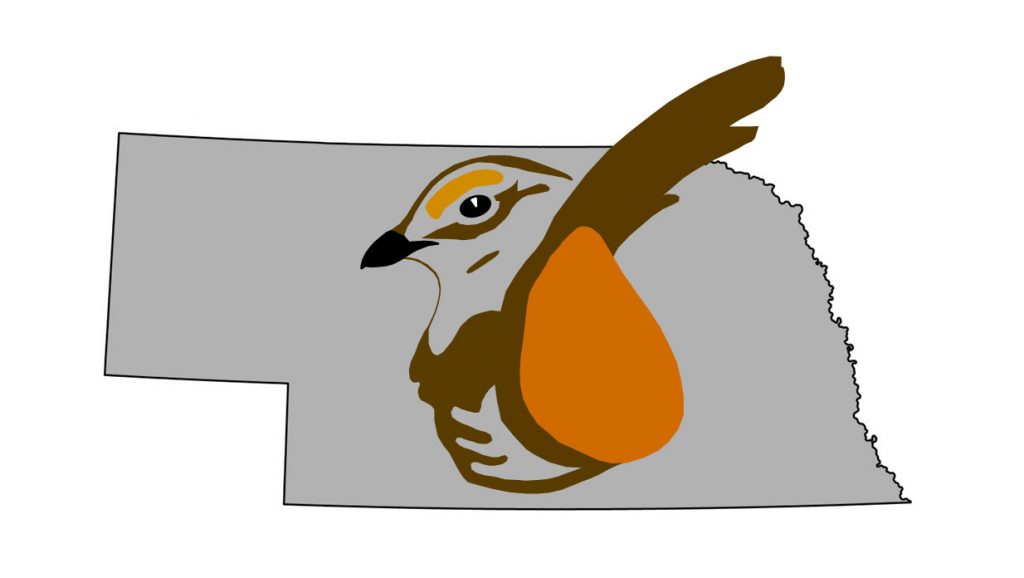 Birds of Nebraska – Online
Updated 11 Jul 2022