Coccothraustes verspertinus vespertinus, C. v. brooksi
Status: Rare casual summer visitor northwest. Rare casual winter visitor statewide.
Documentation: Specimen: brooksi, UNSM ZM7114, 29 Oct 1900 Long Pine, Brown Co. Photograph: vespertinus, Sarpy Co 19 Nov 1983 (see below).
Taxonomy: Three subspecies are recognized (Pyle 1997): brooksi, breeding from British Columbia to northern California and New Mexico and wintering to southern California and southwest Texas, montanus, resident in southeast Arizona, and verspertinus, breeding from Alberta to New Brunswick and Massachusetts and wintering from Texas to South Carolina.
Two subspecies have been reported in Nebraska (Rapp et al 1958). Rosche (1982) banded Evening Grosbeaks in Crawford and two recoveries confirm that brooksi occurs there. One banded 3 Apr 1974 was recovered 21 Jul 1974 in northwest Montana, and another, banded 5 Mar 1980, was recovered twice in the Rapid City, South Dakota, area; first on 24 Apr 1983 and second on 5 Jun 1986. It is likely that most Evening Grosbeaks in at least western Nebraska are brooksi. The Rocky Mountain subspecies brooksi is a "rare summer resident" in the Black Hills of South Dakota and is uncommon in winter there (Tallman et al 2002). The widespread eastern and central North American breeder and winterer vespertinus may occur in Nebraska, especially in the north and east, although there are few recent eastern reports of Evening Grosbeak. Subspecies vespertinus has, however, occurred in eastern Wyoming (Faulkner 2010). There is a banding recovery in Lancaster Co 18 Apr 1986 of a bird banded in New York 16 Mar 1979.
Vocalizations show distinct geographic differences, with five call types recognizable (Sewall et al 2004, Gillihan and Byers 2020), each of the five with a defined breeding range (Haiman 2011). The five call types were described in detail by Young (2018). In general, montane western birds have high, clear, untrilled flight calls compared with northern/eastern populations in which the call is more ringing or trilled (Sibley 2000, Gillihan and Byers 2020).
There is a single Nebraska report assigned to song type: five Type 1 birds were recorded at Wilson Park, Chadron, Dawes Co 22 May 2020 (eBird.org). Type 1 calls are characteristic of Washington, Oregon, Idaho, Montana, Wyoming, and the northernmost portion of California. Type 4 may occur in Nebraska; it is restricted to the southern Rockies, including Colorado (Gillihan and Byers 2020).
Changes since 2000: Modeling by Bonter and Harvey (2008) using data from Project FeederWatch showed the regular winter range to include most of the Nebraska panhandle as recently as 1989-1994, but this was reduced to the northwest panhandle by 1995-2000, and by 2001-2006 the regular winter range did not include any areas of Nebraska. The nearest portions of the winter range included areas of central Wyoming and Colorado. Nebraska reports have declined in recent years and as a result, the NOURC changed Evening Grosbeak's status in 2006 from regular to casual i.e. less than annual in occurrence (Brogie 2006).
Winter: Sep 12, 13, 13 <<<>>> May 24, 26, 29 (west, central); Oct 25, 28, 28 <<<>>> Apr 28, May 2, 3 (east)
Evening Grosbeak has been of regular occurrence only in the Panhandle. Elsewhere in the state occurrence is irregular and increasingly infrequent, especially in eastern Nebraska, where, despite the large number of observers, since 1982 the species has been seen less often than elsewhere in the state. Numbers have declined sharply over much of their range in recent decades (Bonter and Harvey 2008). BBS trend analysis shows annual survey-wide declines of -6.36 (95 C.I.; -18.59, -4.72) 1966-2013 (Sauer et al 2017). Regional trends are different than average continental changes, as is the case in Wyoming where BBS trend analysis shows an annual decline of -14.56 (95% C.I.; -29.78, 2.78) 1966-2013 (Sauer et al 2017). BBS trend analysis for Colorado suggest populations are relatively stable in that state, but CBAP (2016) showed a -29% change in the number of BBA blocks the species was reported between the first (1987-1995) and second (2007-2012) Colorado BBA projects. Consequences of the decline include a contraction of the species' winter range and reduced flock sizes where it does still occur regularly (Bonter and Harvey 2008).
CBC data illustrate the erratic nature of occurrence in Nebraska in the late Dec period. There have been three peaks of occurrence on CBCs: 1963-1964 with 101 birds counted, 1977-1978 with 178, and 1996-1997 with 148. Since 1996-1997, through 2016-2017, this species was not been reported on a Nebraska CBC until 21 Dec 2019 when two were on the Crawford CBC.
Since the 1990s, there have been multiple reports only in spring 2010 (see Spring, above) winter 2012-2013, and winter 2019-2020. Interestingly, of the six reports during winter 2012-2013, four reports in mid-Oct and early Nov were in the west and the other two in the extreme east, suggesting different provenances. The western reports were of two in a yard near Mitchell, Scotts Bluff Co 17 Oct, one in a Lincoln Co yard 19 Oct, 4-5 at Wildcat Hills NC 26 Oct, and a male in an Ogallala, Keith Co yard 1 Nov (Brogie 2013), and in the east a single female at a Blair feeder 22 Jan-11 May and one identified by its call at Forest Lawn Cemetery, Omaha 24 Feb. In 2019-2020 two were at Wildcat Hills NC, Scotts Bluff Co 12 Nov (Brogie 2020), two were at Ponderosa WMA, Dawes Co 21 Dec (not accepted by NOURC, Brogie 2020) and four at Wildcat Hills Nature Center 22 Dec. In 2020-2021, not unexpected were two at Wildcat Hills NC, Scotts Bluff Co 26 Oct and singles in Sowbelly Canyon 6 Dec and 6 Jan, but almost unprecedented away from the Pine Ridge was the appearance of perhaps the same male at feeders about 10 miles apart in Otoe Co in 2021, both photographed. One was near Avoca, Otoe Co 3 Jun and the other at Unadilla, Otoe Co 6 Jul (fide JGJ).
Additional isolated reports since the 1990s were of one in Scottsbluff, Scotts Bluff Co 4 Dec 2004, a single male photographed at Hay Springs, Sheridan Co 1 Jan 2018 (Brogie 2019), a male and female at a North Platte, Lincoln Co feeder 7 Mar 2014 the female last seen 10 Mar, and one at NNF Bessey, Thomas Co 11 Apr 2011.
In the western half of the state, individuals can appear as early as Aug; there are earlier reports away from the Pine Ridge 14 Jul 2006 Wildcat Hills, Scotts Bluff Co, 6 Aug 2020 near Long Pine, Rock Co, 19 Aug 1978 Lancaster Co (Williams 1979), 24 Aug 1982 Lincoln Co, 27 Aug 2017 Wildcat Hills NC, Scotts Bluff Co, and 3-5 Sep 1965 Douglas Co. Early records cited above are 12 Sep 1975 Adams Co, 13 Sep 1986 Lincoln Co, and 13 Sep 2017 at Wildcat Hills NC, Scotts Bluff Co (Brogie 2018).
In the east, where the species is only casual in occurrence, arrival is about a month later than in the west and central, with early dates in late Oct. This may be due to differences in timing of movements of eastern and western subspecies.
In the east, spring departure is about a month earlier than elsewhere, possibly because of differing subspecies (see above), although there are later dates 8 May 1999 Fort Niobrara NWR, Cherry Co, 9 May 1951 Adams Co, 5 Feb-11 May 2013 female Blair, Washington Co (Brogie 2014), 14 May 1962 Hamilton Co, 18 May 1967 Adams Co, 20 May 1986 Douglas Co (Williams 1986), and about 12 on 6 Jun 1965 Thomas Co (Roger Sharpe, personal communication).
A rather amazing showing involving several flocks delighted NOU members in Dawes and Sheridan Cos 14-16 May 2010, apparently the first record for the species since the early 1990s; two of a flock of 28 were photographed there 15 May (Brogie 2011).
Breeding has not been proven in Nebraska; see Summer.
High counts: 30 in Washington Co 29 Nov 1985 (AB 40: 137) and 20 in Sowbelly Canyon, Sioux Co 28 Nov 1998.
Summer: Breeding occurs rarely in the northern Black Hills of South Dakota (Tallman et al 2002), and there is some evidence breeding may have once occurred on the Pine Ridge, especially in Dawes Co. Rosche (1982) cited a statement without details by Blinco (1946) that nesting had occurred at Chadron, Dawes Co, and in the period 1976-1994 there were several summer occurrences suggestive of breeding. Rosche (1982) described a family group which attended his Crawford, Dawes Co feeders 4 Aug-early Oct 1976; the young were capable of flight, and so may not have fledged in Nebraska. There is a report 22 Aug 1986 Dawes Co, and a pair with young appeared at the Rosche feeder in 1989 (Grzybowski 1989). At least one bird summered in Dawes Co in 1990, but no young were seen (Grzybowski 1990). However, a juvenile appeared at the Rosche feeder 13 Jul 1991, stated to be "only the 2nd confirmed nesting for this area in recent years" (Grzybowski 1991), up to three were there during Jun and Jul 1993 (Grzybowski 1993), and a female was there 28 Jul 1994 (Silcock 1994). The species was listed as a "permanent resident" in Dawes Co in 1993 (Cortelyou 1993). None of these reports of young birds 1976-1994, however, involved juveniles incapable of active flight.
There is a report 13 Sep 1963 Dawes Co, possibly an early migrant. No Evening Grosbeaks were reported during either the first (1984-1989) or second (2006-2011) BBA (Mollhoff 2001, 2016).
Images
Abbreviations
BBA: Breeding Bird Atlas
BBS: Breeding Bird Survey
CBAP: Colorado Bird Atlas Project
CBC: Christmas Bird Count
NC: Nature Center
NNF: Nebraska National Forest
NOU: Nebraska Ornithologists' Union
NOURC: Nebraska Ornithologists' Union Records Committee
NWR: National Wildlife Refuge
UNSM: University of Nebraska State Museum
Acknowledgement
Photograph (top) of an Evening Grosbeak at Papillion, Sarpy Co 1 Feb 1986 by Phil Swanson.
Literature Cited
Blinco, G. 1946. Notes on Grosbeaks and Bohemian Waxwings at Chadron, Dawes County. NBR 14: 45.
Bonter, D.N., and M.G. Harvey. 2008. Winter Survey Data Reveal Rangewide Decline in Evening Grosbeak Populations. Condor 110: 376-381.
Brogie, M.A. 2006. 2005 (17th) Report of the NOU Records Committee. NBR 74: 69-74.
Brogie, M.A. 2011. 2010 (22nd) Report of the NOU Records Committee. NBR 79: 99-111.
Brogie, M.A. 2013. 2012 (24th) Report of the NOU Records Committee. NBR: 81: 120-130.
Brogie, M.A. 2014. 2013 (25th) Report of the NOU Records Committee. NBR 82: 131-146.
Brogie, M.A. 2018. 2017 (29th) Report of the NOU Records Committee. NBR 86: 131-142.
Brogie, M.A. 2020. 2019 (31st) Report of the NOU Records Committee. NBR 88: 124-134.
Colorado Bird Atlas Partnership [CBAP]. 2016. The Second Colorado Breeding Bird Atlas online database. Colorado Bird Atlas Partnership, Denver, Colorado, USA.
Cortelyou, R.G. 1993. The Spring 1993 Occurrence Report. NBR 61: 94-136.
Faulkner, D.W. 2010. Birds of Wyoming. Roberts and Company, Greenwood Village, Colorado, USA.
Gillihan, S.W. and B.E. Byers. 2020. Evening Grosbeak (Coccothraustes vespertinus), version 1.0. In Birds of the World (A. F. Poole and F. B. Gill, Editors). Cornell Lab of Ornithology, Ithaca, NY, USA. https://doi.org/10.2173/bow.evegro.01.
Grzybowski, J.A. 1989. Southern Great Plains Region. American Birds 43: 1334-1336.
Grzybowski, J.A. 1990. Southern Great Plains Region. American Birds 44: 1152-1154.
Grzybowski, J.A. 1991. Southern Great Plains Region. American Birds 45: 1132-1134.
Grzybowski, J.A. 1993. Southern Great Plains Region. American Birds 47: 1122-1124.
Haiman, A.N.K. 2011. Levels of variation in evening grosbeak (Coccothraustes vespertinus) calls and morphology (Order No. 1502353). Available from ProQuest Dissertations & Theses Global. (909054837). Retrieved from https://search.proquest.com/docview/909054837?accountid=10267.
Mollhoff, W.J. 2001. The Nebraska Breeding Bird Atlas 1984-1989. Nebraska Ornithologists' Union Occasional Papers No. 7. Nebraska Game and Parks Commission, Lincoln, Nebraska, USA.
Mollhoff, W.J. 2016. The Second Nebraska Breeding Bird Atlas. Bull. Univ. Nebraska State Museum Vol 29. University of Nebraska State Museum, Lincoln, Nebraska, USA.
Pyle, P. 1997. Identification Guide to North American Birds. Part I, Columbidae to Ploceidae. Slate Creek Press, Bolinas, California, USA.
Rapp, W.F. Jr., J.L.C. Rapp, H.E. Baumgarten, and R.A. Moser. 1958. Revised checklist of Nebraska birds. Occasional Papers 5, Nebraska Ornithologists' Union, Crete, Nebraska, USA.
Rosche, R.C. 1982. Birds of northwestern Nebraska and southwestern South Dakota, an annotated checklist. Cottonwood Press, Crawford, Nebraska, USA.
Sauer, J.R., D.K. Niven, J.E. Hines, D.J. Ziolkowski, Jr, K.L. Pardieck, J.E. Fallon, and W.A. Link. 2017. The North American Breeding Bird Survey, Results and Analysis 1966 – 2015 (Nebraska). Version 2.07. USGS Patuxent Wildlife Research Center, Laurel, Maryland, USA.
Sewall, K., R. Kelsey, and T.P. Hahn. 2004. Discrete Variants of Evening Grosbeak Flight Calls. Condor 106: 161-165. http://www.jstor.org/stable/1370527.
Sibley, D. A. 2000. The Sibley Guide to Birds. Alfred A. Knopf, New York, New York, USA.
Silcock, W.R. 1994. Summer Field report, June-July 1994. NBR 62: 102-116.
Tallman, D.A., Swanson, D.L., and J.S. Palmer. 2002. Birds of South Dakota. Midstates/Quality Quick Print, Aberdeen, South Dakota, USA.
Williams, F. 1979. Southern Great Plains Region. American Birds 33: 191-193.
Williams, F. 1986. Southern Great Plains Region. American Birds 40: 491-494.
Young, M., T. Spahr, and A. Spencer. 2018. Evening Grosbeak Call Types of North America. Team eBird News, Cornell Lab of Ornithology.
Recommended Citation
Silcock, W.R., and J.G. Jorgensen. 2021. Evening Grosbeak (Coccothraustes verspertinus). In Birds of Nebraska — Online. www.BirdsofNebraska.org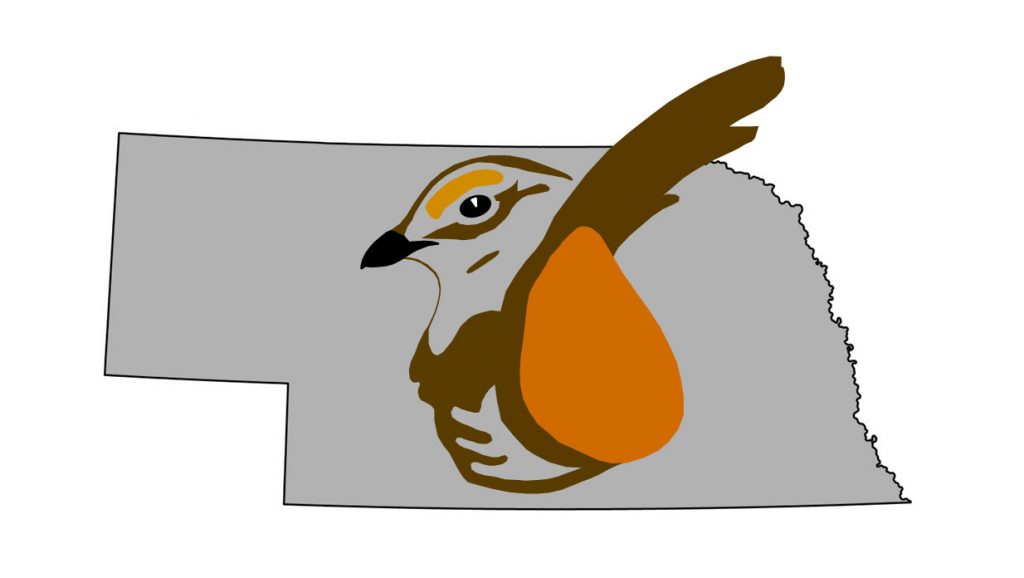 Birds of Nebraska – Online
Updated 4 Oct 2021