Spizella pusilla
Status: Common regular spring and fall migrant east and central, uncommon west. Common regular breeder east and east-central, uncommon west-central, rare casual west. Rare casual winter visitor south.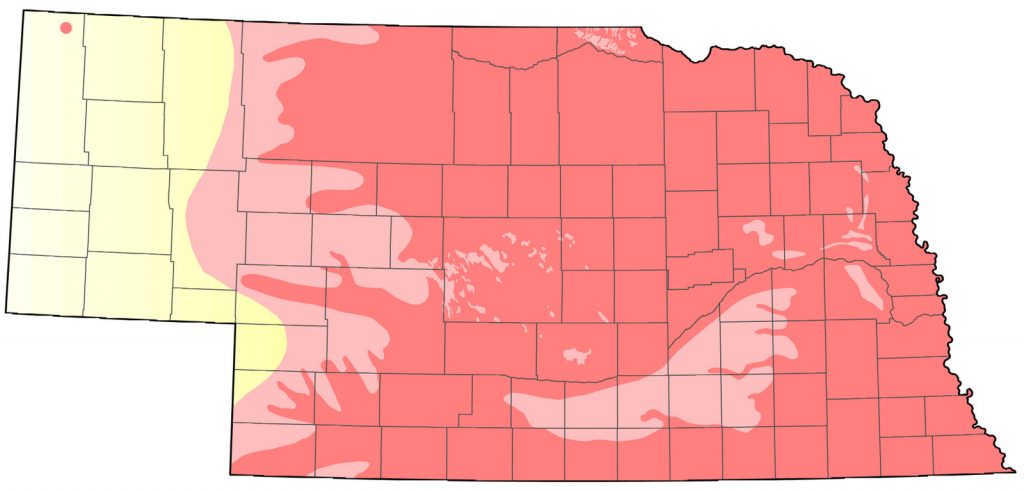 Documentation: Specimen: UNSM ZM7452, Apr 1888 Peru, Nemaha Co.
Taxonomy: Two subspecies are recognized (Pyle 1997): arenacea, breeding from Montana to North Dakota south to southeast Colorado and Oklahoma, wintering to south Texas and Mississippi, and pusilla, breeding from Minnesota to Maine and south to east Texas and Florida.
Carey et al (2020) treated the species as monotypic based on a cline of grayish plumage decreasing from west to east, with only birds at each end of the cline diagnosable. This cline is indeed discernible in Nebraska specimens; three specimens at UNSM from northern and western Nebraska are bland-faced with unmarked breast and flanks, while those from eastern and south-central Nebraska are darker. These darker birds, breeding in southeast South Dakota and Nebraska have been described as perissura but were considered to be only clinally different from pusilla (Pyle 1997).
Bruner et al (1904) assigned breeding birds in western Nebraska, the Niobrara River Valley, and the Loup drainage south to Broken Bow to arenacea, with pusilla breeding in the lower Missouri Valley, its northern limits uncertain; Bruner et al (1904) suggested there may be no "pure" pusilla breeding in Nebraska. It is likely that Nebraska breeding birds exhibit a clinal change from darker birds in the east to grayer birds in the west, as observed in extant museum specimens and proposed by Carey et al (2020) and Wright (2019).
Field Sparrow hybrids with Clay-colored and Chipping Sparrow are occasionally reported, although none for Nebraska. There are several records of Field Sparrow x Clay-colored Sparrow hybrids, nearest to Nebraska one in Pueblo Co, Colorado (eBird.org, accessed Jul 2023). Hybrids of Chipping Sparrow and Field Sparrow are rare; only four are cited in eBird, including one in Kiowa Co, Colorado (eBird.org, accessed Jul 2023).
Spring: Mar 17, 17, 18 <<<>>> summer (east, central); Apr 12, 12, 12 <<<>>> May 29, Jun 1, 1 (west)
Earlier dates east and central are of 1-2 at Chalco Hills RA, Sarpy Co 10-18 Mar 2012, and one northerly at Valentine NWR, Cherry Co 12-14 Mar 2020.
Earlier dates west are 8 Apr 2017 Kimball Co, 21 Apr 2010 Crescent Lake NWR, Garden Co, 25 Apr 2020 Dawes Co, 26 Apr 2015 Garden Co, 1 May 2010 Crescent Lake NWR, 1 May 2016 Kimball Co, 6 May 2020 Dawes Co, 8 May 2020 Sheridan Co, and 9 May 2016 Sioux Co.
Migration begins in late Mar. Completion of migration by late May is discernible in the west, where summer residents are rare. Early for westerly locations were one in western Lincoln Co 6 Apr 2004 and another there 11 Apr 2017.
In the Panhandle, where the species is an uncommon migrant, there were only about 20 reports prior to 2015, when there were four more: one near Oshkosh, Garden Co 26 Apr, two at Ash Hollow SHP, Garden Co 16 May, four in Scotts Bluff Co 11 May, and one in Sioux Co 14 May. Migrants in the Panhandle are mostly if not all gray-faced birds sometimes referred to subspecies arenacea, although intergrades with more boldly-marked eastern pusilla are to be expected; singles identified as such were in Cheyenne Co 8 May 1998 and at Wind Springs Ranch, Sioux Co, 2 and 9 May 2001. A gray-faced bird was in McCook, Red Willow Co 25 Apr 2009.
High counts: 133 in Hall Co 11 May 2002, 86 there 13 May 2006, and 72 in Pierce Co 10 May 1997.
Summer: Field Sparrow breeds throughout the eastern two-thirds of the state, but it is rare and local or absent in the Panhandle, areas of the southwest (Mollhoff 2016, Sauer et al 2017), and Rainwater Basin (Jorgensen 2012, Mollhoff 2016). BBS data 1966-2015 show statewide numbers are increasing 2.05% (95% C.I.; 1.01, 3.19) annually; these increases have occurred mostly in central Nebraska (Sauer et al 2017).
In the Panhandle, the only documented breeding record is of a nest with young in northern Sioux Co 21 Jun 2006 (Mollhoff 2006, 2016); two birds were reported at this location 8 Jul 2011. Breeding season reports in the Panhandle include Kimball and southeastern Garden Cos (Mollhoff 2016), one singing at Gilbert-Baker WMA, Sioux Co 23 Jun 2020, a territorial bird in limber pines in southwestern Kimball Co 24 Jun 1995, 30 Jun 1966 Dawes Co, a male in summer 1992 in Sioux Co (Grzybowski 1992), one in West Ash Canyon, Dawes Co, 7 Jul 2007, one near Lakeside, Sheridan Co 22 Jul 2017, and one at Scotts Bluff NM, Scotts Bluff Co 24 Jul 2019. For Aug Panhandle records, see Fall below.
Brogie and Mossman (1983) found it breeding commonly west along the Niobrara River Valley to eastern Cherry Co in 1982, and recent reports extend the range west along the Valley to the NNF McKelvie area in Cherry Co (eBird.org, accessed October 2017). A good tally in this area was the 25 in the Niobrara Valley Preserve, Brown Co 19 Jun 2020.
Farthest west of recent reports along the Middle Loup and Dismal River Valleys are in Hooker Co 5 Jul 2011 and 28 Jul 2010 although singing males had been reported in Grant Co in 1984, a "new Sandhills locality" (Williams 1984).
In the Platte River Valley, it breeds west to Keith and extreme southeastern Garden Cos, where it is a locally common summer resident (Rosche 1994; Brown and Brown 2001). It is common in the South Platte River Valley. It is numerous in Lincoln Co also, where a BBS route in southeast Lincoln Co found it in 2004 on "most stops".
Field Sparrows occupy nearly the entire area south of the Platte River Valley, with the exceptions of plains in Perkins, western Chase and northeastern Dundy Counties. Field Sparrows occupy the entire Republican River Valley west to Colorado. Numbers are high in southwestern Nebraska where it is present, including 250 in southeast Lincoln Co 5 Jul 1995 and 175 in Frontier Co 5 Jul 1995.
Breeding phenology:
Nest-building: 28 Apr-11 Jun
Eggs: 16 May- 18 Aug (Mollhoff 2022)
Nestlings: 25 May-21 Jul
Fledglings: 25 May-4 Jul
Fall: summer <<<>>>Nov 25, 27, 27 (east, central); Aug 28, 28, 31 <<<>>> Oct 2, 3, 4 (west)
Earlier dates for the Panhandle may be of summering or local Hatch Year birds: 10 Aug 2022 Ash Hollow SHP, Garden Co, 13 Aug 2017 Sheridan Co, and 17 Aug 2012 Kimball Co.
Later dates for the Panhandle are 10 Oct 2013 Sheridan Co, 10 Oct 2017 Scotts Bluff Co, 12 Oct 2018 Dawes Co, 16 Oct 2016 Sioux Co, 17 Oct 2019 Scotts Bluff Co, and 22 Nov 2020 Scotts Bluff Co (Mlodinow, Wood; eBird.org).
Dec and later dates east and central are discussed below (see Winter). Migration is generally completed by mid-Nov.
Until 2000 there were fewer than 30 fall reports from the Panhandle; however, in recent years reports have increased, possibly due to the generally increasing numbers of Field Sparrows in the state (see Summer). Many, if not most, reports in the west are of grayer-faced birds; one was banded and photographed at Chadron SP, Dawes Co 18 Sep 2014, two were in Dundy Co 22 Sep 2012, and one was at North Platte SL, Lincoln Co 28 Sep 2012.
High counts: 100 at Rowe Sanctuary, Buffalo Co 13 Oct 1996, 69 in Garfield Co 2 Oct 2016, 61 at Rock Creek SRA, Dundy Co 26 Sep 2020, and 40 at Wehrspann Lake, Sarpy Co 16 Oct 2009.
Winter: Field Sparrows winter north to the southern border of Nebraska in small numbers, most often as single birds or very small groups with American Tree Sparrows. Details of identification, preferably photographs, should accompany such reports as wintering Field Sparrows can be confused with immature White-crowned Sparrows or American Tree Sparrows.
Many winter reports are in Dec and are likely a function of lingering fall migrants and increased detection due to CBCs. Dec reports away from the south-central and southeast include two at Sutherland Reservoir, Lincoln Co 2 Dec 2022, two on the Scottsbluff CBC 14 Dec 1974, 15 Dec 2018 Hitchcock Co, 17 Dec 2011 Madison Co, one in southeast Garden Co 18 Dec 1982 (Rosche 1994), two on the Norfolk CBC 21 Dec 1985, and singles on the Lake McConaughy CBC 27 Dec 2014 and 29 Dec 2007.
The only report of overwintering is of one in Aurora, Hamilton Co 1951-52 (Swanson 1953). There are reports into Jan, but these decline rapidly after mid-Jan: 10 Jan 2021 Lincoln Saline Wetlands NP, Lancaster Co, 11 Jan 1986 Antelope Co (Cortelyou 1986), 18 Jan 2012 Seward Co, 19 Jan 2018 Sarpy Co, 20 Jan 1990 Polk Co, 22 Jan 2009 Cass Co, three on 23 Jan 2020 at Rowe Sanctuary, Buffalo Co, 25 Jan 2006 Lincoln Co, 27 Jan 1983 Douglas-Sarpy Cos, 7 Feb 2011 Broken Bow, Custer Co, 12 Feb 2014 North Platte, Lincoln Co, 15 Feb 2013 Saunders Co, and 25 Feb 2022 near Roscoe, Keith Co.
Images
Abbreviations
BBS: Breeding Bird Survey
CBC: Christmas Bird Count
NM: National Monument
NNF: Nebraska National Forest
RA: Recreation Area
SHP: State Historical Park
SL: Sewage Lagoons
SP: State Park
UNSM: University of Nebraska State Museum
Literature Cited
Brogie, M.A., and M.J. Mossman. 1983. Spring and summer birds of the Niobrara Valley Preserve, Nebraska: An annotated checklist. NBR 51: 44-51.
Brown, C.R., and M.B. Brown. 2001. Birds of the Cedar Point Biological Station. Occasional Papers of the Cedar Point Biological Station, No. 1.
Bruner, L., R.H. Wolcott, and M.H. Swenk. 1904. A preliminCarey, M., D. E. Burhans, and D. A. Nelson (2020). Field Sparrow (Spizella pusilla), version 1.0. In Birds of the World (A. F. Poole, Editor). Cornell Lab of Ornithology, Ithaca, NY, USA. https://doi.org/10.2173/bow.fiespa.01ary review of the birds of Nebraska, with synopses. Klopp and Bartlett, Omaha, Nebraska, USA.
Carey, M., D.E. Burhans, and D.A. Nelson. 2020. Field Sparrow (Spizella pusilla), version 1.0. In Birds of the World (A. F. Poole, Editor). Cornell Lab of Ornithology, Ithaca, NY, USA. https://doi.org/10.2173/bow.fiespa.01.
Cortelyou, R.G. 1986. 1986 (Sixty-first) Spring Occurrence Report. NBR 54: 46-64.
Grzybowski, J.A. 1992. Southern Great Plains Region. American Birds 46: 1151-1152.
Jorgensen, J.G. 2012. Birds of the Rainwater Basin, Nebraska. Nebraska Game and Parks Commission, Lincoln, Nebraska, USA.
Mollhoff, W.J. 2006. The 2006 Nebraska nest report. NBR 74: 142-147.
Mollhoff, W.J. 2016. The Second Nebraska Breeding Bird Atlas. Bull. Univ. Nebraska State Museum Vol 29. University of Nebraska State Museum, Lincoln, Nebraska, USA.
Mollhoff, W.J. 2022. Nest records of Nebraska birds. Nebraska Ornithologists' Union Occasional Paper Number 9.
Pyle, P. 1997. Identification Guide to North American Birds. Part I, Columbidae to Ploceidae. Slate Creek Press, Bolinas, California, USA.
Rosche, R.C. 1994. Birds of the Lake McConaughy area and the North Platte River valley, Nebraska. Published by the author, Chadron, Nebraska, USA.
Sauer, J.R., D.K. Niven, J.E. Hines, D.J. Ziolkowski, Jr, K.L. Pardieck, J.E. Fallon, and W.A. Link. 2017. The North American Breeding Bird Survey, Results and Analysis 1966 – 2015 (Nebraska). Version 2.07. USGS Patuxent Wildlife Research Center, Laurel, Maryland, USA.
Swanson, K.S. 1953. Field Sparrow winters at Aurora. NBR 21: 9.
Williams, F. 1984. Southern Great Plains Region. American Birds 38: 1035-1037.
Wright, R. 2019. Sparrows of North America. Peterson Reference Guide. Houghton Mifflin Harcourt, Boston and New York.
Recommended Citation
Silcock, W.R., and J.G. Jorgensen. 2023. Field Sparrow (Spizella pusilla). In Birds of Nebraska — Online. www.BirdsofNebraska.org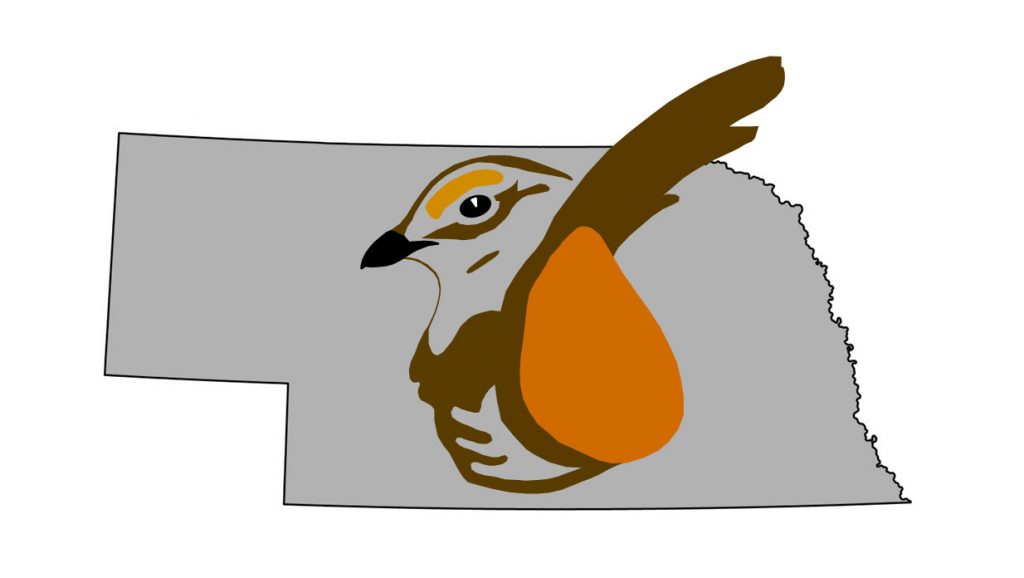 Birds of Nebraska – Online
Updated 6 Jul 2023