Psiloscops flammeolus
Status:  No accepted records.
Taxonomy:  This species has been re-assigned from Otus to monotypic genus Psiloscops (Gill et al 2022, Wink et al 2009).
Comments: There are three reports, two of which seem quite likely to be of this species, of which northern populations are migratory (Linkhart and McCallum 2020). Calls believed to be of this species were heard in ponderosa pine forest at Chadron SP, Dawes Co 30 Jun 1978 by an observer familiar with calls of Northern Pygmy Owl, Glaucidium gnoma, and Northern Saw-whet Owl, Aegolius acadicus (Egger 1978). Highly tantalizing was a calling bird heard at Valentine NWR Headquarters, Cherry Co 24 May 2006 by an observer experienced with the species; unfortunately, the calls were not taped nor was the bird seen.  One was reportedly shot in spring 1891 near Kearney by C.A. Black, but the specimen was not kept as its importance was not realized; it had buffy plumage and blue eyes and may have been a young screech-owl (Bray et al 1986).
This migratory species breeds in mature ponderosa pine woodlands that occur at lower elevations in the Rocky Mountains from British Columbia south as far as central Mexico (AOU 1998). There are numerous records along the Colorado Front Range but none on the eastern Colorado plains (eBird.org, accessed Oct 2023). There have been a few reports in the Black Hills of South Dakota, only two accepted (Nancy Drilling, personal communication): 24 May 2002 in the northern Hills (Swanson 2003) and 24 Aug 1994 one caught by a bat biologist in the southern Hills (Swanson 1996).  The only other record near Nebraska is of one in extreme southwest Kansas 20 May 2000 (Thompson et al 2011, eBird.org, accessed Oct 2023).  The nearest regular breeding occurs in the Medicine Bow NF, Carbon Co, Wyoming (Faulkner 2010). Thus, spring migrants slightly off course could be expected in Nebraska. Fall migration in Colorado occurs in Aug-Sep, and ends as moth abundance declines (Nancy Drilling, personal communication); mist-netting is needed for detection and identification of fall migrants (Linkhart and McCallum 2020).
Abbreviations
NF: National Forest
NWR: National Wildlife Refuge
SP: State Park
Literature Cited
American Ornithologists' Union [AOU]. 1998. The AOU Check-list of North American birds, 7th ed. Allen Press, Lawrence, Kansas, USA.
Bray, T.E., B.K. Padelford, and W.R. Silcock. 1986. The birds of Nebraska: A critically evaluated list. Published by the authors, Bellevue, Nebraska, USA.
Egger, M. 1978. Flammulated Owl? NBR 46: 70.
Faulkner, D.W. 2010. Birds of Wyoming. Roberts and Company, Greenwood Village, Colorado, USA.
Gill, F., D. Donsker, and P. Rasmussen (Eds). 2022. IOC World Bird List (v 12.2). Doi 10.14344/IOC.ML.12.2.  http://www.worldbirdnames.org/.
Linkhart, B.D. and D.A. McCallum. 2020. Flammulated Owl (Psiloscops flammeolus), version 1.0. In Birds of the World (A. F. Poole, Editor). Cornell Lab of Ornithology, Ithaca, NY, USA. https://doi.org/10.2173/bow.flaowl.01.
Swanson, D.L. 1996. 1995 Report of the Rare Bird Records Committee. South Dakota Bird Notes 49: 93-96.
Swanson, D.L. 2003. 2002 Report of the Rare Bird Records Committee. South Dakota Bird Notes 55: 60-64.
Thompson, M.C., C.A. Ely, B. Gress, C. Otte, S.T. Patti, D. Seibel, and E.A. Young. 2011. Birds of Kansas.  University Press of Kansas, Lawrence, Kansas, USA.
Wink, M., A.-A. El-Sayed, H. Sauer-Gürth, and J. Gonzalez. 2009. Molecular phylogeny of owls (Strigiformes) inferred from DNA sequences of the mitochondrial cytochrome b and the nuclear RAG-1 gene. Ardea 97: 581-591.
Recommended Citation
Silcock, W.R., and J.G. Jorgensen. 2023. Flammulated Owl (Psiloscops flammeolus). In Birds of Nebraska — Online. www.BirdsofNebraska.org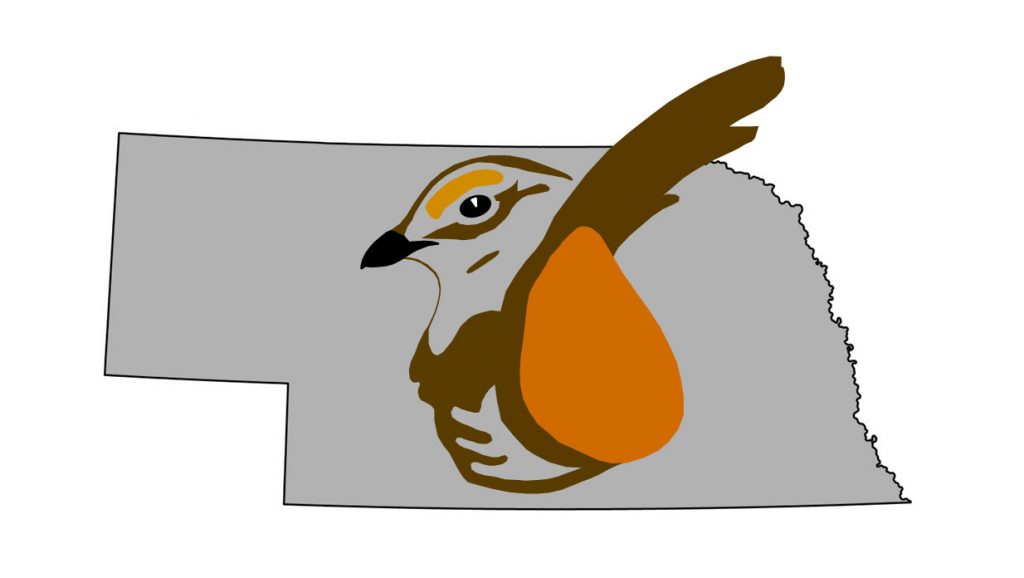 Birds of Nebraska – Online
Updated 28 Oct 2023