Dendrocygna bicolor
Status: Rare casual summer visitor.
Taxonomy: No subspecies are recognized.
Records: There are two records. A group of four was first discovered at Wagon Train Lake SRA, Lancaster Co by Matt Haugen, a NGPC biologist, 5 Jun 2018 (Haugen 2018). The group was seen and photographed by many through 24 Jun (Brogie 2019). An extraordinary second record was of one shot by a hunter at Clear Creek WMA in Keith Co 28 Oct 2020. There was no indication the bird had escaped from captivity.
Comments: This tropical to sub-tropical species distributed worldwide breeds in the US only on the Gulf Coastal Plain of Texas and Louisiana, locally in southern California, and also on larger islands in the West Indies (Hohman and Lee 2020, Baldassarre 2014). Breeders on the Gulf Coast depart in fall to winter in Mexico and return in Feb and Mar coincident with rice planting (Hohman and Lee 2020).
Fulvous Whistling-Ducks wander erratically northeastward, resulting in numerous vagrant records in the Mississippi River Basin, eastern Great Lakes, and along the Pacific and Atlantic Coasts to southern Canada (Hohman and Lee 2020). Records on the Great Plains are few, however: North Dakota, 22 Jul 1979 (eBird.org, accessed Jul 2020), South Dakota, Jun and Oct (Tallman et al 2002), Iowa, Jun 2012 in southwestern Iowa and Jul-Sep 1994 (Iowa Ornithologists' Union 2020), Missouri, numerous reports, including one from northwestern Missouri Apr 1953 (Robbins 2018), and several in Kansas in the period 3 Mar-23 Sep (Thompson et al 2011, eBird.org accessed Jul 2020). The latter authors note the species' "range and numbers have increased in the last 20 years", and that the species is commonly kept in captivity.
Abbreviations:
NGPC: Nebraska Game and Parks Commission
SRA: State Recreation Area
Acknowledgement
Photograph (top) of Fulvous Whistling-Ducks at Wagon Train State Recreation Area, Lancaster Co 8 Jun 2018 by Phil Swanson.
Literature Cited:
Baldassarre, G. 2014. Ducks, Geese, and Swans of North America. Johns Hopkins University Press, Baltimore, Maryland, USA.
Brogie, M.A. 2019. 2018 (30th) Report of the NOU Records Committee. NBR 87: 96-109.
Haugen, M. 2018. First record of Fulvous Whistling-Duck (Dendrocygna bicolor) for Nebraska. Nebraska Bird Review 86: 96-98.
Hohman, W.L., and S.A. Lee. 2020. Fulvous Whistling-Duck (Dendrocygna bicolor), version 1.0. In Birds of the World (S. M. Billerman, Editor). Cornell Lab of Ornithology, Ithaca, NY, USA. https://doi.org/10.2173/bow.fuwduc.01.
Iowa Ornithologists' Union. 2020. Iowa Records Committee reports of Iowa rare bird records, accessed Jul 2020.
Robbins, M.B. 2018. The Status and Distribution of Birds in Missouri. University of Kansas Biodiversity Institute, Lawrence, Kansas, USA.
Tallman, D.A., Swanson, D.L., and J.S. Palmer. 2002. Birds of South Dakota. Midstates/Quality Quick Print, Aberdeen, South Dakota, USA.
Thompson, M.C., C.A. Ely, B. Gress, C. Otte, S.T. Patti, D. Seibel, and E.A. Young. 2011. Birds of Kansas. University Press of Kansas, Lawrence, Kansas, USA.
Recommended Citation
Silcock, W.R., and J.G. Jorgensen. 2020. Fulvous Whistling-Duck (Dendrocygna bicolor). In Birds of Nebraska — Online. www.BirdsofNebraska.org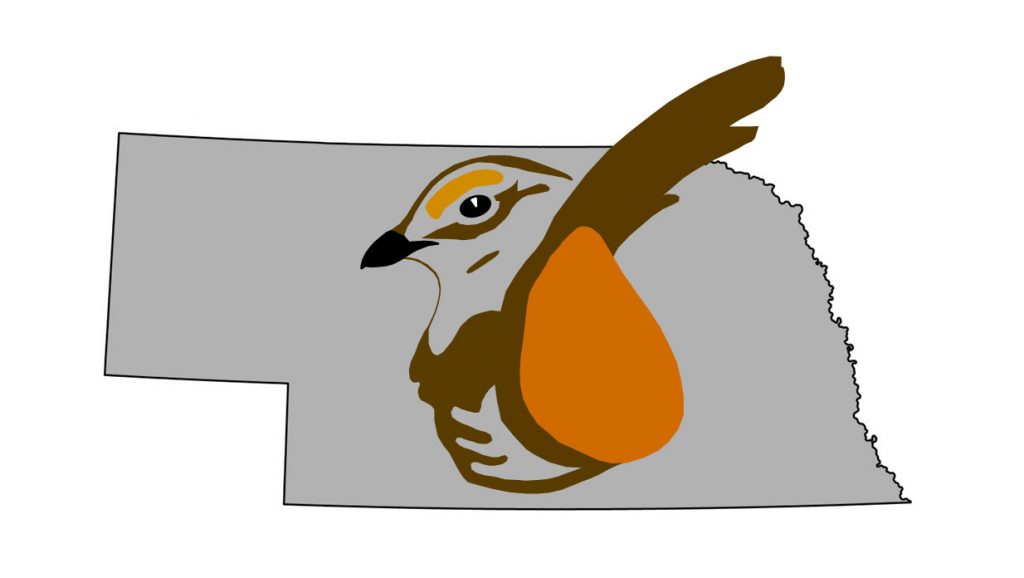 Birds of Nebraska – Online
Updated 8 Dec 2020