Spatula querquedula
Status: Rare casual spring migrant central.
Documentation: Photograph: 4 Apr 1998 Wild Rose Ranch, Hall Co (Brogie 1999).
Taxonomy: No subspecies are recognized (Gill et al 2022).
Spring: There are two records, possibly of the same individual.
28 Mar 1997 alternate male 4.8 kilometers (3 miles) south of Kearney, Kearney Co (Brogie 1998)
29 Mar-5 Apr 1998 alternate male Wild Rose Ranch, Hall Co (Brogie 1999).
Comments: One seen very briefly below the Keystone Dam, Keith Co 30 Dec 2000 was said to have the field marks of an alternate male, but this plumage is only held in spring and early summer. The report was not unaccepted by NOURC (Jorgensen 2002). A female or juvenile type was reported in Nance Co 12 Oct 2006; details were provided to NOURC but were insufficient for positive identification (Brogie 2007). Five were reported in Loup Co 30 Mar 2010, but NOURC considered the details insufficient to clinch the identification (Brogie 2011).
Records from the Interior of North America are essentially all in spring, mid-Mar through May (Howell et al 2014; eBird.org accessed Aug 2020). There are five records from 29 Mar-1 May in Kansas (Thompson et al 2011). One of only three Interior fall records is also from Kansas, 23 Oct 1988 (Thompson et al 2011, Mlodinow and O'Brien 1996). Most records are of males with Blue-winged Teal in spring; Howell et al (2014) suggest that these males are unpaired as they are not returning from their usual winter range where pairing occurs. Identification of females and immatures is difficult, however.
Images
Abbreviations used in text
NOURC: Nebraska Ornithologists' Union Records Committee
Literature Cited
Brogie, M.A. 1998. 1997 (Ninth) Report of the NOU Records Committee. NBR 66: 147-159.
Brogie, M.A. 1999. 1998 (Tenth) Report of the NOU Records Committee. NBR 67: 141-152.
Brogie, M.A. 2007. 2006 (18th) Report of the NOU Records Committee. NBR 75: 86-94.
Brogie, M.A. 2011. 2010 (22nd) Report of the NOU Records Committee. NBR 79: 99-111.
Chesser, R.T., K.J. Burns, C. Cicero, J.L. Dunn, A.W. Kratter, I.J. Lovette, P.C. Rasmussen, J. V. Remsen, Jr., J.D. Rising, D.F. Stotz, and K. Winker. 2017. Fifty-eighth supplement to the American Ornithological Society's Check-list of North American Birds. Auk 134: 751-773.
Gill, F., D. Donsker, and P. Rasmussen (Eds). 2022. IOC World Bird List (v 12.2). Doi 10.14344/IOC.ML.12.2. http://www.worldbirdnames.org/.
Howell, S.N.G., I. Lewington, and W. Russell. 2014. Rare birds of North America. Princeton University Press, Princeton, New Jersey, USA.
Jorgensen, J.G. 2002. 2002 (sic; =2000). (12th) Report of the NOU Records Committee. NBR 70: 84-90.
Mlodinow, S.G., and M. O'Brien. 1996. America's 100 most wanted birds. Helena and Billings, MT: Falcon Press.
Thompson, M.C., C.A. Ely, B. Gress, C. Otte, S.T. Patti, D. Seibel, and E.A. Young. 2011. Birds of Kansas. University Press of Kansas, Lawrence, Kansas, USA.
Recommended Citation
Silcock, W.R., and J.G. Jorgensen. 2023. Garganey (Spatula querquedula). In Birds of Nebraska — Online. www.BirdsofNebraska.org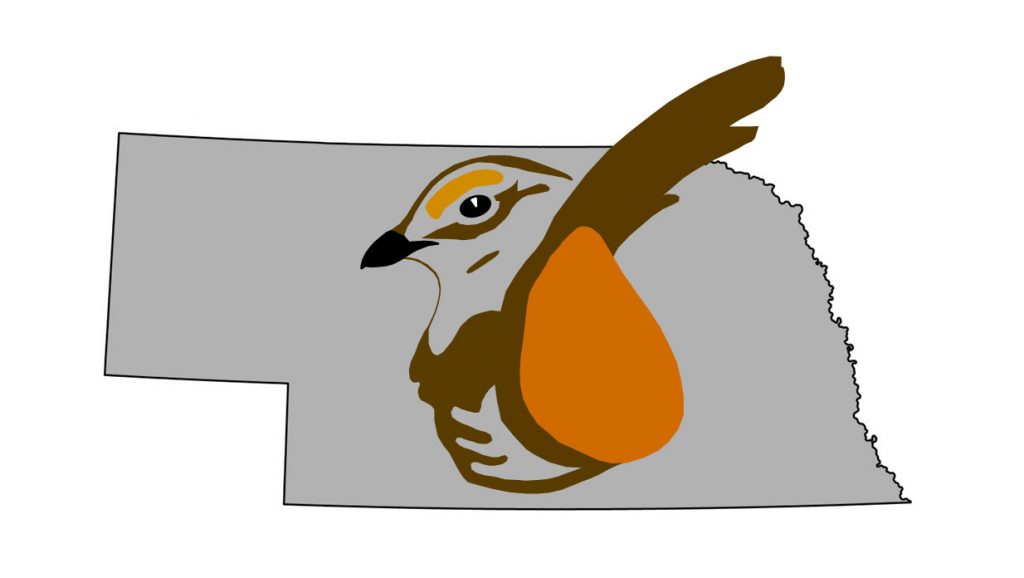 Birds of Nebraska – Online
Updated 12 Jan 2023