Plegadis falcinellus
Status: Uncommon regular spring migrant statewide. Rare casual breeder Rainwater Basin. Rare casual summer visitor west and southeast. Rare casual fall migrant east and central.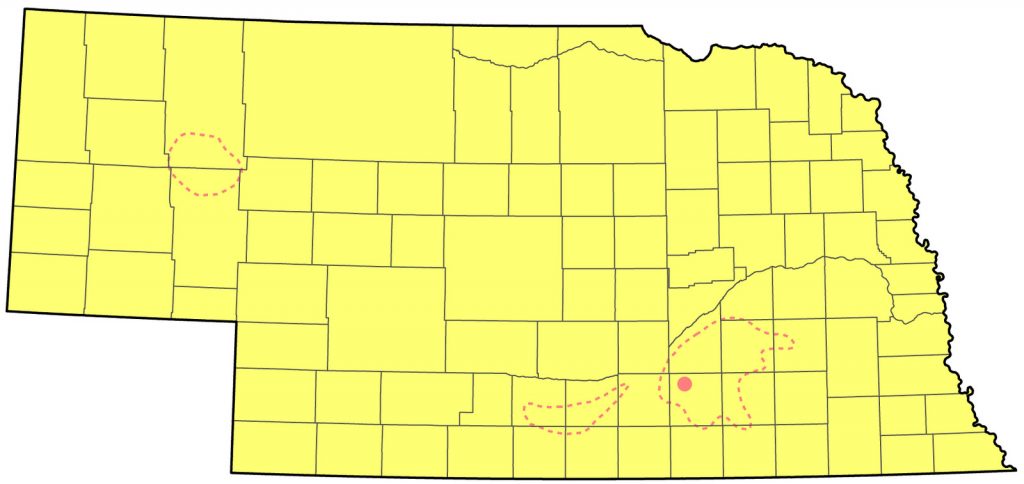 Documentation: Photograph: 15 Apr 2005 Harvard WPA, Clay Co (Brogie 2006).
Taxonomy: No subspecies are recognized.
This species hybridizes extensively with White-faced Ibis. For further information, see https://birds.outdoornebraska.gov/glossy-x-white-faced-ibis-hybrid/.
Changes Since 2000: Glossy Ibis has undergone one of the greatest increases in numbers of any species occurring in Nebraska in the years since 2000 (Jorgensen and Silcock 2015). The first state record was as recent as 1999, the 4th in 2005, but through 2015 there were about 73 additional records (Jorgensen and Silcock 2015).
Spring: Apr 19, 19, 20 <<<>>> May 26, 26, 29
Earlier dates are 11 Apr 2020 Clay Co, and 20 Apr 2014 Saunders Co.
A later date is 3 Jun 2021 Clay Co. For later dates see Summer and Fall (below).
This species is almost always associated with groups of and outnumbered by White-faced Ibis, during both migration and the breeding season. The vast majority of reports are in spring, when this species is easiest to identify relative to White-faced Ibis.
High Counts: 6 at Harvard WPA, Clay Co 26 Apr 2020, and four at Ayr Lake, Adams Co 26 Apr 2021.
A record 22 were reported in spring 2020.
Summer: All summer reports of Glossy Ibis have been from the Rainwater Basin and the Sandhills. Jorgensen and Dinsmore (2005) and Jorgensen and Silcock (2015) reviewed the status of the species in Nebraska and suggested that its apparently limited distribution was probably linked to the distribution of observers; Glossy Ibis likely occurs regularly in other parts of the state as well, along with White-faced Ibises.
Although breeding had been suspected a few times when this species had been observed within breeding colonies of White-faced Ibis, proof was lacking until 2015, when three nests tended by adults were photographed at Harvard WPA 7 Jul (Jorgensen and Silcock 2015), the first confirmed breeding record for the state. Two prior reports were suggestive of breeding, but confirming evidence was not obtained: two adults were with 70+ White-faced Ibises at Harvard WPA 14-20 Jul 2001 (Jorgensen 2003, 2012, Dinsmore 2001), and two were with White-faced Ibises 12-14 Jun 2008 at Harvard WPA.
Additional summer reports (Jun-early Jul) are 3 Jun 2021 Green Wing WMA, Clay Co, 16 Jun 2022 Crescent Lake NWR, Garden Co, 20 Jun Harvard WPA, Clay Co (Brogie 2014), 21 Jun 2022 North Platte WTP, Lincoln Co, and an adult in Fillmore Co 24 and 30 Jun 2010(Brogie 2011), 9 Jul 2022 Box Butte Co, 11 Jul 2021 Lakeside, Sheridan Co, and 11 Jul 2022 Lakeside.
Fall: Migration probably is at the same time as White-faced Ibis, with southward movement beginning in Jul and peaking in Aug, although there are few data; individual Glossy Ibises in fall are difficult to identify in the field.
Reports beginning in mid-Jul where breeding was not noted are 15-21 Jul 2001 Clay Co, one in Phelps Co 18 Jul 2011, an adult at Harvard WPA 20 Jul 2013 (Brogie 2014), 20 Jul 2019 Ellsworth, Sheridan Co, 20 Jul 2019 Lakeside, Sheridan Co, 24 Jul 2019 Logan Co, one at Straight Water WMA, Seward Co 9-16 Aug 2008, one near Goose Lake, Crescent Lake NWR 5-7 Aug 2021, one at Straight Water WMA 13 Aug 2021,  one at Kissinger Basin WMA, Clay Co 15 Aug 2011, a single in adult plumage well-studied at Hastings, Adams Co 19 Aug 2005, two adults at Jack Sinn WMA, Lancaster Co 21 Aug 2013 (Brogie 2014), two in the eastern Rainwater Basin 24 Aug 2008,  and an immature photographed at Tamora WPA, Seward Co 8 Sep 2017.
Comments: There are 11 additional reports in the literature, none convincingly documented. At least two are suggestive of this species, but are dated 1946 and 1964, well before the major expansion into the Great Plains began in the 1980s. Bruner et al (1904) listed three specimens attributed to Glossy Ibis, but Swenk (1918) noted that these immature birds could not be identified to species and dropped Glossy Ibis from the state list.
Glossy Ibis arrived in North America from the Old World in the early 1800s, but it was not until the 1940s that rapid range expansion occurred north along the Atlantic Coast and west to Louisiana; in the 1980s, expansion occurred into Texas, where the first record was in 1983, and then northward in the Great Plains (Patten and Lasley 2000). Nebraska's first state record was of an adult with a flock of 28 White-faced Ibis 24 Apr 1999 (Jorgensen 2012); the first Wyoming record was in 1992 (Faulkner 2010).
Images
Abbreviations
WMA: Wildlife Management Area (State)
WPA: Waterfowl Production Area (Federal)
Literature Cited
Arterburn, J.W., and J.A. Grzybowski. 2003. Hybridization between Glossy and White-faced Ibises. North American Birds 57: 136-139.
Brogie, M.A. 2006. 2005 (17th) Report of the NOU Records Committee. NBR 74: 69-74.
Brogie, M.A. 2011. 2010 (22nd) Report of the NOU Records Committee. NBR 79: 99-111.
Brogie, M.A. 2014. 2013 (25th) Report of the NOU Records Committee. NBR 82: 131-146.
Bruner, L., R.H. Wolcott, and M.H. Swenk. 1904. A preliminary review of the birds of Nebraska, with synopses. Klopp and Bartlett, Omaha, Nebraska, USA.
Dinsmore, S.J. 2001. The Changing Seasons. North American Birds 55: 398-405.
Faulkner, D.W. 2010. Birds of Wyoming. Roberts and Company, Greenwood Village, Colorado, USA.
Jorgensen, J.G. 2003. 2001 (13th) Report of the NOU Records Committee. NBR 71: 97-102.
Jorgensen, J.G. 2012. Birds of the Rainwater Basin, Nebraska. Nebraska Game and Parks Commission, Lincoln, Nebraska, USA.
Jorgensen, J.G., and S.J. Dinsmore. 2005. An Assessment of the Status of White-Faced Ibis (Plegadis chihi) in the Great Plains. Natural Resource Ecology and Management Publications. Paper 45.
Jorgensen, J.G., and W.R. Silcock. 2015. First Nesting Record and Status Review of the Glossy Ibis in Nebraska. NBR 83: 139-149.
Oswald, J.A., M.G. Harvey, R.C. Remsen, D.U. Foxworth, D.L. Dittmann, S.W. Cardiff, and R.T Brumfield. 2019. Evolutionary dynamics of hybridization and introgression following the recent colonization of Glossy Ibis (Aves: Plegadis falcinellus) into the New World. Molecular Ecology 2019: 1-17.
Patten, M.A., and G.W. Lasley. 2000. Range Expansion of the Glossy Ibis in North America. North American Birds 54: 241-247.
Silcock, W.R. 2004. Spring Field Report, March-May 2004. NBR 72: 38-58.
Swenk, M.H. 1918. Revisory notes on the birds of Nebraska. Wilson Bulletin 30: 112-117.
Recommended Citation
Silcock, W.R., and J.G. Jorgensen. 2022. Glossy Ibis (Plegadis falcinellus). In Birds of Nebraska — Online. www.BirdsofNebraska.org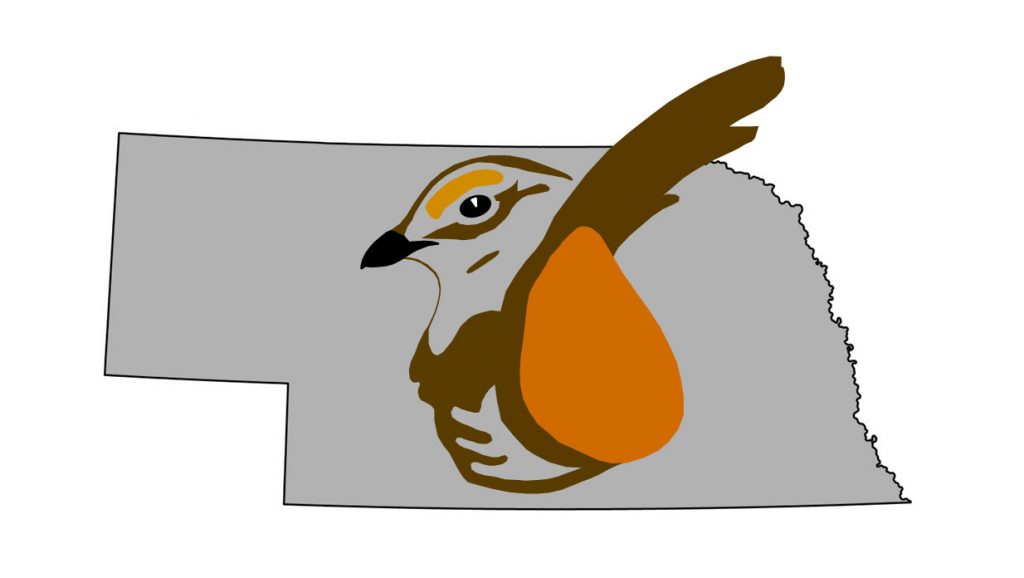 Birds of Nebraska – Online
Updated 19 Aug 2022