Zonotrichia atricapilla
Status: Rare casual spring and fall migrant west and central, accidental in winter.
Documentation: Photograph: 25-26 Nov 1984 Alliance, Box Butte Co (Thomas 1984; Mollhoff 1989).
Taxonomy: No subspecies are recognized (Pyle 1997).
Golden-crowned Sparrow hybridizes occasionally with other Zonotrichia species, White-crowned, and White-throated Sparrows, although none are recorded for Nebraska. Nearest are two hybrids with White-crowned Sparrow for Colorado (eBird.org, accessed Jul 2023).
Spring: Occurrence of this species in Nebraska is closely tied to that of White-crowned Sparrow, which is primarily a migrant in the state.
There are two documented spring records:
1-4 May 2008 Creighton, Knox Co (Brogie 2009)
4 May 2007 near Glen, Sioux Co (Brogie 2008)
There are four additional reports in the period 17 Mar-14 May, none documented, but all likely correct. An immature was reported with White-crowned Sparrows at Sacramento-Wilcox Area, Phelps Co 17 Mar 2002. One trapped and banded at Halsey, Thomas Co 7 May 1950 was with Harris's Sparrows (Smith 1950), but no other details were provided. Another was reported attending a feeder near Elsmere, Cherry Co for two weeks prior to 30 April 1962 (Held 1962). One reported on a spring count near Scottsbluff, Scotts Bluff Co 14 May 1966 was described as having "yellow on the crown of the head" (Banghart 1966).
Fall: Three of the five reports are documented:
25-26 Nov 1984 immature, Alliance, Box Butte Co (cited above)
3 Dec 1999 near Brownlee, Cherry Co (James E. Ducey, personal communication)
18 Dec 1998 immature Harlan Co Reservoir, Harlan Co (Brogie 1999; Jorgensen 2001).
The fourth report was of one in a yard in McPherson Co 7 Oct 1966; the observer had seen the species before in San Francisco (Bassett 1967). A report by an experienced staff member of an immature at a feeder at Fort Niobrara NWR, Cherry Co 15-18 Sep 2021 (Silcock 2021) was not accepted by NOURC since it "lacked detail" (Brogie 2022).
Johnsgard (1980) mentioned that one had been reported on the 1979 Scottsbluff CBC, but this apparently was an error due to a garbled data transmission (Cortelyou 1984).
Winter: There are two records:
1 Jan-11 May 2017 Knox Co (Brogie 2018, Silcock 2017a, 2017b)
15-27 Feb 2022 at NPPD Canal and Keystone-Roscoe Road, Keith Co (Jorgensen, Brenner; eBird.org).
The Knox Co  bird was accompanied during its stay by an immature White-crowned Sparrow and four Harris's Sparrows; both species are rare in mid-winter in the northeast. Mark Brogie delighted many observers by putting out seed at the wintering location to allow the bird to remain in the area for almost five months.
Comments: Golden-crowned Sparrow is a south-easterly vagrant in fall and spring, traveling with White-crowned Sparrows and thus reflecting their distribution.
There are five records for Wyoming, three from mid-Feb through May, and two for mid-Oct to early Nov (Faulkner 2010), and several on the northeastern Colorado plains May and Oct-Jan (eBird.org, accessed April 2018). In Kansas, along with White-crowned Sparrow, it is a winter resident with 20+ records Oct-May (Thompson et al 2011). There are only two records for South Dakota, in May and Oct (Tallman et al 2002), and two for Iowa, both in May (Kent and Dinsmore 1996).
Images
Abbreviations
CBC: Christmas Bird Count
NOURC: Nebraska Ornithologists' Union Records Committee
Literature Cited
Banghart, M.A. 1966. Golden-Crowned Sparrow. NBR 34: 76.
Bassett, O. 1967. Golden-Crowned Sparrow. NBR 35: 24.
Brogie, M.A. 1999. 1998 (Tenth) Report of the NOU Records Committee. NBR 67: 141-152.
Brogie, M.A. 2008. 2007 (19th) Report of the NOU Records Committee. NBR 76: 111-119.
Brogie, M.A. 2009. 2008 (20th) Report of the NOU Records Committee. NBR 77: 80-90.
Brogie, M.A. 2018. 2017 (29th) Report of the NOU Records Committee. NBR 86: 131-142.
Cortelyou, R.G. 1984. Golden-crowned Sparrow in Box Butte County (appended note). NBR 52: 77.
Faulkner, D.W. 2010. Birds of Wyoming. Roberts and Company, Greenwood Village, Colorado, USA.
Held, L. 1962. Golden-Crowned Sparrow at Elsmere. NBR 30: 50.
Johnsgard, P. A. 1980. A preliminary list of the birds of Nebraska and adjacent Great Plains states. Published by the author, University of Nebraska, Lincoln, USA.
Jorgensen, J.G. 2001. 1999 (Eleventh) Report of the NOU Records Committee. NBR 69: 85-91.
Kent, T.H., and J.J. Dinsmore. 1996. Birds in Iowa. Publshed by the authors, Iowa City and Ames, Iowa, USA.
Mollhoff, W.J. 1989. Second report of the NOU Records Committee. NBR 57: 42-47.
Pyle, P. 1997. Identification Guide to North American Birds. Part I, Columbidae to Ploceidae. Slate Creek Press, Bolinas, California, USA.
Smith, C.E. 1950. The Golden-crowned Sparrow in Nebraska. NBR 18: 68.
Silcock, W.R. 2017a. Winter Field Report, Dec. 2016- Feb. 2017. NBR 85: 2-31.
Silcock, W.R. 2017b. Spring Field report, March-May 2017. NBR 85: 54-83.
Tallman, D.A., Swanson, D.L., and J.S. Palmer. 2002. Birds of South Dakota. Midstates/Quality Quick Print, Aberdeen, South Dakota, USA.
Thomas, D.G. 1984. Golden-crowned Sparrow in Box Butte County. NBR 52: 77.
Thompson, M.C., C.A. Ely, B. Gress, C. Otte, S.T. Patti, D. Seibel, and E.A. Young. 2011. Birds of Kansas. University Press of Kansas, Lawrence, Kansas, USA.
Recommended Citation
Silcock, W.R., and J.G. Jorgensen. 2023. Golden-crowned Sparrow (Zonotrichia atricapilla). In Birds of Nebraska — Online. www.BirdsofNebraska.org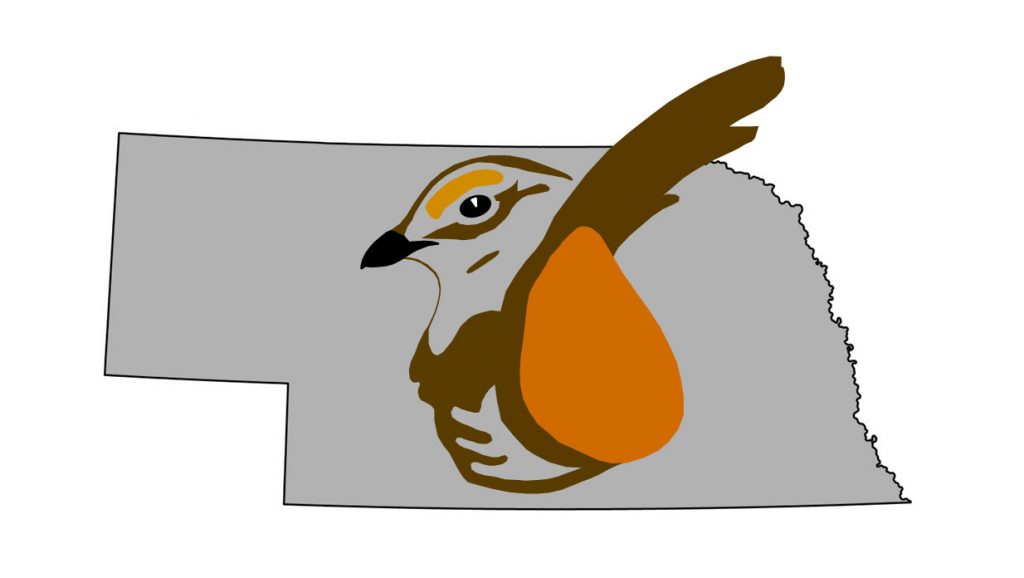 Birds of Nebraska – Online
Updated 6 Jul 2023