Dumetella carolinensis carolinensis
Status:  Common regular spring and fall migrant east and central, uncommon west. Common regular breeder east and central, locally rare west. Rare casual winter visitor south and southeast.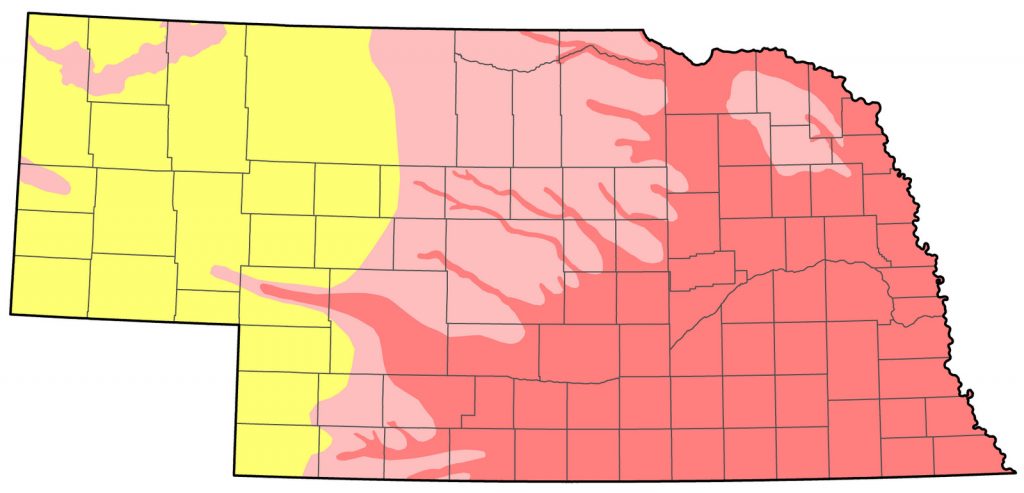 Documentation:  Specimen: UNSM ZM11666, 18 May 1907 Omaha, Douglas Co.
Taxonomy:  There are two subspecies recognized: carolinensis, breeding from southeast Manitoba east to Nova Scotia and south to east Texas and central Florida, and ruficrissa, breeding from southern British Columbia east to western North Dakota and south to western Oklahoma and west Texas (Phillips 1986, Smith et al 2020).
The above range descriptions suggest that both subspecies might occur in Nebraska, ruficrissa perhaps restricted to the Pine Ridge and the extreme western North Platte River Valley. Although there are no confirmed records of breeding on the Pine Ridge, Faulkner (2010) showed Gray Catbird, subspecies ruficrissa, summering over most of Wyoming, the northwest Panhandle of Nebraska, and the southwest corner of South Dakota. Faulkner (2010) stated also that catbirds in Wyoming are most common in "lowland cottonwood riparian corridors", including the North Platte River Valley. Thus, eastern and western birds may meet there, and, if so, catbirds in the western North Platte Valley in Nebraska are probably intergrades of the two subspecies. The subspecific identity of catbirds recently reported on the Pine Ridge is unknown.
Spring:  Apr 8, 9, 10 <<<>>> summer (east), Apr 26, 27, 28 (central), Apr 30, May 1, 3 <<<>>> summer (west)
Migrants appear in the southeast in mid-Apr, but there are a few reports in Mar: 9 Mar 1998 Bellevue, Sarpy Co, 20 Mar 1972 Hall Co, 20 Mar 1989 Lincoln Co, 26 Mar 1955 Dawson Co, 28 Mar 1981 Scotts Bluff Co, 30 Mar 2010 Otoe Co, and 1 Apr 1961 Gage Co. Reports earlier than these are discussed under Winter.
In the Panhandle and western Sandhills, where the species is rare or absent in summer, migrants are reported mostly in the second half of May, although there is an earlier report 6 Apr 1995 Garden Co.
Remarkable for both age and origin of the bird, one captured in Sarpy Co 15 May 2002 had been banded as a hatch-year bird in Rhode Island in 1991.
High counts:  108 in Hall Co 11 May 2002, 98 in Hall Co 13 May 2006, 50 in Lincoln, Lancaster Co 12 May 2001, 42 at Lake Cunningham Marsh, Douglas Co 15 May 2018, and 40 along Cowboy Trail, Madison Co 14 May 2019.
Summer: Gray Catbird breeds commonly throughout the east and central, but numbers decline westward as habitat becomes restricted to riparian corridors. Wayne Mollhoff (personal communication) described the species as a "rare, highly localized breeder in the west".
On the Pine Ridge, Rosche (1982) noted that while it "presumably breeds" in the northwest, there was no definite evidence, despite several prior summer reports for Sioux, Dawes, Scotts Bluff, and Garden Cos. It may have been more numerous on the Pine Ridge formerly, as suggested by Bruner et al (1904) and Rapp et al (1958), and the statement by Rosche (1982) that "It was probably more common formerly when destruction of riparian habitat was less extensive". There were 11 additional records of "Possible" or "Probable" nesting 2009-2014 (Mollhoff 2016), indicative of an increase in summering numbers there, as well as these additional recent reports: singles were at Ponderosa WMA, Dawes Co 10 Jun 2015, Chadron SP, Dawes Co 11 Jun 2015, Fort Robinson SHP, Dawes Co 20 Jun 2011, and one was at Chadron SP, Dawes Co 19 Jul 2012.
In the western Sandhills Mollhoff (2016) showed only a single report, of "Possible" nesting at Smith Lake WMA, Sheridan Co 23 Jun 2003; the only other report from there is of one on 15 Jun 2018, and, from that general area, two at Alliance, Box Butte Co 19 Jun 2017.
In the North Platte River Valley, nesting was first recorded in Keith Co in 1984 (Johnsgard 1990); the species was only a migrant prior to then (Rosche and Johnsgard 1984). Rosche (1994) indicated that regular breeding occurs westward to Sutherland, Lincoln Co and Paxton, Keith Co, and it was a "common breeder" in the Lake Ogallala area in Keith Co by the 1990s (Brown et al 1996). Mollhoff (2016) showed confirmed breeding at Ash Hollow SHP, Garden Co. Currently, there are several Jun-Jul reports west to Scotts Bluff Co without evidence of nesting; one in a yard south of Gering 10 Jul 2010 was "a surprise" (Alice Kenitz, personal communication).
South of the Platte River Valley, breeding is common west to Hitchcock Co, although there is only one Jun-Jul record for Dundy, Perkins, and Chase Cos, that at Grant, Perkins Co 5 Jun 2000.
BBS trend analysis shows an annual increase of 0.26 (95% C.I.; -0.67, 1.23) statewide 1966-2015 (Sauer et al 2017), indicating populations have remained relatively stable during the period.
Breeding phenology:
Nest-building: 6 May- 30 Jun
Eggs: 26 May-8 Aug
Nestlings: 6-22 Jun
Fledglings: 1 Jul
High counts:  24 at Fontenelle Forest 6 Jun 2020.
Fall:  summer <<<>>> Oct 7, 8, 9 (west and north), Summer <<<>>> Nov 17, 18, 19 (south and east)
Some small-scale flocking occurs by late Jul; 24 were in Lancaster Co 21 Jul 2006. Migration begins in mid-Sep and ends by early Oct in the Panhandle, and by late Oct in most of the state. There are later reports in the Panhandle 18 Oct 2015 Ogallala, Keith Co, 19 Oct 2019 Smith Lake WMA, Sheridan Co, 29 Oct 2003 Wind Springs Ranch, Sioux Co, another there 2 Nov 2005, and 9 Nov 2013 Garden Co. There are few Nov reports in the central: 13 Nov 1983 Adams Co, 13 Nov 2015 Hall Co, 18 Nov 1983 Howard Co, and 23 Nov 2001 near Gibbon, Buffalo Co.
High counts:  36 at Wilderness Park, Lincoln, Lancaster Co 12 Sep 2018, 30 at Fontenelle Forest 5 Sep 2012, and 29 in Lancaster Co 12 Sep 2009.
Winter: The only documented overwintering was of one in a Lincoln, Lancaster Co yard 2 Dec 2019- 22 Jan 2020.
While there are several Nov reports in the east, Dec-Feb reports anywhere in the state are few, and there are only six total reports for Mar (see Spring). All of the 11 reports for Dec except one are from the Platte and South Platte River Valleys southward; the exception was one at James Ranch, Sioux Co 4 Jan 2000.  All Jan-Feb records are: 2 Jan 2005 Lake Ogallala, 5 Jan 1997 Buffalo Co, one found freshly dead and very thin at Arbor Day Farm, Otoe Co 8 Jan 2001, 22 Jan 2005 Wilsonville, Furnas Co, 30 Jan 2015 Bellevue, Sarpy Co, 7-8 Feb 1993 Douglas Co (Grzybowski 1993), 17 Feb 1957 Gage Co, and 26 Feb 1957 Brown Co.
Abbreviations
BBS: Breeding Bird Survey
NWR: National Wildlife Refuge
SHP: State Historical Park
SP: State Park
UNSM: University of Nebraska State Museum
WMA: Wildlife Management Area (State)
Acknowledgement
Photograph (top) of a Gray Catbird at Papillion, Sarpy Co 10 May 2008 by Phil Swanson.
Literature Cited
Brown, C.R., M.B. Brown, P.A. Johnsgard, J. Kren, and W.C. Scharf. 1996. Birds of the Cedar Point Biological Station area, Keith and Garden Counties, Nebraska: Seasonal occurrence and breeding data. Transactions of the Nebraska Academy of Sciences 23: 91-108.
Bruner, L., R.H. Wolcott, and M.H. Swenk. 1904. A preliminary review of the birds of Nebraska, with synopses. Klopp and Bartlett, Omaha, Nebraska, USA.
Faulkner, D.W. 2010. Birds of Wyoming. Roberts and Company, Greenwood Village, Colorado, USA.
Grzybowski, J.A. 1993. Southern Great Plains Region. American Birds 47: 272-273.
Johnsgard, P.A. 1990. Additional observations of the birds of the Lake McConaughy region. NBR 58: 52-54.
Mollhoff, W.J. 2016. The Second Nebraska Breeding Bird Atlas. Bull. Univ. Nebraska State Museum Vol 29. University of Nebraska State Museum, Lincoln, Nebraska, USA.
Phillips, A.R. 1986. The known birds of North and Middle America. Part 1. Published by the author, Denver, Colorado, USA.
Rapp, W.F. Jr., J.L.C. Rapp, H.E. Baumgarten, and R.A. Moser. 1958. Revised checklist of Nebraska birds. Occasional Papers 5, Nebraska Ornithologists' Union, Crete, Nebraska, USA.
Rosche, R.C. 1982. Birds of northwestern Nebraska and southwestern South Dakota, an annotated checklist. Cottonwood Press, Crawford, Nebraska, USA.
Rosche, R.C. 1994. Birds of the Lake McConaughy area and the North Platte River valley, Nebraska.  Published by the author, Chadron, Nebraska, USA.
Rosche, R.C., and P.A. Johnsgard. 1984. Birds of Lake McConaughy and the North Platte River Valley, Oshkosh to Keystone. NBR 52: 26-35.
Sauer, J.R., D.K. Niven, J.E. Hines, D.J. Ziolkowski, Jr, K.L. Pardieck, J.E. Fallon, and W.A. Link. 2017.  The    North American Breeding Bird Survey, Results and Analysis 1966 – 2015 (Nebraska). Version 2.07. USGS Patuxent Wildlife Research Center, Laurel, Maryland, USA.
Smith, R.J., M.I. Hatch, D.A. Cimprich, and F.R. Moore. 2020. Gray Catbird (Dumetella carolinensis), version 1.0. In Birds of the World (A. F. Poole, Editor). Cornell Lab of Ornithology, Ithaca, NY, USA. https://doi.org/10.2173/bow.grycat.01.
Recommended Citation
Silcock, W.R., and J.G. Jorgensen.  2020.  Gray Catbird (Dumetella carolinensis). In Birds of Nebraska — Online. www.BirdsofNebraska.org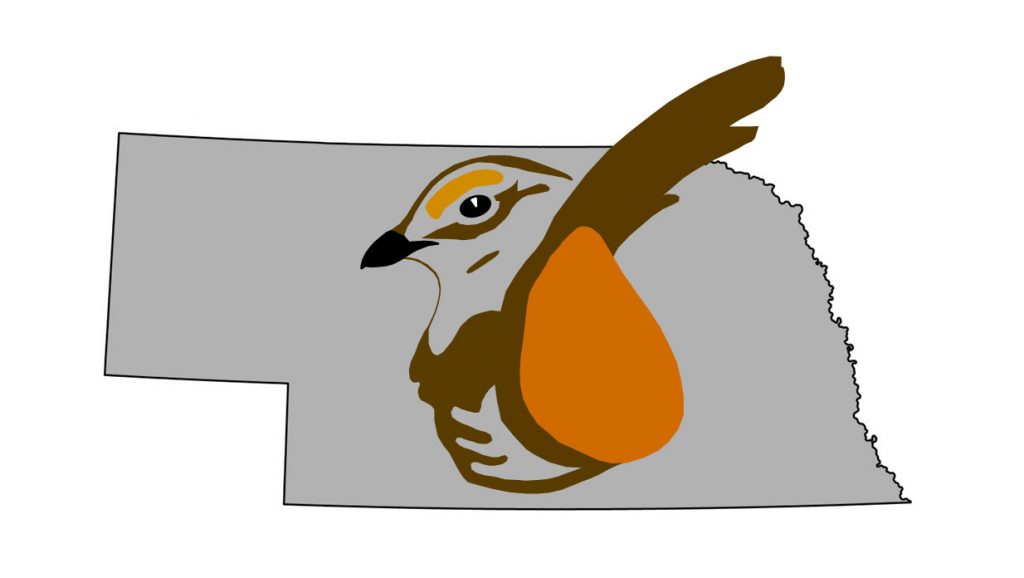 Birds of Nebraska – Online
Updated 30 Aug 2020