Perisoreus canadensis albescens
Status: Accidental in winter.
Documentation: Description: 2-26 Feb 1930 Antioch, Sheridan Co (Swenk 1930).
Taxonomy: The English name Gray Jay was changed back to the former name Canada Jay by Chesser et al (2018).
Until recently the most current attempt to clarify the controversial and complex subspecies taxonomy of this species was made by Strickland and Ouellet (2020). These authors included Canada Jays of the South Dakota Black Hills (albescens) in their Rocky Mountains group with capitalis and bicolor, and their Northern (Boreal) group consisted of canadensis, nigricapillus, and sanfordi. A Pacific Northwest group included obscurus, griseus, and pacificus. More recently, however, albescens has been considered part of the Boreal group (van Els et al 2012), with its range described as from "NE British Columbia to w South Dakota and nw Nebraska" to "western Canada east of the Rocky Mountains from northeastern British Columbia and northwestern Alberta south to north central United States (Black Hills, western South Dakota)" (Iliff, eBird.org).
Swenk (1930) assumed that the only documented Nebraska record was of a "Rocky Mountain Jay", presumably present-day capitalis, but it has been suggested (Phillips 1986) that individuals of albescens, of the South Dakota Black Hills, occasionally occur in northwest Nebraska. Indeed, the description of the bird states that it was "darker on the back and on the top of the head and neck", which would eliminate capitalis; the latter has a white crown (Pyle 1997). Graham et al (2021) however, noted that the "Rocky Mountains morphotype exhibited higher genetic diversity [than Boreal or Pacific morphotypes] and was associated with multiple genotypes", thus casting some doubt on the subspecies identification of the 1930 Nebraska bird.
Winter: In the Black Hills of South Dakota, Gray Jays are common residents above 4000 feet elevation but the species "ranges lower in the non-breeding season" (Tallman et al 2002). Interestingly, four Gray Jays were reported near Edgemont in the southern Black Hills 20 Dec 2014, only about 25 miles from Nebraska.
There are 12 Nebraska reports of Gray Jay, only one of which is supported by documentation. Nine of the reports are north and west of Sheridan and Scotts Bluff Cos, with additional reports from Thomas Co and in the east two in Cuming and Douglas Cos. All reports are in the period 12 Nov-7 May.
The only documented record is:
2-26 Feb 1930 Antioch, Sheridan Co (Swenk 1930, Bray et al 1986).
Regarding the Antioch Gray Jay, The Editor of Letters of Information, Myron Swenk, related the following: "On February 2 Mr. Keller had a remarkable visitor – a Canada Jay, or rather the western form of that bird known as the Rocky Mountain Jay – which remained over February 3 and 4 and then disappeared until February 26, when it was again seen. Mr. Keller describes the bird as about 12 inches long, a light slate gray, darker on the back and on the top of the head and neck, but very light above the bill for a width of about one fourth of the way to the top of the head, the cheeks and about the throat whitish and the rest of the underparts brownish gray. The tail was rounded." This description applies to the subspecies albescens of the Black Hills (see Taxonomy).
None of the remaining 11 reports are accompanied by details sufficient for validity. The two reports from eastern Nebraska were not during invasion years; Iowa has only three records, all in fall of 1976 during an invasion year (Kent and Dinsmore 1996). The remaining nine Nebraska reports are from northern and western Nebraska, including one in Thomas Co, and might have involved birds from either the Black Hills of South Dakota or Rocky Mountains ranges to the west of Nebraska (see Taxonomy). Some, if not all, may have been misidentified Clark's Nutcrackers (see Sharpe et al 2001).
Literature Cited
Bray, T.E., B.K. Padelford, and W.R. Silcock. 1986. The birds of Nebraska: A critically evaluated list. Published by the authors, Bellevue, Nebraska, USA.
Chesser, R.T., K.J. Burns, C. Cicero, J.L. Dunn, A.W. Kratter, I.J. Lovette, P.C. Rasmussen, J. V. Remsen, Jr., D.F. Stotz, B.M. Winger, and K. Winker. 2018. Fifty-ninth Supplement to the American Ornithological Society's Check-list of North American Birds. Auk 135: 798-813.
Graham, B.A., C. Cicero, D. Strickland, J.G. Woods, H. Coneybeare, K.M. Dohms, I. Szabo, and T.M. Burg. 2021. Cryptic genetic diversity and cytonuclear discordance
characterize contact among Canada jay (Perisoreus canadensis) morphotypes in western North America. Biological Journal of the Linnean Society 132, 725–740.
Kent, T.H., and J.J. Dinsmore. 1996. Birds in Iowa. Publshed by the authors, Iowa City and Ames, Iowa, USA.
Phillips, A.R. 1986. The known birds of North and Middle America. Part 1. Published by the author, Denver, Colorado, USA.
Pyle, P. 1997. Identification Guide to North American Birds. Part I, Columbidae to Ploceidae. Slate Creek Press, Bolinas, California, USA.
Sharpe, R.S., W.R. Silcock, and J.G. Jorgensen. 2001. The Birds of Nebraska: Their Distribution and Temporal Occurrence. University of Nebraska Press, Lincoln, Nebraska, USA.
Strickland, D. and H.R. Ouellet. 2020. Canada Jay (Perisoreus canadensis), version 1.0. In Birds of the World (P. G. Rodewald, Editor). Cornell Lab of Ornithology, Ithaca, NY, USA. https://doi.org/10.2173/bow.gryjay.01.
Swenk, M.H. 1930. Letters of Information 49: 4.
Tallman, D.A., Swanson, D.L., and J.S. Palmer. 2002. Birds of South Dakota. Midstates/Quality Quick Print, Aberdeen, South Dakota, USA.
van Els, P., C. Cicero, and J. Klicka. 2012. High latitudes and high genetic diversity: phylogeography of a widespread boreal bird, the gray jay (Perisoreus canadensis). Molecular Phylogenetics and Evolution 63: 456–465.
Recommended Citation
Silcock, W.R., and J.G. Jorgensen. 2021. Canada Jay (Perisoreus canadensis). In Birds of Nebraska — Online. www.BirdsofNebraska.org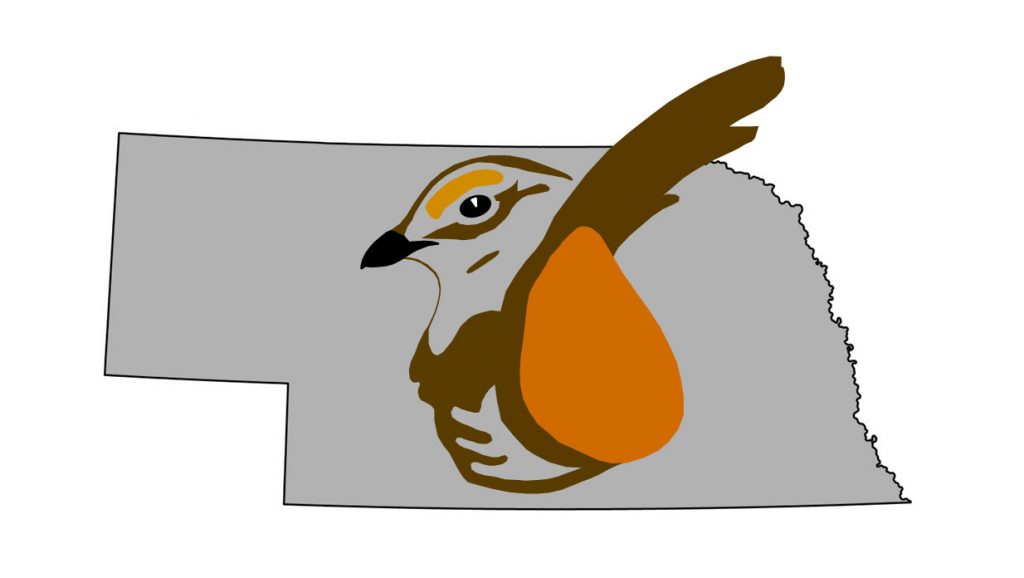 Birds of Nebraska – Online
Updated 4 Sep 2021