Myiarchus crinitus
Status: Common regular spring migrant and breeder east, locally common central, fairly common west. Common regular fall migrant east and central, rare west.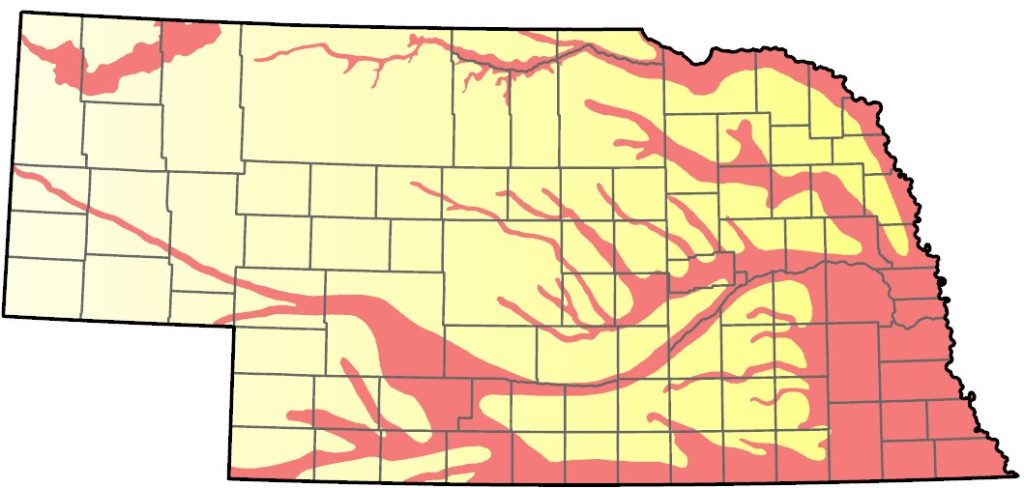 Documentation: Specimen: UNSM ZM6363, 19 Jul 1901 Beatrice, Gage Co.
Taxonomy: A recent decision by AOS (Chesser et al 2018) rearranged the order of subfamilies within the Tyrannidae, placing Tyranninae (Nebraska-occurring genera Myiarchus, Pitangus, Tyrannus) ahead of Fluvicolinae (Nebraska-occurring genera Contopus, Empidonax, Sayornis, Pyrocephalus). We follow this order of genera.
No subspecies are recognized (Pyle 1997).
Spring: Apr 26, 26, 26 <<<>>> summer (except Panhandle), May 15, 15, 15 <<<>>> summer (Panhandle)
Earlier reports are 21 Apr 2022 Fontenelle Foret, Sarpy Co, 23 Apr 2017 Nemaha Co, and 24 Apr 1993 Richardson Co.
An earlier date in the Panhandle is 13 May 2017 Dawes Co.
Migrants are most numerous in the Missouri River Valley. Arrival is in late Apr, and peak migration mid-May. Arrival is later in the Panhandle, in mid-May.
High counts: 41 at Indian Cave SP, Nemaha and Richardson Cos 27 May 2002, 39 in Sarpy Co 11 May 1996 and 29 in Sarpy Co 13 May 1995.
Summer: Bruner et al (1904) considered Great Crested Flycatcher a common summer resident only along the Missouri River and its larger tributaries in the east; Rapp et al (1958) noted that it occurred as far west as Keith and Logan Cos. The breeding range expanded westward during the 20th Century along river valleys as riparian woodlands have spread westward and matured. The expansion has continued into the 21st Century. Currently Great Crested Flycatcher occurs statewide, with highest densities in the east, and lowest numbers in the west, where it is limited to extensive wooded riparian areas on the Pine Ridge, along the Niobrara River Valley, North Platte River Valley west to Scotts Bluff Co, Loup drainage west to Thomas Co, South Platte River Valley, and Republican River Valley.
It is common in the Niobrara River Valley west to at least eastern Cherry Co (Brogie and Mossman 1983), occurring only in small numbers further west, although 36 were tallied at Anderson Bridge WMA, Cherry Co 8 Jun 2022. One of few records west of Nenzel along the Niobrara River was a male in breeding condition collected 5 Jul 1964 south of Rushville, Sheridan Co (Short 1965); another was near Rushville 3 Jun 2014, and at Smith Lake WMA, Sheridan Co two were present 14 Jun 2016 and two on 10 Jun 2021.
Great Crested Flycatcher is fairly common on the Pine Ridge; it was considered a rare migrant and local summer resident in the northwest as recently as the early 1980s (Rosche 1982), where it had occurred as a migrant since 10 May 1953, and in summer since 18 Jun 1961.
While it occurs regularly in the eastern Loup River drainage, in recent years it has become more common in the rivers of the western parts of the drainage. Indeed, at NNF in Thomas Co, it was by the 1990s a "common summer resident" (Bray 1994). Eight were tallied at NNF Halsey 6 Jun 2022, and farther west, one was at Mullen, Hooker Co 5 Jun. Recent reports are from extreme northeast Lincoln Co 7 Jun 2013 and 5 Jun 2011 and western Custer Co 5 Jun 2016, 30 Jun 2012, and 17 Jul 2012. One was at Crescent Lake NWR, Garden Co 9 Jun 2021.
This species occurs regularly in the North Platte River Valley west at least to Keith Co, but west of there since 2000 there have been only about 13 reports 5 Jun-9 Jul. There are only about 10 records for Wyoming (Faulkner 2010)
It summers along the South Platte River Valley to Colorado, where it was first reported in the 1970s and bred in the late 1980s (Andrews and Righter 1992), and throughout the Republican River Valley. Numbers decline westward along the Republican, but there are several reports west to Dundy Co.
Breeding Phenology:
Nest Building: 23-26 May
Eggs: 5-8 Jun (Mollhoff 2022)
Nestlings: 3 Jun-28 Jul
Fledglings: 5-21 Jul
One photographed carrying what appeared to be nest material in Hall Co 3 Jul 2019 (eBird.org) was of interest; although generally not double-brooded, egg-laying can be as late as 10 Jul in Canada (Miller and Lanyon 2014).
High counts: 36 at Anderson Bridge WMA, Sioux Co 8 Jun 2022 and 18 near Norden in Keya Paha Co 8 Jun 2022.
Fall: summer <<<>>> Sep 20, 21, 21 (except Panhandle); summer <<<>>> Sep 11, 11, 12 (Panhandle)
Later dates in the Panhandle are 14 Sep 2017 Sioux Co, 15 Sep 2015 Dawes Co, and 9 Oct (Rosche 1982).
Migrants begin southward movement by the end of Aug, most departing by mid-Sep.
Even though it breeds in the Pine Ridge, there are only about 20 fall reports in the Panhandle away from breeding areas; migrants tend to move southeastward in fall to northeastern Mexico (Miller and Lanyon 2020).
High counts: 9 at Rock Creek SRA, Dundy Co 9 Aug 2020, 7 at Indian Cave SP 13 Sep 2003, 6 at Hormel Park, Dodge Co 21 Jul 2010, and 6 at Rock Creek SRA 22 Aug 2022.
Images
Abbreviations
NNF: Nebraska National Forest
NM: National Monument
SP: State Park
UNSM: University of Nebraska State Museum
WMA: Wildlife Management Area (State)
Literature Cited
Andrews, R., and R. Righter. 1992. Colorado birds. Denver Museum of Natural History, Denver, Colorado, USA.
Bray, T.E. 1994. Habitat utilization by birds in a man-made forest in the Nebraska Sandhills. Master's thesis, University of Nebraska-Omaha, Omaha, Nebraska, USA.
Brogie, M.A., and M.J. Mossman. 1983. Spring and summer birds of the Niobrara Valley Preserve, Nebraska: An annotated checklist. NBR 51: 44-51.
Bruner, L., R.H. Wolcott, and M.H. Swenk. 1904. A preliminary review of the birds of Nebraska, with synopses. Klopp and Bartlett, Omaha, Nebraska, USA.
Chesser, R.T., K.J. Burns, C. Cicero, J.L. Dunn, A.W Kratter, I.J. Lovette, P.C. Rasmussen, J.V. Remsen, Jr., D.F. Stotz, B.M. Winger, and K. Winker. 2018. Fifty-ninth Supplement to the American Ornithological Society's Check-list of North American Birds. Auk 135: 798-813.  https://doi.org/10.1642/AUK-18-62.1.<
Faulkner, D.W. 2010. Birds of Wyoming. Roberts and Company, Greenwood Village, Colorado, USA.
Miller, K.E. and W.E. Lanyon. 2020. Great Crested Flycatcher (Myiarchus crinitus), version 1.0. In Birds of the World (A. F. Poole, Editor). Cornell Lab of Ornithology, Ithaca, NY, USA. https://doi.org/10.2173/bow.grcfly.01.
Mollhoff, W.J. 2022. Nest records of Nebraska birds. Nebraska Ornithologists' Union Occasional Paper Number 9.
Pyle, P. 1997. Identification Guide to North American Birds. Part I, Columbidae to Ploceidae. Slate Creek Press, Bolinas, California, USA.
Rapp, W.F. Jr., J.L.C. Rapp, H.E. Baumgarten, and R.A. Moser. 1958. Revised checklist of Nebraska birds. Occasional Papers 5, Nebraska Ornithologists' Union, Crete, Nebraska, USA.
Rosche, R.C. 1982. Birds of northwestern Nebraska and southwestern South Dakota, an annotated checklist. Cottonwood Press, Crawford, Nebraska, USA.
Short, L.L., Jr. 1965. Bird records from northern Nebraska during the breeding season. NBR 33: 2-5.
Recommended Citation
Silcock, W.R., and J.G. Jorgensen. 2022. Great Crested Flycatcher (Myiarchus crinitus). In Birds of Nebraska — Online. www.BirdsofNebraska.org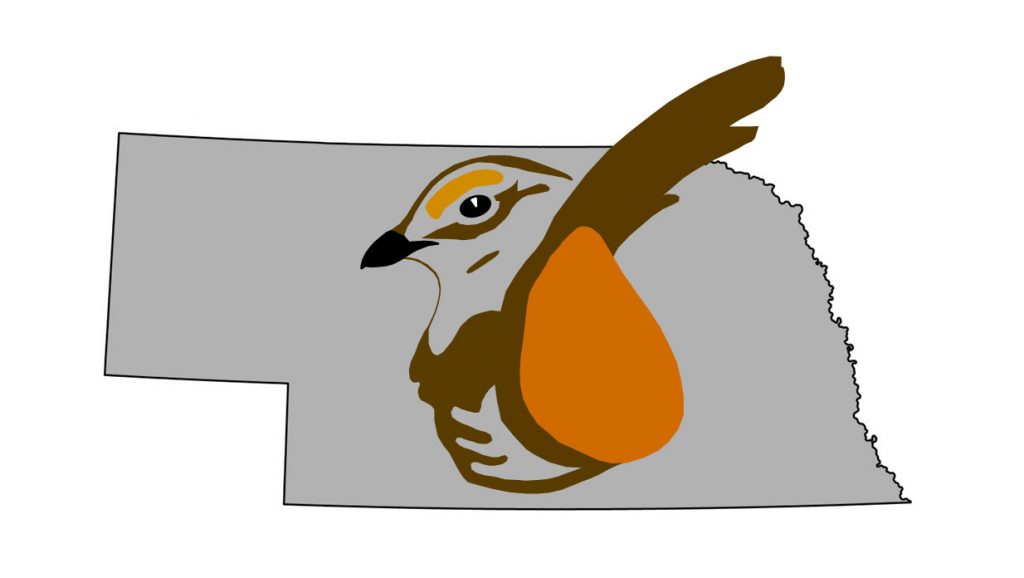 Birds of Nebraska – Online
Updated 23 Dec 2022, map updated 14 Jul 2022