Bubo virginianus virginianus, B. v. subarcticus, B. v. lagophonus, B. v. pallescens
Status: Common regular resident statewide. Rare regular winter visitor statewide.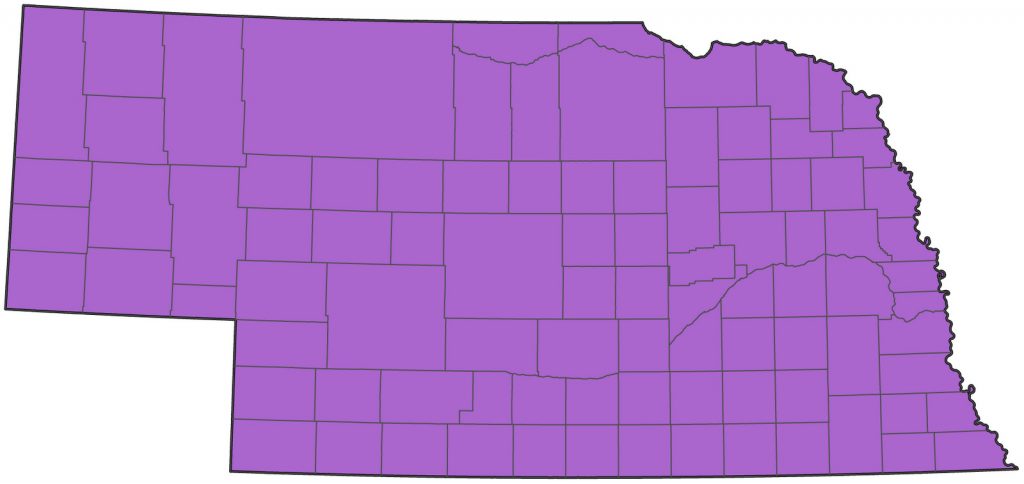 Documentation: Specimen: virginianus, UNSM ZM12752, 4 Nov 1902 Lancaster Co; subarcticus, UNSM ZM-16270 12 Mar 1990 Cuming Co.
Taxonomy: Variously 12-15 subspecies are recognized, 4-5 of these from Mexico south through South America (Clements et al 2016, Gill et al 2022). Pyle (1997) divided the North American subspecies into three groups, Pacific Coastal (saturatus, pacificus), Interior Western (algistus, lagophonus,subarcticus (including scalariventris), pallescens), and Eastern (heterocnemis, virginianus). Since Pyle (1997), a new subspecies was described, presumably part of Pyle's Interior Western group, pinorum of southern Idaho to northern Arizona and northern New Mexico (Gill et al 2022).
Of these subspecies, ranges (Artuso et al 2020) of the four that have occurred in Nebraska are: lagophonus of the northern Rocky Mountains from Alaska south through British Columbia to northeast Oregon, central Idaho, and northwestern Montana, wintering south and east as far as Colorado and Texas, subarcticus (including "occidentalis" and scalariventris) of Mackenzie and northeastern British Columbia east to Hudson Bay and south to the northwestern Great Plains, pallescens, of central California and deserts of southeast California through southern Utah to western Kansas and south to Mexico, and virginianus, of Minnesota east to Nova Scotia and Prince Edward Island and south through eastern Kansas and eastern Texas to Florida.
Assignment of Nebraska breeding birds is complicated by complex and clinal subspecies boundaries on the Great Plains (Pyle 1997, Taverner 1938). Previous authors have delineated two resident breeding subspecies: eastern virginianus in the southeastern quarter of the state (Swenk 1937, AOU 1957), and western subarcticus ("occidentalis") the remainder (Swenk 1937, AOU 1957, Rapp et al 1958). Some authors (e.g. Pyle 1997, Dickerman 1993) consider "occidentalis" an intergrade between southeastern individuals of subarcticus and northern individuals of pallescens. Pale breeding birds in northwestern Nebraska may indeed be pallescens (Dickerman 1993) but are most likely intergrades between pallescens and subarcticus ("occidentalis"). Robbins and Rush (2021) point out that, like other species such as Blue Jay and Eastern Screech-Owl, virginianus is likely to have expanded its range westward across most of the Great Plains, including Nebraska, since at least the findings of Pyle (1997) and Dickerman (1993), and most breeding Great Horned Owls in Nebraska currently may be virginianus or genetically near virginianus.
According to Artuso et al (2020), irruptions from Saskatchewan and Alberta involving striking southeasterly movement occur when population crashes of snowshoe hare (Lepus americanus) occur in boreal forest and aspen parkland. These authors also state that it is not known whether such owls return to their areas of origin in spring, but also state: "typically, emigration is unidirectional". Of interest in this context is a report of two pale birds on nests in extreme southeast Sheridan Co and in northwest Garden Co 20 Apr 2003; these were photographed by Ty Smedes and may have been previous winter immigrants that had not returned to their natal areas (Silcock 2003). Indeed, Taverner (1938) stated that "occasionally these winter wanderers remain to breed in localities far from their natural range"; a nesting season specimen "typical of pallescens" collected in Pawnee Co was thought to be an example of this phenomenon (Dickerman 1993).
In winter, the pale, occasionally almost white (Bent 1938), birds from the northern parts of the range of subarcticus, previously known as "wapacuthu" (incorrectly: Artuso et al 2020), exhibit a tendency to disperse eastward in fall and winter, beginning when young are abandoned by adults (Swenk 1937, AOU 1957, Haecker et al 1945). Three nestlings of subarcticus banded in Saskatchewan were recovered in Nebraska, around 850 miles away (Dickerman 1993). Swenk (1937) cited 11 specimens of subarcticus (as "wapacuthu") dated 11 Nov-1 Mar, from all parts of the state. Two of these, #2542 and #10686, are in the Hastings Municipal Museum. Another thought to be this subspecies was a roadkill in Hamilton Co 21 Jan 2012, likely associated with the huge Snowy Owl invasion that winter. A "very pale gray" bird was seen in Dundy Co 25 Oct 2004 and sightings of one described as an "Arctic" Great Horned Owl in southeast Washington Co 19 Dec 2017 and 14 Jan 2018 were probably of the same bird. A pale bird was photographed 16 Jan 2019 in Keith Co, and another 19 Jan 2021 in Lincoln Co. One was photographed near Hershey, Lincoln Co 29 Jan-16 Feb 2022.
The northwestern US race lagophonus also appears casually in winter (AOU 1957). Swenk (1937) cited eight records of lagophonus statewide in the period 28 Oct-mid Feb, including a specimen #2679 in the Hastings Municipal Museum.
Occurrence of the pale southerly race pallescens in Nebraska is somewhat equivocal (Swenk 1938); Swenk (1937) cited three specimens of pallescens, from Adams Co 7 Dec 1933 and 19 Oct 1934 and Saunders Co 9 Dec 1934, although he later re-examined the 1933 Adams Co specimen and concluded it was a small example of subarcticus. Swenk (1938) also re-examined the Saunders Co specimen, noting it was small and pale, and that "for the present at least, its identification as a post-breeding season wandering individual of pallescens will be permitted to stand". Dickerman (1993) suggested that pallescens may breed in western counties of Nebraska, but that data were "weak".
Resident: Great Horned Owls are relatively evenly-distributed residents statewide; see Taxonomy for a discussion of breeding subspecies. It occupies the edges of deciduous and coniferous forests as well as open savannah. Mature woodland, including woodlots at farmsteads, shelterbelts, and larger parks in towns and cities often host Great Horned Owls. Although highly adaptable as a predator and therefore broadly distributed, one limiting factor to its distribution may be the availability of appropriate nest sites such as large abandoned nests of other species in mature trees, cavities in stumps of fallen trees, and ledges on cliffs.
It has been suggested (Robbins and Rush 2021) that eastern virginianus, like other eastern forest species (Blue Jay, Eastern Screech-Owl, Broad-winged Hawk) is expanding westward as succession occurs in riparian corridors.
Breeding Phenology:
Territorial fighting: 17 Jan
Copulation: 20 Jan-10 Feb
Incubation: 18 Jan-26 Apr
Eggs: 18 Jan-13 Apr (Mollhoff 2022)
Nestlings: 15 Mar-9 Jun
Fledglings: 17 Apr-18 Aug (late dates are of begging fledglings)
Winter: See Taxonomy for discussion of winter visitors. CBC counts indicate the abundance of this species; high counts are 31 at Norfolk 20 Dec 1986, and 30 at both Omaha 26 Dec 1987 and Lincoln 16 Dec 1990.
Images
Abbreviations
CBC: Christmas Bird Count
UNSM: University of Nebraska State Museum
Literature Cited
American Ornithologists' Union [AOU]. 1957. The AOU Check-list of North American birds, 5th ed. Port City Press, Baltimore, Maryland, USA.
Artuso, C., C.S. Houston, D.G. Smith, and C. Rohner. 2020. Great Horned Owl (Bubo virginianus), version 1.0. In Birds of the World (A. F. Poole, Editor). Cornell Lab of Ornithology, Ithaca, NY, USA. https://doi.org/10.2173/bow.grhowl.01.
Bent, A.C. 1938. Life histories of North American birds of prey. Part Two. Bulletin of the United States National Museum 170. Dover Publications Reprint 1961, New York, New York, USA.
Clements, J. F., T. S. Schulenberg, M. J. Iliff, D. Roberson, T. A. Fredericks, B. L. Sullivan, and C. L. Wood. 2016. The eBird/Clements checklist of birds of the world: v2016, accessed 30 January 2018.
Dickerman, R.W. 1993. The subspecies of the Great Horned Owls of the central Great Plains, with notes on adjacent areas. Kansas Ornithological Society Bulletin 44: 17-21.
Gill, F., D. Donsker, and P. Rasmussen (Eds). 2022. IOC World Bird List (v 12.2). Doi 10.14344/IOC.ML.12.2.  http://www.worldbirdnames.org/.
Haecker, F.W., R.A. Moser, and J.B. Swenk. 1945. Checklist of the birds of Nebraska. NBR 13: 1-40.
Mollhoff, W.J. 2022. Nest records of Nebraska birds. Nebraska Ornithologists' Union Occasional Paper Number 9.
Pyle, P. 1997. Identification Guide to North American Birds. Part I, Columbidae to Ploceidae. Slate Creek Press, Bolinas, California, USA.
Rapp, W.F. Jr., J.L.C. Rapp, H.E. Baumgarten, and R.A. Moser. 1958. Revised checklist of Nebraska birds. Occasional Papers 5, Nebraska Ornithologists' Union, Crete, Nebraska, USA.
Robbins, M.B. and I.N. Rush. 2021. The status of the migratory Great Horned Owl (Bubo virginianus subarcticus) in Kansas and Missouri, with comments on the breeding distribution of subspecies in the Great Plains. Kansas Ornithological Society Bulletin 72: 33-37.
Silcock. W.R. 2003. Spring Field report, March-May 2003. NBR 71: 58-96.
Swenk, M.H. 1937. A study of the distribution and migration of the Great Horned Owls in the Missouri Valley Region. NBR 5: 79-105.
Swenk, M.H. 1938. Some Additional Observations on the Races of the Great Horned Owl. NBR 6: 7-8.
Taverner, P.A. 1938. An Explanation of the Local Variations Occurring in the Great Horned Owl. NBR 6: 8-9
Recommended Citation
Silcock, W.R., and J.G. Jorgensen. 2023. Great Horned Owl (Bubo virginianus). In Birds of Nebraska — Online. www.BirdsofNebraska.org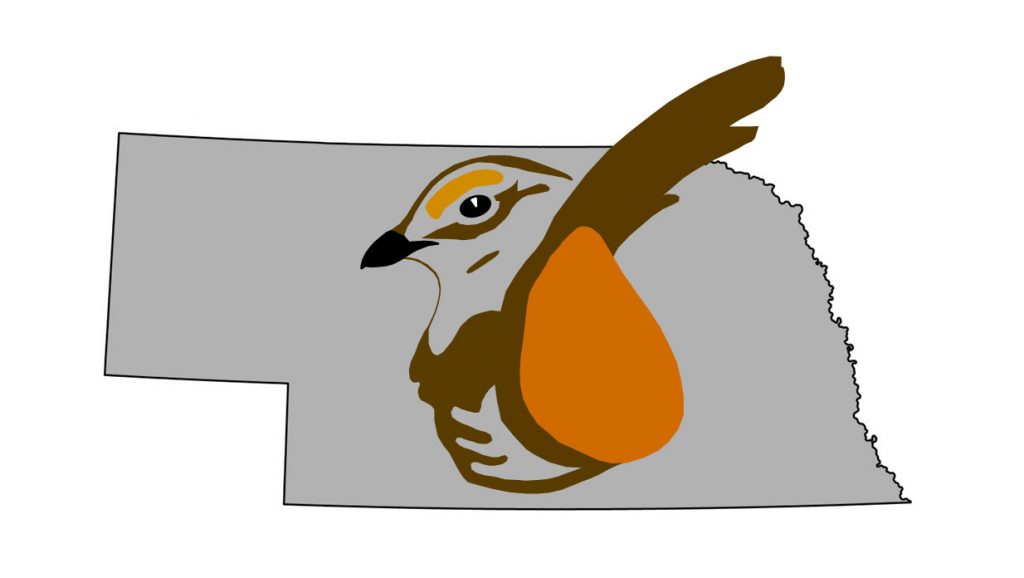 Birds of Nebraska – Online
Updated 28 Oct 2023