Pitangus sulphuratus texanus
Status: Accidental in spring.
Taxonomy: A recent decision by AOS (Chesser et al 2018) rearranged the order of subfamilies within the Tyrannidae, placing Tyranninae (Nebraska-occurring genera Myiarchus, Pitangus, Tyrannus) ahead of Fluvicolinae (Nebraska-occurring genera Contopus, Empidonax, Sayornis, Pyrocephalus). We follow this order of genera.
Of ten recognized subspecies, only one occurs regularly north of Mexico, P. s. texanus (Brush and Fitzpatrick 2020). The Nebraska record is presumed texanus, although occurrence of P. s. guatimalensis of Veracruz, Oaxaca, Chiapas, Tabasco, and Yucatán Peninsula which is smaller-billed and duller in coloration than texanus (Brush and Fitzpatrick 2020), is possible.
Record:
3 May 2020 Barneston, Gage Co (McEvers; Brogie 2021).
One appeared on the front yard bird bath of a Barneston, Gage Co home 3 May 2020 for a few minutes, was photographed by the homeowner, Sheriena McEvers, and not seen again. The record was accepted by NOURC (Brogie 2021).
Comments: Great Kiskadee regularly occurs as a resident north to south Texas, but occasionally wanders further north on the Great Plains, mostly since around 2000 (Brush and Fitzpatrick 2020). Northernmost on the Great Plains are for Kansas Sep-Nov 2013, eastern Colorado 21 Jun 2013, and South Dakota 2 Dec 2015. The South Dakota record involved at least two birds that appeared at a farm near Volga in Aug 2015, with one surviving into Dec on mealworms and suet provided by the landowner (Sohl, https://www.sdakotabirds.com/).
There are far-flung records for South Carolina, Tennessee, Ontario, and Indiana, all within the period Oct-May (eBird.org). Less surprising extralimital records are the 8+ north to northeast New Mexico, north Texas, Oklahoma, and Arkansas (eBird.org).
Lesser Kiskadee (Pitangus lictor) was considered for the Great Kiskadee in South Carolina 10 Feb 2017 but the recorded voice was "more pure-toned (Greater) rather than raspy (Lesser)" (Patterson, eBird.org).
Images
Acknowledgments
Photograph (top) of a Great Kiskadee at Barneston, Gage Co 3 May 2020 by Sheriena McEvers.
Literature Cited
Brogie, M.A. 2021. 2020 (32nd) Report of the NOU Records Committee. NBR 89: 139-145.
Brush, T., and J.W. Fitzpatrick. 2020. Great Kiskadee (Pitangus sulphuratus), version 1.0. In Birds of the World (A. F. Poole and F. B. Gill, Editors). Cornell Lab of Ornithology, Ithaca, NY, USA. https://doi.org/10.2173/bow.grekis.01.
Chesser, R.T., K.J. Burns, C. Cicero, J.L. Dunn, A.W Kratter, I.J. Lovette, P.C. Rasmussen, J.V. Remsen, Jr., D.F. Stotz, B.M. Winger, and K. Winker. 2018. Fifty-ninth Supplement to the American Ornithological Society's Check-list of North American Birds. Auk 135: 798-813.  https://doi.org/10.1642/AUK-18-62.1.
Recommended Citation
Silcock, W.R., and J.G. Jorgensen. 2022. Great Kiskadee (Pitangus sulphuratus). In Birds of Nebraska — Online. www.BirdsofNebraska.org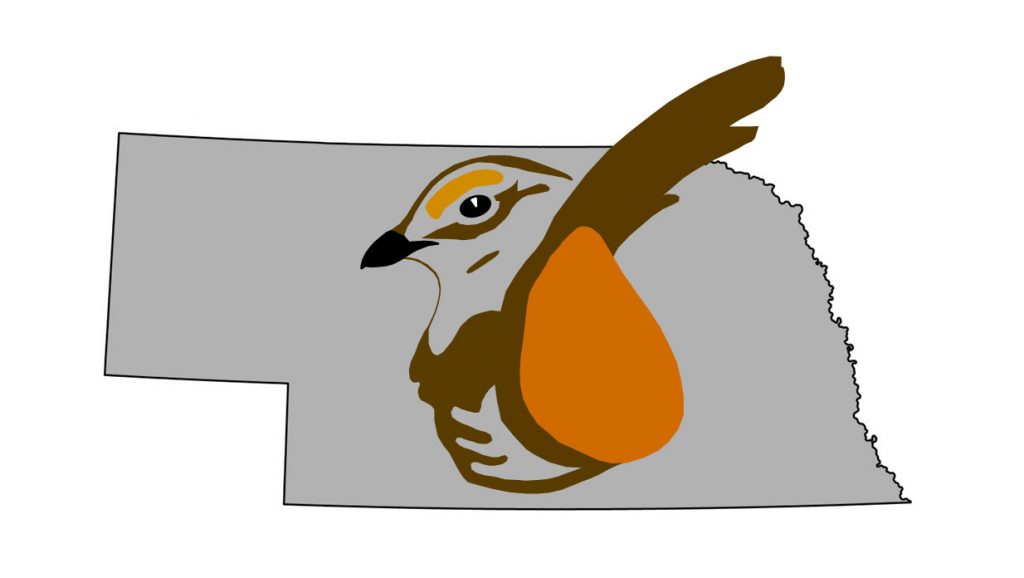 Birds of Nebraska – Online
last updated 19 Nov 2022