Quiscalus mexicanus
Status:  Common regular spring and fall migrant southeast and south-central, uncommon elsewhere. Common regular breeder south-central and southeast, uncommon western Sandhills, rare elsewhere. Uncommon regular winter visitor south and east, rare casual elsewhere.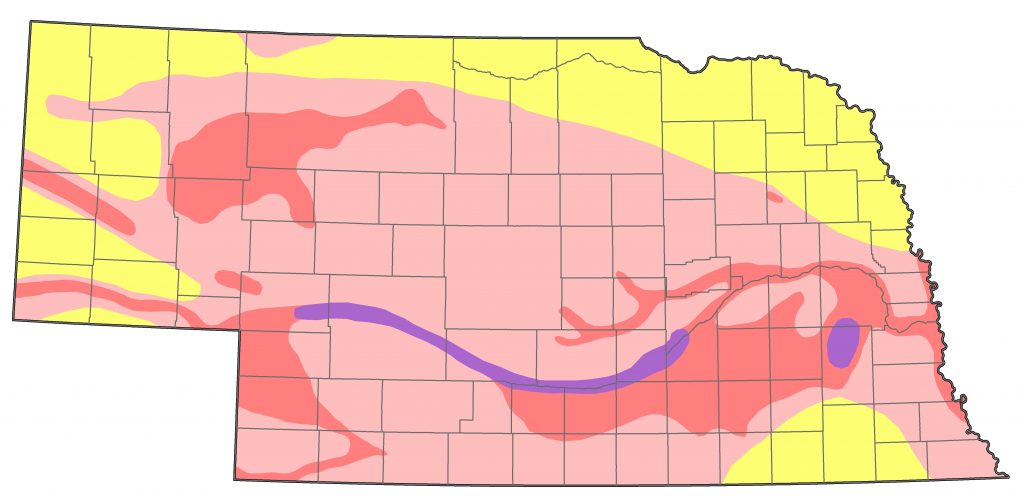 Documentation:  Specimen: UNSM ZM17601, May 1998 Ceresco, Saunders Co.
Taxonomy:  Eight subspecies are recognized (Pyle 1997), five south of the USA and these north of Mexico: nelsoni, breeding and wintering from southeast California to southern Nevada and southwest Arizona, monsoni, breeding and wintering from southern Utah and southern Colorado to south-central Arizona and southwest Texas, and prosopidicola, breeding and wintering from southeast Nebraska to south Texas and Louisiana.
The measurements of the specimen cited above (Tom Labedz, pers. comm.) are somewhat intermediate between monsoni and prosopidicola; the tail is long for prosopidicola. Faanes and Norling (1981) collected an adult male in Buffalo Co 13 Jun 1979; they concluded the specimen was referable to monsoni by measurements, although, as with the Saunders Co specimen cited above, the measurements could also be considered intermediate. This specimen appears to be lost (Bray et al 1986).
All specimens taken to date in northwest Missouri, where the first nesting was recorded in 1979, have been of the eastern race prosopidicola (Robbins and Easterla 1992). Subspecies of Great-tailed Grackle merge clinally at range boundaries and it might be concluded that the Nebraska specimens are intergrades of prosopidicola and monsoni. All three subspecies are expanding their ranges northward at an "explosive" rate (Jaramillo and Burke 1999).
Changes since 2000: Although this species first nested in Nebraska as recently as 1976, it has continued to expand its range. Since 2000 it has bred almost throughout, including the western Sandhills, western Loup River drainage, and the Panhandle, and is now a regular wintering species in the Platte River Valley.
Spring:  Mar 13, 13, 15 <<<>>> summer (north and west)
Earlier dates north and west are 5 Mar 2021 Rock Co and 7 Mar 2023 (50) Scotts Bluff Co. Earlier dates than 5 Mar are included in Winter, below.
Northward movement is detectable by mid-Mar from the Platte River Valley winter range.
High counts:  525 in Hall Co 13 Feb 2016, 400 near Doniphan, Hall Co 21 Feb 2020, 300 at a Grand Island truck stop 11 Mar 2018, 250 in Scotts Bluff Co 6 Mar 2013, and 250 in Lincoln Co 29 Mar 2020.
Summer: This species was first recorded in Nebraska in 1976 in Phelps Co, when several birds were seen in spring and summer around the headquarters of the Sacramento-Wilcox WMA; nesting was suspected but not confirmed (Longfellow 1979). There are extensive pine (Pinus spp.) and juniper (Juniperus spp.) plantings in this area. The first nesting record was at Boys Town, Douglas Co, a nest with eggs 17 May 1977 (B. J. Rose; Cortelyou 1977a, Mollhoff 2022).
Breeding in Nebraska is usually associated with wetlands, especially cattail (Typha spp.) marshes, and it has been suggested that "wet habitat types may be important for pioneering birds" (Faanes and Norling 1981). However, the first Nebraska nestings were in dense spruces in a park-like setting (Cortelyou 1977a, 1977b, 1978), a habitat which is most often utilized within the species' core range (Pruitt and McGowan 1975).  It also nests regularly in high traffic urban areas such as at various locations along Cornhusker Highway in Lincoln, Lancaster Co and in small ornamental trees adjacent to restaurants and convenience stores at the York, York Co Interstate 80 interchange.  An unusual observation from 2019 involved Great-tailed Grackles apparently using corn stalks from the previous growing season in standing water as nesting sites west of Hansen WPA, Clay County in May and June (Jorgensen and Brenner 2019).
The second and third records involved confirmed nesting.  At the Hastings Ammunition Depot in Adams Co several pairs were seen in spruces near the Officers' Club from 11 May 1977 into summer (Williams 1977, Cortelyou 1977a, 1977b). About 10-15 pairs were later counted, with at least six young present. It was believed by the observers that birds may have been at this site for two or three years; an impressive tally of 100+ birds were there 21 May 1978 (Cortelyou 1978). At the same time a small colony with two nests was found 14 May 1977 in a clump of willows in a small lake at Boys Town, Douglas Co (Williams 1977, Cortelyou 1977a, 1977b); at least four males and two females were present through early Jul.
Since 1977, nesting has been regularly reported in southeast Nebraska, with most reports from the Rainwater Basin.  Mollhoff (2001) showed breeding season reports only in the southeast during 1984-1989, north to Lancaster and Howard Cos and west to Phelps Co, but by 2006-2011, scattered reports extended over most of the state (Mollhoff 2016). Range expansion has followed major river valleys westward along the Platte and North Platte River Valleys and the Loup River drainage into the western Sandhills.  Confirmed breeding was recorded in the 2006-2011 BBA period in Dawes, Box Butte, Sheridan, Garden, and Grant Cos, as well as Deuel, Lincoln, and Dawson Cos, all northwest of the 1984-1989 range. As of 2016, fewest reports are from the northeast.
Breeding phenology:
Courtship: 28 Mar
Copulation: 16-30 Apr
Nest building: 4 Apr-28 May
Eggs: 25 Apr-7 Jul
Nestlings: 4 May- 21 Jun
Fledglings: 8 Jun-4 Aug
Fall: summer <<<>>> Sep 29, 29, 29 (north and west)
Later dates north and west are 4 Oct 2011 Scotts Bluff Co, 7 Oct 2022 (4) Scotts Bluff Co, 19 Nov 2022 (21) Oshkosh, Garden Co, 21 Nov 2022 Lewellen, Garden Co, and 30 Nov 2022 (2) Scotts Bluff Co.
Dec and later dates are included in Winter.
Flocks form in Jul and can be large by early Aug; examples are 150 at Kissinger Basin WMA, Clay Co 2 Aug 2003 (Jorgensen 2012), 115 in Otoe Co 21 Aug 1998, and 65 at Ong, Clay Co 20 Aug 1994. Migration probably peaks in Oct; large flocks occur Sep-Nov (see High Counts).
Unexpected for the northerly location were several reports of large flocks in the marshes near Niobrara, Knox Co 22 Nov-16 Dec 1998-2003; highest count was 127 on 23 Nov 2001.
There is a southward movement detectable from the north during Jul-Aug, by Sep most birds are in the south half of the state, and all are essentially within the Platte River Valley winter range by Oct.
High counts:  300 at Weis Lagoon, Fillmore Co, 18 Sep 2001, 300 in Hall Co 5 Nov 2014, 250 at Cozad, Dawson Co 22 Oct 2020, 200 in Sarpy Co 27 Nov 1997, 200 at Mallard Haven, Clay Co, 24 Sep 2003, and 200 in Lincoln Co 27 Nov 2015.
Winter: The first reports of overwintering were in Lincoln, Lancaster Co in 1985-86 (Williams 1986) and in 1995-96, when up to 32 wintered at Oak Park Lake, Lincoln, Lancaster Co and 9 Feb 1999 when 14 were there. From 2000 to 2010 Great-tailed Grackles over-wintered in Grand Island, Hall Co, Hastings, Adams Co, and Minden, Kearney Co; 72 were near Grand Island 31 Jan 2004. A flock of 150 present at North Platte, Lincoln Co for two weeks prior to 27 Feb 2006 was said to have "pretty much wintered" there.
Since 2010, there has been a trend of sizeable groups wintering in larger southern cities; in 2011-2012, 135 wintered in Lincoln, and in 2012-2013, 80 were in Hastings, 125 in North Platte, and 60 in Grand Island. North Platte hosts a flock of around 150 each winter, 160 were in Lexington, Dawson Co 16 Jan 2019, 330 were in Grand Island 6 Jan 2016, and 400 near Doniphan, Hall Co 21 Feb 2020.
It is clear that as of 2017 this species has established a winter range along and near the Platte River Valley west to Keith Co (eBird.org, accessed Mar 2021), with indications that the range is extending westward to Scotts Bluff C0; 65 were in Dalton, Cheyenne Co 10 Jan 2021 and 1-2 were at Cochran Lake, Scotts Bluff Co 3-7 Mar 2022.
A possible northeastward expansion of the winter range was suggested by up to 30 in Columbus, Platte Co 20 Jan-18 Feb 2023.
There were only about 25 records in the north and west 5 Oct-5 Mar as of winter 2020; six of these were from Scotts Bluff Co. Since then, records in the North Platte River Valley for Oct and later have continued to increase; there were six such records 16 Oct-18 Dec 2021, including an amazing flock of 365 at Kiowa WMA 18 Dec 2021, and seven such records 8 Sep-21 Nov 2022 in Scotts Bluff and Garden Cos, including 21 near Oshkosh, Garden Co 19 Nov. Interesting numbers in winter 2022-2023 from near Minatare in Scotts Bluff Co were of 285 on 12 Dec, declining to 140 on 5 Jan, and 20 on 10 Feb.
Away from and south of the Platte River Valley itself there are few mid-winter reports. Three were in Furnas Co 10 Jan 2023.
Comments: The earliest county dates and nesting records other than those given above for Phelps, Adams, and Douglas Cos, 1976-77, are listed in Sharpe et al (2001). Since 2000, there are these additional records. An adult female was feeding large begging young south of Morrill, Scotts Bluff Co 20 Jul 2002.  Four adults summered at Alma, Harlan Co in 2002; adults were feeding fledged young there 13 Jul. A male was near Imperial, Chase Co 10-12 Jun 2003. Two pairs were nest-building at Smith Lake SRA, Sheridan Co 7 Jun 2004. In 2004 there were reports from Red Willow Co 27 Jul, and Hitchcock Co 16 Jun. Three were at Fort Niobrara NWR 16 May 2005. Three were in Holt Co 22 Jul 2005. Two nests were located at Crescent Lake NWR, Garden Co 21 Jun 2008. Four were in Boyd Co 27 Apr 2009. In the southwest, 1-2 were in Perkins and Chase Cos 22 Jul 2010, one was in Dundy Co 13 Jun 2014, and two were at Oliver Reservoir, Kimball Co 17 Jun 2017.
Images
Abbreviations
BBA: Breeding Bird Atlas
BBS: Breeding Bird Survey
CBC: Christmas Bird Count
NNF: Nebraska National Forest
NWR: National Wildlife Refuge
SRA: State Recreation Area
UNSM: University of Nebraska State Museum
WMA: Wildlife Management Area (State)
WPA: Waterfowl Production Area (Federal)
Literature Cited
Bray, T.E., B.K. Padelford, and W.R. Silcock. 1986. The birds of Nebraska: A critically evaluated list. Published by the authors, Bellevue, Nebraska, USA.
Cortelyou, R.G. 1977a. Great-tailed Grackles nesting in Nebraska. NBR 45: 18.
Cortelyou, R.G. 1977b. 1977 (Fifty-second) Spring Migration and Occurrence Report. NBR 45: 34-50.
Cortelyou, R.G. 1978. 1978 (Fifty-third) Spring migration and Occurrence Report. NBR 46: 66-85.
Faanes, C.A., and W. Norling. 1981. Nesting of the Great-tailed Grackle in Nebraska. American Birds 35: 148-149.
Jaramillo, A., and P. Burke. 1999. New World Blackbirds- The Icterids.  Princeton University Press Princeton, New Jersey, USA.
Longfellow, S. 1979. A 1976 Great-tailed Grackle record, and some 1979 records. NBR 46: 16.
Mollhoff, W.J. 2001. The Nebraska Breeding Bird Atlas 1984-1989. Nebraska Ornithologists' Union Occasional Papers No. 7. Nebraska Game and Parks Commission, Lincoln, Nebraska, USA.
Mollhoff, W.J. 2016. The Second Nebraska Breeding Bird Atlas. Bull. Univ. Nebraska State Museum Vol 29. University of Nebraska State Museum, Lincoln, Nebraska, USA.
Mollhoff, W.J. 2022. Nest records of Nebraska birds. Nebraska Ornithologists' Union Occasional Paper Number 9.
Pruitt, J., and N. McGowan. 1975. The return of the Great-tailed Grackle. American Birds 29: 985-992.
Pyle, P. 1997. Identification Guide to North American Birds. Part I, Columbidae to Ploceidae. Slate Creek Press, Bolinas, California, USA.
Robbins, M.B., and D.A. Easterla. 1992. Birds of Missouri, their distribution and abundance. University of Missouri Press, Columbia, Missouri, USA.
Williams, F. 1977. Southern Great Plains Region. American Birds 31: 194-197.
Williams, F. 1986. Southern Great Plains Region. American Birds 40: 297-299.
Recommended Citation
Silcock, W.R., and J.G. Jorgensen.  2023.  Great-tailed Grackle (Quiscalus mexicanus). In Birds of Nebraska — Online. www.BirdsofNebraska.org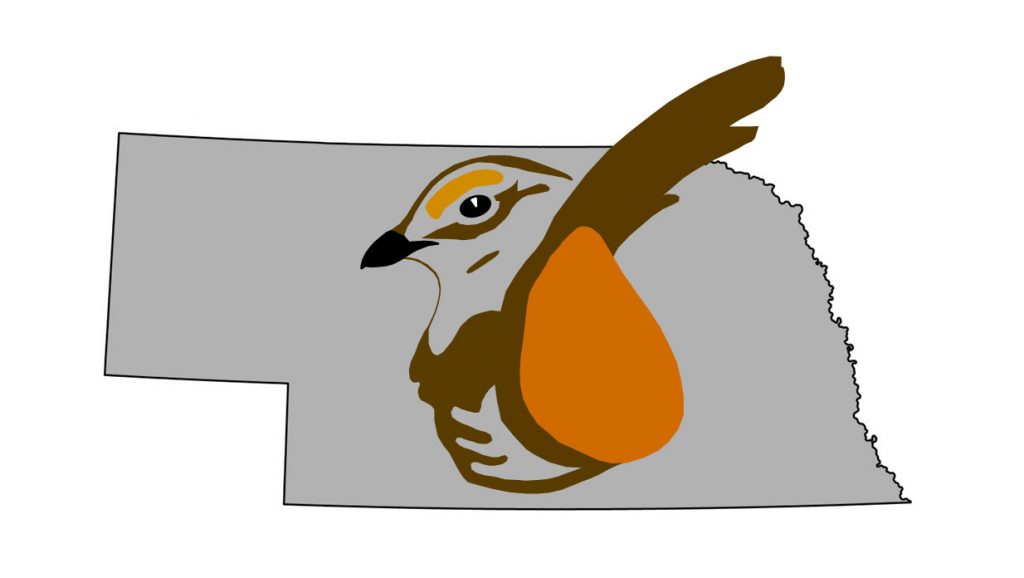 Birds of Nebraska – Online
Updated 15 Mar 2023