Centrocercus urophasianus
Status: Extirpated.
Documentation: Specimens: pair, SUI 16130 and 16131, 27 Dec 1894, "Nebraska".
Taxonomy: No subspecies are recognized (Gill et al 2022).
Records: Current understanding of the pre-settlement range, including Nebraska, and current range, which does not include Nebraska, is mapped in Schroeder et al (2004). These authors show this species as no longer occurring in southwest South Dakota or northwest Nebraska, although both Faulkner (2010) and Tallman et al (2002) depict the range extending into southwest South Dakota, and as recently as 1982 Rosche (1982) considered it "fairly common very close to Nebraska in southwest South Dakota", and probably "very rare in extreme nw Nebraska".
This species was apparently never common in Nebraska. Bruner et al (1904) noted that it was "not common and confined to the extreme northwestern portions of the state in regions where [big sagebrush] Artemesia tridentata abounds; …." Around 1900 it occurred along Hat, Antelope, and Indian Creeks in Sioux County, where it had several times been reported to breed and where Carriker and Cary found old birds with half-grown young in the summer of 1901 some seven miles east of the Wyoming border in the Hat Creek Basin (Bruner et al 1904).
Levi Mohler, a Game, Forestation, and Parks Commission (now NGPC) biologist, saw a male displaying with Sharp-tailed Grouse on a lek on a county road in extreme north-central Sioux Co 12 Apr 1951 (Levi Mohler and Wayne Mollhoff, personal communication; Mollhoff 2022); this report is almost certainly correct, but was not accepted by NOURC as no actual description of the bird was included (Brogie 2012). This and a 6 Sep 1987 Sioux Co record (Grenon 1990) are the only records for the state since 1901 that have been examined by NOURC. There are, however, a few additional reports for the 1940s through 1970s as follows. It was stated that "local investigation in Sioux and Dawes Counties indicates that a few sage hens may be present in extreme northwestern Nebraska" (Mohler 1944). "Sage Hen" was listed as seen in Dawes Co 11-13 May 1945 on NOU field trips (Haecker 1945). At least "two different flocks of Sage Grouse" were seen in the northwest corner of Sioux Co on 9-10 Dec 1960 (Mathisen 1961). Rosche (1982) reported that 6-7 were seen by a hunter Sep 1975 in extreme northwest Sioux Co. An adult male was poached 16 Jan 1979 by a hunter from a flock about five miles west of Harrison, Sioux Co and confiscated by NGPC personnel.
There are several old reports, including the collecting of an "old sick hen" (Brooking, Notes) some 14 miles west of Crescent Lake NWR in Garden Co after a Jan 1917 blizzard; this specimen, at one time HMM 2773, was sold in 1976 to Hastings College, but cannot now be located (Bray et al 1986, Swenk, Notes Before 1925). In Jul 1901 "two large male birds were secured" in northwest Sioux Co (Carriker 1902), but these specimens also cannot now be located (Bray et al 1986). Swenk (Notes Before 1925) noted that B.J. Olson had killed "Sage Hens" west of Chadron, Dawes Co and northwest of Hemingford in western Dawes Co or Sioux Co in 1888, and also that a Mr. Swanson of Chappell, Deuel Co shot "Sage Hens" in Sioux Co in the winter of 1915-16, probably Dec 1915.
Images
Abbreviations
HMM: Hastings Municipal Museum
NGPC: Nebraska Game and Parks Commission
NOU: Nebraska Ornithologists' Union
NOURC: Nebraska Ornithologists' Union Records Committee
NWR: National Wildlife Refuge
SUI: University of Iowa Museum of Natural History
Literature Cited
Bray, T.E., B.K. Padelford, and W.R. Silcock. 1986. The birds of Nebraska: A critically evaluated list. Published by the authors, Bellevue, Nebraska, USA.
Brogie, M.A. 2012. 2011 (23rd) Report of the NOU Records Committee. NBR 80: 112-122.
Brooking, A.M. Notes. Bird specimen records. Manuscript in NOU Archives, University of Nebraska State Museum, Lincoln, Nebraska, USA.
Bruner, L., R.H. Wolcott, and M.H. Swenk. 1904. A preliminary review of the birds of Nebraska, with synopses. Klopp and Bartlett, Omaha, Nebraska, USA.
Carriker, M.A. Jr. 1902. Notes on the nesting of some Sioux County birds. Proceedings of the Nebraska Ornithologists' Union, No. 3: 75-89.
Faulkner, D.W. 2010. Birds of Wyoming. Roberts and Company, Greenwood Village, Colorado, USA.
Gill, F., D. Donsker, and P. Rasmussen (Eds). 2022. IOC World Bird List (v 12.2). Doi 10.14344/IOC.ML.12.2. http://www.worldbirdnames.org/.
Grenon, A.G. 1990. 1990 (Third) Report of the NOU Records Committee. NBR 58: 90-97.
Haecker, F.W. 1945. Annual Spring Field Days held during May, 1945. NBR 13: 53-57.
Mathisen, J. 1961. Excerpts from letters. NBR 29: 23-24.
Mohler, L.L. 1944. Distribution of upland game birds in Nebraska. NBR 12: 1-6.
Mollhoff, W.J. 2022. Nest records of Nebraska birds. Nebraska Ornithologists' Union Occasional Paper Number 9.
Rosche, R.C. 1982. Birds of northwestern Nebraska and southwestern South Dakota, an annotated checklist. Cottonwood Press, Crawford, Nebraska, USA.
Schroeder, M.A., C.L. Aldridge, A.D. Apa, J.R. Bohne, C.E. Braun, S.D. Bunnell, J.W. Connelly, P.A. Deibert, S.C. Gardner, M.A. Hilliard, G.D. Kobriger, S.M. McAdam, C.W. McCarthy, J.J. McCarthy, D.L. Mitchell, E.V. Rickerson, and S.J. Stiver. 2004. Distribution of sage-grouse in North America. Condor 106: 363-376.
Swenk, M.H. Notes before 1925. Bird notes from A.M. Brooking of Hastings, C.A. Black of Kearney, and B.J. Olson of Kearney, based chiefly on their collections, up to January 1, 1925. Typed manuscript in the Nebraska Ornithologists' Union Archives, University of Nebraska State Museum, Lincoln, Nebraska, USA.
Tallman, D.A., Swanson, D.L., and J.S. Palmer. 2002. Birds of South Dakota. Midstates/Quality Quick Print, Aberdeen, South Dakota, USA.
Recommended Citation
Silcock, W.R., and J.G. Jorgensen. 2023. Greater Sage-Grouse (Centrocercus urophasianus). In Birds of Nebraska — Online. www.BirdsofNebraska.org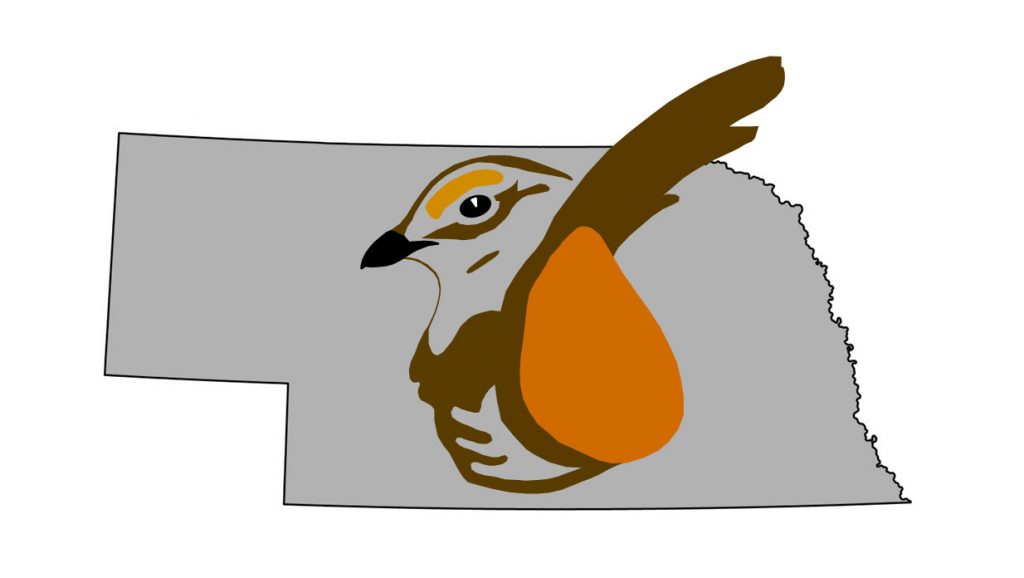 Birds of Nebraska – Online
Updated 17 Apr 2023