Butorides virescens virescens
Status: Fairly common regular spring and fall migrant and breeder east and south-central, uncommon north-central, rare casual Panhandle.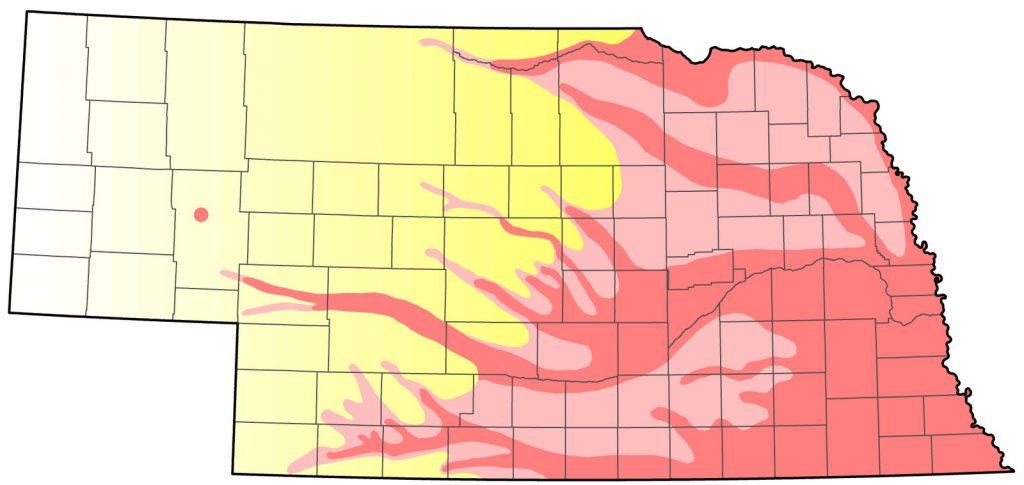 Documentation: Specimen: UNSM ZM12399, 26 Apr 1917 Lincoln, Lancaster Co.
Taxonomy: Four subspecies are recognized (Gill and Donsker 2017), frazari in southern Baja California, bahamensis in the Bahamas, anthonyi in the western United States and northern Baja California, and virescens in the central and eastern United States south to Panama and the Caribbean except for the Bahamas.
Nebraska breeders are presumed virescens.
Spring: Apr 14, 15, 16 <<<>>> summer
An earlier date is 2 Apr 1935 Sioux Co (Rosche 1982).
Arrival occurs in late Apr.
There are these few Panhandle reports: 2 Apr 1935 Sioux Co (Rosche 1982), 18-19 May 2019 Gordon, Sheridan Co, 20 May 2000 Sheridan Co, 21 May 2022 Oliver Reservoir, Kimball Co, 22-23 May 2010 Scotts Bluff Co, 22 May 2021 Kimball Co, 25 May 1977 Dawes Co (Rosche 1982), 4 Jun 2019 Scotts Bluff Co, and 16 Jun 1978 Dawes Co (Rosche 1982).
These Panhandle records tend to be later than those in the east, suggesting that it is a spring overshoot in the Panhandle; Rosche (1982) listed it as casual in spring in the northwest.
High counts: 12 at Wolf Lake, Saunders Co 27 May 1996, 11 in Hall Co 11 May 2002, and 6 in southwest Hall Co 11 May 1996.
Summer: Green Heron breeds over much of the eastern and southern half on the state. This distribution probably has not changed much since Bruner et al (1904) considered the species a "very common summer resident in eastern Nebraska" but not reported further west. The westernmost nesting records cited by Ducey (1988) are for Cherry Co and Lincoln Co; Ducey stated that the present "nesting range is larger than the records indicate".
West of the depicted breeding range, Tout (1947) reported a nest at Crescent Lake NWR, Garden Co in summer 1937; more recently, a single bird was there 14 Jul 2017. Northwesterly reports are of one at Swan Lake, Cherry Co 10 Aug 2012, one at NNF Bessey, Thomas Co 20 Jun 2017, two at Arcadia Diversion Dam WMA, Custer Co 29 Jul 2014, and two in Loup Co 13 Jun 2015. Rosche (1994) suggested that nesting probably occurs in the Keith Co area, but there was no definite evidence. Recent reports suggest breeding occurs regularly in Lincoln Co: 1-2 summered in 2004, one was carrying food near North Platte 8-9 Jul 2006, and seven (one per mile) were counted along the Platte River 23 Jun 2008. Further west in the North Platte River Valley, singles were east of McGrew, Scotts Bluff Co 15 Jun 2001 and at Bridgeport, Morrill Co 11 Jun 2006, 20 Aug 2012, and 21 Jun 2016. Determining the limits of the breeding range is complicated by failed breeders or non-breeding birds that wander, especially westward along stream corridors, away from breeding sites.
Apparently the first report of colonial nesting for Nebraska was of at least four nests with eggs in western Douglas Co 17 May 2006 (Mollhoff 2006). The same colony had five nests with 1-5 eggs 14 May 2007 (Mollhoff 2008).
Breeding Phenology:
Nest-building: 9 Jul
Eggs: 14 May-14 Jun (Taylor and Van Vleet 1888, Mollhoff 2022)
Nestlings: 3-6 Jul
Fledglings: 25 Jun-19 Aug
High counts: 7 at Zorinsky Lake, Douglas Co 2 Jul 2022, and 6 at 255th St and Pflug Rd, Sarpy Co 30 Jul 2022.
Fall: summer <<<>>> Oct 11, 12, 12
Later dates are 15 Oct 2006 Lincoln Co, and 26 Oct 2018 Lancaster Co.
Most depart by mid-Oct.
There are these few Panhandle reports: 24 Jul 1983 Scotts Bluff Co, 12-26 Aug 1926 near Fort Robinson, Dawes Co (Rosche 1982), 21 Aug 1971 Scotts Bluff Co, 29 Aug 2014 Scotts Bluff Co, 1 Sep 2019 Lodgepole Creek, Kimball Co, 6 Sep 2021 Morrill Co, 25 Sep 1994 at North Platte NWR, Scotts Bluff Co, 29 Sep 2019 Oliver Reservoir, Kimball Co, and 30 Sep 1986 Sioux Co.
High counts: 8 in Platte Co 31 Aug 2003, 8 at Jack Sinn WMA, Lancaster Co 21 Jul 2012, and 8 in western Douglas Co 15 Aug 2013.
Images
Abbreviations
NNF: Nebraska National Forest
NWR: National Wildlife Refuge
UNSM: University of Nebraska State Museum
WMA: Wildlife Management Area (State)
Literature cited
Bruner, L., R.H. Wolcott, and M.H. Swenk. 1904. A preliminary review of the birds of Nebraska, with synopses. Klopp and Bartlett, Omaha, Nebraska, USA.
Ducey, J.E. 1988. Nebraska birds, breeding status and distribution. Simmons-Boardman Books, Omaha, Nebraska, USA.
Gill, F., and D. Donsker (Eds). 2017. IOC World Bird List (v 7.3), accessed 30 January 2018.
Mollhoff, W.J. 2006. The 2006 Nebraska nest report. NBR 74: 142-147.
Mollhoff, W.J. 2008. The 2007 Nebraska nest report. NBR 76: 155-165.
Mollhoff, W.J. 2022. Nest records of Nebraska birds. Nebraska Ornithologists' Union Occasional Paper Number 9.
Rosche, R.C. 1982. Birds of northwestern Nebraska and southwestern South Dakota, an annotated checklist. Cottonwood Press, Crawford, Nebraska, USA.
Rosche, R.C. 1994. Birds of the Lake McConaughy area and the North Platte River valley, Nebraska. Published by the author, Chadron, Nebraska, USA.
Taylor, W.E., and A.H. Van Vleet. 1888. Notes on Nebraska birds. Ornithologist and Oologist. 13: 49-51.
Tout, W. 1947. Lincoln County birds. Published by the author, North Platte, Nebraska, USA.
Recommended Citation
Silcock, W.R., and J.G. Jorgensen. 2022. Green Heron (Butorides virescens virescens). In Birds of Nebraska — Online. www.BirdsofNebraska.org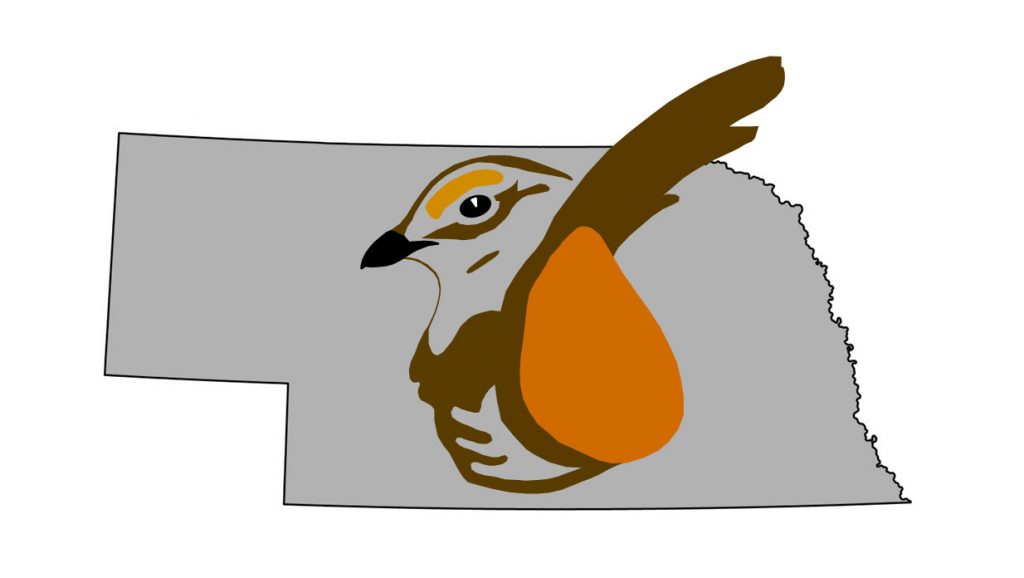 Birds of Nebraska – Online
Updated 20 Dec 2022