Crotophaga sulcirostris sulcirostris
Status: Rare casual fall visitor central and east.
Documentation: Photograph: 15 Oct-1 Nov 1975 Hall Co (Stoppkotte 1975).
Taxonomy: Two subspecies are sometimes recognized although Clements et al (2016) and Gill and Donsker 2017) consider the species monotypic. The subspecies pallidula is only a vagrant to the southwest USA, but subspecies sulcirostris, which is resident in south Texas, has a history of northward vagrancy (Pyle 1997). It is listed as occurring in Kansas (Johnston 1965) and Nebraska (Rapp et al 1958).
Fall: There are four Nebraska reports, two documented with photographs and one by description. Dated reports are in the period 22 Sep-1 Nov.
late Sep-4 Oct 1952 Elgin, Antelope Co (Baumgarten and Rapp 1953)
22 Sep 1985 Beaver Lake, Cass Co (Kiser 1985; Mollhoff 1987)
15 Oct-1 Nov 1975 Grand Island, Hall Co (cited above).
A minimal description was published of one near West Point, Cuming Co 2 Oct 1976 (Einemann 1977).
Comments: This species has a propensity to disperse northward during Sep-Nov in most years from its usual Texas and Louisiana range, although few birds travel as far as Nebraska. The overwhelming majority of records from Nebraska and adjacent states (Thompson et al 2011, Andrews and Righter 1992, Tallman et al 2002) occurred during 1950-1982, with a notable peak in the 1970s. Since 1992, there is only one record from those same states, a single bird in Iowa 24 Oct 2004 (Iowa Ornithologists' Union 2017).
Images
Literature Cited
Andrews, R., and R. Righter. 1992. Colorado birds. Denver Museum of Natural History, Denver, Colorado, USA.
Baumgarten, H.E., and W.F. Rapp Jr. 1953. Two new birds added to the Nebraska list. NBR 21: 2-3.
Clements, J. F., T. S. Schulenberg, M. J. Iliff, D. Roberson, T. A. Fredericks, B. L. Sullivan, and C. L. Wood. 2016. The eBird/Clements checklist of birds of the world: v2016, accessed 30 January 2018.
Gill, F., and D. Donsker (Eds). 2017. IOC World Bird List (v 7.3), accessed 30 January 2018.
Einemann, L.L. 1977. A Groove-billed Ani and other birds in Cuming and Dodge Counties. NBR 45: 13-14.
Iowa Ornithologists' Union. 2017. Reports of Iowa rare bird records, accessed 15 February 2018.
Kiser, M. 1985. Groove-billed Ani. NBR 53: 78-79.
Mollhoff, W.J. 1987. First report of the NOU Records Committee. NBR 55: 79-85.
Pyle, P. 1997. Identification Guide to North American Birds. Part I, Columbidae to Ploceidae. Slate Creek Press, Bolinas, California, USA.
Rapp, W.F. Jr., J.L.C. Rapp, H.E. Baumgarten, and R.A. Moser. 1958. Revised checklist of Nebraska birds. Occasional Papers 5, Nebraska Ornithologists' Union. Crete, Nebraska, USA.
Stoppkotte, G.W. 1975. A Groove-billed Ani seen again in Nebraska. NBR 44: 79-80.
Tallman, D.A., Swanson, D.L., and J.S. Palmer. 2002. Birds of South Dakota. Midstates/Quality Quick Print, Aberdeen, South Dakota, USA.
Thompson, M.C., C.A. Ely, B. Gress, C. Otte, S.T. Patti, D. Seibel, and E.A. Young. 2011. Birds of Kansas. University Press of Kansas, Lawrence, Kansas, USA.
Recommended Citation
Silcock, W.R., and J.G. Jorgensen. 2021. Groove-billed Ani (Crotophaga sulcirostris). In Birds of Nebraska — Online. www.BirdsofNebraska.org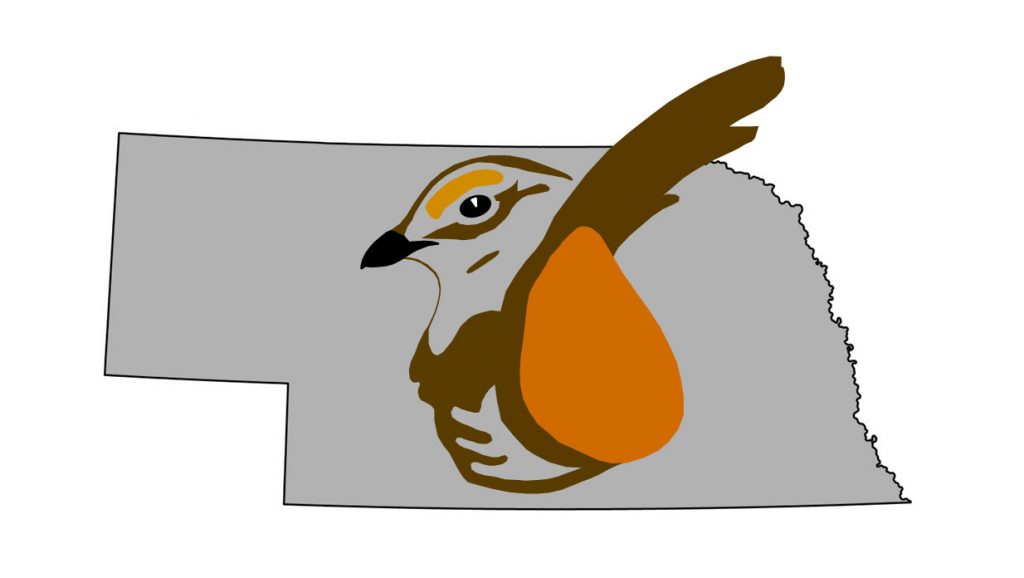 Birds of Nebraska – Online
Updated 2 Oct 2021