Falco rusticolus
Status: Rare casual winter visitor statewide.
Documentation: Specimen: SUI 17469, 23 Feb 1885, Elm Creek, Buffalo Co (DuMont 1933).
Taxonomy: No subspecies are recognized (Pyle 2008).
All color morphs have been reported in Nebraska. According to Booms et al (2020), there is "Complete gradation among plumage colors, though most birds are lumped into one of three color variants for convenience (white, gray, and dark)". Color morphs are generally indicative of origin; wintering birds in the US are "mainly female gray morphs" (Wheeler 2003).
Winter: Nov 4, 5, 11 <<<>>> Feb 24, Mar 3, 3
Earlier dates are 25 Sep 1979 Thomas Co (specimen HMM 36541; Ohlander 1979), and 20 Oct 1978 Hall Co (Ohlander 1979) and later dates 13 Mar 2016 one banded in Logan Co (Danny Bystrak, Bird Banding Lab, Patuxent Wildlife Research Center), 3 Apr 2015 (Brogie and Heidt 2016, Brogie 2016), and 10 May 1993 in York Co (Morris 1993). The Logan Co bird was the first and only Gyrfalcon to be banded in Nebraska. The May report is extraordinarily late for this species; perhaps it was a lost falconry bird.
Most Gyrfalcons wintering as far south as Nebraska are immatures (Booms et al 2020). Falconers indicated that they were reported "every year since 1979 in the Sandhills between Norfolk and Gordon" through winter 1984-1985 (Rosche 1994, Williams 1985); good locations are Highways 12 and 20 in the northern Sandhills and open grasslands in Sioux, Box Butte, and Dawes Cos (Steve Duecker, personal communication). Available reports may not reflect the true frequency of occurrence, as most observers avoid open plains habitats in the winter months. Most sightings are in Jan in areas with concentrations of prairie grouse or waterfowl.
There were several reports in the winter of 1983-1984; falconers reported 12 in the Sandhills for the season (Williams 1984) and it was reported from Lancaster Co 3-21 Jan (Green 1984; Cortelyou 1985a), Saunders Co 8 Jan (Green 1984), Polk Co 28 Nov (Cortelyou 1985b), and Douglas-Sarpy Cos 7 Jan-14 Feb (Green 1984). One was in Lancaster Co 24 Feb 1985 (Williams 1985).
Images
Abbreviations
HMM: Hastings Municipal Museum
SUI: University of Iowa Museum of Natural History
Literature Cited
Booms, T.L., T.J. Cade, and N.J. Clum. 2020. Gyrfalcon (Falco rusticolus), version 1.0. In Birds of the World (S. M. Billerman, Editor). Cornell Lab of Ornithology, Ithaca, NY, USA. https://doi.org/10.2173/bow.gyrfal.01.
Brogie, M.A. 2016. 2015 (27th) Report of the NOU Records Committee. NBR 84: 138-150.
Brogie, M.A., and D. Heidt. 2016. Gyrfalcon in Boyd County, Nebraska. NBR 84: 96-97.
Cortelyou, R.G. 1985a. 1984 (Twenty-seventh) Fall Occurrence Report. NBR 53: 5-18.
Cortelyou, R.G. 1985b. 1985 (Sixtieth) Spring Occurrence Report. NBR 53: 50-66.
DuMont, P.A. 1933. A definite Nebraska record for the Black Gyrfalcon. NBR 1: 12.
Green, R.C. 1984. Gyrfalcon. NBR 52: 23.
Morris, L. 1993. Gyrfalcon. NBR 61: 136-137.
Ohlander, B.G. 1979. Gyrfalcon; Prairie Falcon. NBR 47: 58-59.
Pyle, P. 2008. Identification Guide to North American Birds. Part II, Anatidae to Alcidae. Slate Creek Press, Bolinas, California, USA.
Rosche, R.C. 1994. Birds of the Lake McConaughy area and the North Platte River valley, Nebraska. Published by the author, Chadron, Nebraska, USA.
Wheeler, B.K. 2003. Raptors of Western North America. Princeton University Press, New Jersey, USA.
Williams, F. 1984. Southern Great Plains Region. American Birds 38: 218-221.
Williams, F. 1985. Southern Great Plains Region. American Birds 39: 182-185.
Recommended Citation
Silcock, W.R., and J.G. Jorgensen. 2021. Gyrfalcon (Falco rusticolus). In Birds of Nebraska — Online. www.BirdsofNebraska.org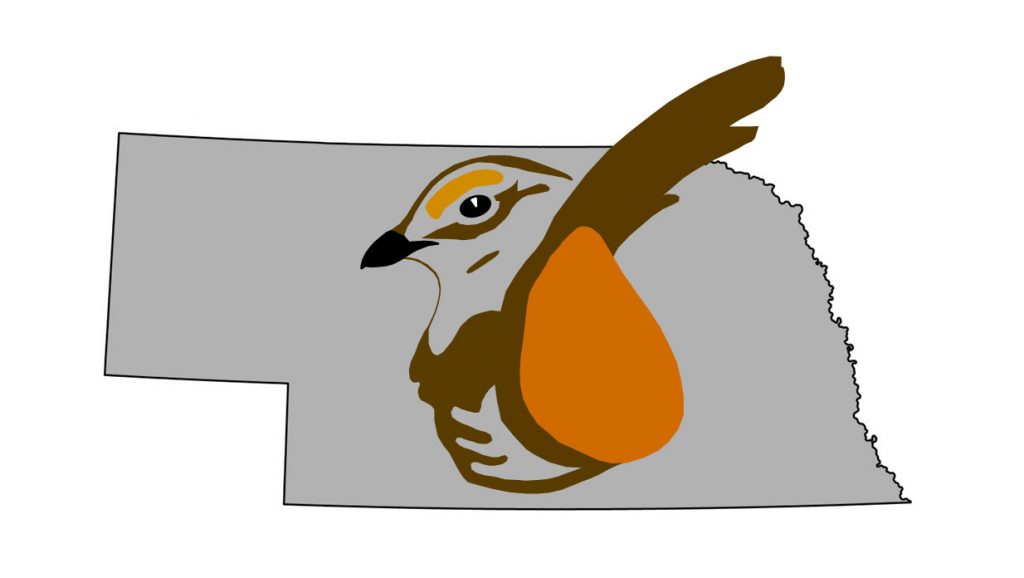 Birds of Nebraska – Online
Updated 18 Dec 2021