Histrionicus histrionicus
Status: Rare casual winter visitor east and central.
Documentation: Specimen: HMM 2499, about 1901 Platte River a little west of Grand Island (Swenk, Notes Before 1925).
Taxonomy: No subspecies are recognized (Gill et al 2022).
Winter: There are six accepted records.
6 Nov 1992 Calamus Reservoir, Garfield Co, photograph of a mounted sub-adult male (Jorgensen 2003), specimen no longer extant
12 Nov 2006 four at Goose Lake, Holt Co (Scott Wessel, pers. comm.)
21 Nov 2001 Willow Creek Reservoir, Pierce Co (Scott Wessel, pers. comm., Silcock 2001)
23 Dec 2017- 4 Jan 2018 immature male Summit Lake SRA, Burt Co (Brogie 2018, 2019)
27 Feb-7 May 2006 male Gavin's Point Dam, Cedar Co (Brogie 2007)
about 1901 Platte River near Grand Island (cited above).
The 1901 record was a specimen, HMM 2499, on display at HMM, that "was purchased from Fred Johnson, whose father shot the bird" (HMM data). Swenk (Notes Before 1925) stated that "one killed by a farmer on the Platte River a little west of Grand Island, Hall Co, about 1901, and mounted by Mr. J.O. Hasty, the Arapahoe taxidermist, is now #2499 in the A.M. Brooking collection at Hastings". Brooking (Notes) stated that "One obtained of Eric Johnson (male) whose father shot on Platte near Doniphan about 1901". Taken as a whole, we believe the provenance of this specimen is reasonably proved.
Another specimen was taken at Calamus Reservoir 6 Nov 1992 and is a mount in the Nebraska Game and Parks offices at Pierce (Jorgensen 2003).
The reports for 21 Nov 2001 and 12 Nov 2006 were by Scott Wessell, an NGPC biologist; the 2001 record was seen while hunting (fide Mark Brogie), and the 2006 record was of four birds that flew in and landed and were carefully observed.
An immature male was found and photographed at Summit Lake SRA 23 Dec by Brian Peterson and seen subsequently by many; it moved from the lake to an open overflow channel, where it remained until 4 Jan (eBird.org, accessed April 2018). The photograph above is of this Summit Lake SRA bird, taken 2 Jan 2018.
Harlequin Ducks, presumably from the eastern population, "occasionally appear on the Great Lakes" in winter (Baldassarre 2014) and are a likely source for Nebraska birds.
Images
Abbreviations
HMM: Hastings Municipal Museum
NGPC: Nebraska Game and Parks Commission
SRA: State Recreation Area
Literature Cited
Baldassarre, G. 2014. Ducks, geese, and swans of North America. Johns Hopkins University Press, Baltimore, Maryland, USA.
Brogie, M.A. 2007. 2006 (18th) Report of the NOU Records Committee. NBR 75: 86-94.
Brogie, M.A. 2018. 2017 (29th) Report of the NOU Records Committee. NBR 86: 130-142.
Brogie, M.A. 2019. 2018 (30th) Report of the NOU Records Committee. NBR 87: 96-109.
Gill, F., D. Donsker, and P. Rasmussen (Eds). 2022. IOC World Bird List (v 12.2). Doi 10.14344/IOC.ML.12.2. http://www.worldbirdnames.org/.
Jorgensen, J.G. 2003. 2001 (13th) Report of the NOU Records Committee. NBR 71: 97-102.
Silcock, W.R. 2001. Fall Field Report, August-September 2001. NBR 69: 158-189.
Swenk, M.H. Notes before 1925. Bird notes from A.M. Brooking of Hastings, C.A. Black of Kearney, and B.J. Olson of Kearney, based chiefly on their collections, up to January 1, 1925. Typed manuscript in the Nebraska Ornithologists' Union Archives, University of Nebraska State Museum, Lincoln, Nebraska, USA.
Recommended Citation
Silcock, W.R., and J.G. Jorgensen. 2023. Harlequin Duck (Histrionicus histrionicus). In Birds of Nebraska — Online. www.BirdsofNebraska.org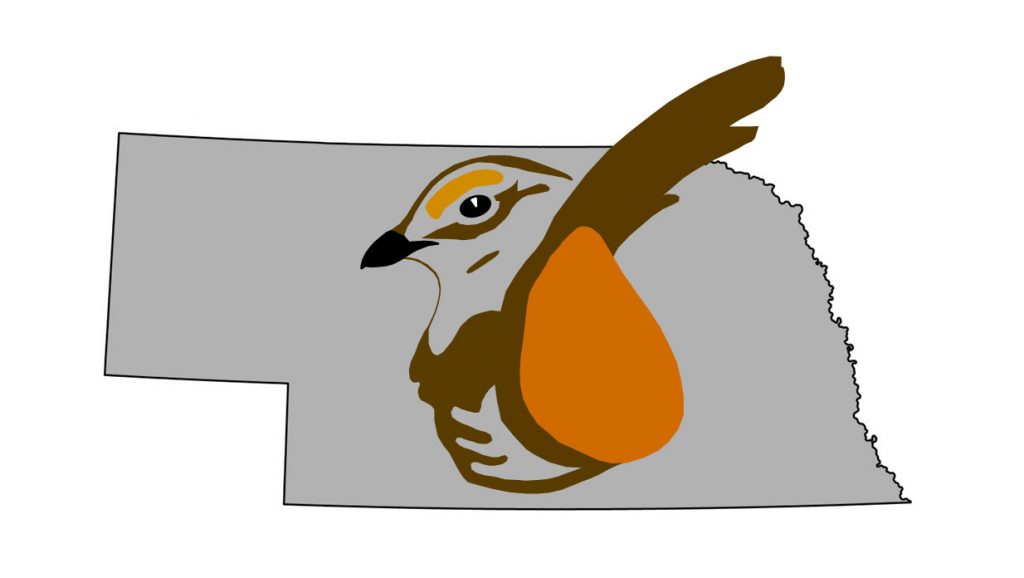 Birds of Nebraska – Online
Updated 14 Apr 2023