Parabuteo unicinctus harrisi
Status: Rare casual spring, fall and winter visitor west and east.
Documentation: Specimen: HMM 2895, 28 Oct 1922 Elkhorn, Douglas Co.
Taxonomy: There are two subspecies, harrisi of southwest United States south to Colombia, Ecuador and Peru, and unicinctus of Colombia and Venezuela south to northern Argentina and Chile (Gill and Donsker 2017).
Nebraska records are presumed to be of harrisi; northward vagrancy of unicinctus is unknown.
Spring: There is one record. Based on its non-banded status and plumage differences (fide Mark Brogie), this bird was not the same as the one banded at nearby Offutt AFB the prior fall.
13 Apr 2020 Bellevue, Sarpy (Suzanne Haslak; Brogie 2021).
Fall and Winter: There are seven records:
21 Sep 2020 Omaha, Douglas Co Co; photo (fide Rick Schmid), possibly same as 13 Apr 2020 in SArpy Co
26 Oct 2012 Lancaster Co; road-killed bird photographed by Mrs Jon C. Barber (Brogie 2013)
28 Oct 1922 Douglas Co (cited above, see Comments)
5-9 Nov 2017 Niobrara River adjacent to Niobrara SP, Knox Co (Brogie 2018)
14 Nov 2019 captured at Offutt Air Force Base, Sarpy Co by USDA-APHIS-Wildlife Services (fide JGJ; Brogie 2020)
16 Nov 2017 Swanton RA, Saline Co; possibly same bird as preceding (Brogie 2018)
13 and 27 Jan 1995 Stateline Island, Scotts Bluff Co (Gubanyi 1996; Silcock 1995).
Comments: The photographs of the two records in 2017 did not allow determination of whether the same bird was involved, although the subsequent presence of a Harris's Hawk in northeastern Kansas 27-29 Nov is strongly suggestive of a single bird making its way south from Knox Co. There were no other northerly sightings on the Great Plains that might have indicated a general northward dispersal movement.
The 1922 specimen cited above was shot by a hunter "while he was shooting ducks in a blind at Elkhorn, Douglas Co. It was mounted in Omaha and secured by Mr. A.M. Brooking for his collection, where it is #2895" (Swenk, Notes Before 1925).
This species regularly occurs from central Texas southward. Of the states surrounding Nebraska, only Kansas has records, seven in the period 17 Nov-7 Jan, plus a spring breeding record in Meade Co (Thompson and Ely 1989). Lending credibility to the Nebraska record in early 1995 was the appearance during winter 1994-95 in Oklahoma, Kansas, and Colorado of several Harris's Hawks; three in Oklahoma and one in Kansas were observed beginning 26 Oct and were seen through 21 Jan (Grzybowski 1995), and two were in Colorado 17 Dec-4 Feb (Kingery 1995). Another 1995 record was of one in Columbia, Missouri, Feb 1995 that was photographed and the record accepted by the Missouri Records Committee; it may have been there for several months (Mark Robbins, pers. comm.). Harris's Hawks are commonly kept as falconry birds and occasionally escape. Any Harris's Hawks observed in Nebraska should be closely scrutinized, especially for the presence of jesses.
Images
Abbreviations
HMM: Hastings Municipal Museum
RA: Recreation Area
SP: State Park
Literature Cited
Brogie, M.A. 2018. 2017 (29th) Report of the NOU Records Committee. NBR 86: 131-142.
Brogie, M.A. 2013. 2012 (24th) Report of the NOU Records Committee. NBR: 81: 120-130.
Brogie, M.A. 2020. 2019 (31st) Report of the NOU Records Committee. NBR 88: 124-134.
Brogie, M.A. 2021. 2020 (32nd) Report of the NOU Records Committee. NBR 89: 139-145.
Gill, F., and D. Donsker (Eds). 2017. IOC World Bird List (v 7.3), accessed 30 January 2018.
Grzybowski, J.A. 1995. Southern great Plains Region. Field Notes 49: 64-67.
Gubanyi, J.G. 1996. 1995 (Seventh) Report of the NOU Records Committee. NBR 64: 132-138.
Kingery, H.E. 1995. Mountain West Region. Field Notes 49: 171-178.
Silcock, W.R. 1995. Winter Field Report, December-February 1994-95. NBR 63: 14-23.
Swenk, M.H. Notes before 1925. Bird notes from A.M. Brooking of Hastings, C.A. Black of Kearney, and B.J. Olson of Kearney, based chiefly on their collections, up to January 1, 1925. Typed manuscript in the Nebraska Ornithologists' Union Archives, University of Nebraska State Museum, Lincoln, Nebraska, USA.
Thompson, M.C., and C.A. Ely. 1989. Birds in Kansas. Vol. 1. University of Kansas Museum Natural History Publications Educational Series No. 11, Lawrence, Kansas, USA.
Recommended Citation
Silcock, W.R., and J.G. Jorgensen. 2022. Harris's Hawk (Parabuteo unicinctus). In Birds of Nebraska — Online. www.BirdsofNebraska.org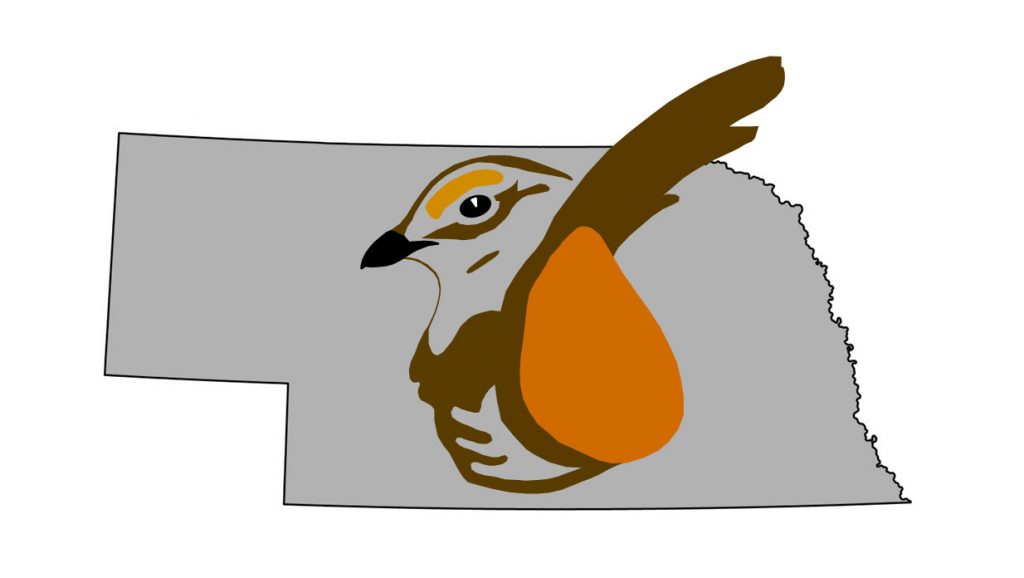 Birds of Nebraska – Online
Updated 22 Apr 2022