Piranga flava
Status: Accidental in winter.
Documentation: Videotape: 6 Jan 1999 West Point, Cuming Co (Jorgensen 2001, 2003).
Taxonomy: There are 15 subspecies recognized (Pyle 1997, Eddleman 2020), usually divided into three groups, two of which occur south of the USA. The northern "Hepatica" group consists of five subspecies, two of which occur in the US: hepatica, breeding from northwest and central Arizona and southwest New Mexico south through highlands of Mexico, wintering from southeast Arizona and Sonora south, and dextra, breeding from the mountains east of the Continental Divide in north-central New Mexico through west Texas, and south to central Veracruz, eastern Oaxaca, and Chiapas, wintering south to Guatemala.
The subspecies of the Nebraska bird is unknown. Since it was a winter record, it apparently groups with the far-flung Oct-Nov records from Illinois, Michigan, and Saskatchewan, and is not necessarily derived from the closest breeding population in Colorado (subspecies dextra). Such records are likely post-breeding dispersers. May records away from the breeding range in North America are spring overshoots, even including one from Montreal, Canada.
Winter: There is one record:
18 Dec-6 Jan 1999 West Point, Cuming Co (Jorgensen 2001, 2003).
The single record is of a male at the feeders of Dr. and Mrs. David Mlnarik in West Point 18 Dec 1998-6 Jan 1999 that was photographed by Loren and Babs Padelford and videotaped including calls by Ross Silcock on 6 Jan (Jorgensen 2001, 2003). The bird apparently was taken by an accipiter, as a pile of red feathers was found 7 Jan (Dr. Mlnarik, personal communication).
Comments: As recently as 1978 this species first appeared in Las Animas Co in southeast Colorado and began breeding there in 1980; it now breeds north to Pueblo Co and in Fremont Co (Eddleman 2020). Most of the 25+ Colorado records are in southeast Colorado, only five from the northeast, 9 May 1977 Boulder Co, 13 May 2012 Lincoln Co, 15 May 1982 Yuma Co, 29 May 2016 Lincoln Co and 9 Sep 2002 Jefferson Co (CBRC 2018, eBird.org, accessed May 2018). There are three records for Wyoming, 22 May 1977 at Cheyenne, 7 Oct 1980 a female-plumaged bird at Casper, and fall 1980 at Cheyenne (Faulkner 2010). There are no records for Iowa (Kent and Dinsmore 1996) or South Dakota (Tallman et al 2002), and one for Kansas, in Morton Co 22 Apr 2006 (Thompson et al 2011).
The only other records northeast of the normal range for this species are in Adams Co, Illinois 23-29 Nov 1981 (Bohlen 1989, Eddleman 2020), Whitefish Point, Michigan 20 Oct 2015, 7-8 Nov 2012 Wadena, Saskatchewan, and 24 May 1994 Montreal, Quebec (eBird.org, accessed May 2018).
A "red bird" in a large spruce in a yard in Scottsbluff, Scotts Bluff Co 13 Jun 1983 was thought to be of this species due to apparent dark mandibles, although the light conditions were judged to be inadequate to identify the bird (Cortelyou 1983). No other details were published, and its identity remains unknown.
Images
Abbreviations
CBRC: Colorado Bird Records Committee
Literature Cited
Bohlen, H.D. 1989. The birds of Illinois. Indiana University Press, Bloomington, Indiana, USA.
Colorado Bird Records Committee [CBRC]. 2018. Hepatic Tanager records. Colorado Bird Records Committee database, accessed 22 Jun 2018.
Cortelyou, R.G. 1983. 1983 (Fifty-eighth) Spring Occurrence Report. NBR 51: 66-78.
Eddleman, W.R. 2020. Hepatic Tanager (Piranga flava), version 1.0. In Birds of the World (A. F. Poole and F. B. Gill, Editors). Cornell Lab of Ornithology, Ithaca, NY, USA. https://doi.org/10.2173/bow.heptan.01.
Faulkner, D.W. 2010. Birds of Wyoming. Roberts and Company, Greenwood Village, Colorado, USA.
Jorgensen, J.G. 2001. 1999 (Eleventh) Report of the NOU Records Committee. NBR 69: 85-91.
Jorgensen, J.G. 2003. 2001 (13th) Report of the NOU Records Committee. NBR 71: 97-102.
Kent, T.H., and J.J. Dinsmore. 1996. Birds in Iowa. Publshed by the authors, Iowa City and Ames, Iowa, USA.
Pyle, P. 1997. Identification Guide to North American Birds. Part I, Columbidae to Ploceidae. Slate Creek Press, Bolinas, California, USA.
Tallman, D.A., Swanson, D.L., and J.S. Palmer. 2002. Birds of South Dakota. Midstates/Quality Quick Print, Aberdeen, South Dakota, USA.
Thompson, M.C., C.A. Ely, B. Gress, C. Otte, S.T. Patti, D. Seibel, and E.A. Young. 2011. Birds of Kansas. University Press of Kansas, Lawrence, Kansas, USA.
Recommended Citation
Silcock, W.R., and J.G. Jorgensen. 2021. Hepatic Tanager (Piranga flava). In Birds of Nebraska — Online. www.BirdsofNebraska.org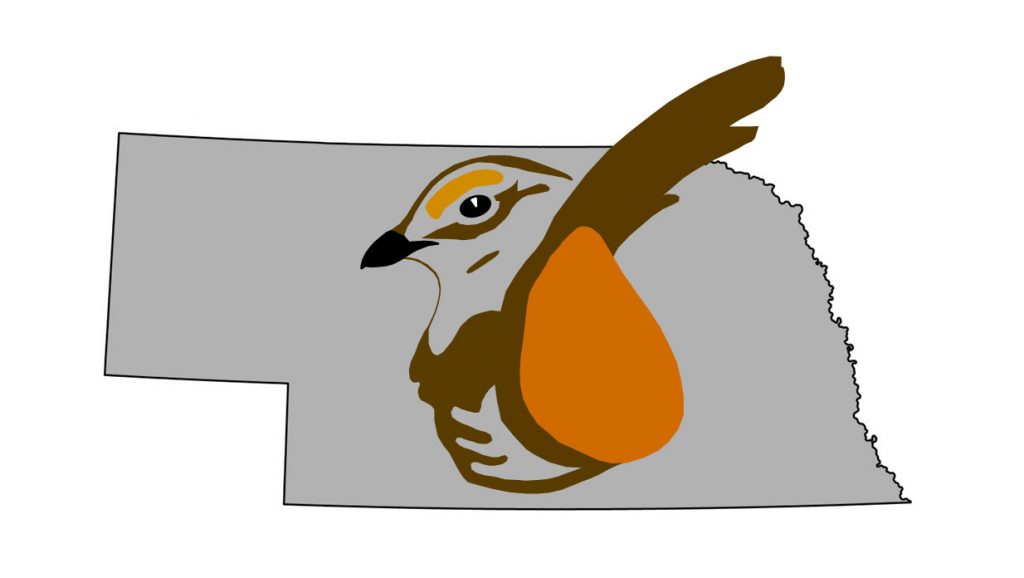 Birds of Nebraska – Online
Updated 5 Oct 2021