Icterus cucullatus cucullatus
Status: Accidental in spring.
Documentation: Photograph: 26 May 2013 Garrison, Butler Co (Gubanyi 2013; photo above of the same bird from 28 May 2013).
Taxonomy: Five subspecies are recognized, two in Mexico and Central America, and three in the US (Pyle 1997): nelsoni, breeding and wintering in California and southwest Texas, cucullatus, breeding in south-central Texas, and sennetti, breeding in south Texas.
Based on the extensive black coloration above the bill and strongly orange coloration of the Nebraska bird, it is likely cucullatus (Jaramillo and Burke 1999).
Spring: The single record is:
25-29 May 2013 male at Garrison, Butler Co, Daro family feeder (Gubanyi 2013).
This first state record was first noticed by Susie and Bill Daro at their oriole feeders. Recognizing that it was unusual, they contacted John Carlini who suggested they photograph the bird, which they did; the next day John Carlini and Shari Schwartz drove up to confirm the identification (Gubanyi 2013). It was subsequently seen by many observers.
There are two previous reports for Nebraska, but although suggestive, neither was confirmed. One was reported seen near Columbus, Platte Co on two days including 12 May 1965 (Armstrong 1965). Identification was based on an orange crown and "fiery orange" hood, rump, and underparts. While neither Baltimore nor Bullock's Orioles nor their hybrids possess "orange crowns," although first fall birds have greenish-orange crowns, no further detail was provided for this intriguing report. A similar report was of one at an oriole feeder tray in Moorefield, Frontier Co 30 Apr 2014 that had an "orange head"; no further details were provided, although at the same time a Hooded Oriole was seen by many in Douglas Co, Kansas, not far distant, 1 May 2014. One reported in Dawson Co 30 Jun 2017 was not accepted by NOURC (Brogie 2018).
Hooded Oriole has occurred as a winter vagrant north to Oregon, Washington, and British Columbia on the West Coast, but east of the Rocky Mountains there are only 11 records, all in the period Jan-May. These are in Louisiana, three records Jan-Mar, one record Apr (Louisiana Ornithological Society 2018), Ontario, one record in May (Boardman 1992), Colorado, three records Apr-Jul (CBRC 2018), Iowa, two records in May (Iowa Ornithologists' Union 2018), Wisconsin, one record in Dec (eBIrd.org, accessed April 2018), and Kansas, one record Apr-May (Swick 2014).
A banded bird recovered in Kansas identified as a Hooded Oriole was considered to have been incorrectly identified (Thompson and Ely 1992).
Images
Abbreviations
CBRC: Colorado Bird Records Committee
Literature Cited
Armstrong, J.R. 1965. Hooded Oriole. NBR 33: 65.
Boardman, R. 1992. Hooded Oriole at Long Point, Ontario/a potential first for Canada. Birders Journal 1: 228-229.
Brogie, M.A. 2018. 2017 (29th) Report of the NOU Records Committee. NBR 86: 131-142.
Colorado Bird Records Committee [CBRC]. 2018. Hooded Oriole records. Colorado Bird Records Committee database, accessed 22 Jun 2018.
Gubanyi, J.G. 2013. First documented record of Hooded Oriole (Icterus cucullatus) in Nebraska. NBR 81: 161-164.
Iowa Ornithologists' Union. 2018. Iowa Records Committee reports of Iowa rare bird records, accessed 22 June 2018.
Jaramillo, A., and P. Burke. 1999. New World Blackbirds- The Icterids. Princeton University Press, Princeton, New Jersey, USA.
Louisiana Ornithological Society. 2018. Hooded Oriole records, accessed 22 Jun 2018.
Pyle, P. 1997. Identification Guide to North American Birds. Part I, Columbidae to Ploceidae. Slate Creek Press, Bolinas, California, USA.
Swick, N. 2014. #ABArare – Hooded Oriole – Kansas (blog post, 5 May 2014). American Birding Association blog, accessed 22 Jun 2018.
Thompson, M.C., and C.A. Ely. 1992. Birds in Kansas. Vol. 2. University of Kansas Museum Natural History Publications Educational Series No. 12, Lawrence, Kansas, USA.
Recommended Citation
Silcock, W.R., and J.G. Jorgensen. 2020. Hooded Oriole (Icterus cucullatus). In Birds of Nebraska — Online. www.BirdsofNebraska.org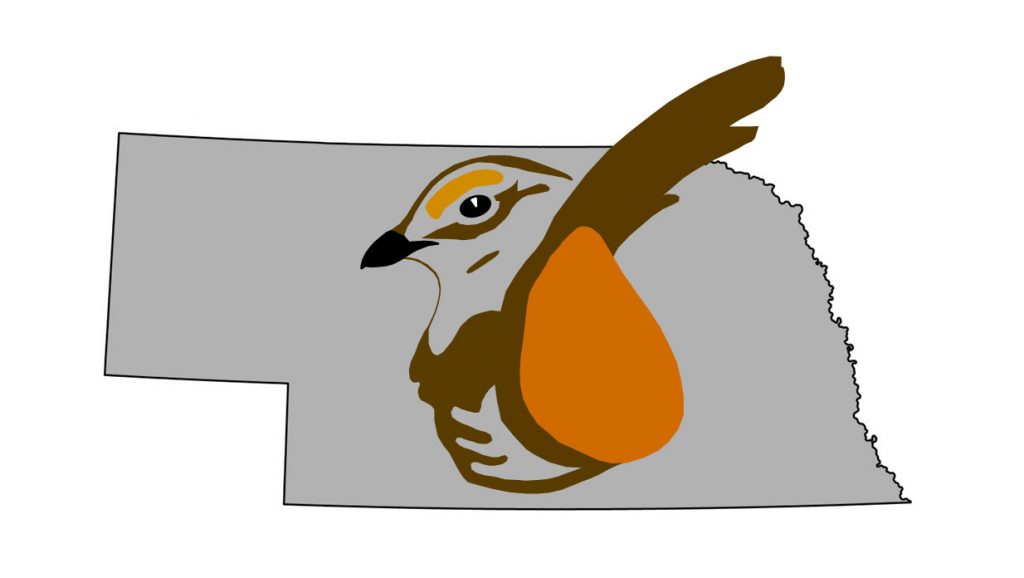 Birds of Nebraska – Online
Updated 8 May 2020