Eremophila alpestris enthymia, E. a. praticola, E. a. leucolaema, E. a. hoyti, E. a. alpestris
Status: Abundant regular spring and fall migrant and winter visitor statewide. Common regular resident statewide.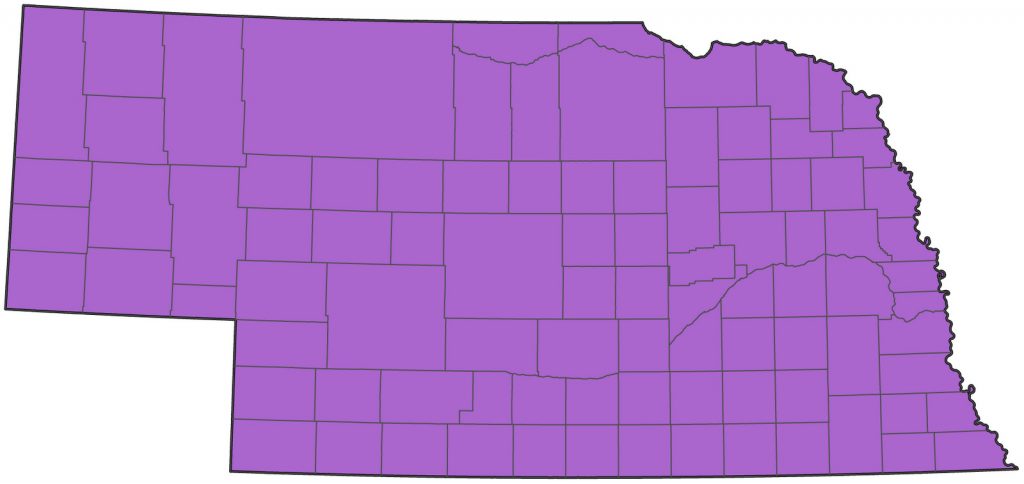 Documentation: Specimens: praticola, UNSM ZM6423 4 Feb 1894 Omaha, Douglas Co; leucolaema, UNSM ZM10207 12 Nov 1897 Alliance, Box Butte Co; alpestris, UNSM ZM64 16 Feb 1899 Lincoln, Lancaster Co; enthymia, UNSM ZM6431 9 May 1915 Inland, Clay Co; hoyti, UNSM ZM6442 20 Jan 1936 Stapleton, Logan Co.
Taxonomy: Pyle (1997) recognized 40 subspecies, 19 in Eurasia, Mexico, and South America. The remaining 21 were divided into three groups, Western Rufous, Western Pale, and Eastern Dark. The Western Rufous group of six subspecies is confined to areas west of the Rocky Mountains. According to the ranges outlined by Pyle (1997), two of the Western Pale group should occur in Nebraska: leucolaema breeds from southern Alberta to central Utah east to southwest Saskatchewan and south to northwest Texas, and enthymia breeds on the Great Plains from Saskatchewan and central Idaho to Ontario and south to northwest Texas. Similarly, two of the five subspecies in the Eastern Dark group should occur in Nebraska: praticola is resident from Minnesota to eastern Kansas east to Nova Scotia and North Carolina, and alpestris winters from Manitoba south to Kansas and east to Newfoundland and Georgia.
According to Bruner et al (1904), leucolaema breeds in the west, eastward to about the 99th meridian (near Kearney, Buffalo Co), and praticola in the east, westward to about the 97th meridian (near Lincoln, Lancaster Co). Presumably intermediates occur between the two subspecies in central Nebraska. However, the easternmost populations of leucolaema are now considered separate as enthymia (Pyle 1997), breeding from eastern Wyoming and eastern Colorado eastward, including breeding Horned Larks in western Nebraska. Ludlow (1935) considered nesting birds in Webster Co to be of the race enthymia, and a specimen of enthymia collected in Clay Co in May is cited above.
As suggested by specimen dates cited above, at least some breeders (enthymia, praticola) may remain in winter, likely joined at that time by more northerly breeders of the same subspecies, along with winter visitors of western leucolaema, northern alpestris and northeastern hoyti. Data from central Ohio (Bent 1942) show that the race hoyti occurs there 26 Nov-17 Mar, and peak numbers of the race alpestris occur in the period Dec-Feb.
Pyle (1997) stated that sub-specific differences are most marked Feb-Jun, but during Aug-Jan differentiation of fall birds and juveniles can be "difficult, if not impossible."
Resident: Beason (1995) stated that Horned Larks are resident throughout most of the breeding range; northernmost populations are migratory, although Beason refers to fall departure by breeders much further north than Nebraska, in Canada and Alaska. We believe Nebraska breeders are generally resident, although some movement southward is not unlikely in severe winter conditions.
Spring: Migration dates are difficult to determine as birds are present all year statewide. However, sizeable flocks in Feb-Apr are indicative of migration in progress; "thousands" were in Webster Co 23-24 Feb 1924 (Ludlow 1935), 6750 were along 10 miles of road in Scotts Bluff Co 12 Apr 1997, and 3000 were in Perkins Co 28 Feb 2016.
Summer: The BBS Summer Distribution Map for 2007-2013 shows greatest densities in the southwest and southern Panhandle with declining densities eastward across the state. Johnsgard (1980) suggested that the "sparse grasslands of the Sandhills are probably a nearly optimum habitat"; perhaps the very high densities in southwestern shortgrass prairies is a recent phenomenon. Lowest densities are in the southeast, where croplands are the norm and grasslands are minimal. However, most Horned Larks have fledged young prior to the start of cultivation practices around early Apr. BBS trend analysis shows -0.39 (95% C.I.; -2.00, 0.94) annual change statewide, indicating relatively stable abundance in Nebraska 1966-2013. A BBS route in Scotts Bluff Co 11 Jun 2017 counted 303 Horned Larks.
Breeding Phenology:
Territorial birds: 16 Feb+
Eggs: 17 Mar- 23 Jul; two broods are usual (Mollhoff 2022)
Nestlings: 20 Mar (snow on ground, Ludlow 1935)- 25 Jun
Fledglings: Mar-21 Jul
Fall: Flocking begins rather early in fall; 70 were along one mile of road in Box Butte Co 5 Jul 2020 and 25 in a single flock were in Sarpy Co 13 Aug. Counts in Nov-Dec are indicative of migration in progress: 5275 around Lake McConaughy, Keith Co 28 Dec 1996, "several thousand" in Knox Co 12 Nov 2000, and 3250 in southern Nebraska 17 Nov 1996. Most CBC counts are likely taken during fall migration of this species (see Winter).
Winter: CBC data indicate high densities statewide, possibly because during Dec numbers are high as winter visitors arrive en masse (see High Counts). Highest mid-winter (Jan-Feb) concentrations may be reached in stubble fields and around feedlots in the west. A cattle feedlot in Box Butte Co had 6000 Horned Larks 13 Jan 1974 (Williams 1974), and 8000 were near Sutherland Reservoir, Lincoln Co 17 Jan 1994.
Highest CBC counts are 6533 at Lake McConaughy, Keith Co in 1996, 5232 at Grand Island, Hall Co 14 Dec 2019, 4810 at Hastings, Adams Co in 1975-76, and 4788 at Scottsbluff 15 Dec 2007. Counts of zero have occurred twice at Lincoln, and at Hastings counts as low as 6 and 10 have been recorded.
High counts: "hundreds of thousands" in the Panhandle 1 Dec 2003, "tens of thousands" in southwest Nebraska 14 Dec 2007, and 11,000 from Garfield Co to Saunders Co 31 Dec 1994.
Images
Abbreviations
BBS: Breeding Bird Survey
CBC: Christmas Bird Count
UNSM: University of Nebraska State Museum
Literature Cited
Bruner, L., R.H. Wolcott, and M.H. Swenk. 1904. A preliminary review of the birds of Nebraska, with synopses. Klopp and Bartlett, Omaha, Nebraska, USA.
Johnsgard, P. A. 1980. A preliminary list of the birds of Nebraska and adjacent Great Plains states. Published by the author, University of Nebraska, Lincoln, USA.
Ludlow, C.S. 1935. A quarter-century of bird migration records at Red Cloud, Nebraska. NBR 3: 3-25.
Mollhoff, W.J. 2022. Nest records of Nebraska birds. Nebraska Ornithologists' Union Occasional Paper Number 9.
Pyle, P. 1997. Identification Guide to North American Birds. Part I, Columbidae to Ploceidae. Slate Creek Press, Bolinas, California, USA.
Williams, F. 1974. Southern Great Plains Region. American Birds 28: 656-660.
Recommended Citation
Silcock, W.R., and J.G. Jorgensen. 2022. Horned Lark (Eremophila alpestris). In Birds of Nebraska — Online. www.BirdsofNebraska.org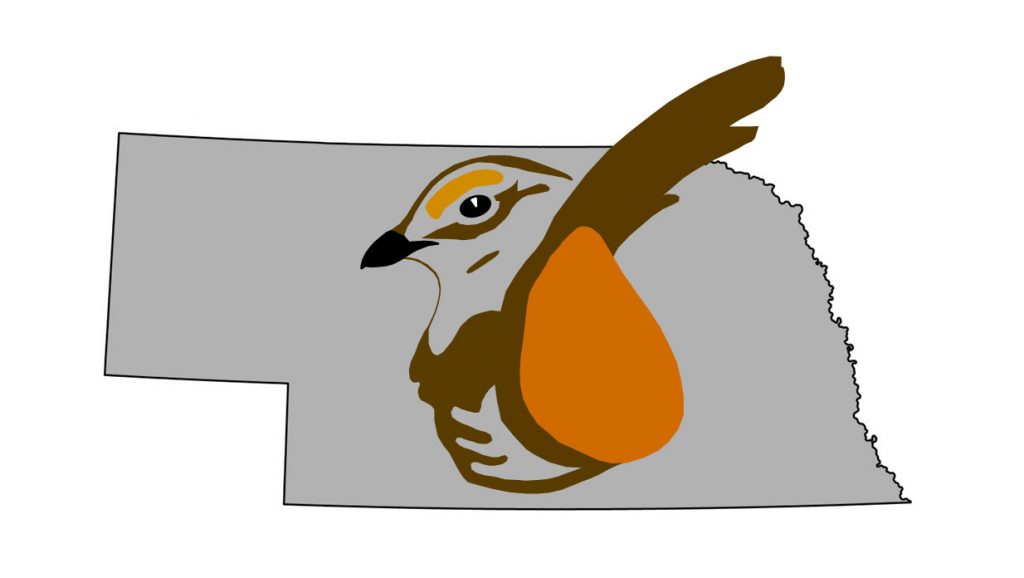 Birds of Nebraska – Online
Updated 12 Mar 2022