Larus glaucoides
Status: Uncommon regular spring and fall migrant statewide. Rare regular winter visitor west-central, rare casual elsewhere.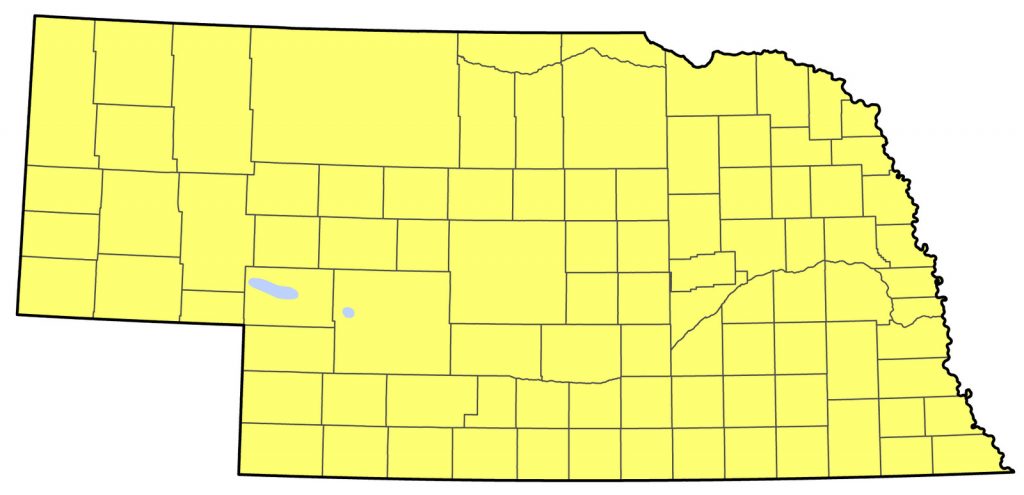 Documentation: Description: 15 Jan 1907, Dorchester, Saline Co (Swenk 1907, Bray et al 1986).
Despite the existence of a cline from west to east (dark to light) in overall coloration within forms assigned to L. glaucoides by Chesser et al (2017), we consider it virtually impossible to assign most or all Nebraska records to their "groups", presumably subspecies groups, and cite only the earliest Nebraska specimen that is clearly a representative of the cline.
See Taxonomy.
Taxonomy: 
Formerly considered separate species in North America, Iceland Gull and Thayer's Gull, the two taxa were lumped into a single species with three subspecies, glaucoides, kumlieni, and thayeri, in 2017 (Chesser et al 2017).  The decision to merge the two former taxa was based on non-assortative mating between them on Baffin and Southhampton Islands and questions about the validity of earlier research.
The status of the former L.g. kumlieni is poorly known but the taxon was retained as a separate "group" by Chesser et al (2017). We see no evidence in support of this; Snell et al (2020) showed that there is a complete unbroken cline in overall coloration from west to east, including even the easternmost and palest population of L. g. glaucoides in Greenland.  See Comments.
There are 10 documented spring reports for Nebraska, eight for fall, and 13 for winter of birds previously identified as Iceland (Kumlien's) Gull as opposed to Thayer's Gull, before the two were merged (Chesser et al 2017); these 31 records are described in Gubanyi (1996a, 1996b) and Brogie (1998, 1999, 2004, 2005, 2012, 2014, 2015, 2016). There were three additional reports in spring 2020 of "kumlieni" types.
Spring: Feb 10, 13, 14 <<<>>> Apr 23, 23, 23
Early dates above are of birds which were not present in winter. Later dates are 2 May 2009 at Lake McConaughy, Keith Co, and 3 May 2020 there.
High counts: 14 (Thayer's) at Lake McConaughy 18 Mar 2020, 8 there 1 Mar 2015, 7 there 22 Feb 2004, 7 there 27 Mar 2011, and 6 at Carter Lake, Douglas Co 25 Mar 2014.
Fall: Oct 29, Nov 1, 1 <<<>>> winter
Earlier reports are of a first-year bird well-studied at Branched Oak Lake, Lancaster Co 1 Oct 2011, an adult photographed at Lake Ogallala, Keith Co 4 Oct 1997, a first-year bird at Gavin's Point Dam, Cedar Co 7-14 Oct 2018, and a first year bird at Lake McConaughy, Keith Co 8 Oct 2019. Adults often arrive in fall before immatures.
Winter:  Recent reports at Lake McConaughy indicate that this species winters regularly, sometimes in numbers; most reports are of former Thayer's Gull.  Overwintering is unknown away from Lake McConaughy and Sutherland Reservoir, Lincoln Co; at the latter location, six were present 14 Jan 1998, five on 31 Dec 1998, and five on 29 Jan 2000.
In the period 6 Dec 1997-18 Apr 1998, high age-class counts were 11 first basic, one third basic, and eight adults, for a total of 20 birds.
There are mid-winter records from Harlan Co Reservoir, Harlan Co that suggest overwintering may occur there: four on 22 Jan 2000, 2-3 juveniles on 22-25 Jan 2012, and 30 Jan 2015. Elsewhere there are only these mid-winter reports: two on 22 Jan 2000 Johnson Lake, Dawson and Gosper Cos, and 6-18 Feb 2013 Lancaster Co.
High counts: 15 at Lake McConaughy 4 Mar 1998, 11 there 14 Jan 2001, 10 there 6 Feb 1999, and 9 at Sutherland Reservoir 1-3 Jan 2011.
Comments: As with other large gull species, reports of former Thayer's Gulls in Nebraska have dramatically increased since the 1990s.  The increase can be attributed both to an increase in numbers present due to the number of ecologically mature reservoirs and the increasing amount of identification literature available. Former Thayer's Gull was first reported in Nebraska in 1981 in Douglas-Sarpy Co 17-21 Mar without details (Cortelyou 1991), but not documented until 17-19 Dec 1992, the seventh report of the species, when Rosche described one at Sutherland Reservoir (Morris 1993).  Most Nebraska records of Iceland Gull (Chesser et al 2017) are of former Thayer's Gull, but there have been several reports of puzzling paler birds. There are no documented occurrences of the "glaucoides group" (Chesser et al 2017) of Iceland Gull for Nebraska, although some photographed juveniles have been very pale. Photographs of several of these birds are available at the Nebraska Ornithologists' Union website.
There has arisen in recent years an additional problem of separation of paler Iceland Gull from the small western North American race of Glaucous Gull, L. hyperboreus barrovianus (see that species). This has been problematic on the West Coast for some time, and has manifested itself at least once in Nebraska, where the identity of a bird at Branched Oak Lake 1-7 Dec 1996 was unresolved (Silcock and Jorgensen 1997).
Abbreviations
NOURC: Nebraska Ornithologists' Union Records Committee
Literature Cited
Bray, T.E., B.K. Padelford, and W.R. Silcock. 1986. The birds of Nebraska: A critically evaluated list. Published by the authors, Bellevue, Nebraska, USA.
Brogie, M.A. 1998. 1997 (Ninth) Report of the NOU Records Committee. NBR 66: 147-159.
Brogie, M.A. 1999. 1998 (Tenth) Report of the NOU Records Committee. NBR 67: 141-152.
Brogie, M.A. 2004. 2003 (15th) Report of the NOU Records Committee. NBR 72: 59-65.
Brogie, M.A. 2005. 2004 (16th) Report of the NOU Records Committee. NBR 73: 78-84.
Brogie, M.A. 2012. 2011 (23rd) Report of the NOU Records Committee. NBR 80: 112-122.
Brogie, M.A. 2014. 2013 (25th) Report of the NOU Records Committee. NBR 82: 131-146.
Brogie, M.A. 2015. 2014 (26th) Report of the NOU Records Committee. NBR 83: 125-138.
Brogie, M.A. 2016. 2015 (27th) Report of the NOU Records Committee. NBR 84: 138-150.
Chesser, R.T., K.J. Burns, C. Cicero, J.L. Dunn, A.W. Kratter, I.J. Lovette, P.C. Rasmussen, J. V. Remsen, Jr., J.D. Rising, D.F. Stotz, and K. Winker. 2017. Fifty-eighth supplement to the American Ornithological Society's Check-list of North American Birds. Auk 134: 751-773.
Cortelyou, R.G. 1981. 1981 (Fifty-sixth) Spring Migration and Occurrence Report. NBR 49: 38-55.
Gubanyi, J.G. 1996. 1992, 1993 (Fifth) Report of the NOU Records Committee. NBR 64: 30-35.
Gubanyi, J.G. 1996. 1995 (Seventh) Report of the NOU Records Committee. NBR 64: 132-138.
Morris, R. 1993. Fall 1992 Occurrence Report (July 1 – December 31). NBR 61: 31-87.
Silcock, W.R., and J.G. Jorgensen. 1997. Winter Field Report, December 1996-February 1997. NBR 65: 17-27.
Snell, R.R., P. Pyle, and M.A. Patten. 2020. Iceland Gull (Larus glaucoides), version 1.0. In Birds of the World (P. G. Rodewald and B. K. Keeney, Editors). Cornell Lab of Ornithology, Ithaca, NY, USA. https://doi.org/10.2173/bow.y00478.01.
Swenk, M.H. 1907. Two interesting Nebraska records. Auk 24: 223.
Recommended Citation
Silcock, W.R., and J.G. Jorgensen. 2020. Iceland Gull (Larus glaucoides). In Birds of Nebraska — Online. www.BirdsofNebraska.org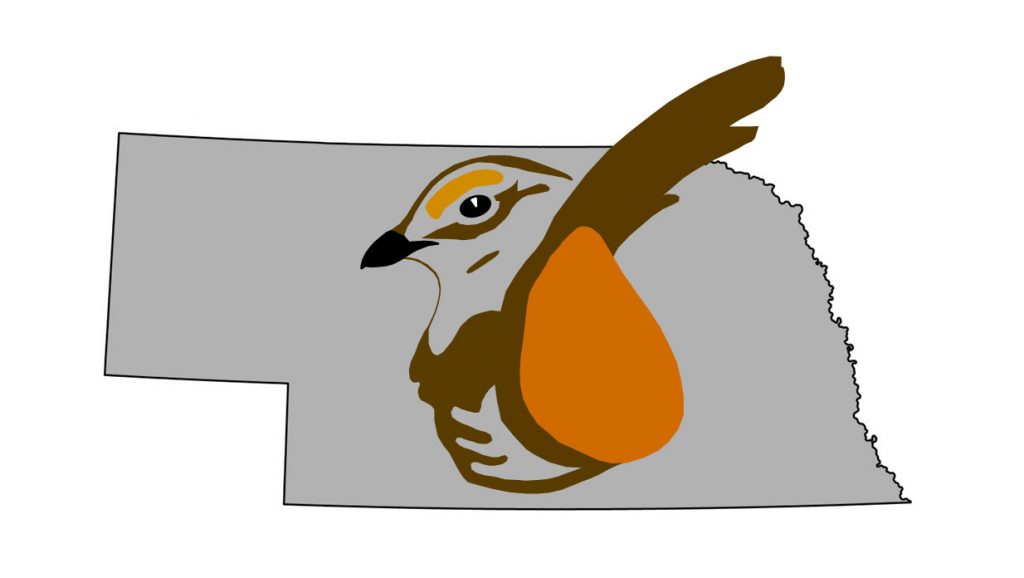 Birds of Nebraska – Online
Updated 15 Jun 2020