Geothlypis formosa
Status: Uncommon regular spring migrant east, rare casual central, accidental west. Uncommon regular breeder east. Rare regular fall migrant east, accidental west.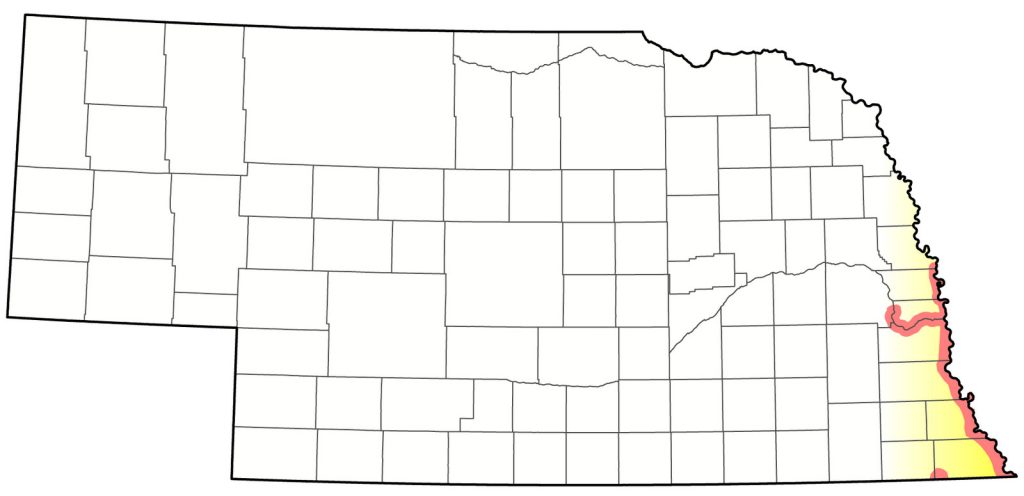 Documentation: Specimen: UNSM ZM6888, 6 May 1901 Child's Point, Sarpy Co.
Taxonomy: No subspecies are currently recognized (Pyle 1997).
Spring: Apr 24, 25, 26 <<<>>> summer
Migrants appear in early May.
This species is rare away from the east; the only Panhandle records are of one netted and photographed 28 Apr 1981 in Garden Co (Williams 1981), and one in Dawes Co 12 May 2022. There are only nine other reports away from the Missouri River Valley, all in the period 4-27 May. Furthest north and west are 8 May 2011 Antelope Co, 10 May 2021 Grove Lake, Antelope Co, 15 May 2004 Lake Ogallala, Keith Co, and 22 May 2002 Calamus Reservoir, Loup Co. Additional reports are 4 May 2003 Johnson Co, 5 May 1984 Howard Co, 11 May 2002 Hall Co, 11-27 May 2011 Wilderness Park, Lincoln, 14 May 1911 Webster Co (Ludlow 1935), and 19 May 2012 Wilderness Park, Lincoln.
High counts: 10 at Indian Cave SP, Nemaha and Richardson Cos 1 May 2015, 9 there, Richardson Co 11 and 13 May 2021, 8 there 14 May 2006, 8 there 4 May 2019, and 8 there 7 May 2020.
Summer: Kentucky Warbler has been a breeder in the Missouri River Valley since ornithological study began in Nebraska; Bruner et al (1904) called it a "common summer resident and breeder" north to Omaha and in Lincoln, and Rapp et al (1958) stated it was a "rare to locally common summer resident in southeast Nebraska, especially in the Missouri River Valley… north to Fontenelle Forest…".
In recent years, numbers have increased. BBS data 1980-2006 show annual increases of >1.5% per year in the northwestern part of the species' range, including extreme southeast Nebraska (Sauer et al 2017). The first Breeding Bird Atlas for Nebraska (Mollhoff 2001) showed "Possible" and "Probable" breeding reports only in the Missouri River Valley, north to Ponca SP, Dixon Co and west to Platte River SP, Cass Co; in the second atlas (Mollhoff 2016), there were no reports north of extreme southeast Washington Co, but there were new locations in Richardson Co, including confirmed breeding at Rulo Bluffs and westward at Cornhusker Scout Camp, about five miles east of Du Bois, Pawnee Co on the Kansas border. In 2019, west of the currently known summer range, territorial birds were at two Pawnee Co locations: 2-3 were counter singing at Table Rock WMA 15 May (eBird.org) and two were at Lores Branch WMA 19 May (eBird.org). One was at Table Rock WMA 6 Jun 2022, and another was recorded on Clear Creek, Johnson Co 4 Jul 2022.
Fontenelle Forest, Sarpy Co had "nesting birds" in 1972 (Williams 1972), and an old record for Sarpy Co is of a nest in the UNSM collection (#ZM9103) with four "much-incubated" eggs (plus two cowbird eggs) that was found 1 Jun 1901 (Mollhoff 2001). Reports at Fontenelle Forest have been numerous since 2011, although best count has been only three, on 23 May 2013.
It was "apparently nesting" at Indian Cave SP in 1995 and 2001; there are summer reports there since 1981. Recent years have seen increasing numbers; 11 were counted there 20 Jun 2013. Totals of 19, 18 and 25 birds were recorded in 2012, 2013 and 2014 respectively at Indian Cave SP during formal breeding bird surveys (Jorgensen et al 2014).
The first report from Platte River SP was 13 Jun 2011. In 2012 four territories were located there 19 Jun and a nest with four young was photographed near Stone Creek. In 2013 at least two pairs were there, one of which fledged at least one young bird by 3 Jul, and in 2014 there were three territories.
Elsewhere in the lower Missouri River Valley, one was in Washington Co 21 Jun-2 Jul 1988, another was there 8 May 1997, and a nest with eggs was found at Neale Woods, Washington Co, 15 Jun 2000 (Mollhoff 2001). A female was flushed from a nest 30 May 1936 in Cass Co (Hudson et al 1937), and one at or adjacent to William Gilmour/Tobacco Island WMA, Cass Co 3 Jul 2014 was at a new location. One was reported at Wildlife Safari in Cass Co 28 Jun 2015. Hummel Park, Douglas Co has been a regular summer location for some time; one was there 8 May 2016.
Beginning in the 1980s there were reports at several northerly locations, including Dakota Co 8 Jun 1985 and 30 Jun-1 Jul 1989, Ashford Scout Camp, Thurston Co, 1985-1993 (Bill F. Huser, pers. comm.), and Ponca SP 30 May- 9 Jun 2012.
Breeding phenology:
Eggs: 30 May-15 Jun
Nestlings: 28 May
Fall: summer <<<>>> Aug 25, 26, 27
Later dates are 30 Aug 2020 Sarpy Co, 31 Aug 2019 Nemaha Co, 4 Sep 2020 Nemaha Co, 6 Sep 2020 Sarpy Co, and 10 Sep 2010 Lincoln Co.
An indication that migration is underway by mid-Aug was of an adult male that hit a window in Omaha, Douglas Co 14 Aug 2017. Departure is usually complete by mid-Sep; there is a later report 8 Oct 1969 Douglas-Sarpy Cos.
The only Panhandle report is of a male at Wind Springs Ranch, Sioux Co 20 Sep 2002; a female in Lincoln Co 10 Sep 2010 was westerly. There are no confirmed fall records in the central.
Images
Abbreviations
BBS: Breeding Bird Survey
SP: State Park
UNSM: University of Nebraska State Museum
WMA: Wildlife Management Area (State)
Literature Cited
Bruner, L., R.H. Wolcott, and M.H. Swenk. 1904. A preliminary review of the birds of Nebraska, with synopses. Klopp and Bartlett, Omaha, Nebraska, USA.
Hudson, G.E., P.T. Gilbert, and O. Wade. 1937. The Summer Tanager and other summering Birds at Rock Bluff, Cass County. NBR 5: 8-9.
Jorgensen, J.G., L.R. Dinan, M.A. Brogie, W.R. Silcock, J. Rink, C. Klaphake, and G. Steinauer. 2014. Breeding Bird Diversity, Abundance and Density at Indian Cave and Ponca State Parks, Nebraska, 2012-2014. Nongame Bird Program of the Nebraska Game and Parks Commission, Lincoln, Nebraska, USA.
Ludlow, C.S. 1935. A quarter-century of bird migration records at Red Cloud, Nebraska. NBR 3: 3-25.
Mollhoff, W.J. 2001. The Nebraska Breeding Bird Atlas 1984-1989. Nebraska Ornithologists' Union Occasional Papers No. 7. Nebraska Game and Parks Commission, Lincoln, Nebraska, USA.
Mollhoff, W.J. 2016. The Second Nebraska Breeding Bird Atlas. Bull. Univ. Nebraska State Museum Vol 29. University of Nebraska State Museum, Lincoln, Nebraska, USA.
Pyle, P. 1997. Identification Guide to North American Birds. Part I, Columbidae to Ploceidae. Slate Creek Press, Bolinas, California, USA.
Rapp, W.F. Jr., J.L.C. Rapp, H.E. Baumgarten, and R.A. Moser. 1958. Revised checklist of Nebraska birds. Occasional Papers 5, Nebraska Ornithologists' Union, Crete, Nebraska, USA.
Sauer, J.R., D.K. Niven, J.E. Hines, D.J. Ziolkowski, Jr, K.L. Pardieck, J.E. Fallon, and W.A. Link. 2017. The North American Breeding Bird Survey, Results and Analysis 1966 – 2015 (Nebraska). Version 2.07. USGS Patuxent Wildlife Research Center, Laurel, Maryland, USA.
Williams, F. 1972. Southern Great Plains Region. American Birds 26: 872-875.
Williams, F. 1981. Southern Great Plains Region. American Birds 35: 313-315.
Recommended Citation
Silcock, W.R., and J.G. Jorgensen. 2023. Kentucky Warbler (Geothlypis formosa). In Birds of Nebraska — Online. www.BirdsofNebraska.org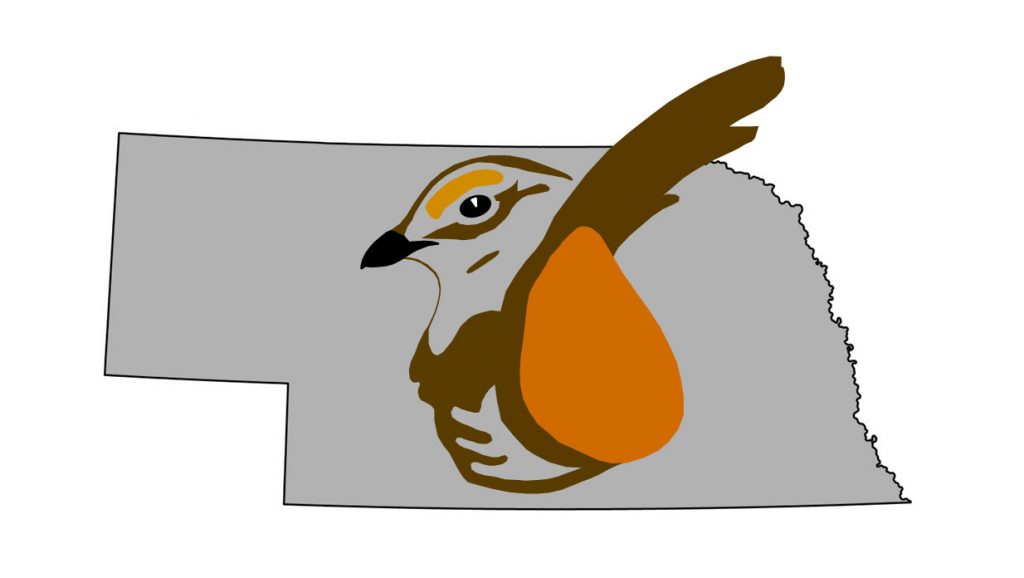 Birds of Nebraska – Online
Updated 1 Jan 2023