Charadrius vociferus
Status: Common regular breeder statewide. Common regular spring and fall migrant statewide. Locally rare regular winter visitor west, rare casual east and south.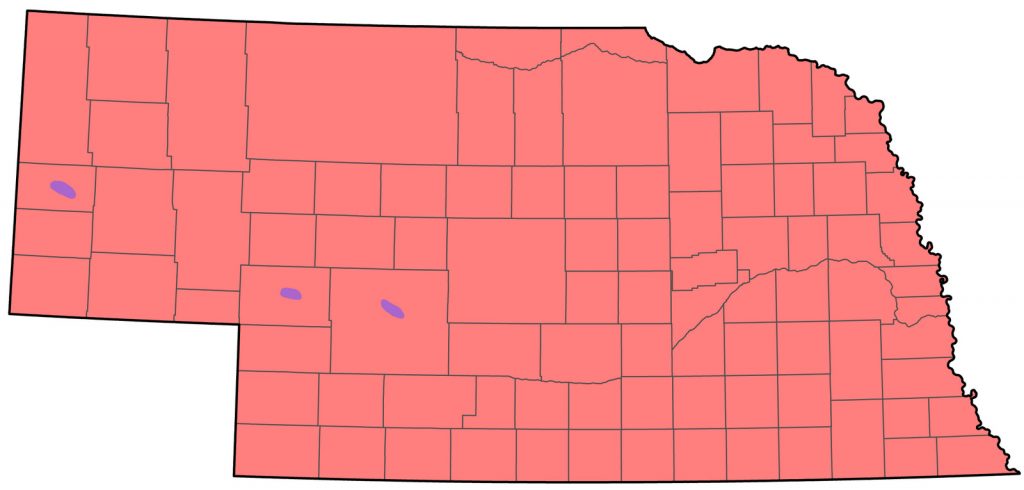 Documentation: Specimen: UNSM ZM6117, 30 Mar 1901 Lincoln, Lancaster Co.
Taxonomy: There are three subspecies, vociferus of North America south to northwest Mexico, ternominatus of the Bahamas and Greater Antilles, and peruvianus of Peru and northwest Chile (Gill and Donsker 2017).
Nebraska birds are vociferus.
Spring: Feb 11, 11, 11 <<<>>> summer
Earlier dates are 8 Feb 2023 Stagecoach Lake SRA, Lancaster Co, and 8 Feb 2023 Pawnee Lake SRA, Lancaster Co.
Early dates above are away from known wintering locations. Migrants arrive by the end of Feb or in early Mar and the species is ubiquitous through Apr. Numbers decline in May as migrants depart northward.
High counts: 442 (including single flocks of 141 and 87) in the eastern Rainwater Basin 14 Mar 2004, 276 there 3 Apr 1997, 231 there 11 Apr 1998, and 231 in Lancaster Co in a snowstorm 19 Mar 2006.
Summer: This species breeds throughout Nebraska; BBS data 2007-2013 show somewhat higher density in the eastern third of the state and the southern Panhandle. Jorgensen et al (2009) estimated as many as 100,000 Killdeer breed in the eastern Rainwater Basin, primarily in agricultural fields. BBS trend analysis shows the species has increased 0.80% (95% C.I.; 0.06, 1.58) during the period 1966-2015 (Sauer et al 2017).
Aggregations in late Jul and Aug probably represent local breeders and migrants that breed further north and pass through in late Sep-early Oct (see Fall).
Breeding Phenology:
Copulation: 12 May
Eggs: 14 Apr- 25 Jul (Mollhoff 2022)
Young: 23 Apr- 29 Jul
High counts: 1012 in the eastern Rainwater Basin 12 Jul 2003, and 340 at Conestoga Lake, Lancaster Co 29 Jun 2016.
Fall: summer <<<>>> Dec 28, 29, 29
Latest dates above are away from known wintering locations; there are later such dates 2 Jan 2019 Washington Co, 3 Jan 2011 Dawson Co, 5 Jan 2023 Sarpy Co, and 5 Jan 2023 and 7 Jan 2011 Lancaster Co.
Post-breeders and juveniles begin flocking in Jul and such groups are common through early Oct. Numbers decrease in late Oct and through Nov. CBC data show few remaining into Dec; the highest total for all counts was 43 birds in 2012-2013, including 22 at Lake McConaughy, Keith Co 29 Dec 2012.
High counts: 1000 in Dakota Co 30 Jul 2011, 992 at Jack Sinn WMA, Lancaster Co 8 Sep 2012, 800 at Conestoga Lake, Lancaster Co 1 Aug 2016, and 750 in the eastern Rainwater Basin 25 Jul 2010.
Winter: A few winter regularly in the North Platte River Valley, with notable locations Scotts Bluff Co, downstream from the Keystone Diversion Dam, Keith Co, and the North Platte, Lincoln Co area. The high count of wintering birds is 18-24 individuals observed 3-8 Jan 2022 downstream from the Keystone Diversion Dam; 21 were there 8 Jan 1982 (Rosche 1994).
Elsewhere, there are only these few additional winter (8 Jan-7 Feb) records from Buffalo Co eastward: 10 Jan 2016 Lancaster Co, 10 Jan 2018 Washington Co, 11 Jan 1986 Antelope Co, 13 Jan 1949 and 3 Feb 1948 Jefferson Co, 15 Jan 1966 Douglas-Sarpy Cos, 17 Jan 1987 Madison Co (Wolff 1987), 17 Jan 2021 downtown Lincoln, Lancaster Co, 23 Jan 2012 Omaha, Douglas Co, 29 Jan 2012 Sarpy Co, three on 1 Feb 2003 Buffalo Co, 1 Feb 2013 Lancaster Co, 1 Feb 2022 Lancaster Co, and 3 Feb 2014 at a Lancaster Co warm-water spring.

Images
Abbreviations
BBS: Breeding Bird Survey
CBC: Christmas Bird Count
UNSM: University of Nebraska State Museum
WMA: Wildlife Management Area (State)
Literature Cited
Gill, F., and D. Donsker (Eds). 2017. IOC World Bird List (v 7.3), accessed 30 January 2018.
Jorgensen, J.G., J.P. McCarty and L.L. Wolfenbarger. 2009. Killdeer (Charadrius vociferus) breeding abundance and habitat use in the Eastern Rainwater Basin, Nebraska. Wader Study Group Bulletin 116: 65-68.
Mollhoff, W.J. 2022. Nest records of Nebraska birds. Nebraska Ornithologists' Union Occasional Paper Number 9.
Rosche, R.C. 1994. Birds of the Lake McConaughy area and the North Platte River valley, Nebraska. Published by the author, Chadron, Nebraska, USA.
Sauer, J.R., D.K. Niven, J.E. Hines, D.J. Ziolkowski, Jr, K.L. Pardieck, J.E. Fallon, and W.A. Link. 2017. The North American Breeding Bird Survey, Results and Analysis 1966 – 2015 (Nebraska). Version 2.07. USGS Patuxent Wildlife Research Center, Laurel, Maryland, USA.
Wolff, D. 1987. Wintering Killdeer. NBR 55: 75.
Recommended Citation
Silcock, W.R., and J.G. Jorgensen. 2023. Killdeer (Charadrius vociferus). In Birds of Nebraska — Online. www.BirdsofNebraska.org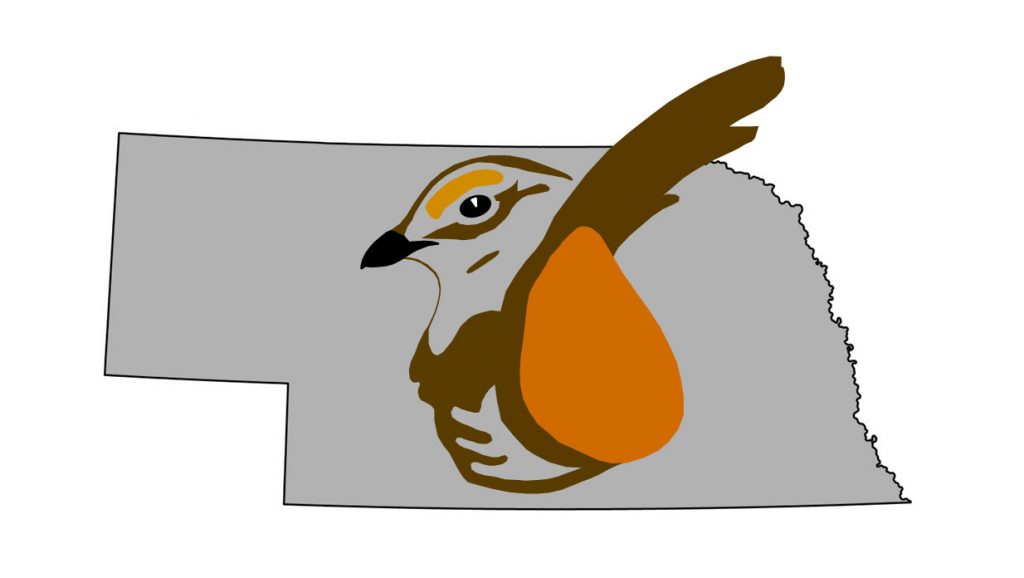 Birds of Nebraska – Online
Updated 7 Mar 2023