Leucophaeus atricilla
Status: Rare regular summer visitor statewide. Rare casual winter visitor statewide.
Documentation: Photograph: 27-29 Apr 1990 Gavin's Point Dam, Cedar Co (Brogie 1990; Grenon 1991).
Taxonomy: Two subspecies are recognized (Gill et al 2022), megalopterus of coastal southeast Canada, eastern and southern USA to eastern Central America, southwest USA, and western Mexico, and atricilla of the West Indies to northern Venezuelan Islands.
Some authors (see Pyle 2008, Burger 2020) consider the species best treated as monotypic.
Nebraska birds are presumed megalopterus; recent years have seen breeding attempts in Ohio and Wisconsin (Howell and Dunn 2007), presumably megalopterus, and Gulf Coast breeders and non-breeders, also megalopterus, apparently disperse northward during and after the Apr-Aug breeding season.
Summer: May 12, 16, 19 <<<>>> Oct 22, 27, 28
There are earlier dates, all of adults, 2 Apr 1915 Inland, Clay Co, female, measurements (Brooking 1933), at one time HMM 2631 but no longer extant (Bray et al 1986), 4 Apr 1997 adult, Father Hupp WMA, Thayer Co (Brogie 1998), 14 Apr 2023 Branched Oak Lake, Lancaster Co, and 27-29 Apr 1990 adult, Gavin's Point Dam, Cedar Co (cited above).
There are 32 records through Jul 2023, evenly spread from 2 Apr through 28 Oct, 23 of these since 2000.
In this species, northward migration from wintering areas takes place along the Atlantic Coast beginning in Apr, and there is a post-breeding dispersal of Hatch Year birds, often into the interior, primarily along major rivers (Burger 2020). Many Laughing Gulls winter on the Gulf Coast, and so a few apparently move north into the interior in spring, presumably linger through the summer months, and are joined by post-breeding dispersers of mixed ages in late summer; most Jul-Oct records in Nebraska are of juveniles and immatures.
Winter: The three reports are unexpected for this species, which winters along the Gulf Coast south to coasts of northern South America.
22 Dec 1994 first basic Lincoln Co (Dinsmore and Silcock 1995; Gubanyi 1996; Brogie 1998).
3 Jan 2020 Dawson Co (Jonathan Nikkila, eBird.org)
10 Jan 1990 Gavin's Point Dam (Grenon 1990). This bird was present in the area 10 Jan-30 Apr (Tallman et al 2002).
Images
Abbreviations
HMM: Hastings Municipal Museum
WMA: Wildlife Management Area (State)
Literature Cited
Bray, T.E., B.K. Padelford, and W.R. Silcock. 1986. The birds of Nebraska: A critically evaluated list. Published by the authors, Bellevue, Nebraska, USA.
Brogie, M.A. 1990. Laughing Gull in Cedar County, Nebraska. NBR 58: 99-100.
Brogie, M.A. 1998. 1997 (Ninth) Report of the NOU Records Committee. NBR 66: 147-159.
Brooking, A.M. 1933. The Laughing Gull and the Yellow-crowned Night-Heron at Inland, Clay County. NBR 1: 130.
Burger, J. 2020. Laughing Gull (Leucophaeus atricilla), version 1.0. In Birds of the World (P. G. Rodewald, Editor). Cornell Lab of Ornithology, Ithaca, NY, USA. https://doi.org/10.2173/bow.laugul.01.
Dinsmore, S.J., and W.R. Silcock. 1995. Laughing Gulls in western Nebraska. NBR 63: 66-67.
Gill, F., D. Donsker, and P. Rasmussen (Eds). 2022. IOC World Bird List (v 12.2). Doi 10.14344/IOC.ML.12.2.  http://www.worldbirdnames.org/.
Grenon, A.G. 1990. 1990 (Third) Report of the NOU Records Committee. NBR 58: 90-97.
Grenon, A.G. 1991. 1991 (Fourth) Report of the NOU Records Committee. NBR 59: 150-155.
Gubanyi, J.G. 1996. 1995 (Seventh) Report of the NOU Records Committee. NBR 64: 132-138.
Howell, S.N.G., and J. Dunn. 2007. Gulls of the Americas. Houghton Mifflin Harcourt, New York, New York, USA.
Pyle, P. 2008. Identification Guide to North American Birds. Part II, Anatidae to Alcidae. Slate Creek Press, Bolinas, California, USA.
Tallman, D.A., Swanson, D.L., and J.S. Palmer. 2002. Birds of South Dakota. Midstates/Quality Quick Print, Aberdeen, South Dakota, USA.
Recommended Citation:
Silcock, W.R., and J.G. Jorgensen. 2023. Laughing Gull (Leucophaeus atricilla). In Birds of Nebraska — Online. www.BirdsofNebraska.org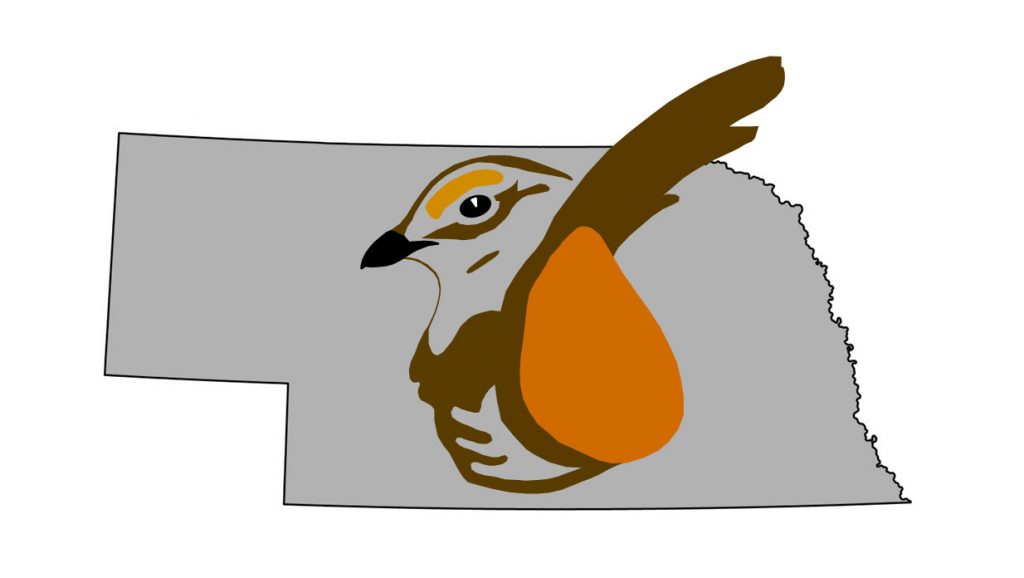 Birds of Nebraska – Online
Updated 13 Oct 2023