Empidonax minimus
Status: Common regular spring migrant statewide. Common regular fall migrant east and central, fairly common west. Rare casual breeder north and west.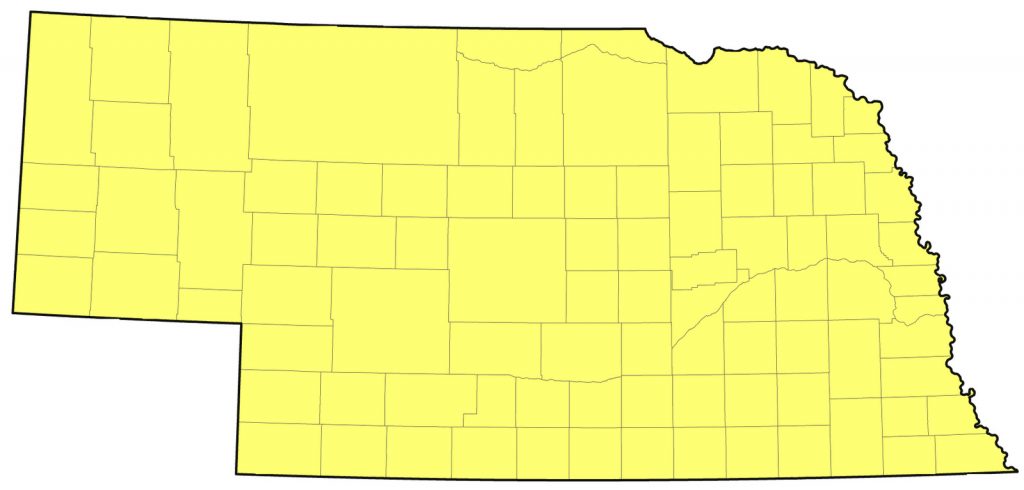 Documentation: Specimen: UNSM ZM6391, 9 May 1903 Havelock, Lancaster Co.
Taxonomy: No subspecies are recognized (Pyle 1997).
Spring: Apr 26, 26, 26 <<<>>> Jun 4, 4, 5
Later dates are 8 Jun 2019 Nemaha Co, 9 Jun 1985 Sioux Co, 9 Jun 2022 Crookston, Cherry Co, and 10 Jun 2010 Cass Co.
Among the Empidonax group, Least Flycatcher is the earliest migrant; arrival is in early May, peak numbers occur in mid-May and last dates are in early Jun, although some singing birds in Jun may be summering, especially in the north (see Summer).
At Cedar Point Biological Station, Keith Co, Nebraska, 94 were banded 10 May-3 Jun (Brown et al 1996); one was singing at Crescent Lake NWR, Garden Co 3 Jun 2001. Kansas specimen data show occurrence 26 Apr-28 May (Thompson and Ely 1992) and banding data in northeast Kansas show occurrence 2 May-8 Jun (Cink 1998).
High counts: 60 at Fontenelle Forest 12 May 2018, 58 there 14 May 2016, 54 in Sarpy Co 11 May 1996, 53 there 13 May 1995 (Silcock 1995), and "about 50" in Garden Co 14 May 1979 (Williams 1979).
Summer: Least Flycatcher regularly breeds throughout most of South Dakota, south to the Nebraska border (Tallman et al 2002, Drilling et al 2018). As might be expected, reports of possible breeding in Nebraska comes from areas in the north and west, but there no confirmed breeding records (Mollhoff 2022). Territorial Least Flycatchers in early to mid-Jun, especially in cottonwoods, should be monitored for breeding, although single singing birds may not necessarily be potential breeders; breeding birds tend to be in "small territories in highly dense clusters that resemble classical leks" (Tarof and Briskie 2020).
The Second BBA (Mollhoff 2016) reported "probable" breeding in Thurston, Dakota, and Knox Cos. Short (1965) reported two pairs, also in "tall cottonwoods", along the Niobrara River in Brown and Keya Paha Cos, apparently in mid- to late Jun 1964, although nesting was not confirmed by Short or by Mossman and Brogie (1983) in the same area. Two were in pines at Cub Creek Lake, Keya Paha Co 19 Jun 2013 but could not be re-located there 27 Jun. One was along the Niobrara River in Knox Co 16 Jun 2020.
Rosche (1982) observed one in Dawes Co 5-10 Jul 1973 (Williams 1973) and suspected as early as 1982 (Rosche 1982) that this might be a breeding species in the northwest, as did Ducey (1988). Rosche (1994b) suggested that Least Flycatcher nests "in the tall cottonwoods" at Smith Lake WMA, Sheridan Co; singles were there 19 Jun 2017 and 10 and 19 Jun 2021, but no nests have been found. It was reported in Monroe Canyon, Sioux Co 21 Jun 1994, and in Sioux Co 9 Jun 1985 (Mark Brogie, pers. comm.).
There is a summer report of two birds in two locations in the Lake McConaughy, Keith Co area 11 Jun 1991 (Grzybowski 1991, Rosche 1994a), and singles were singing at Lake Ogallala, Keith Co 17 Jun 2001 and 7 Jun 2003. Singles were in Scotts Bluff Co 13 Jun 2019, and 20 Jun 2012. Singles were at different Lincoln Co locations 20 Jun 2017 and another was there 1 Jul 2017.
South of the North Platte and Niobrara River Valleys, most breeding season reports are likely of late migrants, although nesting is possible; a probable breeding record for extreme northeastern Kansas 4 Jun 1996 involved two birds together giving male and female position notes (Busby and Zimmerman 2001). Southerly breeding season reports for Nebraska are 10 Jun 2015 Buffalo Co, one called several times in southeast Saunders Co 19 Jun 2000, 21 Jun 2013 one "singing continuously" at Fontenelle Forest but not there 30 Jun, one recorded at Branched Oak Lake, Lancaster Co 25 Jun 2021, and one recorded at Wood Duck WMA, Stanton Co 2 Jul 2020.
Indication of breeding in eastern Nebraska (Tarof and Briskie 2020) is unsupported by current evidence (Mollhoff 2016), although it may have bred in the Missouri River Valley prior to 1904 (Bruner et al 1904).
Fall: Jul 15, 16, 16 <<<>>> Sep 30, 30, 30
Earlier dates are 5 Jul 2013 Nemaha Co, 6 Jul 2019 Scotts Bluff Co, 9 Jul 2014 Scottsbluff SL, Scotts Bluff Co, 13 Jul 2008 one singing in cottonwoods at Phillips Lake, Gosper Co.
Later dates are 2 Oct 2020 Keith Co, 3 Oct 2017 Douglas Co, and 6 Oct 2013 Sarpy Co.
Migration in this species apparently begins statewide with adults that may return very early, with first dates in early Jul; some such sightings at that time may be of summering birds, especially in the north. According to Tarof and Briskie (2020), "Unlike most Passerines, adult Least Flycatchers migrate to their wintering grounds before molting, whereas young molt before and during autumn migration." Kansas fall specimens are in the range 3 Jul-24 Sep (Thompson and Ely 1992). Migrants were banded 25 Jul-28 Sep Cink (1998), at Chadron SP, Dawes Co 31 Aug-3 Oct 2013, and at Cedar Point Biological Station, Keith Co, Nebraska, 22 Jul-17 Aug (banding operations ceased on the latter date, Brown et al 1996).
Migrants are less common in fall in the Panhandle than in spring; eBird data from Yuma County, Colorado show that around 90% of spring migrant Empidonax flycatchers are Leasts, but only 50% in fall (Steven Mlodinow, pers. comm.).
High counts: 12 at Dead Timber SRA, Dodge Co 2 Sep 2018, 10 at Oliver Reservoir, Kimball Co 1 Sep 2001, and 8 at Wind Springs Ranch, Sioux Co 25 Aug 2022.
Images
Abbreviations
BBA: Breeding Bird Atlas
SL: Sewage Lagoons
SP: State Park
SRA: State Recreation Area
UNSM: University of Nebraska State Museum
WMA: Wildlife Management Area (State)
Literature Cited
Brown, C.R., M.B. Brown, P.A. Johnsgard, J. Kren, and W.C. Scharf. 1996. Birds of the Cedar Point Biological Station area, Keith and Garden Counties, Nebraska: Seasonal occurrence and breeding data. Transactions of the Nebraska Academy of Sciences 23: 91-108.
Bruner, L., R.H. Wolcott, and M.H. Swenk. 1904. A preliminary review of the birds of Nebraska, with synopses. Klopp and Bartlett, Omaha, Nebraska, USA.
Busby, W.H., and J.L. Zimmerman. 2001. Kansas Breeding Bird Atlas. University Press of Kansas, Lawrence, Kansas, USA.
Cink, C.L. 1998. Migration of Least and Traill's Flycatchers in Northeast Kansas. Abstracts of Papers presented at the 1999 Fall KOS Meetings Lawrence, Kansas. The Horned Lark 25: 14.
Drilling, N.E., E.D Stukel, R.A. Sparks, and B.J. Woiderski. 2018. The Second Atlas of Breeding Birds of South Dakota. SDGFP, Wildlife Division Report 2017-02. South Dakota Game, Fish, and Parks, Pierre.
Ducey, J.E. 1988. Nebraska birds, breeding status and distribution. Simmons-Boardman Books, Omaha, Nebraska, USA.
Grzybowski, J.A. 1991. Southern Great Plains Region. American Birds 45: 1132-1134.
Mollhoff, W.J. 2016. The Second Nebraska Breeding Bird Atlas. Bull. Univ. Nebraska State Museum Vol 29. University of Nebraska State Museum, Lincoln, Nebraska, USA.
Mossman, M.J., and M.A. Brogie. 1983. Breeding status of selected bird species on the Niobrara Valley Preserve, Nebraska. NBR 51: 52-62.
Pyle, P. 1997. Identification Guide to North American Birds. Part I, Columbidae to Ploceidae. Slate Creek Press, Bolinas, California, USA.
Rosche, R.C. 1982. Birds of northwestern Nebraska and southwestern South Dakota, an annotated checklist. Cottonwood Press, Crawford, Nebraska, USA.
Rosche, R.C. 1994. Birds of the Lake McConaughy area and the North Platte River valley, Nebraska. Published by the author, Chadron, Nebraska, USA.
Rosche, R.C. 1994b. Birding in western Nebraska. Birding 26: 178-189, 416-423.
Short, L.L., Jr. 1965. Bird records from northern Nebraska during the breeding season. NBR 33: 2-5.
Silcock, W.R. 1995. Spring Field Report, March-May 1995. NBR 63: 34-60.
Tallman, D.A., Swanson, D.L., and J.S. Palmer. 2002. Birds of South Dakota. Midstates/Quality Quick Print, Aberdeen, South Dakota, USA.
Tarof, S. and J.V. Briskie. 2020. Least Flycatcher (Empidonax minimus), version 1.0. In Birds of the World (A. F. Poole, Editor). Cornell Lab of Ornithology, Ithaca, NY, USA. https://doi.org/10.2173/bow.leafly.01.
Thompson, M.C., and C.A. Ely. 1992. Birds in Kansas. Vol. 2. University of Kansas Museum Natural History Publications Educational Series No. 12, Lawrence, Kansas, USA.
Williams, F. 1973. Southern Great Plains Region. American Birds 27: 886-890.
Williams, F. 1979. Southern Great Plains Region. American Birds 33: 784-787.
Recommended Citation
Silcock, W.R., and J.G. Jorgensen. 2023. Least Flycatcher (Tyrannus verticalis). In Birds of Nebraska — Online. www.BirdsofNebraska.org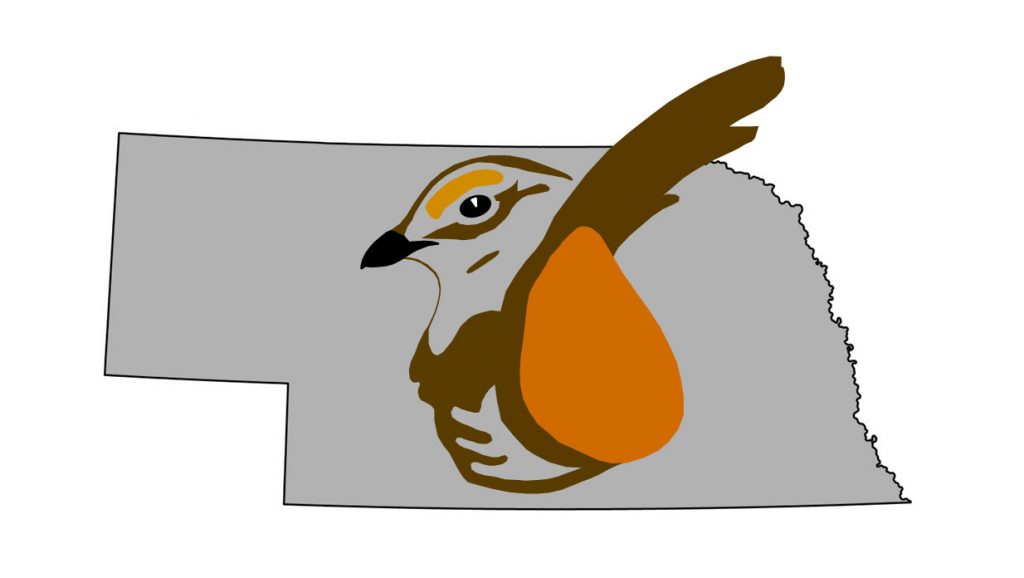 Birds of Nebraska – Online
Updated 18 Sep 2023