Calidris minutilla
Status: Common regular spring and fall migrant statewide. Rare casual summer visitor.
Documentation: Specimen: UNSM ZM12672, 8 May 1890 Lancaster Co.
Taxonomy: No subspecies are recognized.
Spring: Mar 19, 19, 20 <<<>>> Jun 8, 10, 11
Earlier dates are 8 Mar 1999 Phelps Co, 13 Mar 2016 three Kearney Co, 13 Mar 2023 Lancaster Co, and 15 Mar 2014 four Dawson Co. For later dates in Jun, see Fall.
Later dates above involve three or more birds and are considered spring migrants. Later dates of 1-2 birds are discussed under Summer.
Migrants usually arrive in early to mid-Apr and peak migration occurs from the last week of Apr through the first two weeks of May. There are few reports after 25 May.
High counts: 950 in the eastern Rainwater Basin 7 May 2011, 500+ in Sarpy Co 5 May 2010, and 469 in the eastern Rainwater Basin 16-18 Apr 1997.
Summer: Some Jun dates are likely to be of one-year-old birds that did not complete migration; successful females leave breeding grounds in late Jun (O'Brien et al 2006).
There are several sightings 12-30 Jun of mostly single birds that likely paused migration:  11 Jun 2015 Dodge Co, 11 Jun 2018 Lancaster Co, 12 Jun 2017 Lancaster Co, 13 Jun 2010 Garden Co, 13 Jun 2017 Saunders Co, 13 Jun 2019 two Fillmore Co, 15 Jun 2019 Clay Co, 15 Jun 2021 Lancaster Co, 17 Jun 2006 Garden Co, 1-2 at Tamora WPA, Seward Co 17-24 Jun 2014, two in Dawson Co 18 Jun 2009, two in Lancaster Co 18 Jun 2009, 23-30 Jun 2017 Lancaster Co, and 24 Jun 2014 Seward Co.
Fall: Jul 1, 1, 1 <<<>>> Nov 14, 14, 15
Early dates above are of three or more birds and are presumed fall migrants. For dates earlier than 1 Jul of 1-2 birds, see Summer. An early date was of 1-3 at Lake McConaughy, Keith Co 19-20 Jun 2004.
Migration begins in late Jun when successful females leave breeding grounds (O'Brien et al 2006). Most adults arrive in early Jul. Juveniles follow and are present at least by mid-Aug; one was in Lancaster Co 10 Aug 2006. The species is widespread and easily found into the first half of Sep, although large flocks are uncommon.
Later dates are 10 Nov-25 Dec 2015 Conestoga Lake, Lancaster Co, 21 Nov 2022 Otoe Co, 23 Nov 2006 Platte Co, 5 Dec 2016 two Wagon Train Lake SRA, Lancaster Co, 11 Dec 2005 Pawnee Lake, Lancaster Co, 15 Dec 2001 Pawnee Lake, and 17 Dec 1998 two Lake McConaughy (Jorgensen 2001). The latter record has been cited incorrectly as 19 Dec (Silcock and Jorgensen 1999).
High counts: 1518 at Lake McConaughy 13 Sep 2013, 899 there on 14 Sep 2007, and 400 at Lake Minatare, Scotts Bluff Co 21 Aug 2002.
Comments:
A very pale juvenile was photographed at Schramm SP, Sarpy Co, 7 Sep 2008. Taylor and Van Vleet (1888) mentioned that Baird collected two specimens 20 Aug at the "Loup Fork", probably present-day Platte Co (Baird et al 1856).
Images
Abbreviations
SP: State Park
SRA: State Recreation Area
UNSM: University of Nebraska State Museum
WPA: Waterfowl Production Area (Federal)
Literature Cited
Baird, S.F. J. Cassin, and G.N. Lawrence. 1856. Reports of explorations and surveys to ascertain the most practible [sic] and economic route for a railroad from the Mississippi River to the Pacific Ocean [etc]. Volume 9. A.O.P. Nicholson, Washington D.C., USA.
Jorgensen, J.G. 2001. 1999 (Eleventh) Report of the NOU Records Committee. NBR 69: 85-91.
O'Brien, M., R. Crossley, and K. Karlson. 2006. The Shorebird Guide. Houghton Mifflin Co., New York, New York, USA.
Silcock, W.R., and J.G. Jorgensen. 1999. Winter Field Report, Dec 1998 to Feb 1999. NBR 67: 2-16.
Taylor, W.E., and A.H. Van Vleet. 1888. Notes on Nebraska birds. Ornithologist and Oologist. 13: 69-72.
Recommended Citation
Silcock, W.R., and J.G. Jorgensen. 2023. Least Sandpiper (Calidris minutilla). In Birds of Nebraska — Online. www.BirdsofNebraska.org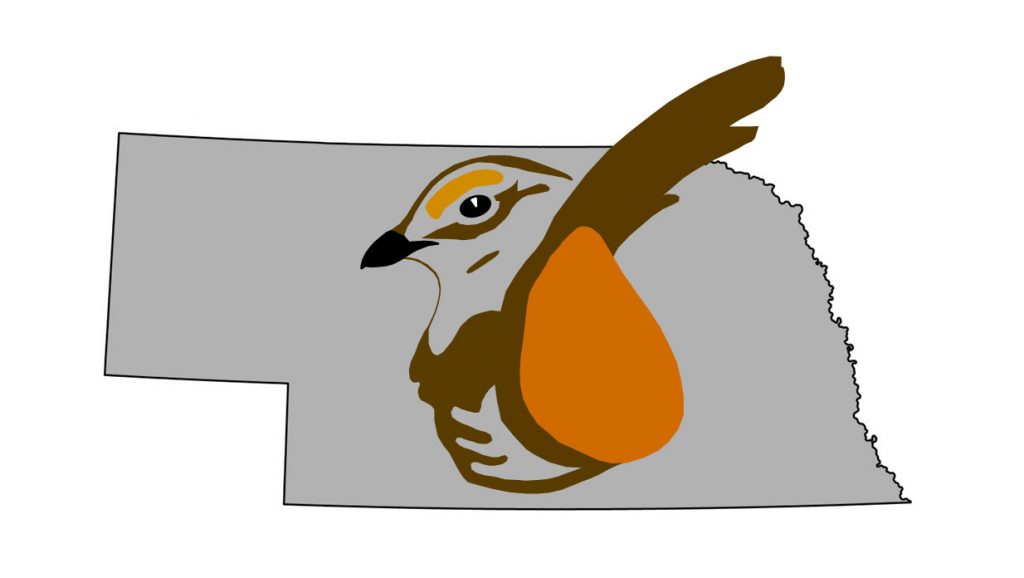 Birds of Nebraska – Online
Updated 10 Oct 2023