Melospiza lincolnii lincolnii
Status: Common regular spring and fall migrant east and central, uncommon west. Rare regular winter visitor southeast. Rare casual summer visitor.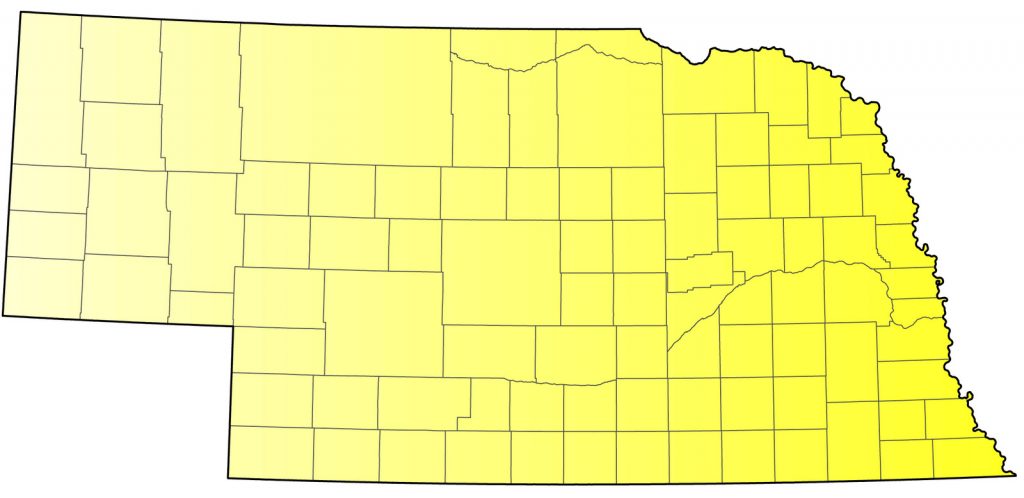 Documentation: Specimen: UNSM ZM7513, 22 Apr 1890 Lincoln, Lancaster Co.
Taxonomy: Three subspecies are recognized (Pyle 1997): gracilis, breeding from coastal Alaska to British Columbia, wintering to California and Arizona, alticola, breeding from montane Oregon to western Montana south to California and northern New Mexico, wintering southern California and southwest Texas, and lincolnii, breeding from Alaska and eastern Washington to Newfoundland and Maine, wintering south to North Carolina and Florida.
Rapp et al (1958) listed two subspecies for Nebraska, generally indistinguishable in the field: lincolnii, which occurs statewide in Nebraska during migration, and the Rocky Mountain race alticola, which may be a rare migrant in western Nebraska. There are no known Nebraska specimens of alticola; none are labeled as such in the UNSM collection (Tom Labedz, pers. comm.). However, it breeds close to Nebraska in the Laramie Mountains of Wyoming (Faulkner 2010) and is a rare migrant in western Kansas (Johnston 1965).
Spring: Mar 10, 11, 11 <<<>>> May 26, 28, 28
Early dates above are away from the Missouri River Valley and the eastern Platte River Valley where wintering birds may occur; see Winter. Later dates are westerly: 1 Jun 2022 Oliver Reservoir, Kimball Co, 1 Jun 2022 Gotte Park, Kimball Co, and 2 Jun 2022 Rock Creek SRA, Dundy Co.
Migration is from late Mar through mid-May, peaking in early May.
High counts: 44 in Sarpy Co 11 May 1996, 40-50 at Fontenelle Forest, Sarpy Co 1 May 2018, 38 in Lancaster Co 2 May 2011, and 35 in Washington Co 3 May 2009.
Summer: A territorial pair was in a marshy vegetated area along the Niobrara River at Agate Fossil Beds NM, Sioux Co 14 Jun 2021; the observer noted "the habitat looked great, had it been at 7000 ft" (Mlodinow, eBird.org). This is the only record of likely breeding for the state; nearest regular breeding is in southeastern Wyoming in the northern Laramie Mountains between Casper and Glendo and the eastern Laramie mountains east of Laramie (eBird.org, accessed 4 Sep 2021).
Fall: Aug 30, 31, 31 <<<>>> Nov 20, 20, 22
Earlier dates are 12 Aug 1977 Sioux Co, 18 Aug 2019 Kimball Co, and 22 Aug 2020 Sioux Co.
There are essentially no sightings late Nov through early Dec, suggesting that Dec reports beginning 15 Dec are of birds attempting to overwinter (see Winter).
By Nov-Dec, most sightings are in the southeast, where the species occasionally lingers into Dec and early Jan (see Winter). There are about 45 reports for Dec, many from CBCs, with high counts 8 at DeSoto NWR 28 Dec 2013, 6 at Omaha, Douglas Co on 16 Dec 1972 and five there 19 Dec 1998. Most Dec reports are from the Missouri River Valley and the eastern Platte River Valley where occasional wintering occurs, north to Norfolk, Madison Co and Dakota Co and west to Grand Island, Hall Co and Kearney, Buffalo Co. Further west, one was in Lincoln Co 21 Dec 2014, and another in Scotts Bluff Co 22 Dec 2019.
Migration is from early Sep through mid-Nov, peaking in early Oct. Migrants are numerous in the Rocky Mountains by Aug, spreading onto the Great Plains in Sep (eBird.org, accessed Mar 2021)..
High counts: 100 at Rowe Sanctuary, Buffalo Co 13 Oct 1996, 75 in southwest Dixon Co 27 Sep 1998, 68 at Summit Lake SRA, Burt Co 15 Oct 2022, 60 at Spring Creek Prairie, Lancaster Co 12 Oct 2020, and 50 in Dixon Co 3 Oct 1994.
Winter: Reports decline rapidly after mid-Jan, suggesting that few birds are able to overwinter. One wintering at an Ashland, Saunders Co feeder 2018-2019 was still there 13 Apr 2019. One stayed in Neligh, Antelope Co "throughout the winter" 1898-99 (Cary 1900); no further details were provided. There were multiple reports of single birds, possibly all of the same bird, in southeast Washington Co through Jan 2013; there were no Feb reports. During that 2012-2013 period, two were on the DeSoto NWR CBC 29 Dec 2012. In 2013-2014 reports were similar; DeSoto NWR CBC 28 Dec reported eight, and the latest sighting was of one at Boyer Chute NWR 25 Jan.
The few mid-Jan through early Mar reports in the southeast are likely wintering birds, although numerous eastern dates beginning as early as mid-Feb suggest an early movement from wintering areas close to southern Nebraska.
Elsewhere there are these reports for Jan-early Mar of birds likely wintering, all from the Missouri and Elkhorn river valleys and the North Platte and Platte river valleys southward: 2 Jan 2000 Lake Ogallala, Keith Co, 2 Jan 2006 Lake McConaughy CBC, Keith Co, 3 Jan 2021 Cuming Co, 29-30 Jan 2000 near Gibbon, Buffalo Co, 28 on 15 Feb 2015 Lincoln Co, 17 Feb 2015 Colfax Co, 18 Feb 2018 Buffalo Co, 3 Mar 2006 Wilcox, Kearney Co, 4 Mar 2017 Merrick Co, 7 Mar 1998 Buffalo Co, and 9 Mar 2016 Hall Co.
Comments: A note in the NOU Archives, Lincoln, by Swenk states "Mr. J.M. Bates sends in an immature Lincoln (?) Sparrow killed at Long Pine the first week in July and says the bird is abundant and a fine singer" (unpublished correspondence 31 Jul 1899). Further, "W. D. Hunter determines it as Lincoln Sparrow" (unpublished letter 2 Aug and 11 Nov 1899). And, "Bates asks return of specimen for forwarding to Washington for confirmatory identification." As far as we are aware, there was no follow-up information published.
Images
Abbreviations
CBC: Christmas Bird Count
NWR: National Wildlife Refuge
UNSM: University of Nebraska State Museum
Literature Cited
Cary, M. 1900. Some bird notes From the Upper Elkhorn. Proceedings of Nebraska Ornithologists' Union 1: 21-29.
Faulkner, D.W. 2010. Birds of Wyoming. Roberts and Company, Greenwood Village, Colorado, USA.
Johnston, R.F. 1965. A directory to the birds of Kansas. Miscellaneous Publication No. 41. University of Kansas Museum of Natural History, Lawrence, Kansas, USA.
Pyle, P. 1997. Identification Guide to North American Birds. Part I, Columbidae to Ploceidae. Slate Creek Press, Bolinas, California, USA.
Rapp, W.F. Jr., J.L.C. Rapp, H.E. Baumgarten, and R.A. Moser. 1958. Revised checklist of Nebraska birds. Occasional Papers 5, Nebraska Ornithologists' Union, Crete, Nebraska, USA.
Rosche, R.C. 1982. Birds of northwestern Nebraska and southwestern South Dakota, an annotated checklist. Cottonwood Press, Crawford, Nebraska, USA.
Recommended Citation
Silcock, W.R., and J.G. Jorgensen. 2022. Lincoln's Sparrow (Melospiza lincolnii). In Birds of Nebraska — Online. www.BirdsofNebraska.org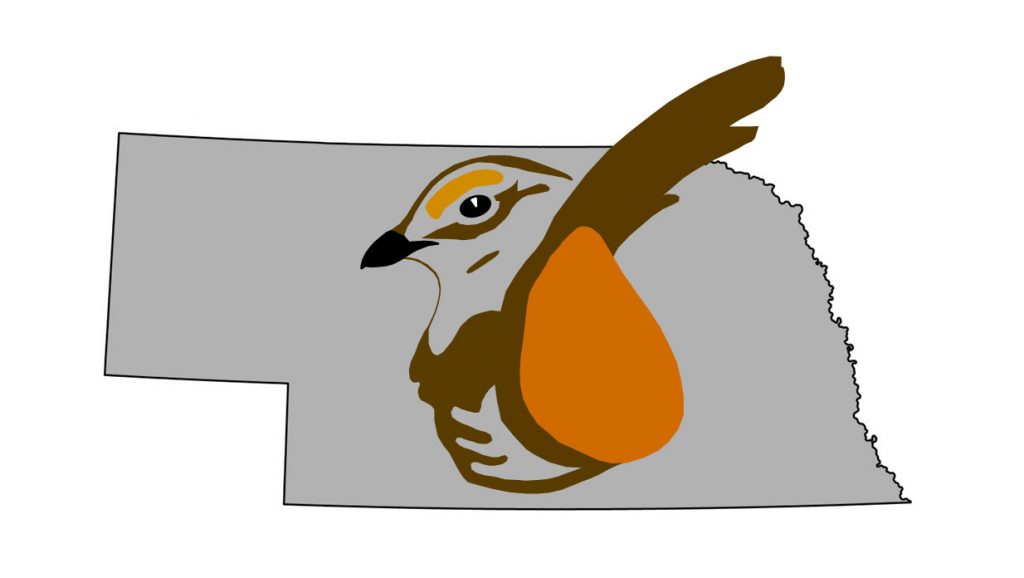 Birds of Nebraska – Online
Updated 30 Dec 2022