Egretta caerulea
Status: Uncommon regular spring migrant east and central, rare casual west. Uncommon regular fall migrant east and central, accidental Panhandle. Uncommon regular summer visitor east and central, rare casual west. Accidental breeder Lancaster Co.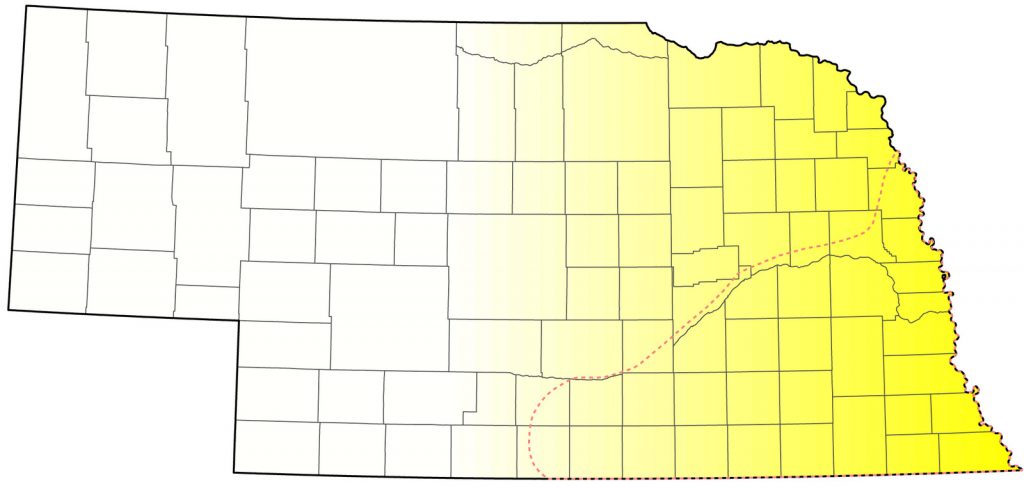 Documentation: Specimen: UNSM ZM14585, Jun 1898 Lincoln, Lancaster Co (see Snowy Egret).
Taxonomy: No subspecies are recognized.
Spring: Apr 21, 21, 21 <<<>>> summer
An earlier date is 10-13 Apr 1978 Sarpy Co.
Most reports are in May. There are few reports from the Panhandle, where Rosche (1994) considered this species "always the rarest" of the "southern herons" reaching Nebraska: 25 Apr 1986 Dawes Co (Williams 1986), 13 Jun 1936 Garden Co, and near Ogallala, Keith Co 14 Jun 2003.
High counts: 4 at North Hultine WPA, Clay Co 17 May 1996 (Jorgensen 2012).
Summer: The single breeding record is discussed in the Snowy Egret account and was for some time attributed to that species. The record involved an immature that was shot on its nest in Lancaster Co in 1895 (Eiche 1901), but records associated with the move of the Eiche Collection to UNSM revealed the immature bird (UNSM ZM 14585) was in fact a Little Blue Heron (Thomas Labedz, pers. comm., Sharpe et al 2001, Mollhoff 2022).
As with Snowy Egret, adults have been recorded more often since the 1980s, concomitant with establishment of breeding colonies in Kansas (Thompson et al 2011) and South Dakota (Tallman et al 2002). Prior to the 1980s, almost all reports were of immatures during late Jul-Aug in the east and south, apparently post-fledging dispersers. Until 2011 there were no eastern Rainwater Basin reports of adults 10 Jun-15 Jul (Jorgensen 2012), but in 2011, 10 of 11 birds reported 1-9 Jul in central Nebraska were adults. An earlier instance of an apparent influx was a report of 14 in eastern Otoe Co 4-13 Jun 1996 which were still present 24 Jul; ages were not noted (Grzybowski 1996).
There is only one summer Panhandle report, an adult in Scotts Bluff Co 21 Jun 2009 (KD).
Fall: summer <<<>>> Sep 1, 2, 2
Later dates are 5 Sep (no year given) in the Keith Co area (Brown and Brown 2001), 6 Sep 1986 Platte Co, 11 Sep 1900 Otoe Co (Bent 1926), 13 Sep 2015 Washington Co, 16 Sep 2000 Clay Co, 1 Oct 2014 Lancaster Co, and 2 Oct 2006 Douglas Co.
The "vast majority" of fall birds are white immatures (Jorgensen 2012), suggesting that Jul-Aug sightings are of post-fledging dispersers.
There is a single Panhandle record, an immature photographed in Cheyenne Co 2 Sep 2017. There are a few westerly records, however, including 19 Jul 2000 an adult at Lake McConaughy, Keith Co, an immature in Hayes Co 30 Aug 2012, and 5 Sep (no year given) in the Keith Co area (Brown and Brown 2001).
High counts: 14 in Clay Co 5-13 Sep 1998, 9 in Otoe Co 5 Aug 1996, 8 there 22 Aug 1997, and 8 at Harvard WPA, Clay Co 5 Sep 1998 (Jorgensen 2012).
Images
Abbreviations
UNSM: University of Nebraska State Museum
WPA: Waterfowl Production Area (Federal)
Literature Cited
Bent, Arthur Cleveland, 1926. Life Histories of North American Marsh Birds. Dover Publications
Brown, C.R., and M.B. Brown. 2001. Birds of the Cedar Point Biological Station. Occasional Papers of the Cedar Point Biological Station, No. 1.
Eiche, A. 1901. Breeding of the Snowy Egret and Swallow-tailed Kite. Proc. NOU 2: 96.
Grzybowski, J.A. 1996. Southern Great Plains Region. Field Notes 50: 965-968.
Jorgensen, J.G. 2012. Birds of the Rainwater Basin, Nebraska. Nebraska Game and Parks Commission, Lincoln, Nebraska, USA.
Mollhoff, W.J. 2022. Nest records of Nebraska birds. Nebraska Ornithologists' Union Occasional Paper Number 9.
Rosche, R.C. 1994. Birds of the Lake McConaughy area and the North Platte River valley, Nebraska. Published by the author, Chadron, Nebraska, USA.
Sharpe, R.S., W.R. Silcock, and J.G. Jorgensen. 2001. The birds of Nebraska: their distribution and temporal occurrence. University of Nebraska Press, Lincoln.
Tallman, D.A., Swanson, D.L., and J.S. Palmer. 2002. Birds of South Dakota. Midstates/Quality Quick Print, Aberdeen, South Dakota, USA.
Thompson, M.C., C.A. Ely, B. Gress, C. Otte, S.T. Patti, D. Seibel, and E.A. Young. 2011. Birds of Kansas. University Press of Kansas, Lawrence, Kansas, USA.
Williams, F. 1986. Southern Great Plains Region. American Birds 40: 491-494.
Recommended Citation
Silcock, W.R., and J.G. Jorgensen. 2023. Little Blue Heron (Egretta caerulea). In Birds of Nebraska — Online. www.BirdsofNebraska.org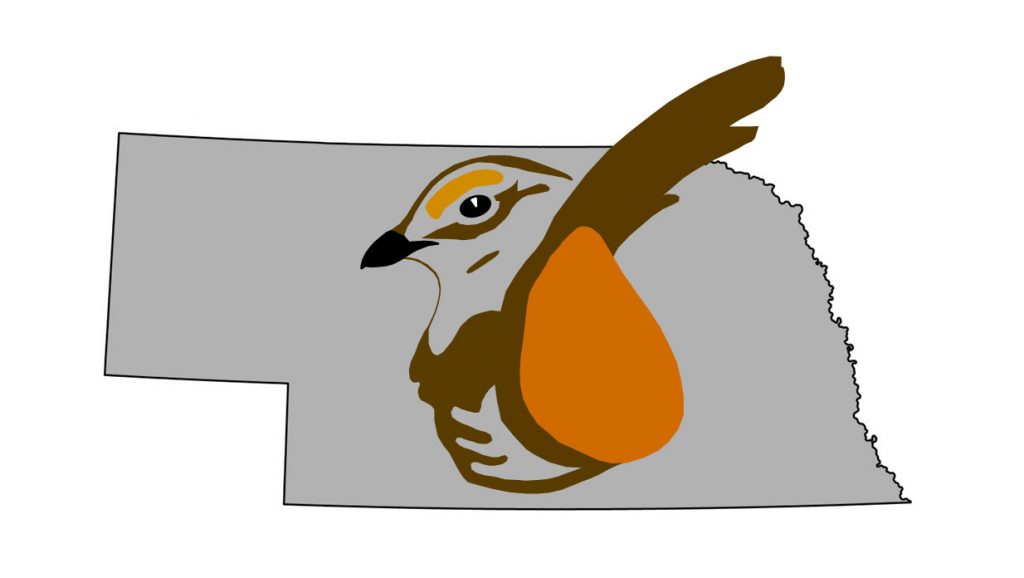 Birds of Nebraska – Online
Updated 7 Jan 2023