Asio otus wilsonianus, A. o. tuftsi
Status: Fairly common regular spring, fall, and winter visitor statewide. Uncommon regular resident north, rare south.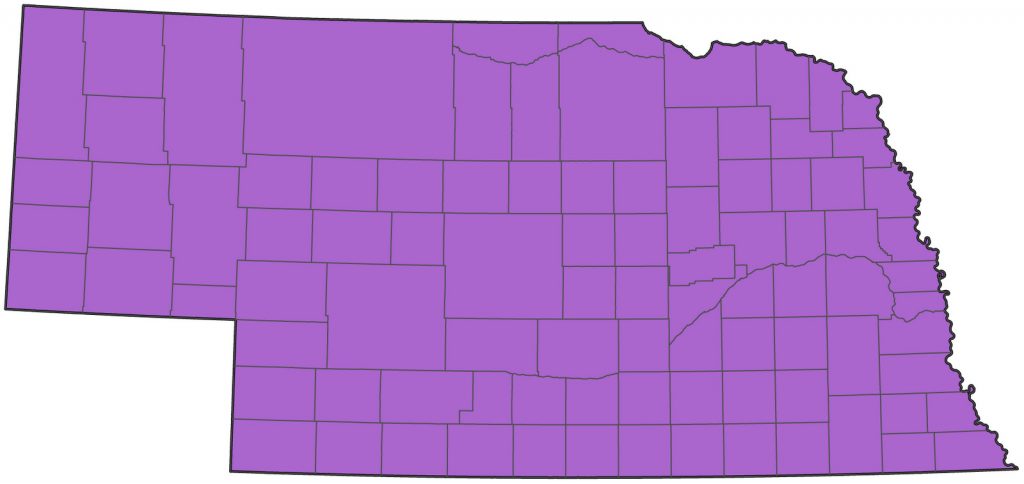 Documentation: Specimen: UNSM ZM12786, 9 May 1892 Waverly, Lancaster Co.
Taxonomy: There are four subspecies recognized, two in Eurasia and Africa, and two in North America (Gill et al 2022), tuftsi from western Canada to northern Mexico, and wilsonianus from south-central and southeast Canada to south-central and eastern USA. Marks et al (2020) stated "Given nomadic tendencies of [Long-eared Owl], subspecific status in North America is questionable and needs further study"; these authors suggested tuftsi be combined with wilsonianus.
According to AOU (1957), the eastern subspecies wilsonianus occurs in Nebraska as a breeding bird and tuftsi is cited as breeding east to Saskatchewan. Thus, one banded as a juvenile in Alberta and recovered in Nebraska in early Dec would have been tuftsi, suggesting that at least some birds reaching Nebraska in winter represent this western subspecies.
Resident: Although Marks et al (2020) show the breeding range extending south only to the northwestern third of Nebraska, nesting has been documented from all parts of the state; it is not a predictable repeat nester at any known location, however. It has been suggested that some Nebraska birds move south after breeding (Haecker et al 1945), but there is no evidence to support this; because breeding birds are thought to be resident except for northern parts of the breeding range (Marks et al 2020), it is highly likely that Nebraska breeders are resident. Indeed, Marks et al (2020) state: "Presumably a regular migrant in n. Canada, but commonly winters in breeding range throughout U.S. and s. Canada. Several individuals trapped at nests in Idaho and Montana recaptured at nearby communal roosts in winter …." At Smith Lake WMA, Sheridan Co, reports are year-round, with as many as seven during 10-23 May 2007 (Steven Jones, personal communication).
Nesting occurs statewide; most breed at one year of age (Marks et al 2020).
Long-eared Owls use old crow and magpie nests as platforms, typically located in conifers, especially junipers (Mossman and Brogie 1983; Holcomb 1967; Held 1958; Bray 1994; Mollhoff 2001), but also in mixed junipers and hardwoods (Mossman and Brogie 1983) and in an elm in a shelter belt (Mathisen and Mathisen 1960).
Breeding Phenology:
Eggs: 19 Mar-16 May (Mollhoff 2022)
Nestlings: 9 May- 20 Jun
Fledglings: 17 May-16 Jun
Winter: Oct 31, 31, Nov 1 <<<>>> Apr 1, 2, 3
Earlier dates are 19 Oct 2019 Sioux Co, 22 Oct 2022 Cheyenne Co, 26 Oct 2020 Kimball Co, and 28 Oct 2019 Lancaster Co.
Arrival is in early Nov. Long-eared Owls are most numerous in Nebraska during Nov-Mar, as birds arrive from north and northwest of Nebraska. Birds banded as juveniles in Alberta and Manitoba were recovered in Nebraska in early Dec and early Mar, respectively. These banding data suggest that birds reaching Nebraska in winter include at least some tuftsi (see Taxonomy).
Departure of wintering birds occurs by early Apr and birds seen at that time may also be migrants; one at Holmes Lake, Lincoln 6 Apr 2013 was an apparent migrant, as none had wintered there. Reports after late Mar may include breeders.
Bent (1938) suggested that winter congregations consist of local breeding family groups, which may account for roost sites developing some degree of permanency as demonstrated by use in successive winters, presumably supplemented by arriving wintering birds. A roost site near Cunningham Lake, Douglas Co was used for at least six winters; Ken Geluso (personal communication) has noted that this site was occupied 21 Nov- 28 Mar, with arrival related to developing snow cover in South Dakota, and that as many as 25 birds may be present although some or all may leave if snow reduces prey accessibility.
Roost sites are typically found in dense stands of vegetation, frequently junipers, as may develop in shelterbelts or on overgrown grazing land. Chosen sites are usually near a foraging area of open habitat such as grassland or fallow cropland that supports small rodents such as voles (Microtus sp.).
High counts: 39 at Lincoln, Lancaster Co 18 Dec 1977, 22 there 21 Dec 1980, and 19 there 19 Dec 1982 (these Dec counts are from CBCs). Eleven were at Cunningham Lake 18-24 Jan 2015.
Images
Abbreviations
AOU: American Ornithologists' Union
CBC: Christmas Bird Count
UNSM: University of Nebraska State Museum
Literature Cited
American Ornithologists' Union [AOU] . 1957. The AOU Check-list of North American birds, 5th ed. Port City Press, Baltimore, Maryland, USA.
Bent, A.C. 1938. Life histories of North American birds of prey. Part Two. Bulletin of the United States National Museum 170. Dover Publications Reprint 1961, New York, New York, USA.
Bray, T.E. 1994. Habitat utilization by birds in a man-made forest in the Nebraska Sandhills. Master's thesis, University of Nebraska-Omaha, Omaha, Nebraska, USA.
Gill, F., D. Donsker, and P. Rasmussen (Eds). 2022. IOC World Bird List (v 12.2). Doi 10.14344/IOC.ML.12.2.  http://www.worldbirdnames.org/.
Haecker, F.W., R.A. Moser, and J.B. Swenk. 1945. Checklist of the birds of Nebraska. NBR 13: 1-40.
Held, D. 1958. Cherry County. NBR 26: 28-29.
Holcomb, L.C. 1967. Long-eared Owl nest in Nebraska. NBR 35: 56-58.
Marks, J.S., D.L. Evans, and D.W. Holt. 2020. Long-eared Owl (Asio otus), version 1.0. In Birds of the World (S. M. Billerman, Editor). Cornell Lab of Ornithology, Ithaca, NY, USA. https://doi.org/10.2173/bow.loeowl.01.
Mathisen, J., and A. Mathisen. 1960. Nesting study of Long-eared Owls in Box Butte Co. NBR 28: 10-11.
Mollhoff, W.J. 2001. 1999-2000 Nebraska nesting report. NBR 69: 92-101.
Mollhoff, W.J. 2022. Nest records of Nebraska birds. Nebraska Ornithologists' Union Occasional Paper Number 9.
Mossman, M.J., and M.A. Brogie. 1983. Breeding status of selected bird species on the Niobrara Valley Preserve, Nebraska. NBR 51: 52-62.
Recommended Citation
Silcock, W.R., and J.G. Jorgensen. 2023. Long-eared Owl (Asio otus). In Birds of Nebraska — Online. www.BirdsofNebraska.org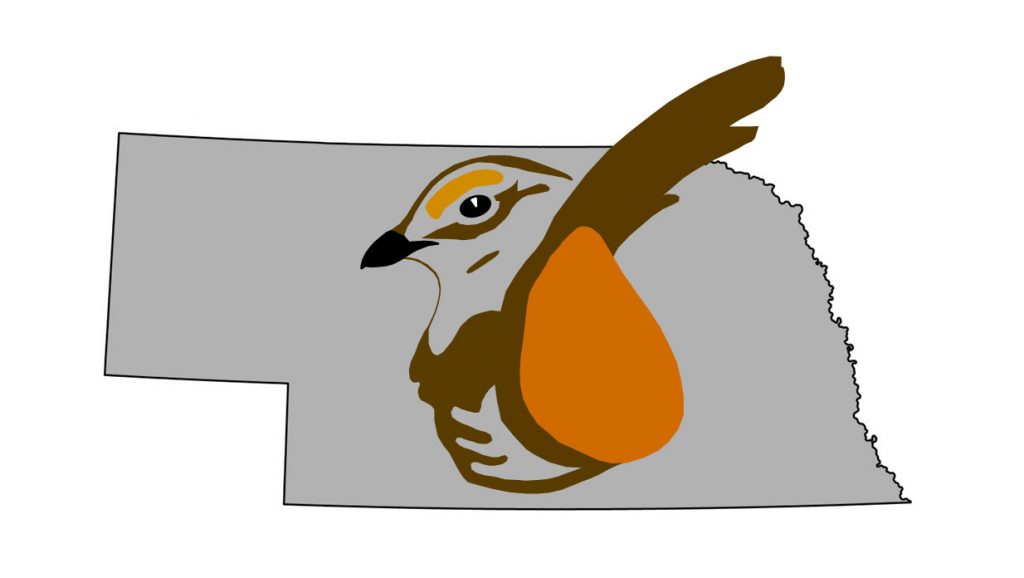 Birds of Nebraska – Online
Updated 30 Oct 2023