Fregata magnificens
Status:  Rare casual fall visitor.
Documentation: Description: 29 Aug 2007 adult male Cedar Co (Brogie 2009).
Taxonomy: No subspecies are recognized.
Fall: There are two records of individuals identified to species:
29 Aug 2007, adult male Cedar Co. (cited above)
11 Nov 2020, female found dead Dawson Co (Mark Peyton).
The first record is of a well-described adult male Magnificent Frigatebird on the Missouri River near Goat Island, Cedar Co 29 Aug 2007 (Brogie 2009); it was determined to be in Nebraska waters at least some of the time during the observation. Around the same time there were several sightings in northeast Nebraska 28 Aug-8 Sep 2007; these brief sightings may have all been of the above bird, and coincided with the observations of an adult female Magnificent Frigatebird in northwest Iowa 2-3 Sep (Dinsmore and Gilliam 2008).
Quite remarkable for the late date was a female picked up dead in Dawson Co 11 Nov 2020, by Mark Peyton, and now a specimen at University of Nebraska State Museum. There were two late season hurricanes that made landfall on the central Gulf Coast and that might have pushed this bird to Nebraska, along with at least two others in Colorado and Kansas at around the same time (eBird.org); Hurricane Delta was a Category 4 storm 5-10 Oct and Hurricane Zeta a Category 2 storm 24-29 Oct.
There are three additional records attributed to "Frigatebird sp.", one record possibly of more than one individual, but all probably Magnificent Frigatebirds. The first Nebraska report of any frigatebird was in 2007, of one photographed near Norfolk, Madison Co 28 Aug (Brogie 2008).  Although clearly a frigatebird, no coloration other than black is visible in the rather distant photograph. Then followed brief sightings at about the same time in the same fall of apparent frigatebird(s) in the vicinity of Lewis and Clark Lake, Cedar Co:  one on 7-8 Sep (Silcock 2007), and an all-dark bird with a forked tail below Gavin's Point Dam 8 Sep (Brogie 2008). An adult male frigatebird photographed by Traci Strazdas at Copper Dollar Cove, Plattsmouth, Cass Co 23 Sep 2017 was accepted by NOURC as "Frigatebird sp." (Brogie 2018); it had been in the area "a couple weeks" and was likely a product of Hurricane Irma, which hit the Gulf Coast around 10 Sep (Silcock 2017).
Comments: Most North American Interior records of frigatebirds result from these birds' being carried inland by Atlantic hurricanes or tropical storms, and then drifting northward. Few storms are powerful enough to reach Nebraska, which explains the paucity of records. Tropical Storm Erin reached Kansas as a tropical depression 17 Aug 2007, likely the vehicle for the Nebraska frigatebirds that year, as well as an adult female Magnificent Frigatebird in northwest Iowa 2-3 Sep 2007 (Dinsmore and Gilliam 2008).
The occurrence of Great Frigatebird (F. minor) in North America was discussed by Howell et al (2014); there are two California records, Oct 1979 and Mar 1992, and a remarkable adult male specimen collected in Oklahoma Nov 1975. Howell et al (2014) surmised that the Oklahoma bird had been wind-driven, perhaps across the isthmus of Tehuantepec, Mexico into the Gulf of Mexico. It is norteworthy that there is only one Great Plains record of Magnificent Frigatebird as late as Oct, that in Oklahoma (eBird.org, accessed December 2017).
Acknowledgement
Photograph (top) of a Magnificent Frigatebird in Madison Co 28 Aug 2007 by Bruce Trindle.
Literature Cited
Brogie, M.A. 2008. 2007 (19th) Report of the NOU Records Committee. NBR 76: 111-119.
Brogie, M.A. 2009. 2008 (20th) Report of the NOU Records Committee. NBR 77: 80-90.
Brogie, M.A. 2018. 2017 (29th) Report of the NOU Records Committee. NBR 86: 131-142.
Dinsmore, S. J. and J. Gilliam. 2008 Magnificent Frigatebird at Spirit Lake. Iowa Bird Life 78: 49-50.
Howell, S.N.G., I. Lewington, and W. Russell. 2014. Rare birds of North America. Princeton University Press, Princeton, New Jersey, USA.
Silcock, W.R. 2007. Fall Field Report, August-November 2007. NBR 75: 98-118.
Silcock, W.R. 2017. Fall Field Report, August-November 2017. NBR 85: 146-178.
Recommended Citation
Silcock, W.R., and J.G. Jorgensen. 2020. Magnificent Frigatebird (Fregata magnificens ). In Birds of Nebraska — Online. www.BirdsofNebraska.org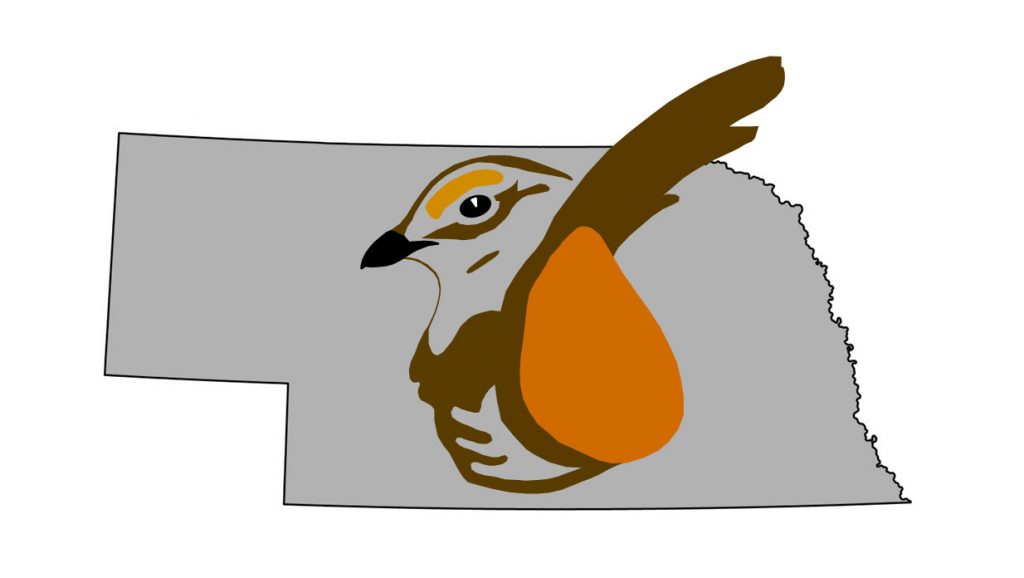 Birds of Nebraska – Online
Update 29 Dec 2020