Rhynchophanes mccownii
Status: Common regular spring and fall migrant west, rare casual elsewhere. Locally common regular breeder western Panhandle. State listed as Threatened.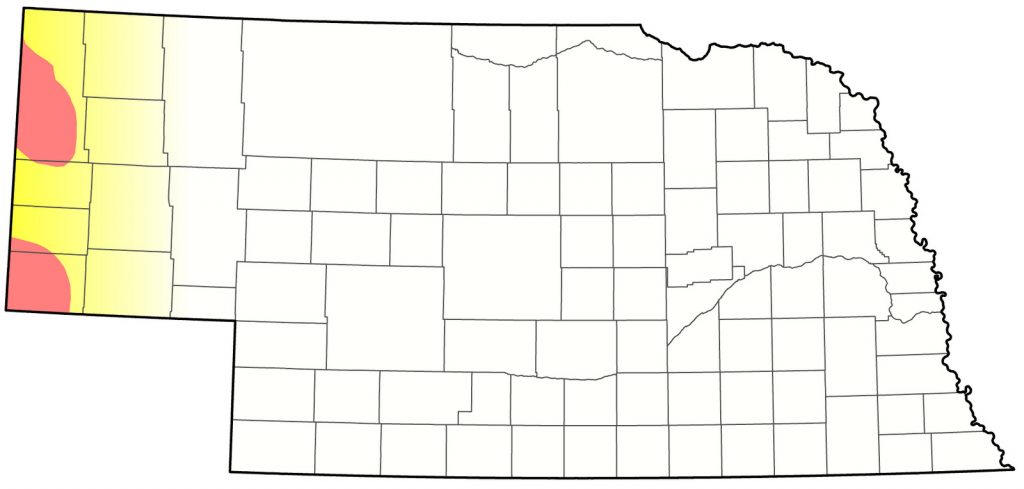 Documentation: UNSM ZM7565, 20 Jun 1901 Indian Creek, Sioux Co.
Taxonomy: Chesser et al (2010) transferred this species from the genus Calcarius to Rhynchophanes. The English name of this species was changed to Thick-billed Longspur as the result of a submission and vote to approve by the North American Classification Committee (NACC) of American Ornithologists' Society (AOS); the proposal and comments can be accessed at https://americanornithology.org/nacc/current-prior-proposals/2020-proposals/.
No subspecies are recognized (Pyle 1997).
Spring: Apr 4, 5, 7 <<<>>> summer
Earlier dates are two on 14 Mar 2009 Wind Springs Ranch, Sioux Co, two on 16 Mar 2017 Kimball Co, and 18 Mar 1979 Sioux Co.
Migrants arrive in early to mid-Apr; peak counts are in mid-Apr.
Migrants occur regularly only as far east as Sheridan Co (Rosche 1982). There are few reports east of the Panhandle: 26 Mar 1936 Adams Co (Swenk 1936, Jorgensen 2012), 30 Mar 1965 Lincoln Co, 10 Apr 1997 a male with other longspur species during a snowstorm in Knox Co (Brogie 1998), a specimen collected from a flock of Chestnut-collared Longspurs 11 Apr 1919 at Lincoln, Lancaster Co (Mickel and Dawson 1920), 12 Apr 1995 Keith Co, and 21 Apr 1992 Douglas-Sarpy Cos also during a snowstorm.
High counts: 2302 in southwest Kimball Co 8 Apr 2000, 1893 there 17 Apr 1999, and 1732 there 19 Apr 1998.
Summer: Breeding birds are fairly common in the western Panhandle wherever the preferred habitat of grazed shortgrass prairie with bare patches is found. Most such sites are at higher altitudes than surrounding grasslands. Snyder and Bly (2009) surveyed this species and Chestnut-collared Longspur in Kimball Co in 2007 and found Thick-billed Longspur to prefer heavily-grazed short-grass prairie and bare or virtually bare cropland, with minimal overlap with Chestnut-collared nesting areas, the latter preferring lightly-grazed grassland. Rosche (1982) observed that the nesting range in Sioux Co extends further east in dry years but retreats westward when conditions are wet. Breeding occurs in western Scotts Bluff, Banner, and Kimball Cos where suitable habitat exists (Rosche 1994). Huser (1986) noted that nesting Thick-billed Longspurs were found in Kimball Co "a few miles" north and west of Bushnell, and young were reported in Kimball Co 16 Jun 1991 (Grzybowski 1991). A "sizeable breeding population" was present 1993-1995 on a plateau 13 miles south and 8 miles west of Kimball. Although breeding evidence has not been published for Scotts Bluff or Banner Cos, there is a series of summer records for Scotts Bluff Co for 1965-69.
Thick-billed Longspur has declined sharply throughout its range. BBS trend analysis throughout the species breeding range indicates it is declining at an annual rate of -5.90 (95% C.I.; -9.06, -2.83; Sauer et al 2017) and overall since 1966 by as much as 86% (Rosenberg et al 2016). Mollhoff (2016) also showed that reports decreased from 2% to 1% of 443 BBA blocks between the first (1984-1989) and second (2006-2011) BBA projects.
Breeding phenology:
Nest building: 3 Jun
Eggs: 27 May-27 Jun (Mollhoff 2022)
Nestlings: 30 May-4 Jun
Fledglings: 14 Jun-11 Jul
High counts: "hundreds" in Sioux Co 13 Jul 1991 (Grzybowski 1991) and 380 there 19 Jul 1990 (Grzybowski 1990).
Fall: summer <<<>>> Oct 12, 18, 19
Later dates are 8 Nov 1980 Sioux Co, 22 Nov 1986 Sioux Co, and 26 Nov (Rosche 1982).
Flocking begins mid-Sep; 171 were in Kimball Co 14 Sep 2013, 75 in Banner Co 14 Sep 2013, 40 in Sioux Co 22 Sep 2013, 25 at Wind Springs Ranch 11 Sep 2006, and 25 at Wind Springs Ranch 21 Sep 2012. Departure is in Oct.
There are few reports east of the Panhandle: 16 Sep 2008 Fort Niobrara NWR, Cherry Co, 17 Sep 2006 juvenile photographed at Lake McConaughy, Keith Co, 30 Sep 1973 McPherson Co, 3 Oct 1976 near Lewellen, Garden or Keith Co (Rosche 1994), 12 Oct 2000 Lake McConaughy, 18 Oct 1998 (25) Perkins Co, and one photographed 19 Oct 2006 Adams Co.
High counts: 1230 in southwest Kimball Co 13 Oct 1998, 237 there 23 Sep 2014, and 171 there 14 Sep 2013.
Images
Abbreviations
BBA: Breeding Bird Atlas
BBS: Breeding Bird Survey
NWR: National Wildlife Refuge
UNSM: University of Nebraska State Museum
Literature Cited
Brogie, M.A. 1998. 1997 (Ninth) Report of the NOU Records Committee. NBR 66: 147-159.
Chesser, R.T., R.C. Banks, F.K. Barker, C. Cicero, J.L. Dunn, A.W. Kratter, I.J. Lovette, P.C. Rasmussen, J. V. Remsen, Jr., J.D. Rising, D.F. Stotz, and K. Winker. 2010. Fifty-first Supplement to the American Ornithologists' Union Check-list of North American Birds. Auk 127: 726-744.
Grzybowski, J.A. 1990. Southern Great Plains Region. American Birds 44: 1152-1154.
Grzybowski, J.A. 1991. Southern Great Plains Region. American Birds 45: 1132-1134.
Huser, B.F. 1986. June notes for western Nebraska. NBR 54: 82-83.
Jorgensen, J.G. 2012. Birds of the Rainwater Basin, Nebraska. Nebraska Game and Parks Commission, Lincoln, Nebraska, USA.
Mickel, C.E., and R.W. Dawson. 1920. Some interesting records of Nebraska birds for the year 1919. Wilson Bulletin 32: 73-79.
Mollhoff, W.J. 2016. The Second Nebraska Breeding Bird Atlas. Bull. Univ. Nebraska State Museum Vol 29. University of Nebraska State Museum, Lincoln, Nebraska, USA.
Mollhoff, W.J. 2022. Nest records of Nebraska birds. Nebraska Ornithologists' Union Occasional Paper Number 9.
Pyle, P. 1997. Identification Guide to North American Birds. Part I, Columbidae to Ploceidae. Slate Creek Press, Bolinas, California, USA.
Rosche, R.C. 1982. Birds of northwestern Nebraska and southwestern South Dakota, an annotated checklist. Cottonwood Press, Crawford, Nebraska, USA.
Rosche, R.C. 1994. Birds of the Lake McConaughy area and the North Platte River valley, Nebraska. Published by the author, Chadron, Nebraska, USA.
Rosenberg, K.V., J.A. Kennedy, R. Dettmers, R.P. Ford, D. Reynolds, J.D. Alexander, C.J. Beardmore, P.J. Blancher, R.E. Bogart, G.S. Butcher, A.F. Camfield, A.Couturier, D.W. Demarest, W.E. Easton, J.J. Giocomo, R.H. Keller, A.E. Mini, A.O. Panjabi, D.N. Pashley, T.D. Rich, J.M. Ruth, H.Stabins, J. Stanton, T. Will. 2016. Partners in Flight Landbird Conservation Plan: 2016 Revision for Canada and Continental United States. Partners in Flight Science Committee.
Sauer, J.R., D.K. Niven, J.E. Hines, D.J. Ziolkowski, Jr, K.L. Pardieck, J.E. Fallon, and W.A. Link. 2017. The North American Breeding Bird Survey, Results and Analysis 1966 – 2015 (Nebraska). Version 2.07. USGS Patuxent Wildlife Research Center, Laurel, Maryland, USA.
Snyder, L., and B.L. Bly. 2009. Differential use of agricultural fields and rangeland nesting habitat by McCown's Longspur (Calcarius mccownii) and Chestnut-collared Longspur (Calcarius ornatus) in Western Nebraska. NBR 77: 35-41.
Swenk, M.H. 1936. The 1936 Migration Season [Spring 1936]. NBR 4: 43-47.
Recommended Citation
Silcock, W.R., and J.G. Jorgensen. 2022. Thick-billed Longspur (Rhynchophanes mccownii). In Birds of Nebraska — Online. www.BirdsofNebraska.org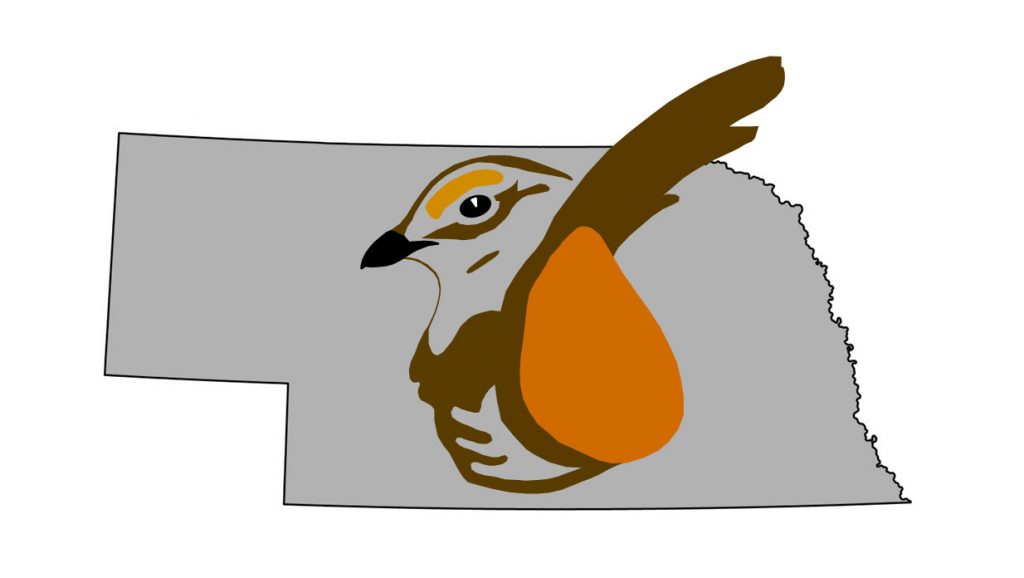 Birds of Nebraska – Online
Updated 15 Mar 2022