Ictinia mississippiensis
Status: Uncommon regular spring visitor statewide. Locally uncommon regular breeder south, rare casual elsewhere. Rare casual summer visitor west, south, southeast. Rare regular fall migrant statewide.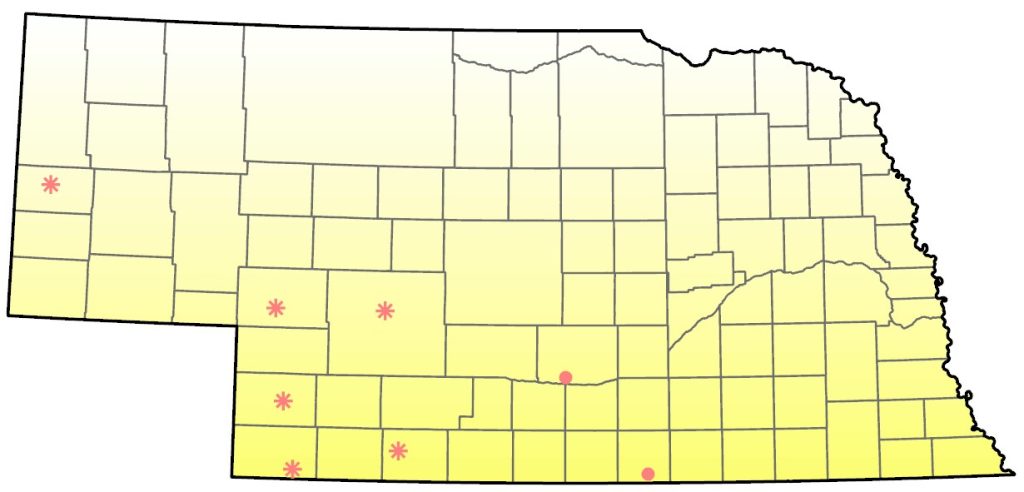 Documentation: Specimen: UNSM ZM17034, 9 Sep 1991 North Platte, Lincoln Co.
Taxonomy: No subspecies are recognized (Gill et al 2022).
Changes Since 2000: Expansion of the breeding range into Nebraska has been slow; breeding locations have increased in number, although some are short-lived. Migrants are reported more often statewide, especially in fall, reflecting increasing numbers of dispersers north of Nebraska; there is a noted northward post-breeding dispersal in Kansas (Thompson et al 2011).
Spring: May 7, 8, 8 <<<>>> summer
Earlier dates are 18 Apr 2012 Lincoln Co, 22 Apr 2011 Saunders Co, 5 May 2018 Lincoln Co, 5 May 2020 Lincoln Co
There are few reports of spring migrants, especially in the northeast, but they are increasing, however; 25 of the 38 overall easterly reports are since 2000. Immature non-breeders may wander north of the breeding range in spring; singles were in northeast Cherry Co 17 May 2018 and at Gordon, Sheridan Co 27 May 2018 and 20 May and 1 Jun 2020.
Summer: Mississippi Kites were first noted in Ogallala, Keith Co 27 Jul 1991 (Rosche 1994, Brown and Brown 2001). The first confirmed nesting there was 6 Aug 1994, when 11 birds were counted overhead and two nests were found (Dinsmore and Silcock 1995). A report "without details" of two nests found there 15 Jul 1994 (Grzybowski 1994, Mollhoff 2016) used an incorrect date. Local residents stated that the birds had been in the area for the past several years (Dinsmore and Silcock 1995). The Ogallala population has increased since the 1990s; 17 were seen late Aug 2005, and as many as 36, some possibly migrants, were overhead 11 Sep 2012. The year 2010 was a "very productive year" when a minimum of five nests produced young; four nests possessed juveniles 29 Aug. In 2011 a minimum of eight nests, along with non-breeding immatures and possible migrants, would have accounted for the 34 seen overhead 2 Sep (Jim Ochsner, personal communication). Numbers were lower in 2020, thought to be a result of certain preferred nesting trees being cut down (Jim Ochsner, personal communication).
Successful breeding has occurred at North Platte beginning 2012, when a chick was raised to fledging stage but died 29 Aug (Silcock 2012). Two nests in 2013 had fledglings, but storms blew the young out of the nests; the young were taken to Raptor Recovery. Two nests were found in 2014, but outcomes were not reported. Three were at Centennial Park, North Platte 26-27 Aug 2015 and since through 2023, suggesting ongoing breeding there, and three were in North Platte 31 May-3 Jul 2017 including a juvenile 3 Jul. At least 13 were present 30 Jun 2018, nestlings were photographed 10 Jul, and a fledgling 4 Aug. In 2019 an incubating adult was photographed 5 Jul, and a newly fledged juvenile was seen with an adult 17 Aug. An adult had arrived in 2020 by 5 May, and 18 were present 15 Jul, although no nests were reported. A good tally at North Platte was 21 on 10 Jul 2021.
Singles were seen overhead at two locations within two miles of each other in Lincoln, Lancaster Co 11 and 29 May 2018 and two adults were in the area, near Antelope Park, 31 Jul-2 Aug 2019, followed by sightings of two juveniles being fed near a nest 11 Sep (Dina Barta, personal communication; eBird.org). Two birds were in the area 9 Jun-16 Jul 2020, but no nests were reported. There were several sightings over Lincoln in 2021 of up to three birds 8 May- 2 Jul, and a nest with two fledged juveniles nearby was photographed 9 Sep (Dina Barta, personal communication). There were several sightings of 1-2 birds each over Lincoln 10 Jun-1 Jul 2022, and up to eight were overhead 7 May 2023, rather early, followed by singles 1 Jun and 26 Jun, but nesting was not observed.
Seven were present and copulation was observed in Scottsbluff, Scotts Bluff Co in 2011, but no nests were found. There were no further reports until 2020, when two nests were found, at 18th and H and 310 West 19th; adults were feeding young at both nests 13 Jul and 26 Jul respectively (Kathy DeLara, personal communication). Nesting continued there in 2021 and 2022, when there were at least two nests and six adults in the area bounded by Ave C through I and 18th to 27th Streets. The pair at 310 W 15th had returned by 16 May 2023, and there were sightings through 23 Jul without evidence of breeding.
In McCook, Red Willow Co, three were present all summer through at least 28 Jul 2012 although no nest was found. In 2017, 3-4 were present and, while two large nests were found, they were not conclusively identified as of this species. However, nesting occurred in 2021 (Chuck Krysel, personal communication) and again in 2022 (Joyce Warnock, personal communication).
The species has been seen in Hastings, Adams Co since about 2015, including two 2-14 Jun 2020, but no nests had been found until 2022, when a probable nest site with two fledged juveniles nearby was discovered 1 Sep (Paul Dunbar, personal communication). Nesting was confirmed in 2023 after two adults were first noted 8 Jun, copulation and nest building were seen on and after 25 Jun, and a fledgling was photographed in Aug (Kelly Ruxton, personal communication).
A pair successfully raised a chick in Red Cloud, Webster Co in 2004; adults returned in 2005 and 2006, but this site appears to have been abandoned.
Additional locations where birds have been present during the summer and breeding was suspected, but not yet confirmed, are Imperial, Chase Co; Benkelman, Dundy Co; and Kearney, Buffalo Co. A pair was at Imperial from early Jul in 2011; on 17 Aug 2013, adults there "looked to be feeding young", and 1-3 were present 28 Jun-12 Jul 2016, three were over Imperial 9 Jun 2017, and seven, six adults and an immature, were counted there 27 Jun 2018. There were as many as seven at Benkelman, Dundy Co 3-23 Aug 2010; local residents said the birds had been present "a few years" and there have been sightings of 2-3 birds through 2017. At Kearney, up to four were seen near 27th St and First Ave 10 Jun-6 Jul 2016, including one "plucking leaves" 12 Jun.
For a period in the 1980s breeding may have occurred in Polk Co; there were reports 1983-1990, and immatures were present for "over a week" there 3-4 Sep 1983.
Recent reports from the Douglas Co area are suggestive of incipient nesting: two birds, an immature and "possible adult" were at Neale Woods 26 Jun 2015. Another pair was seen in 2016 around 122nd and Center in Omaha 10-13 May, 16 Jul, and 29 Aug; an adult and a juvenile were seen perched together on the latter date (Rick Schmid, personal communication). No nest was found, but the timing and presence of an adult and juvenile together are suggestive of breeding; early dates for fall migrants are 10-16 Aug. In 2017, 1-2 were in a different Omaha neighborhood 8-9 May.
Recent reports elsewhere are of one seen briefly near Brownville, Nemaha Co 20 May 2017, and Mollhoff (2016) shows a "Probable" nesting report near Steele City, Jefferson Co; one was over Fairbury, Jefferson Co 5 Jun 2021.
There are at least 20 additional reports Jun-Jul statewide and away from known breeding sites; since breeding takes place from late May through early Sep, these reports are probably of non-breeding immatures.

Breeding Phenology:
Copulation: 25 Jun
Eggs: 22 Jun- 5 Jul
Nestlings: 10 Jul-29 Aug
Fledglings 11 Sep
Fall: summer <<<>>> Sep 21, 22, 24
A later date is 1 Oct 2011 Genoa, Nance Co.
Fall flocking and movement begins in mid-Aug. In 2011 there were reports of about 27 birds away from Ogallala, scattered statewide, 27 Aug-13 Sep, including 12 at a roost in McCook 10 Sep and three record late near Genoa 1 Oct. Pre-departure roosts have been noted in North Platte, where 40 were counted 18 Aug 2018, 26 on 26 Aug 2019, and 23 on 29 Aug 2020.
The hawk watch at Hitchcock Nature Center in Pottawattamie Co, Iowa, in the Missouri River Valley, has shown in recent years that there can be a significant movement southward in fall; 38 were counted there in 2000.
Comments: There is a specimen SUI 14584 in the University of Iowa Talbot Collection taken in Knox Co in 1885; no specific date was given, however.
Images
Abbreviations
SUI: University of Iowa Museum of Natural History
UNSM: University of Nebraska State Museum
Literature Cited
Brown, C.R., and M.B. Brown. 2001. Birds of the Cedar Point Biological Station. Occasional Papers of the Cedar Point Biological Station, No. 1.
Dinsmore, S.J., and W.R. Silcock. 1995. First nesting records for Mississippi Kite in Nebraska. NBR 63: 88-89.
Gill, F., D. Donsker, and P. Rasmussen (Eds). 2022. IOC World Bird List (v 12.2). Doi 10.14344/IOC.ML.12.2.  http://www.worldbirdnames.org/.
Grzybowski, J.A. 1994. Southern Great Plains Region. American Birds 48: 958-959.
Mollhoff, W.J. 2016. The Second Nebraska Breeding Bird Atlas. Bull. Univ. Nebraska State Museum Vol 29. University of Nebraska State Museum, Lincoln, Nebraska, USA.
Rosche, R.C. 1994. Birds of the Lake McConaughy area and the North Platte River valley, Nebraska. Published by the author, Chadron, Nebraska, USA.
Silcock, W.R. 2012. Summer Field Report, June-July 2012. NBR 80: 86- 103.
Thompson, M.C., and C.A. Ely. 1989. Birds in Kansas. Vol. 1. University of Kansas Museum Natural History Publications Educational Series No. 11, Lawrence, Kansas, USA.
Recommended Citation
Silcock, W.R., and J.G. Jorgensen. 2023. Mississippi Kite (Ictinia mississippiensis). In Birds of Nebraska — Online. www.BirdsofNebraska.org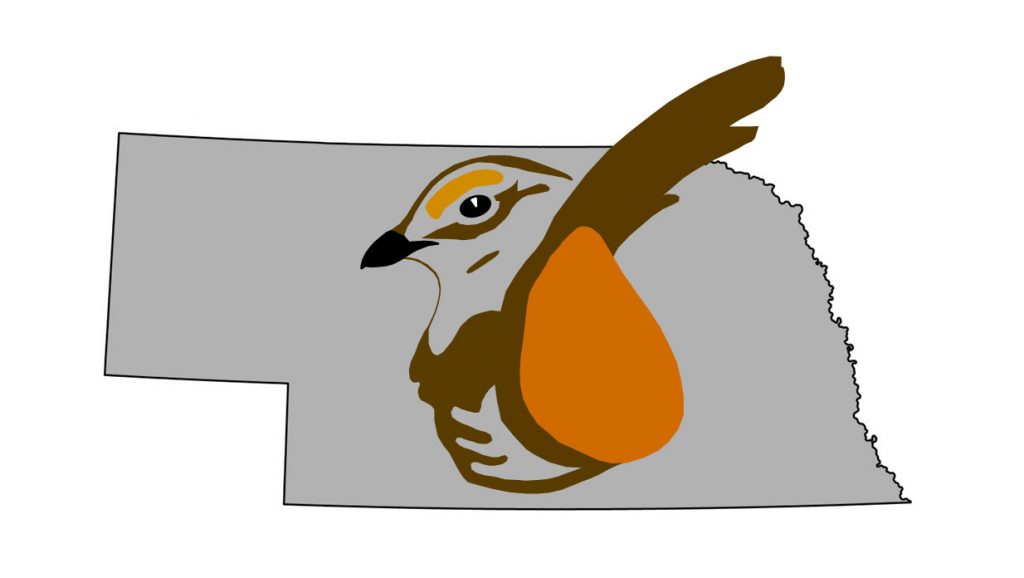 Birds of Nebraska – Online
Updated 26 Oct 2023, Map revised 30 Jun 2022