Colinus virginianus taylori
Status: Fairly common regular resident east and most of central; rare elsewhere.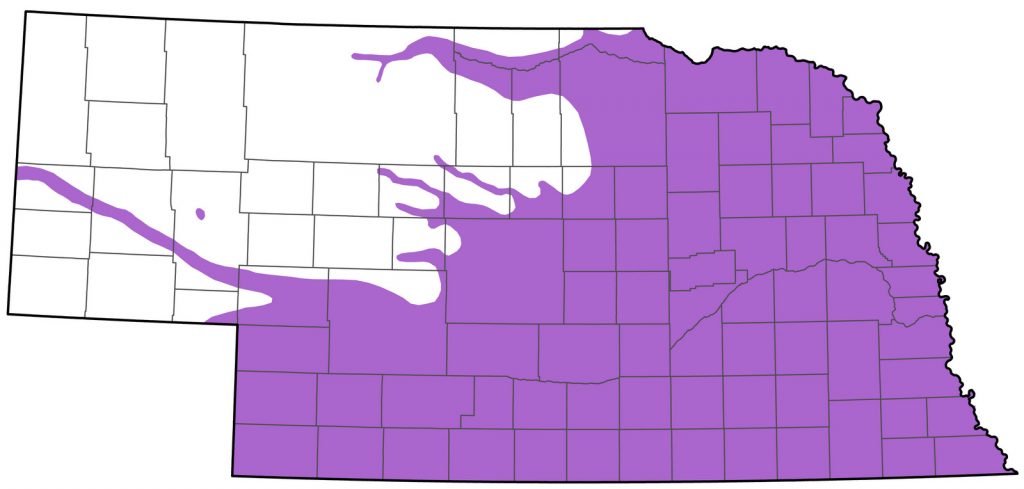 Documentation: Specimen: UNSM ZM6093, 19 Jun 1902 Keya Paha Co.
Taxonomy: Taxonomy is complex. The 21 subspecies are treated as four groups; only the Northern Group occurs in North America, consisting of nine subspecies (Clements et al 2016).
Although AOU (1957) indicated that two subspecies, virginianus and taylori, occur in Nebraska, recent genetic studies (Williford et al 2014) show that west of the Mississippi River all Northern Bobwhites are referrable to taylori.
An occasional rufous (carotenistic) morph occurs (Pyle 2008); they are available also from breeders and males resemble a Masked Bobwhite (Scott Taylor, NGPC, personal communication). Sightings of single birds occurred in Scotts Bluff Co 23 Oct 2003 and Thayer Co in summer 2003.
Resident: The range of this species in Nebraska has apparently changed little in more than a century, as Bruner et al (1904) noted that, while it was formerly limited to the east, it was now distributed "practically over the entire state, especially along river and creek valleys and about farms where natural shelter occurs."
Nebraska is at the northwest edge of the range of this species; abundance and extent of range fluctuate in response to environmental variables. Thus, individuals are routinely observed outside of mapped range during population peaks, but the species may also be absent from portions of the mapped range during population lows. Generally, densities are highest in the southeast (Lusk 2017), but the species is found throughout the Platte and Republican River Valleys. It is uncommon in the central Niobrara River Valley (Brogie and Mossman 1983), but the range extends to Cherry Co in the Snake Creek area and at Valentine NWR. In northwest Nebraska, its occurrence is irregular and "highly variable" and dependent on severity of winter weather (Rosche 1982, Johnsgard 1997); Rosche (1994) considered it "sporadic" in the Keith Co area, varying from nearly absent in some years to fairly common in others. Between 1996 and 2016 reports from Crescent Lake NWR, Garden Co included a high count of 12 on 31 Oct 1996. In 2004, it was considered resident at Smith Lake SRA, Sheridan Co, but reports are lacking since then. Five were reported near Gordon, Sheridan Co 18 Feb 2019. One was heard in Grant Co 4 Sep 2021. In Dawes Co between 2003 and 2008 there were five reports, including eight on the Crawford CBC 20 Dec 2005 and 12 on the Harrison CBC 30 Dec 2007. One was heard at Peterson WMA, Sioux Co 9 Aug 2018. Two flushed in southern Morrill Co 17 Jun 2007 were the first seen there by a local farmer in 40 years, one was along Lodgepole Creek in Cheyenne Co 10 Aug 2014, and one was heard at Oliver Reservoir, Kimball Co 6 Sep 2018. In 2019, a veteran observer living near the Wildcat Hills in Scotts Bluff Co reported: "In almost 50 years of living in the middle of a native grass pasture, it is the first [bobwhite] I've seen or heard." At least one was seen or heard there daily 18-27 Jul, possibly part of a covey of 6-8 that had been less than a mile away for a few months according to a neighbor (Alice Kenitz, pers. comm.). One-two were in the same yard 5-13 Jun 2020.
CBC data indicate highest populations in the east and south (0.568 and 0.565 birds per party hour), declining to the north (0.343) and west (0.172). An excellent CBC tally at the northern edge of the range was the 102 on the Calamus-Loup CBC 30 Dec 2015; in the south, a count high 117 were found on the Harlan Co CBC 15 Dec 2016. Flocking occurs by late Aug; 30 were counted at Johnson WPA, Phelps Co 20 Aug 2000.
Breeding Phenology:
Eggs: 1 May- 24 Aug (Mollhoff 2022).
Dependent young: 23 Jun-17 Aug.
A nest with eggs was found in Boone Co as late as mid-Sep (Mollhoff 2001); such records may be of double broods or replacement clutches (Mollhoff 2022). A pre-fledged chick was in Dodge Co 27 Oct 2015.
Literature Cited
American Ornithologists' Union [AOU]. 1957. The AOU Check-list of North American birds, 5th ed. Port City Press, Baltimore, Maryland, USA.
Brogie, M.A., and M.J. Mossman. 1983. Spring and summer birds of the Niobrara Valley Preserve, Nebraska: An annotated checklist. NBR 51: 44-51.
Bruner, L., R.H. Wolcott, and M.H. Swenk. 1904. A preliminary review of the birds of Nebraska, with synopses. Klopp and Bartlett, Omaha, Nebraska, USA.
Clements, J. F., T. S. Schulenberg, M. J. Iliff, D. Roberson, T. A. Fredericks, B. L. Sullivan, and C. L. Wood. 2016. The eBird/Clements checklist of birds of the world: v2016, accessed 30 January 2018.
Johnsgard, P.A. 1997. The birds of Nebraska and adjacent plains states. Occasional Papers No. 6, Nebraska Ornithologists' Union. Lincoln, Nebraska, USA.
Lusk, J. 2017. Northern Bobwhite Whistle Count. W-15-R-74 Federal Aid in Wildlife Restoration Project Report. Nebraska Game and Parks Commission, Lincoln, Nebraska, USA.
Mollhoff, W.J. 2001. The Nebraska Breeding Bird Atlas 1984-1989. Nebraska Ornithologists' Union Occasional Papers No. 7. Nebraska Game and Parks Commission, Lincoln, Nebraska, USA.
Pyle, P. 2008. Identification Guide to North American Birds. Part II, Anatidae to Alcidae. Slate Creek Press, Bolinas, California, USA.
Rosche, R.C. 1982. Birds of northwestern Nebraska and southwestern South Dakota, an annotated checklist. Cottonwood Press, Crawford, Nebraska, USA.
Rosche, R.C. 1994. Birds of the Lake McConaughy area and the North Platte River valley, Nebraska. Published by the author, Chadron, Nebraska, USA.
Williford, D. et al. 2014. Contemporary genetic structure of the northern bobwhite west of the Mississippi River. Journal of Wildlife Management 78: 914-929.
Recommended Citation
Silcock, W.R., and J.G. Jorgensen. 2022. Northern Bobwhite (Colinus virginianus). In Birds of Nebraska — Online. www.BirdsofNebraska.org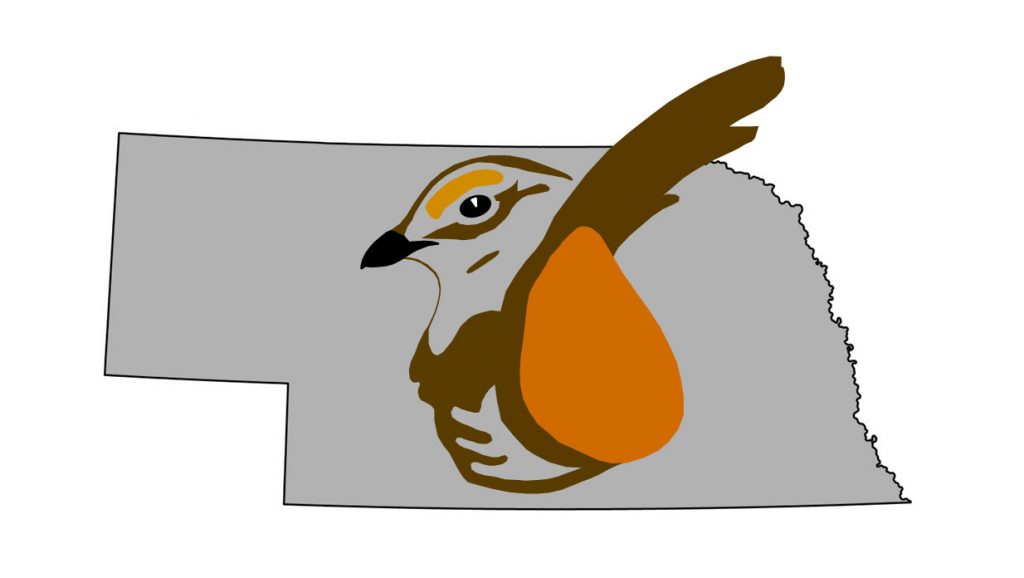 Birds of Nebraska – Online
Updated 3 Mar 2022