Caracara plancus CHERIWAY
Status: Accidental in summer.
Documentation: Photograph: 11 Nov 2012 Genoa, Nance Co, first seen 14 Jul (Brogie 2013).
Taxonomy: No subspecies are recognized.
Crested Caracara (C. plancus) of North, Central, and South America traditionally consisted of four subspecies; in 2000, all four were elevated to specific status (Dove and Banks 1999, Banks et al 2000), but this was reversed in part in 2021 (AOS In Press) when cheriway (including pallidus and audubonii) and plancus were re-lumped as subspecies of Crested Caracara. The specific epithet for the reconstituted species is plancus, which has precedence over cheriway. 
The Nebraska record is presumed cheriway.
Summer: A major surprise was the rather curious saga of a bird picked up near Genoa, Nance Co 14 Jul 2012, "retained", then transferred to Fontenelle Forest's Raptor Recovery 11 Nov, where it was photographed (Brogie 2013). The bird had an eye missing and was emaciated when received.
A convincing report of one seen twice feeding on roadkill in Seward Co 20-21 Aug 2011 was, however, not accepted by the NOURC (Brogie 2012). Probably of significance related to this report was the sighting of one in Washington Co, Kansas, 3 Aug 2011, about 120 miles south of Seward Co, Nebraska (Buss 2011).
Comments: There is little vagrancy northward onto the Great Plains; sightings may increase, however, as the species is apparently increasing its range into southeastern Oklahoma from Texas (Morrison and Dwyer 2020). There is one Iowa record in Sep (IOU 2018), one from Wyoming in Sep (Faulkner 2010), and three in Colorado, in Jul, Sep, and Oct (CBRC 2017). Most dispersal is by juveniles and immatures in Jul-Oct; three of the five northerly records cited are in Sep (Wheeler 2003).
Images
Abbreviations
CBRC: Colorado Bird Records Committee
IOU: Iowa Ornithologists' Union
NOURC: Nebraska Ornithologists' Union Records Committee
Literature Cited
Banks, R.C., C. Cicero, J.L. Dunn, A.W. Kratter, H. Ouellet, P.C. Rasmussen, J.V. Remsen, Jr., J.A. Rising, and D.F. Stotz. 2000. Forty-Second Supplement to the American Ornithologists' Union Check-List of North American Birds. Auk 117: 847-858.
Brogie, M.A. 2012. 2011 (23rd) Report of the NOU Records Committee. NBR 80: 112-122
Brogie, M.A. 2013. 2012 (24th) Report of the NOU Records Committee. NBR: 81: 120-130.
Buss, W. 2011. A Crested Caracara Visits Kansas (published 3 Aug). Warren's Blog, accessed 24 May 2018.
Colorado Bird Records Committee [CBRC]. 2017. Crested Caracara records. Colorado Bird Records Committee database, accessed 18 February 2018.
Dove, C.J., and R.C. Banks. 1999. A taxonomic study of Crested Caracaras (Falconidae). Wilson Bulletin 111: 330-339.
Iowa Ornithologists' Union [IOU]. 2018. Crested Caracara records. Iowa Records Committee reports of Iowa rare bird records, accessed 30 April 2018.
Faulkner, D.W. 2010. Birds of Wyoming. Roberts and Company, Greenwood Village, Colorado, USA.
Morrison, J.L. and J.F. Dwyer. 2020. Crested Caracara (Caracara cheriway), version 1.0. In Birds of the World (A. F. Poole, Editor). Cornell Lab of Ornithology, Ithaca, NY, USA. https://doi.org/10.2173/bow.crecar1.01
Recommended Citation
Silcock, W.R., and J.G. Jorgensen. 2021. Northern Crested Caracara (Caracara plancus). In Birds of Nebraska — Online. www.BirdsofNebraska.org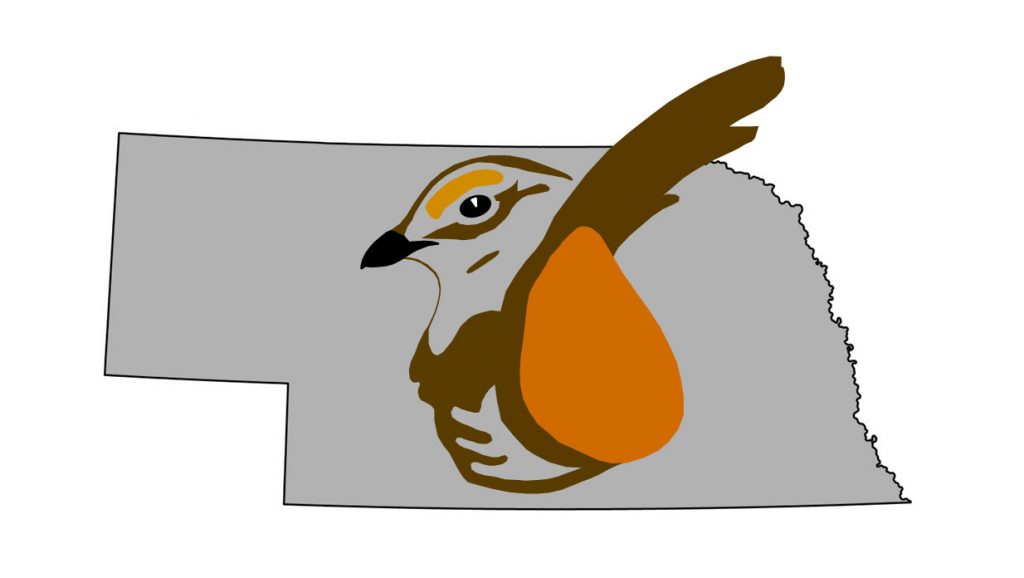 Birds of Nebraska – Online
Updated 3 Oct 2021