Mimus polyglottos polyglottos
Status: Uncommon regular spring and fall migrant west, south, and east, rare north. Fairly common regular breeder south, southern Panhandle, and southeast, rare elsewhere. Rare casual winter visitor statewide.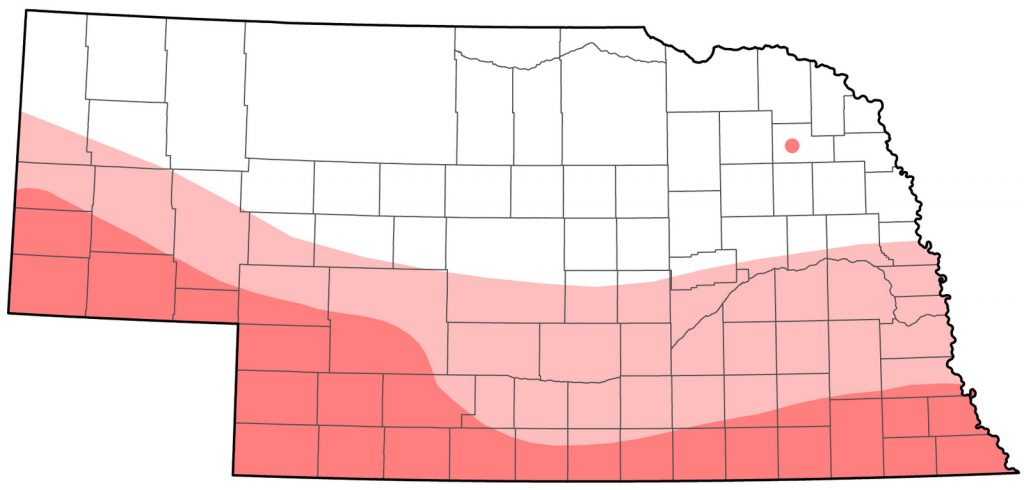 Documentation: Specimen: UNSM ZM11667, 31 May 1895 Lincoln, Lancaster Co.
Taxonomy: Three subspecies are currently recognized (Farnsworth et al 2020); polyglottos breeds over much of North America, from southern Canada south to central Mexico and the northern Bahamas, with northern breeders migratory; orpheus and dominicus are restricted to islands in the Caribbean. Previously recognized western leucopterus has been synonymized with polyglottos (Phillips 1986).
Prior to their synonymy, most Nebraska breeders were thought to be intergrades of leucopterus and polyglottos; (AOU 1957) stated that leucopterus "intergrades with polyglottos in the eastern plains area of Nebraska". Rapp et al (1958) suggested that leucopterus occurs in the Panhandle and east in the Platte Valley as far as Lincoln and Logan Cos, while polyglottos was resident in the eastern third of the state "most numerous in the southeastern region".
Spring: Mar 14, 14, 14 <<<>>> summer (west, south, east); May 8, 10, 11 <<<>>> summer (north)
Earlier dates are 29 Feb 2020 Dundy Co, 1 Mar 2022 Seward Co, 3 Mar 2017 Cass Co, 6 Mar 2022 Lancaster Co, 6 Mar 2022 Gage Co, 11 Mar 2017 Dundy Co, and 11 Mar 2018 Douglas Co.
Earlier dates in the north are 3 Apr 2015 Valentine NWR, Cherry Co, 28 Apr 2022 Antelope Co, 29 Apr 2010 Custer Co, and 29 Apr 2016 Merrick Co.
Arrival is in late Mar, but there are several records Jan-Feb (see Winter).
This species is generally sedentary, but populations at the northern edge of the range, as in Nebraska, are migratory and depart in winter. Migration is most noticeable in spring when birds return and establish territories.
High counts: 5 at Spring Creek Prairie, Lancaster Co 9 Apr 2016, 5 near Exit 1 on I-80, Kimball Co 26 May 2022, 5 near Pine Bluffs in Kimball Co 25 May 2023, 4 there 21 May 2020, and 4 at Lincoln Saline Wetlands NP, Lancaster Co 17 May 2022.
Summer: This species' Nebraska range has remained relatively stable for more than a century. Bruner et al (1904) wrote: "This bird is found throughout the entire state; south of the Platte a common summer resident and breeder; rare north of middle of state." This distribution resembles closely that found by Mollhoff (2016), although, based on the low number of nesting records prior to 1930 and the increase after 1970, Mollhoff (2022) suggested a "range expansion/population increase" after 1950. Rapp et al (1958) considered it an "uncommon summer resident" both in the Panhandle and the eastern third of the state in the 1950s, implying lower numbers in central Nebraska and possibly overall. The distribution described by Rapp et al (1958) is reflected by the current BBS-determined distribution for 2011-2015, with highest densities in the southeast and southern Panhandle (Sauer et al 2017). Mollhoff (2016) showed that although total reports of mockingbirds increased moderately between the first (1984-1989) and second (2006-2011) breeding bird atlas periods (detected in 16% of blocks compared with 14%), the percentage of total reports north of the North Platte and Platte River Valleys doubled (27% compared with 14%). However, overall blocks and observer effort also increased markedly during the second atlas compared to the first (Mollhoff 2016). BBS trend analysis (Sauer et al 2020) shows an annual change in abundance of – 0.60% (95% C.I.; -2.22, 0.93) during the period 1966-2019. These figures suggest that mockingbirds are maintaining overall numbers in southern Nebraska. Reports farther north may suggest the species is continuing to expand northward. However, Jorgensen (2012) considered it still a rare migrant and casual breeder in the Rainwater Basin.
The BBS routes with highest numbers of Northern Mockingbirds are located in the extreme southeast (Johnson, Nemaha, Gage and Pawnee Cos), and along or south of the Platte River Valley (Gosper, Furnas, Keith and Lincoln Cos). A route in Nemaha and Pawnee Cos had 16 on 20 Jun 2015, a BBA block in Johnson Co had 12 on 8 Jul 2010, and five singing birds were on an 80-acre site in Pawnee Co 30 Jun 2007. Ludlow (1935) considered this species a "common summer resident" in Webster Co.
Breeding reports are fewest in the north; Mollhoff (2001) reported a nest in Arthur Co, one was found on a BBS route in northern Garden Co 17 Jun 2003, and one was carrying food in Wayne Co 14 Jun 2011. Of 22 total records in the north (as of 2023), including the three breeding records, 20 have occurred since 2005.
Other summer reports in the north are 1 Jun 2016 Thomas Creek WMA, Keya Paha Co, 1 Jun 2019 Verdigre, Knox Co, 3 Jun 2022 Valentine, Cherry Co, 11 Jun 2016 Dakota Co, a pair in Brown Co Jun 2008, 11 Jun 2022 Hyannis, Grant Co, 20 Jun 2019 Chadron SP, Dawes Co, 27 Jun 2020 near Brownlee, Cherry Co, 30 Jun 2007 southern Cherry Co, 6 Jul 2014 Fort Niobrara NWR, Cherry Co, 8 Jul 2023 West Ash Creek Road, Dawes Co, 13 Jul 2017 and 14 Jul 2015 Cherry Co, 14 Jul 2017 Fort Niobrara NWR, 14 Jul 2015 Valentine NWR, Cherry Co, 18 and 31 Jul 2023 in a yard near Hemingford, Box Butte Co, 28 Jul 2023 Knox Co, and 1 Aug 2006 Hooker Co.
A comment by Greg Wright (personal communication, 2023) notes "I have continually observed territorial northern mockingbirds north of valentine [sic; Cherry Co] through the summer the past 5 years (except 2022)".
Breeding phenology:
Nest-building: 29 May- 8 Aug (Mollhoff 2022)
Eggs: 5 Jun- 19 Aug (Mollhoff 2022)
Nestlings: 5-23 Jun
Fledglings: 9 May-6 Sep
High counts: 15 in southeast Thayer Co 8 Jul, 13 in southwest Kimball Co 6 Aug 2000, 13 there 23 Jun 2021, and 12 in Gage Co 27 Jun 2006.
Fall: summer <<<>>> Dec 31, Jan 2, 3
Departure times are difficult to determine, as there is a gradual movement southward in late fall (see Winter). A group of eight in cedars near Arthur, Arthur Co 21 Sep was indicative of peak migration timing. Northerly singles were at Gordon, Sheridan Co 29 Aug 2020, Cody, Cherry Co 17 Sep 2000, and Chadron, Dawes Co 26 Sep 2021.
Later Jan and Feb reports are discussed below under winter.
Winter: In fall and early winter, numbers decline as birds gradually leave the state. The few winter reports are scattered statewide, although the only records of over-wintering are of one at Pawnee Lake, Lancaster Co seen through the winter 2010-2011, 1 Jan-14 Mar 2014 in the North Platte, Lincoln Co area, 2 Jan-25 Feb 2012 Lancaster Co, and 31 Jan-27 Feb 2022 Lancaster Co.
Dates in Jan-Feb are 6 Jan 2021 Madison Co, 15 Jan 2000 Keith Co, 15 Jan 2015 Johnson Co, 16 Jan 2012 Otoe Co, 18 Jan 2021 Gage Co, 20 Jan 2009 Pawnee Co, 5 Feb 2017 Lincoln Co, 11 Feb 2004 Lancaster Co, 13 Feb 2010 Lincoln Co, 16 Feb 2017 Webster Co, 20 Feb 1990 Lincoln Co, and 26 Feb 2000 Clear Creek WMA, Keith Co.
Images
Abbreviations
BBA: Breeding Bird Atlas
BBS: Breeding Bird Survey
NP: Nature Park
NWR: National Wildlife Refuge
SP: State Park
UNSM: University of Nebraska State Museum
WMA: Wildlife Management Area (State)
Literature Cited
American Ornithologists' Union [AOU]. 1957. The AOU Check-list of North American birds, 5th ed. Port City Press, Baltimore, Maryland, USA.
Bruner, L., R.H. Wolcott, and M.H. Swenk. 1904. A preliminary review of the birds of Nebraska, with synopses. Klopp and Bartlett, Omaha, Nebraska, USA.
Farnsworth, G., G.A. Londono, J.U. Martin, K.C. Derrickson, and R. Breitwisch. 2020. Northern Mockingbird (Mimus polyglottos), version 1.0. In Birds of the World (A. F. Poole, Editor). Cornell Lab of Ornithology, Ithaca, NY, USA. https://doi.org/10.2173/bow.normoc.01.
Jorgensen, J.G. 2012. Birds of the Rainwater Basin, Nebraska. Nebraska Game and Parks Commission, Lincoln, Nebraska, USA.
Ludlow, C.S. 1935. A quarter-century of bird migration records at Red Cloud, Nebraska. NBR 3: 3-25.
Mollhoff, W.J. 2001. 1999-2000 Nebraska Nesting Report. NBR 69: 92-101.
Mollhoff, W.J. 2016. The Second Nebraska Breeding Bird Atlas. Bull. Univ. Nebraska State Museum Vol 29. University of Nebraska State Museum, Lincoln, Nebraska, USA.
Mollhoff, W.J. 2022. Nest records of Nebraska birds. Nebraska Ornithologists' Union Occasional Paper Number 9.
Phillips, A.R. 1986. The known birds of North and Middle America. Part 1. Published by the author, Denver Colorado, USA.
Rapp, W.F. Jr., J.L.C. Rapp, H.E. Baumgarten, and R.A. Moser. 1958. Revised checklist of Nebraska birds. Occasional Papers 5, Nebraska Ornithologists' Union, Crete, Nebraska, USA.
Sauer, J.R., D.K. Niven, J.E. Hines, D.J. Ziolkowski, Jr, K.L. Pardieck, J.E. Fallon, and W.A. Link. 2017. The North American Breeding Bird Survey, Results and Analysis 1966 – 2015 (Nebraska). Version 2.07. USGS Patuxent Wildlife Research Center, Laurel, Maryland, USA.
Sauer, J.R., W.A. Link and J.E. Hines. 2020. The North American Breeding Bird Sruvey – Analysis Results 1966-2019. U.S. Geological Survey data release, https://doi.org/10.5066/P96A7675, accessed 27 Jul 2023.
Recommended Citation
Silcock, W.R., and J.G. Jorgensen. 2023. Northern Mockingbird (Mimus polyglottos). In Birds of Nebraska — Online. www.BirdsofNebraska.org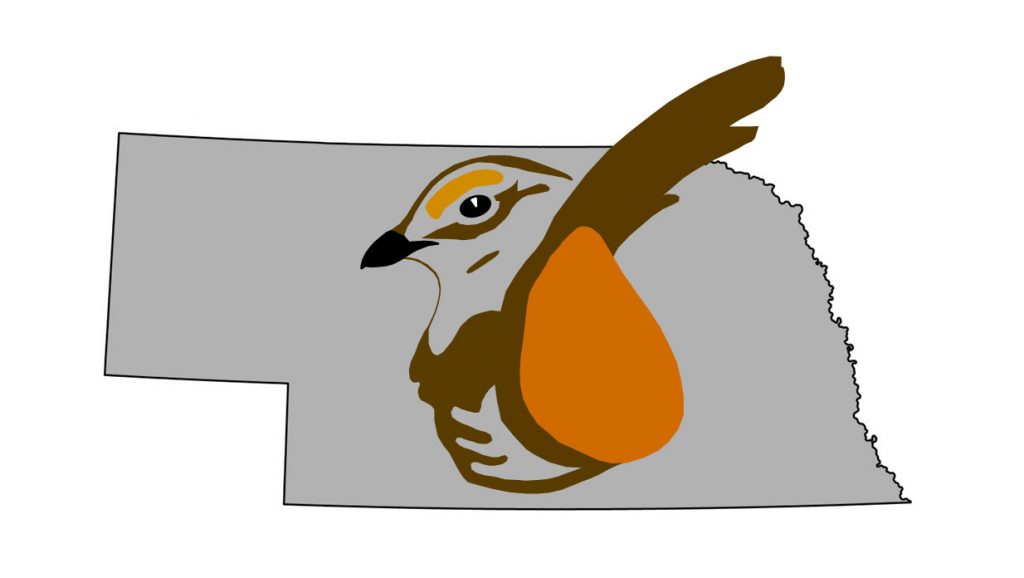 Birds of Nebraska – Online
Updated 28 Nov 2023