Setophaga americana
Status: Fairly common regular spring migrant east, uncommon east-central, rare west-central, rare casual west. Uncommon regular breeder east. Rare regular fall migrant east, rare casual central and west.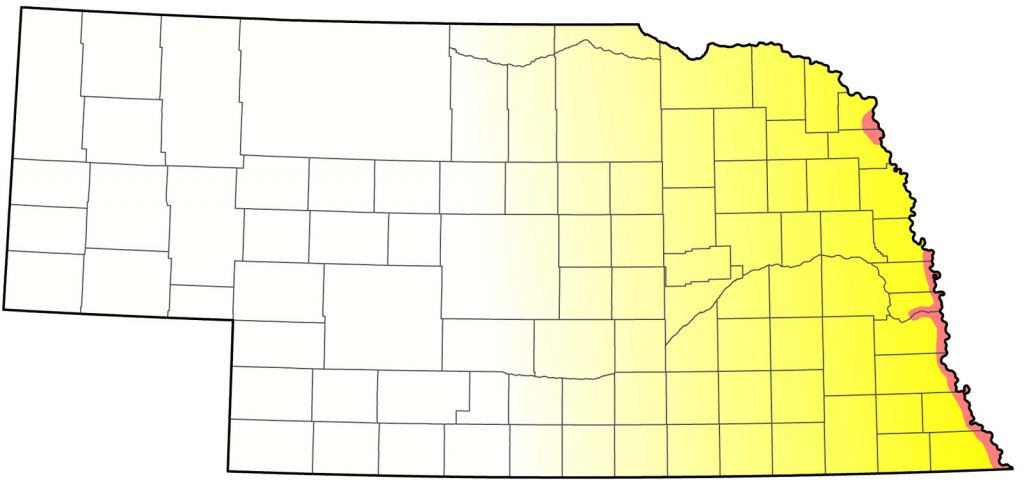 Documentation: Specimen: UNSM ZM6817, 20 Apr 1901 Havelock, Lancaster Co.
Taxonomy: No subspecies are currently recognized (Gill and Donsker 2017, Clements et al 2016), although Pyle (1997) listed two: ludoviciana, breeding in the western part of the range, and americana, breeding eastward. Apparently, these are not easily separable morphologically; they were differentiated on the basis of vocalizations (Moldenhauer and Regelski 2020).
Nebraska birds are ludoviciana (Dunn and Garrett 1997), if subspecies are recognized.
Spring: Apr 13, 14, 15 <<<>>> summer
An earlier date is 11 Apr 2020 Sarpy Co.
Arrival is early, typical of the southern warbler species which breed in Nebraska. There appears to be a small movement up the Missouri River Valley in spring; Northern Parula is a rare migrant in eastern South Dakota (Tallman et al 2002).
There are as many as 23 reports in the Panhandle; these are in the period 21 Apr- 3 Jun.
High counts: 20-25 at Fontenelle Forest, Sarpy Co 1 May 2008, 20 at Indian Cave SP, Nemaha and Richardson Cos 30 Apr 2011, 17 at Fontenelle Forest 23 Apr 2009, 17 there 29 Apr 2010, and 17 at Indian Cave SP 1 May 2015.
Summer: Northern Parula is a low-density summer resident in large forest tracts in the Missouri River Valley, north occasionally to Thurston Co; it occurs primarily in riparian forests, but uses a relatively broad range of woodland types for breeding (Moldenhauer and Regelski 2020) and regularly occurs in upland areas, especially at Indian Cave SP.
It is one of the few wood warbler species that appears to be increasing in Nebraska. It has been reported regularly since the 1960s, mostly from southeast Washington Co south, although it was first reported in Thurston Co 13 Jun 1998 and nested there in 2006, when a pair was incubating eggs 13 Jun (Huser, Probst; Mollhoff 2022). A singing male was at Oak Valley WMA, Madison Co 10 Jun 2022, and it may be establishing in low numbers in the lower Niobrara River Valley; Short (1965) collected a singing male in Brown Co 21 June 1964, and it was reported there 12 Jun 1972 and 7 Jul 1968, but not in 1982 (Brogie and Mossman 1983). One was singing at Valentine, Cherry Co 4 Jul 1998 and another was nearby at Valentine NWR 11-12 Jul 2006. In 2021, 1-2 were at Fort Falls, Cherry Co through 23 Jun, coinciding with the first records of Louisiana Waterthrush there (Renee Tressler, pers. comm.).
BBS data 1966-2013 (Sauer et al 2017) show this species increasing in eastern Kansas and extreme southeast Nebraska at >1.5% per year.
The few confirmed breeding records include young being fed in Sarpy Co in 1986 (Benedict, Green; Bennett 1987), 5 Sep 1991 (Padelford; Grzybowski 1992) and 20 Aug 2004, and adults were tending a juvenile at Fontenelle Forest 28 Jun 2003 (Klaphake; Silcock 2003). Mollhoff (2016) showed breeding season reports in the Missouri River Valley in Richardson, Nemaha, Cass, Sarpy, Washington, and Thurston Cos 2006-2011; it was "quite common," with up to six at Indian Cave SP during Jun 1995.
Away from the Missouri River Valley locations, there are reports in the southeast in southwest Richardson Co and southern Gage Co, the latter at Barneston 30 Jun 2010. Singles were in Jefferson Co 3 Jun 2007 and at Fairbury City Park, Jefferson Co 5 Jun and 3 Jul 2021. One was recorded in Lincoln, Lancaster Co 11 Jun 2022.
The only summer records farther west are of a singing male at Chadron, Dawes Co 5 Jun 1979 (Rosche 1982), one at Ash Hollow SHP, Garden Co 26 Jun 2010, and three in McCook, Red Willow Co 6 Jun. Some of these reports, especially in early Jun and late Jul, may be of migrants.
Breeding phenology:
Eggs: 13 Jun
Nestlings: 27-28 May
Fledglings: 28-30 Jun
Fall: summer <<<>>> Sep 30, Oct 2, 2, 4; Sep 3, 4, 4 <<<>>> Oct 4, 7, 8 (away from breeding areas)
An earlier date away from breeding areas is 16 Aug 2022 Nance Co.
Later dates way from breeding areas are 17 Oct 2022 Kimball Co, and 7 Nov 2021 Dundy Co.
Later dates overall are 7 Oct 2019 Lancaster Co, and 8 Oct 2021 Lancaster Co.
Northern Parulas become inconspicuous in late summer and fall, and depart by late Sep.
There are these few fall reports away from the east: 30 Jul-28 Aug 1977 Box Butte Reservoir, Dawes Co, 5 Sep 1979 Boone Co, 6 Sep 1998 male at Gering Cemetery, Scotts Bluff Co, 7 Sep 1912 specimen UNSM ZM11790 Thomas Co (Zimmer 1913), 12 Sep 1919 specimen UNSM ZM6840 Sioux Co, 20 Sep 2022 Scotts Bluff Co, 22 Sep 1997 Thomas Co, 30 Sep 2014 Dawson Co, a late individual at Gotte Park, Kimball Co 17 Oct 2022 (Mlodinow, eBird.org), a very late individual at Rock Creek SRA, Dundy Co 7 Nov 2021 (Mlodinow, eBird.org), and an extraordinarily late immature male photographed in Keith Co 4 Dec 1999 (Jorgensen 2001).
High counts: 4 in Washington Co 11 Sep 1995, 4 in Washington and Douglas Cos 13 Sep 1998, and 4 on Plum Creek Trail, Seward Co 9 Sep 2018.
Images
Abbreviations
BBS: Breeding Bird Survey
NWR: National Wildlife Refuge
SHP: State Historical Park
SP: State Park
UNSM: University of Nebraska State Museum
Literature Cited
Bennett, E.V. 1987. 1986 Nebraska nesting survey. NBR 55: 31-35.
Brogie, M.A., and M.J. Mossman. 1983. Spring and summer birds of the Niobrara Valley Preserve, Nebraska: An annotated checklist. NBR 51: 44-51.
Clements, J. F., T. S. Schulenberg, M. J. Iliff, D. Roberson, T. A. Fredericks, B. L. Sullivan, and C. L. Wood. 2016. The eBird/Clements checklist of birds of the world: v2016, accessed 30 January 2018.
Dunn, J.L., and K.L. Garrett. 1997. A field guide to warblers of North America. Houghton Mifflin Company, Boston, Massachusetts, USA.
Gill, F., and D. Donsker (Eds). 2017. IOC World Bird List (v 7.3), accessed 30 January 2018.
Grzybowski, J.A. 1992. Southern Great Plains Region. American Birds 46: 113-117.
Jorgensen, J.G. 2001. 1999 (Eleventh) Report of the NOU Records Committee. NBR 69: 85-91.
Moldenhauer, R.R. and D.J. Regelski. 2020. Northern Parula (Setophaga americana), version 1.0. In Birds of the World (A. F. Poole, Editor). Cornell Lab of Ornithology, Ithaca, NY, USA. https://doi.org/10.2173/bow.norpar.01.
Mollhoff, W.J. 2016. The Second Nebraska Breeding Bird Atlas. Bull. Univ. Nebraska State Museum Vol 29. University of Nebraska State Museum, Lincoln, Nebraska, USA.
Mollhoff, W.J. 2022. Nest records of Nebraska birds. Nebraska Ornithologists' Union Occasional Paper Number 9.
Pyle, P. 1997. Identification Guide to North American Birds. Part I, Columbidae to Ploceidae. Slate Creek Press, Bolinas, California, USA.
Rosche, R.C. 1982. Birds of northwestern Nebraska and southwestern South Dakota, an annotated checklist. Cottonwood Press, Crawford, Nebraska, USA.
Sauer, J.R., D.K. Niven, J.E. Hines, D.J. Ziolkowski, Jr, K.L. Pardieck, J.E. Fallon, and W.A. Link. 2017. The North American Breeding Bird Survey, Results and Analysis 1966 – 2015 (Nebraska). Version 2.07. USGS Patuxent Wildlife Research Center, Laurel, Maryland, USA.
Short, L.L., Jr. 1965. Bird records from northern Nebraska during the breeding season. NBR 33: 2-5.
Silcock, W.R. 2003. Summer Field Report, June- July 2003. NBR 71: 106-127.
Tallman, D.A., Swanson, D.L., and J.S. Palmer. 2002. Birds of South Dakota. Midstates/Quality Quick Print, Aberdeen, South Dakota, USA.
Zimmer, J.T. 1913. Birds of the Thomas County Forest Preserve. Proceedings Nebraska Ornithologists' Union 5: 51-104.
Recommended Citation
Silcock, W.R., and J.G. Jorgensen. 2023. Northern Parula (Icterus cucullatus). In Birds of Nebraska — Online. www.BirdsofNebraska.org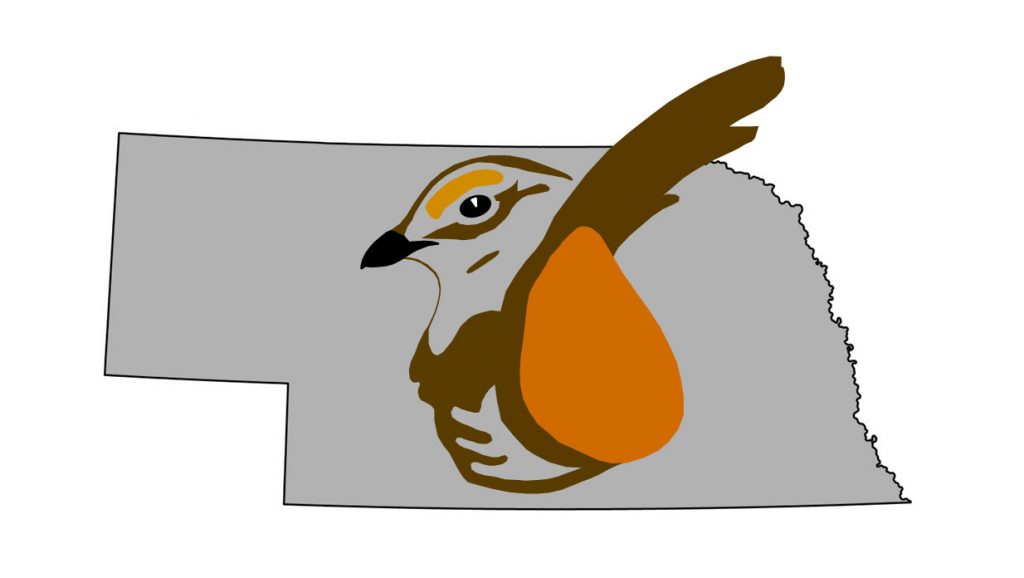 Birds of Nebraska – Online
Updated 3 Jan 2023