Icterus spurius spurius
Status: Common regular spring and fall migrant and breeder statewide.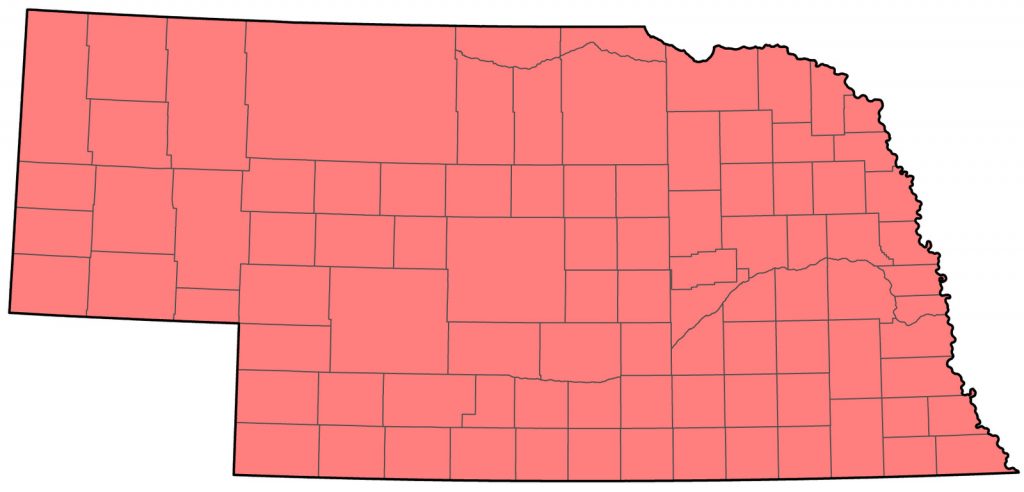 Documentation: Specimen: UNSM ZM8770, 14 Jun 1898 Lincoln, Lancaster Co.
Taxonomy: Three subspecies are recognized, two in Mexico and one in the USA (Pyle 1997): spurius, breeding throughout the eastern US, north to Canada.
Nebraska birds are spurius.
Spring: Apr 26, 26, 27 <<<>>> summer
Earlier dates are 22 Apr 2008 Lancaster Co, and 24 Apr 2010 Lancaster Co.
A banding/recapture study in a Hall Co yard in 2014 and 2015 resulted in an estimated 37 individual birds present 11 Jun 2014, and 41 during 14 May-15 Jun 2015 (Lingle 2015).
High counts: 136 at two locations in Dundy Co 26 May 2019, 55 in the Keith Co area 18 May 1986 (Rosche 1994), 40+ in Lincoln 12 May 2001, and 36 in Hall Co 10 May 2003.
Summer: Mollhoff (2016) showed even and rather dense distribution statewide. BBS data 2011-2015 (Sauer et al 2017) show a similar uniform distribution. Nesting can be semi-colonial (Scharf and Kren 2020); as many as eight nests have been found in a single tree (Brown and Brown 2001).
This species has expanded its breeding range westward this century (Short 1961). Bruner et al (1904) stated that it was a "common breeder west to the 100th meridian [line from Keya Paha to Furnas Cos] or a little further." Ducey (1988) cited no breeding records for the Panhandle prior to 1920, while Rapp et al (1958) considered it a common summer resident in the eastern two-thirds and especially the eastern quarter of Nebraska and added that its status in the west was "poorly known." By 1980, Johnsgard (1980) noted that it was breeding "virtually statewide, less commonly in the extreme west." BBS trend analysis shows the species has increased 2.65% (95% C.I. 1.74, 3.55) annually statewide during the period 1966-2015 and at a rate of 3.07% (95% C.I. 0.75, 5.49) during the period 2005-2015 (Sauer et al 2017). These trends indicate that while the species has occurred statewide for some time, abundance has generally continued to increase.
Breeding phenology:
Nest building: 22 May-16 Jun
Eggs: 31 May- 15 Jul
Nestlings: 18 Jun- 18 Jul
Fledglings: 26 Jun-25 Aug
High counts: 85 around Lake McConaughy, Keith Co 22 Jun 2002, 50 there 10 Jun 2007, and 41 there 11 Jun 2006.
Fall: summer <<<>>> Sep 21, 22, 22
Orchard Orioles begin to flock in mid-Jul and leave the breeding grounds in Aug, with the last birds leaving the southeast by mid-Sep. A mixed age and sex flock of 12 was at Branched Oak Lake, Lancaster Co 16 Jul 2018, and a surprising accumulation of 116 at Rock Creek SRA, Dundy Co 18 Jul 2020 consisted of groups of 10-15 migrants and local breeders carrying food (Steve Mlodinow, eBird.org).
There are later dates 1 Oct 2007 Peru, Nemaha Co, 2 Oct 2006 Hastings, Adams Co, 27 Oct 2013 Branched Oak Lake, Lancaster Co, and 29 Oct 1989 a male in Sarpy Co (Grzybowski 1990).
High counts: 116 at Rock Creek SRA, Dundy Co 18 Jul 2020, 30 in the Keith Co area on both 9 and 10 Aug 1986 (Rosche 1994), 19 at Box Butte Reservoir, Dawes Co 12 Aug 1994, and 16 in Hamilton Co 23 Aug 2003.
Images
Abbreviations
BBS: Breeding Bird Survey
UNSM: University of Nebraska State Museum
Literature Cited
Brown, C.R., and M.B. Brown. 2001. Birds of the Cedar Point Biological Station. Occasional Papers of the Cedar Point Biological Station, No. 1.
Bruner, L., R.H. Wolcott, and M.H. Swenk. 1904. A preliminary review of the birds of Nebraska, with synopses. Klopp and Bartlett, Omaha, Nebraska, USA.
Ducey, J.E. 1988. Nebraska birds, breeding status and distribution. Simmons-Boardman Books, Omaha, Nebraska, USA.
Grzybowski, J.A. 1990. Southern Great Plains Region. American Birds 44: 114-117.
Johnsgard, P. A. 1980. A preliminary list of the birds of Nebraska and adjacent Great Plains states. Published by the author, University of Nebraska, Lincoln, USA.
Lingle, G.R. 2015. Oriole Consumption of grape jelly. NBR 83: 93-97.
Mollhoff, W.J. 2016. The Second Nebraska Breeding Bird Atlas. Bull. Univ. Nebraska State Museum Vol 29. University of Nebraska State Museum, Lincoln, Nebraska, USA.
Pyle, P. 1997. Identification Guide to North American Birds. Part I, Columbidae to Ploceidae. Slate Creek Press, Bolinas, California, USA.
Rapp, W.F. Jr., J.L.C. Rapp, H.E. Baumgarten, and R.A. Moser. 1958. Revised checklist of Nebraska birds. Occasional Papers 5, Nebraska Ornithologists' Union, Crete, Nebraska, USA.
Rosche, R.C. 1994. Birds of the Lake McConaughy area and the North Platte River valley, Nebraska. Published by the author, Chadron, Nebraska, USA.
Sauer, J.R., D.K. Niven, J.E. Hines, D.J. Ziolkowski, Jr, K.L. Pardieck, J.E. Fallon, and W.A. Link. 2017. The North American Breeding Bird Survey, Results and Analysis 1966 – 2015 (Nebraska). Version 2.07. USGS Patuxent Wildlife Research Center, Laurel, Maryland, USA.
Scharf, W.C. and J. Kren. 2020. Orchard Oriole (Icterus spurius), version 1.0. In Birds of the World (A. F. Poole, Editor). Cornell Lab of Ornithology, Ithaca, NY, USA. https://doi.org/10.2173/bow.orcori.01.
Short, L.L., Jr. 1961. Notes on bird distribution in the central Plains. NBR 29: 2-22.
Recommended Citation
Silcock, W.R., and J.G. Jorgensen. 2021. Orchard Oriole (Icterus spurius). In Birds of Nebraska — Online. www.BirdsofNebraska.org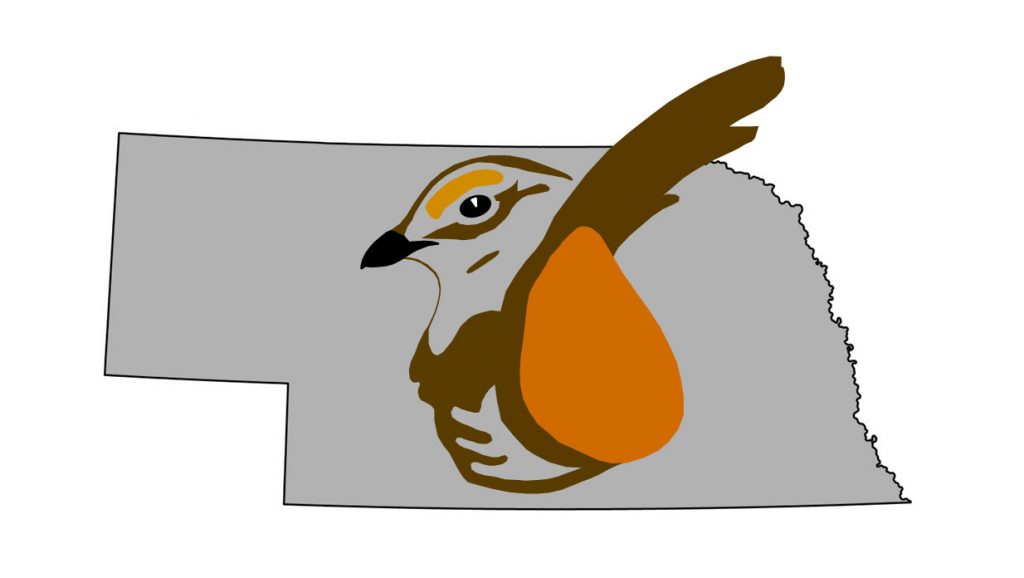 Birds of Nebraska – Online
Updated 4 Oct 2021