Troglodytes pacificus
Status:  Rare casual fall visitor west.
Taxonomy: This species was split (Chesser et al 2010) from Winter Wren (T. hiemalis) based on Drovetski et al (2004) and Toews and Irwin (2008).
Gill and Donsker (2017) list 14 subspecies, several of which might occur in Nebraska on geographic grounds. The nearest breeding population is a small number of salebrosus (National Geographic (2017) in the Black Hills of South Dakota (see Comments). Although Toews and Irwin (2020) show the Black Hills as an isolated breeding location, they do not identify the subspecies.
Records: There are two reports:
14 Sep 2017 photo, measured, banded Chadron SP, Dawes Co (Brogie 2018)
24 Dec 2017 photo, recording Chadron Creek WMA, Dawes Co (Brogie 2018).
The first record for the state was of one banded, measured, and photographed by Bird Conservancy of the Rockies bander Aaron Hulsey at Chadron SP, Dawes Co 14 Sep 2017; no recordings were made, however (Hulsey 2017, Brogie 2018). Another was photographed and recorded at Chadron Creek WMA, Dawes Co 24 Dec 2017 (Manning 2017, Brogie 2018).
Additional Nebraska reports suggestive of Pacific Wren, but without audio evidence, are of one at Ash Hollow SHP, Garden Co 19 Feb 2000 and another in Monroe Canyon, Sioux Co 21 Jan 2001 that were identified by call notes as pacificus (Stephen J. Dinsmore, personal communication). It should be noted that small, dark-plumaged, short-tailed wrens in western Nebraska are most likely Winter Wrens unless calls are heard; one in Dundy Co 14 Mar 2015 and another 9 Sep 2014 Dawes Co were determined by vocalizations to be Winter Wrens.
Comments:  The occurrence of this species as a migrant in western Nebraska would not be unexpected based on its occurrence in summer in the Black Hills of South Dakota (Drilling et al 2018) and the low numbers breeding in the eastern Colorado and Montana Rockies (eBird,org, accessed March 2017, Toews and Irwin 2020). Breeding of "Winter Wren" was confirmed in Lawrence Co, South Dakota in the Black Hills 30 Jun 2007 (Martin 2008), prior to the species' split; Toews and Irwin (2020) noted that whether the birds were T. pacificus "needs confirmation".  Even though the original Black Hills site in Ward Draw, Lawrence Co is no longer occupied due to habitat change, a few have "popped over the hill" to Keough Draw, where 2-3 were singing 7 Jul 2018 (Nancy Drilling, post to sd-birds 7 Jul 2018). That more study of the Black Hills population is needed was also suggested by an equivocal recording 18 Mar 2018 near Chadron SP, Dawes Co; the song was reported as sounding "almost halfway between WIWR and PAWR"  (Rink 2018). It is also possible that fall migrants on the Northern Great Plains are breeders from the Pacific Northwest or western Montana.
Pacific Wren was first documented in Colorado in 2005, and there are now nine confirmed records 4 Oct-4 Jan for that state (CBRC).  Those closest to Nebraska are from Yuma Co 6 Oct 2012 and Lincoln Co 3-4 Oct 2013 (eBird.org, accessed December 2017).
There are two records for Kansas, both at Scott SP, Scott Co: 20 Dec 2014 and 19 Nov-5 Dec 2017 (eBird.org, accessed December 2017).
Taxonomy of the birds recorded as breeding in northwest Wyoming is unclear, but "most likely belong to the Western Coast Pacific group" (Faulkner 2010); at least some reported on CBCs east of the Continental Divide may be hiemalis (Faulkner 2010). Phillips (1986) considered specimens taken in northwest Wyoming indeterminate.
Abbreviations
CBC: Christmas Bird Count
CBRC: Colorado Bird Records Committee
NOURC: Nebraska Ornithologists' Union
SP: State Park
Literature Cited
Colorado Bird Records Committee [CBRC]. 2018.  Pacific Wren records.  Colorado Bird Records Committee database, accessed 8 Jun 2018.
Chesser, R.T., R.C. Banks, F.K. Barker, C. Cicero, J.L. Dunn, A.W. Kratter, I.J. Lovette, P.C. Rasmussen, J. V. Remsen, Jr., J.D. Rising, D.F. Stotz, and K. Winker. 2010. Fifty-first Supplement to the American Ornithologists' Union Check-list of North American Birds. Auk 127: 726-744.
Drilling, N.E., E.D Stukel, R.A. Sparks, and B.J. Woiderski. 2018. The Second Atlas of Breeding Birds of South Dakota. SDGFP, Wildlife Division Report 2017-02. South Dakota Game, Fish, and Parks, Pierre.
Drovetski, S.V., R.M. Zink, S. Rohwer, I.V. Fadeev, E.V. Nesterov, I. Karagodin, E.A. Koblik, and Y.A. Red'kin. 2004. Complex biogeographic history of a Holarctic passerine. Proceedings of the Royal Society of London Series B-Biological Sciences 271: 545–551.
Faulkner, D.W. 2010. Birds of Wyoming. Roberts and Company, Greenwood Village, Colorado, USA.
Gill, F., and D. Donsker (Eds). 2017. IOC World Bird List (v 7.3), accessed 30 January 2018.
Hulsey, A.  2017.  Checklist S39184100:  Chadron SP, Dawes County, Nebraska, US.  eBird.org, accessed 8 Jun 2018.
Manning, S.  2017.  Checklist S41333301:  Chadron Creek Ranch WMA, Dawes County, Nebraska, US.  eBird.org, accessed 8 Jun 2018.
Martin, R. 2008. Northern Great Plains. North American Birds 61: 605-606.
Phillips, A.R. 1986. The known birds of North and Middle America. Part 1. Published by the author, Denver, Colorado, USA.
Rink, J. 2018.  Checklist S43756890: 200 Camp Norwesca Road, Chadron, Nebraska, US (42.682, -103.002), Dawes County, Nebraska, US.  eBird.org, accessed 10 Jul 2018.
Toews, D.P.L., and D.E. Irwin. 2008. Cryptic speciation in a Holarctic passerine revealed by genetic and bioacoustic analyses. Molecular Ecology 17: 2691-2705.
Toews, D.P.L. and D.E. Irwin. 2020. Pacific Wren (Troglodytes pacificus), version 1.0. In Birds of the World (A. F. Poole, Editor). Cornell Lab of Ornithology, Ithaca, NY, USA. https://doi.org/10.2173/bow.pacwre1.01.
Recommended Citation
Silcock, W.R., and J.G. Jorgensen. 2021.  Pacific Wren (Troglodytes pacificus). In Birds of Nebraska — Online. www.BirdsofNebraska.org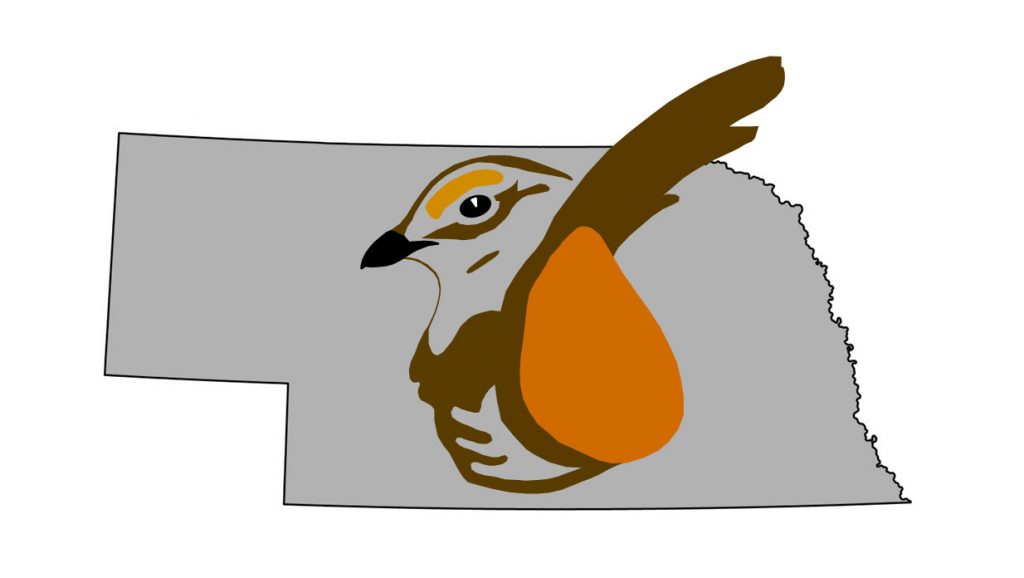 Birds of Nebraska – Online
Updated 3 Oct 2021