Passerina ciris
Status: Rare casual statewide spring visitor. Accidental in fall.
Documentation: Specimen: UNK, 26 Apr 1960 Kearney, Buffalo Co (Brown 1960, Wetmore 1961).
Taxonomy: There are two subspecies generally recognized:  ciris, breeding in the southeast USA, wintering in the West Indies, and pallidior, breeding in the south-central USA to Mexico, wintering south to Panama.
Treatment of Painted Bunting populations relative to subspecies status is problematic (Lowther et al 2020). The subspecies were synonymized by Pyle (1997) based on apparently minimal clinal plumage differences between populations east and west of a 550 km gap in ranges of eastern ciris and southwestern pallidior (Lowther et al 2020). However, genetic studies show unique haplotypes exist for both eastern 6) and western populations (26) with only six shared haplotypes; oddly, the haplotype structure does not exactly correspond to the 550 km geographic gap between eastern and western populations, but is roughly centered within the western population (Herr et al 2011). The species type is from South Carolina. In addition, Lowther et al. (2020) point out that there is a two-month earlier fall migration in the western population that includes a molt migration whereas the eastern population molts on the breeding grounds, and wintering grounds of the two populations are generally separate. Nevertheless, a proposal to split these groups as full species was declined by AOU (NACC 2015 a-7).
We follow Gill and Donsker (2017) and Clements et al (2016) in recognizing two subspecies, despite the finding that the only Nebraska information is for the specimen cited above, which was considered an intermediate between eastern ciris and western pallidior (Wetmore 1961).
Spring:  The 25 reports are in the period 26 Apr-19 Jun; of these, 18 are accepted:
26 Apr 1960 male Kearney (specimen cited above)
30 Apr 2022 male Bridgeport, Morrill Co present a few days prior (Ed and Chery Harms, photo)
2 May 2006 2nd-year male Sacramento-Wilcox WMA, Phelps Co (Silcock 2006)
6 May 2002 male Ponca SP, Dixon Co feeder (Silcock 2002)
7 May 2023 Smith Lake WMA, Sheridan Co (Steven Brenner, Olivia DaRugna, eBird.org)
12 May 1996 male and two females Morrill Co (Brogie 1997)
12 May 2008 male Deweese, Clay Co (Brogie 2009)
14 May 1966 male Scotts Bluff Co (Cortelyou 1967)
14 May 2008 immature or female Kearney, Buffalo Co (Brogie 2009)
16 May 1967 male Fontenelle Forest, Sarpy Co (Cortelyou 1968)
17 May 2019 North Bend, Dodge Co adult male (Andy Johnson; Brogie 2020)
25-26 May 2003 female photographed Cuming Co (Brogie 2005)
26 May 2019 female Cedar Point Biological Station, Keith Co (eBird.org; photo)
30-31 May 1996 female Hall Co (Brogie 1997, Silcock 1996)
2 Jun 2002 female Dixon Co (Brogie 2003)
4 Jun 1973 male Lincoln Co (Janssen 1973)
8 Jun 2021 female banded and photographed Goat Island, Cedar Co (Brogie 2022)
19 Jun 2014 male with possible female or juvenile Thayer Co (Brogie 2015).
The unaccepted reports follow. One at a Bellevue, Sarpy Co feeder about a week prior to 28 Apr 2002 (Silcock 2002), a "sight record" in Scotts Bluff Co in May 1927 (Johnsgard 1980), a likely female of this species was an "effervescent green" bird, not a hummingbird, at Brownville, Nemaha Co 15 May 2020, one reportedly seen but not described in Parkview Cemetery, Hastings, Adams Co 19 May 1962 (Gates 1962), a report of a female seen 21 May 1988 in Scotts Bluff Co (Cortelyou 1990) which was not accepted by the NOURC (Grenon 1990), one with "all the colors of the rainbow" at Hampton, Hamilton Co May 1982 (fide Norris Alfred), and one briefly seen at a Fort Calhoun, Washington Co bird bath mid-Jun 1957 (Towne 1957). A report of one reportedly seen but undescribed 19 May 1982 near Kingsley Dam in Keith Co (Rosche 1994, Rosche and Johnsgard 1984) was later withdrawn by the original observer (Brown et al 1996).
The Nebraska reports Apr-Jun are presumably overshoot migrants as breeding has not yet been confirmed in Nebraska.
Fall: There is a single accepted record:
12-14 Nov 1983 male and possible female Grand Island, Hall Co (Cortelyou 1984).
Comments: Painted Bunting breeds in the southeast half of Kansas north and east as far as Jefferson Co (Busby and Zimmerman 2001, Thompson et al 2011), only about 80 miles from extreme southeastern Nebraska. BBS trend analysis show Painted Bunting has increased statewide in Kansas 9.86% (95% C.I.; -2.41, 23.81) annually 2005-2015 (Sauer et al. 2017) suggesting that occurrences in Nebraska might increase.
Images
Abbreviations
AOU: American Ornithologists' Union
BBS: Breeding Bird Survey
NACC: North American Checklist Committee (AOU)
NOURC: Nebraska Ornithologists' Union Records Committee
SP: State Park
UNK: University of Nebraska- Kearney
Literature Cited
Brogie, M.A. 1997. 1996 (Eighth) Report of the NOU Records Committee. NBR 65: 115-126.
Brogie, M.A. 2003. 2002 (14th) Report of the NOU Records Committee. NBR 71: 136-142.
Brogie, M.A. 2008. 2007 (19th) Report of the NOU Records Committee. NBR 76: 111-119.
Brogie, M.A. 2015. 2014 (26th) Report of the NOU Records Committee. NBR 83: 125-138.
Brown, C.R., M.B. Brown, P.A. Johnsgard, J. Kren, and W.C. Scharf. 1996. Birds of the Cedar Point Biological Station area, Keith and Garden Counties, Nebraska: Seasonal occurrence and breeding data. Transactions of the Nebraska Academy of Sciences 23: 91-108.
Brown, G.W. 1960. Painted Bunting at Kearney. NBR 28: 53.
Busby, W.H., and J.L. Zimmerman. 2001. Kansas Breeding Bird Atlas. University Press of Kansas, Lawrence, Kansas, USA.
Cortelyou, R.G. 1967. 1966 (Forty-first) Spring Migration and Occurrence Report. NBR 35: 2-22.
Cortelyou, R.G. 1968. 1967 (Forty-second) Spring Migration and Occurrence Report. NBR 36: 2-19.
Cortelyou, R.G. 1984. Notes. NBR 52: 22-24.
Cortelyou, R.G. 1990. 1990 (Sixty-fifth) Spring Occurrence Report. NBR 58: 58-83.
Gates, D. 1962. Meetings and Reports. NBR 30: 50-51.
Grenon, A.G. 1990. 1990 (Third) Report of the NOU Records Committee. NBR 58: 90-97.
Herr, C.A., Jr. Sykes, P.W., and J. Klicka. 2011. Phylogeography of a vanishing North American songbird: The Painted Bunting (Passerina ciris). Conservation Genetics 12: 1395-1410.
Janssen, R.B. 1973. Painted Bunting. NBR 41: 67-68.
Johnsgard, P. A. 1980. A preliminary list of the birds of Nebraska and adjacent Great Plains states. Published by the author, University of Nebraska, Lincoln, USA.
Lowther, P.E., S.M. Lanyon, C.W. Thompson, and T.S. Schulenberg. 2020. Painted Bunting (Passerina ciris), version 1.0. In Birds of the World (S. M. Billerman, Editor). Cornell Lab of Ornithology, Ithaca, NY, USA. https://doi.org/10.2173/bow.paibun.01.
Pyle, P. 1997. Identification Guide to North American Birds. Part I, Columbidae to Ploceidae. Slate Creek Press, Bolinas, California, USA.
Rosche, R.C. 1982. Birds of northwestern Nebraska and southwestern South Dakota, an annotated checklist. Cottonwood Press, Crawford, Nebraska, USA.
Rosche, R.C. 1994. Birds of the Lake McConaughy area and the North Platte River valley, Nebraska. Published by the author, Chadron, Nebraska, USA.
Sauer, J.R., D.K. Niven, J.E. Hines, D.J. Ziolkowski, Jr, K.L. Pardieck, J.E. Fallon, and W.A. Link. 2017. The North American Breeding Bird Survey, Results and Analysis 1966 – 2015 (Nebraska). Version 2.07. USGS Patuxent Wildlife Research Center, Laurel, Maryland, USA.
Silcock, W.R. 1996. Spring Field Report, March-May 1996. NBR 64: 42-68.
Silcock. W.R. 2002. Spring Field Report, March-May 2002. NBR 70: 46-84.
Silcock, W.R. 2006. Spring Field report, March-May 2006. NBR 74: 38-60.
Thompson, M.C., C.A. Ely, B. Gress, C. Otte, S.T. Patti, D. Seibel, and E.A. Young. 2011. Birds of Kansas. University Press of Kansas, Lawrence, Kansas, USA.
Towne, M.A. 1957. Notes. NBR 25: 29.
Wetmore. A. 1961. Excerpts from letters. NBR 29: 58.
Recommended Citation
Silcock, W.R., and J.G. Jorgensen. 2023. Painted Bunting (Passerina ciris). In Birds of Nebraska — Online. www.BirdsofNebraska.org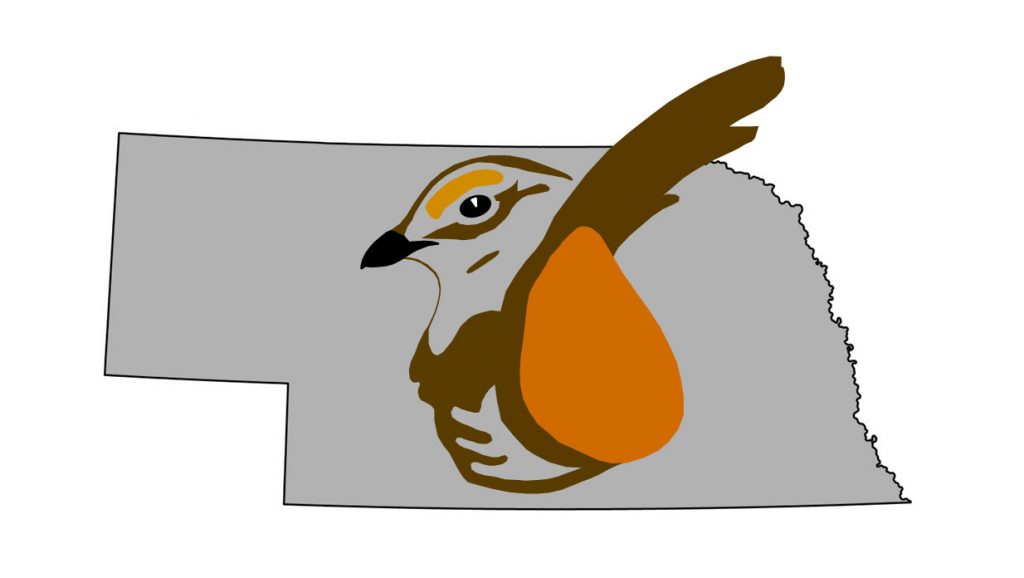 Birds of Nebraska – Online
Updated 1 Jul 2023