Setophaga palmarum palmarum
Status: Uncommon regular spring migrant east and central, rare west. Rare regular fall migrant east and east-central, rare casual elsewhere.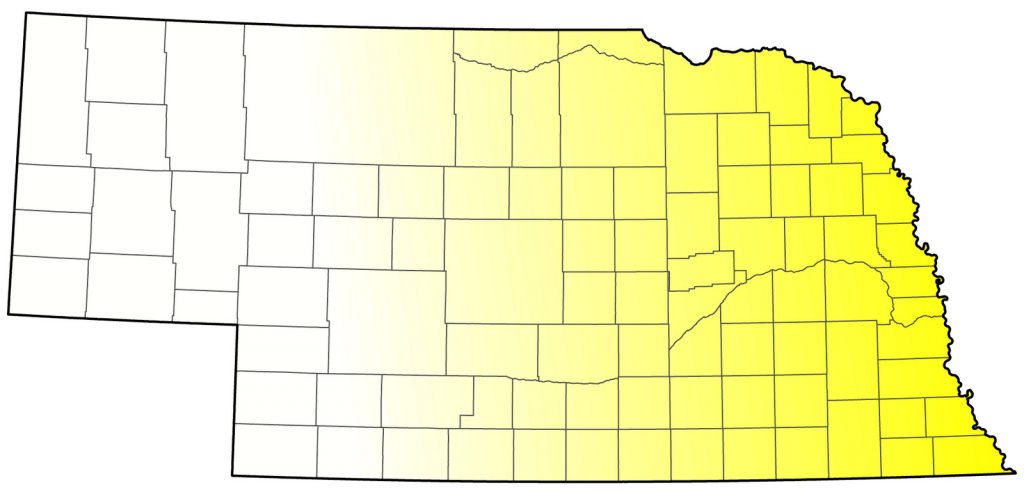 Documentation: Specimen: palmarum: UNSM ZM12018, 8 May 1917 Lancaster Co.
Taxonomy: Two well-defined subspecies occur (Pyle 1997, Wilson 2020): palmarum, breeding from Mackenzie east through northern Saskatchewan and northern Manitoba to north-central Ontario (James Bay) and south to the US, and hypochrysea, breeding in the eastern part of the species' breeding range from eastern Ontario through central and southern Quebec to Labrador and Newfoundland and south to New York and Nova Scotia.
The expected subspecies in Nebraska is the western subspecies palmarum. Despite its eastern Canada breeding range and fall migration east of the Appalachians (Wilson 2020), there are a few Nebraska reports of eastern hypochrysea. These are discussed under Comments.
Spring: Apr 18, 18, 20 <<<>>> May 23, 23, 24
Earlier dates are 19 Mar 2000 Buffalo Co (Jorgensen 2002), 5 Apr 1992 Sarpy Co (Grzybowski 1992), 10 Apr 2004 Cuming Co, 11 Apr 2020 Washington Co, and 14 Apr 2023 Fontenelle Forest, Sarpy Co.
A later date is 30 May 2023 Oliver Reservoir, Kimball Co.
There are several Panhandle reports: 29 Apr 2009 Dawes Co, 5 May 1984 Sheridan Co (Williams 1984), 5 May 1994 Dawes Co, 3-4 on 5 May 1996 in Dawes Co (Grzybowski 1996), 6 May 2020 Sioux Co, 7 May 1993 Sheridan Co (Grzybowski 1993), 8-11 May 2020 Gordon, Sheridan Co, 8 May 1992 Sheridan Co (Grzybowski 1992), three on 11 May 1996 in Sheridan Co (Grzybowski 1996), 13 May 2010 Box Butte Reservoir, Dawes Co, 14 May 2003 Clear Creek WMA, Garden Co, and 23 May 1980 Sheridan Co (Rosche 1982). In 2023 there were five Panhandle reports 4-30 May, including a count of three at Smith Lake WMA, Sheridan Co 7 May.
High counts: 26 in Sarpy Co 11 May 1996, including 10 at Wehrspann Lake, 7 at Holmes Lake, Lancaster Co 4 May 2018, 7 at Memphis Lakes SRA, Saunders Co 5 May 2018, and 7 at Marsh Wren Community Wetlands, Lancaster Co 3 May 2019.
There were 143 reported in 2018, 46 in spring 1999, and 41 in spring 2013. The total of 158 reported in 2023 was likely assisted by competitive Birding Bowl activities.
Fall: Sep 16, 17, 18 <<<>>> Oct 16, 16, 17
Earlier dates are 19 Aug 2013 Sioux Co, 1 Sep 2018 Sarpy Co, 11 Sep 2020 Douglas Co, 12-14 Sep 2022 Lancaster Co, and 14 Sep 2016 Dawes Co.
Later dates are 24 Oct 2013 Lancaster Co, 11 Nov 2017 video Keith Co, and very late 20-22 Dec 2017 Sarpy Co and 27 Dec 2002 Calamus-Loup CBC.
Both subspecies migrate southeastward in fall (Wilson 2020) and are rare in the Interior, although recent falls have seen good numbers: in 2015, seven reports of single birds, eight reports in 2012, six in 2016, and eight in 2017.
Panhandle reports are few: 19 Aug 2013 Sioux Co, 14 Sep 2016 Chadron SP, Dawes Co, 18 Sep 2013 Sioux Co, 20 Sep 2013 Sheridan Co, 20 Sep 2020 Morrill Co, 21 Sep 2021 Kimball Co, 23 and 29 September 1979 Dawes Co (Rosche 1982), 23 Sep 2012 Scotts Bluff Co, 28 Sep 1996 Sheridan Co (Grzybowski 1997), 1 Oct 1988 Sheridan Co (Grzybowski 1989), 6 Oct 2018 Dawes Co (banded, photo; Murray 2018), and 8 Oct 1994 Sheridan Co.
Comments: Eastern hypochrysea is not expected in Nebraska, nor are intergrades of the two subspecies; intergrades are rare, as the subspecies have only a narrow zone of overlap in their respective breeding ranges and migration routes and timing differ. Hypochrysea migrates through the eastern US, while migration of palmarum extends west to central Nebraska (Wilson 2020, Pittaway 1995). Nevertheless, hypochrysea has been identified as far west as California (Louis Bevier, pers. comm.).
There are no documented occurrences of hypochrysea in Nebraska, although there are several spring reports of varying credibility, the following two being the most suggestive. An early migrant, typical timing for hypochrysea, was in Buffalo Co 19 Mar 2000 (Jorgensen 2002), and one photographed at Fontenelle Forest, Sarpy Co 11 May 1986 was thought to be likely hypochrysea based on thick reddish flank streaks and extensively yellow underparts (Phil Swanson, personal communication).
There are these additional spring Nebraska reports, most by experienced observers, suggestive of hypochrysea: two were at Branched Oak Lake, Lancaster Co 27 Apr 1997, one was in southeast Otoe Co 2 May 1999, a group of seven ("all very yellow") was in Dixon Co 2 May 1999, one was reported without details as an "eastern" in Hall Co 10 May 1997, one was in Seward Co 10 May 2015, and one with "yellow breast" was at Neale Woods, Douglas Co 17 May 2014.
On occasion palmarum can appear quite yellow, but almost always shows some whitish coloration on the underparts between the breast and undertail coverts, whereas hypochrysea has completely yellow underparts, requiring a good photo or view of the bird to determine subspecies in the field.
Fall identification of hypochrysea is complicated by the presence of palmarum with increased yellow coloration in the mid-underparts (Dunn and Garrett 1977). Hypochrysea migrates later than palmarum in fall (Wilson 2020), lending credibility to the Washington Co report below. A hypochrysea was photographed in Broomfield Co, Colorado as late as 18 Nov 2016 (eBird.org, accessed November 2017). However, another late bird, videographed near Lemoyne, Keith County, on the late date of 11 Nov 2017 was palmarum, indicating both subspecies may occur late in the season. Nebraska reports, most by experienced observers, are of one "yellowish" at Harlan Co Reservoir, Harlan Co 20 Sep 2001, one "very yellow" in Otoe Co 23 Sep 2000, one with "obvious yellowish underparts" 30 Oct 1988 in Washington Co, and one in Gering, Scotts Bluff Co 6 Nov 2008.
Images
Abbreviations
CBC: Christmas Bird Count
UNSM: University of Nebraska State Museum
WMA: Wildlife Management Area (State)
Literature Cited
Dunn, J.L., and K.L. Garrett. 1997. A field guide to warblers of North America. Houghton Mifflin Company, Boston, Massachusetts, USA.
Grzybowski, J.A. 1989. Southern Great Plains Region. American Birds 43: 124-126.
Grzybowski, J.A. 1992. Southern Great Plains Region. American Birds 46: 443-446.
Grzybowski, J.A. 1993. Southern Great Plains Region. American Birds 47: 426-429.
Grzybowski, J.A. 1996. Southern Great Plains Region. Field Notes 50: 296-300.
Grzybowski, J.A. 1997. Southern Great Plains Region. Field Notes 51: 78-82.
Jorgensen, J.G. 2002. 2002 (sic; =2000). (12th) Report of the NOU Records Committee. NBR 70: 84-90.
Murray, C. 2018. 2018 Fall banding migration summary, Chadron State Park. NBR 86: 181-185.
Pittaway, R. 1995. Ontario Birds 13: 23-27.
Pyle, P. 1997. Identification Guide to North American Birds. Part I, Columbidae to Ploceidae. Slate Creek Press, Bolinas, California, USA.
Rosche, R.C. 1982. Birds of northwestern Nebraska and southwestern South Dakota, an annotated checklist. Cottonwood Press, Crawford, Nebraska, USA.
Williams, F. 1984. Southern Great Plains Region. American Birds 38: 929-931.
Wilson Jr., W.H. 2020. Palm Warbler (Setophaga palmarum), version 1.0. In Birds of the World (A. F. Poole, Editor). Cornell Lab of Ornithology, Ithaca, NY, USA. https://doi.org/10.2173/bow.palwar.01.
Recommended Citation
Silcock, W.R., and J.G. Jorgensen. 2023. Palm Warbler (Setophaga palmarum). In Birds of Nebraska — Online. www.BirdsofNebraska.org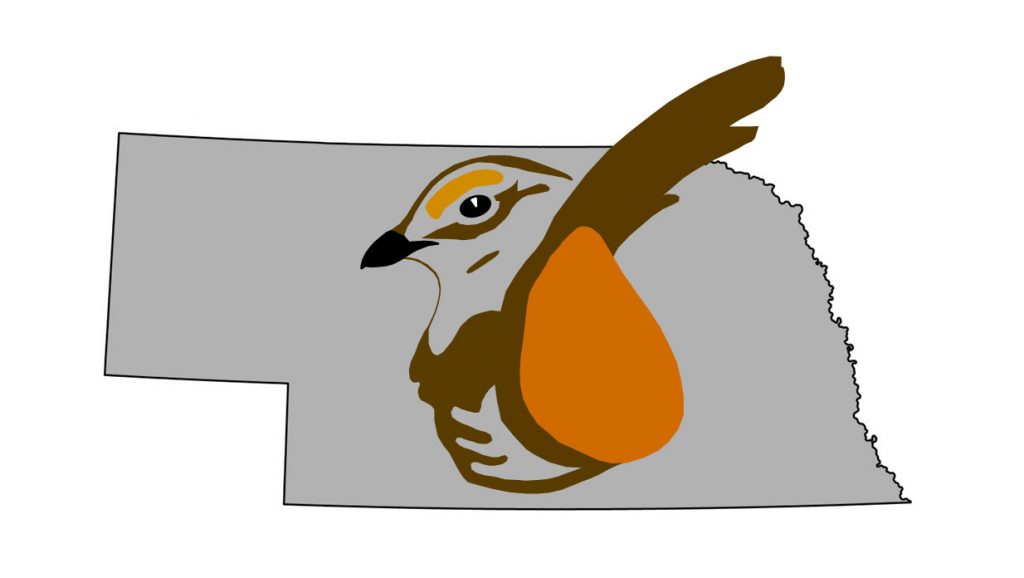 Birds of Nebraska – Online
Updated 28 Jun 2023