Podilymbus podiceps podiceps
Status: Common regular spring and fall migrant statewide. Common regular breeder Sandhills, fairly common elsewhere. Rare casual winter visitor North Platte and Platte River valleys southward.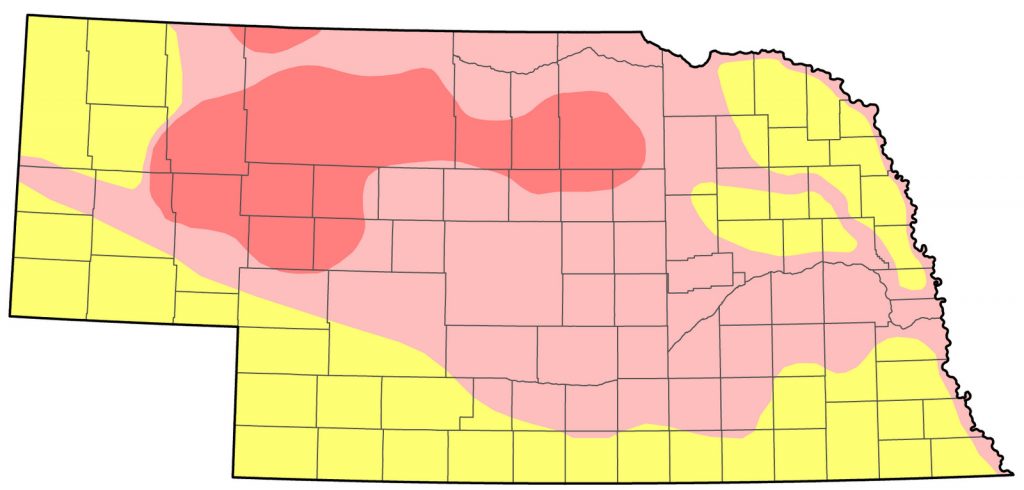 Documentation: Specimen: UNSM ZM6004, 20 Apr 1890 Lancaster Co.
Taxonomy: Three subspecies are recognized, one in North America, podiceps (Pyle 2008).
Spring: Feb 19, 20, 21 <<<>>> summer (east and south), Mar 12, 13, 14 <<<>>> summer (west and north)
An earlier report in the east and south is 17 Feb 2013 Branched Oak Lake, Lancaster Co, and earlier reports in the west and north are 19 Feb 2000 (2) Clear Creek WMA, Keith and Garden Cos, 5 Mar 2016 southern Cherry Co, and 8 Mar 2023 Loup Co.
Peak migratory movement occurs late Mar through Apr, although migrants may occur as early as late Feb.
High counts: 127 at Holmes Lake, Lancaster Co 11 Apr 2019, 123 at Capitol Beach Lake, Lancaster Co 10 Apr 2019, 120 on 16 Apr 2012 at Offutt Base Lake, Sarpy Co, and 114 at Branched Oak Lake 10 Apr 2013.
Summer: This species is a common breeder in shallow Sandhills lakes (Jorgensen et al 2022) and there are scattered breeding records throughout the state (Ducey 1988). Breeding in wetland complexes such as the Rainwater Basin, with unpredictable hydro-periods, occurs infrequently and is associated with precipitation cycles; more nesting occurs during periods of increased precipitation when wetlands have sufficient water and suitable habitat (Jorgensen 2012, 2016). A recent study for the years 2016-2017 (Jorgensen et al 2022) found density (birds/ha) of Pied-billed Grebes about twice as high in the Sandhills as in the Rainwater Basin, 0.067-0.071 vs 0.032-0.035 respectively.
Breeding phenology:
Courtship: 5 Apr
Eggs: 5 May-26 Jul (Mollhoff 2022)
Dependent young: 20 May-25 Aug (this 20 May date implies egg-laying around 23 Apr, a few days earlier than earliest egg dates in Missouri and Kansas).
High counts: 143 at Crescent Lake NWR, Garden Co 12 Aug 1997.
Fall: summer <<<>>> Jan 3, 4, 5
The fall migration is protracted, beginning in mid-Aug and continuing until late Nov, with stragglers remaining until freeze-up. An early migrant was in Saunders Co 21 Jul 2000 where the species did not summer, 17 arrived at Orleans SL, Harlan Co 6 Aug 2002, and a flock of 43 was at Wehrspann Lake, Sarpy Co 16 Aug 2012.
A later fall date is 8 Jan 2022 Omaha, Douglas Co.
High counts: 860 at Lake Babcock, Platte Co 20 Sep 1998, 720 on 23 Sep 1994 at DeSoto NWR, Washington Co when many flocks of 20-70 birds were noted after a strong cold front, and 475 at Offutt Base Lake 20 Sep 2000.
Winter: There are several reports of overwintering or mid-winter individuals likely attempting to overwinter. Rosche (1994) stated that "during most winter seasons a few remain on the open waters of the Lewellen marshes, the Kingsley Dam spillway, and elsewhere."
There are several winter reports (30 Dec-19 Feb) from Lake Ogallala, Sutherland Reservoir, and Carter Lake, Omaha, Douglas Co. At Lake Ogallala, there are 10 records of 1-2 lingering well into Jan, latest 7 Feb 1998, but none have been reported present through winter. At Sutherland Reservoir, there are five records, 21 Dec 2020 (4)-3 Feb (1) 2021, 5 Jan-2 Feb 2019, 7 Jan 2018, 10-18 Feb 2017, and 11 Feb 2023. At Carter Lake, wintering occurred with 1-2 present 12 Jan-6 Feb 2012 and 6 Jan-18 Feb 2013.
Additional mid-winter reports are 9-14 Jan 2020 Red Willow Co, 10 Jan 2023 Douglas Co, 12 Jan 2020 Dawson Co, 13 Jan 2017 Douglas Co, 14 Jan 2020 Dakota Co, 15 Jan 2012 Lancaster Co, 1 Feb 2013 Lincoln, Lancaster Co, 2 Feb 2019 Sutherland Reservoir, 5 Feb 2016 Buffalo Co, five on Grove Lake, Antelope Co 7 Feb 1999, 9-17 Feb 2013 Branched Oak Lake, 9 Feb 2002 Dawson Co.
Abbreviations
NWR: National Wildlife Refuge
SL: Sewage Lagoons
UNSM: University of Nebraska State Museum
WMA: Waterfowl Management Area (State)
Literature Cited
Ducey, J.E. 1988. Nebraska birds, breeding status and distribution. Simmons-Boardman Books, Omaha, Nebraska, USA.
Jorgensen, J.G. 2012. Birds of the Rainwater Basin, Nebraska. Nebraska Game and Parks Commission, Lincoln, Nebraska, USA.
Jorgensen, J.G. 2016. A summary of 2015 breeding bird surveys of selected Rainwater Basin wetlands. Nongame Bird Program of the Nebraska Game and Parks Commission, Lincoln, Nebraska, USA.
Jorgensen, J.G., S.J. Brenner, and L.R. Greenwalt. 2022. A Tale of Two Complexes: Secretive Marsh Bird Abundance Differs in the Sandhills and Rainwater Basin, Nebraska. Wetlands 42: 41 https://doi.org/10.1007/s13157-022-01551-9.
Mollhoff, W.J. 2022. Nest records of Nebraska birds. Nebraska Ornithologists' Union Occasional Paper Number 9.
Pyle, P. 2008. Identification Guide to North American Birds. Part II, Anatidae to Alcidae. Slate Creek Press, Bolinas, California, USA.
Rosche, R.C. 1994. Birds of the Lake McConaughy area and the North Platte River valley, Nebraska. Published by the author, Chadron, Nebraska, USA.
Recommended Citation
Silcock, W.R., and J.G. Jorgensen. 2023. Pied-billed Grebe (Podilymbus podiceps). In Birds of Nebraska — Online. www.BirdsofNebraska.org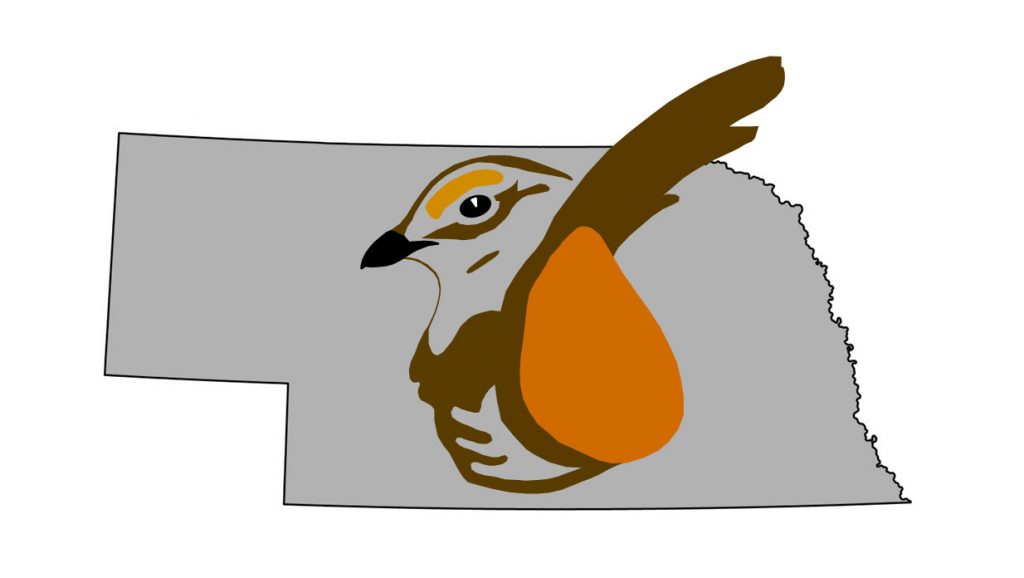 Birds of Nebraska – Online
Updated 7 Jun 2023