Falco mexicanus
Status: Fairly common regular winter visitor west and central, rare east. Uncommon regular breeder west, rare casual north. Rare casual summer visitor statewide.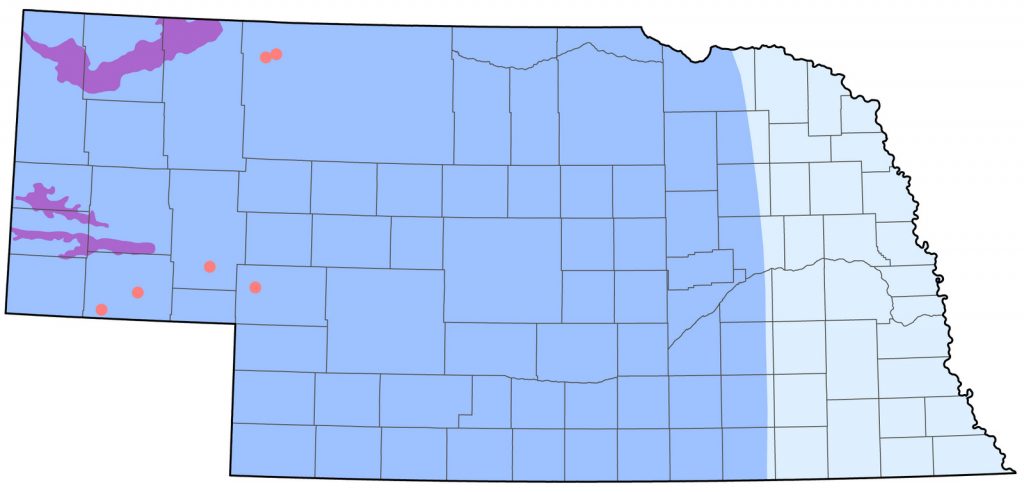 Documentation: UNSM ZM12533, 25 Feb 1896 Warbonnet Canyon, Sioux Co.
Taxonomy: No subspecies are recognized (Pyle 2008).
Spring: winter <<<>>> Mar 30, Apr 1, 3
Later documented dates in the east are 12 Apr 2018 Seward Co, 21 Apr 2021 Seward Co, 24 Apr 2012 Lancaster Co, 24 Apr 2020 Seward Co, and 8 May 2017 Seward Co.
Later dates (after 3 Apr) in the central and east are probably immature non-breeders. See Summer (below).
Summer: Nesting occurs regularly on the Pine Ridge, Wildcat Hills, Bighorn Escarpment, and probably regularly on the Sidney Draw Escarpment in Cheyenne Co, as well as at other Panhandle sites with large, perpendicular, rocky cliffs and outcroppings suitable for nesting (Lock 1984, Cox and Franklin 1989). Nesting has also been recorded on occasion in Garden, Keith, and Cherry Cos.
In Cheyenne Co in 1985, a nest with young was found northeast of Sidney (NGPC, unpublished data) and on 30 May 2006 an adult was observed at a nest in the southwestern part of the County (T. Wooten, personal communication). A nest with three young was photographed along Morrill Road, Sioux Co 29-30 Jun, 2019 (eBird.org).
A nest card was submitted for Garden Co for 1982 (Bennett 1983), apparently a reference to a nest site with two young that was confirmed east-southeast of Oskhosh in 1982 (NGPC, unpublished data). Prairie Falcons were reported in the area "summer" 1967, 31 Jul 1978, and 18 Aug 1981, and one was north of Crescent Lake NWR 12 Jul 2004.
Benckeser (1950) found a territorial pair with two nearly grown young 10 Jul 1949 in Keith Co; there were sightings reported in Keith Co in summer 1977 and 16 Jun 1979, although by 1994 Rosche (1994) knew of no nesting sites in the area.
In Cherry Co, two fledglings were at a nest site in the Niobrara River Valley in northwest Cherry Co 27 Jun 2006 (James Ducey; Silcock 2006), and Short (1965) observed a pair which was "probably nesting" on a cliff face along the Niobrara River southwest of Merriman May-Jun 1964, possibly the same location where a pair of large falcons, originally reported as Peregrine Falcons but believed to be Prairie Falcons, were observed at a nest site by a canoer in 1988 (NGPC, unpublished data). Also in Cherry Co, Ducey (1989) noted a "very defensive" pair 20-21 May 1989 at sandstone cliffs south of Eli, and one was at the Niobrara Valley Preserve in Cherry Co 30 Jun 1982 (Brogie, eBird.org).
Away from the breeding range in Nebraska there are 32 summer reports (mid-May through Aug) statewide, many of which are probably post-breeders from the Rocky Mountain region, where most adult females depart late Jun-mid-Jul and cross the Continental Divide to summering areas on the northern Great Plains to stay a few months prior to southward movement in fall (Steenhof 2020). A female banded in southwest Idaho 16 Apr 2000 fledged young in Jun and then moved to northwest South Dakota by mid-Jul and spent the rest of the summer in Saskatchewan, before starting south to Kansas in mid-Oct, where it was electrocuted on a power pole in Dec (Steenhof 2020).
Breeding Phenology:
Nest building: 8 Jun
Eggs: 24 Apr- 8 Jun (Mollhoff 2022)
Nestlings: 12 May-10 Jul
Fledglings: 15-27 Jun
Fall: Sep 22, 23, 23 <<<>>> winter
An earlier date is 21 Aug 2012 Saunders Co.
The early dates above are away from the breeding range.
This species undergoes a circular annual pattern of movements, but is more a wanderer than a true migrant (Dunne et al 1988, Steenhof 2020). Data from daily surveys for three years in Loup Co (McClure 1966) showed no increased movement in putative migration periods.
Winter:
CBC data show even distribution statewide except for the east, which accounts for about 10% of the reported numbers. Survey data in 1979 and 1980 showed variable but even distribution along the Platte River Valley eastward to Grand Island (Lingle 1989). As many as 13 were reported in the east 2011-2012, at least 16 in winter 2012-2013, and 18 in winter 2022-2023.
Individuals that occur in winter in Nebraska often remain in a given area for some time, occupying prominent perches such as grain elevators; one occupied tall buildings in Beatrice, Gage Co for four consecutive winters 1968-1972 (Kent Fiala, personal communication). On 15 Mar 2015 and 26 April 2015, Prairie Falcon depredation of individual adult lekking Greater Prairie-Chickens was documented on Mormon Island, Hall Co, apparently the first record of this activity by a Prairie Falcon in the literature (Caven et al 2017).
High counts: 5-6 in Scotts Bluff Co 5 Feb 2007, 5 during fall 1975 in Hamilton Co (Morris 1979), 4 in Garden Co 16 Sep 2006, 4 in the Rainwater Basin 24 Dec 2011, and 4 in Scotts Bluff Co 7 Mar 2013.
Abbreviations
CBC: Christmas Bird Count
NGPC: Nebraska Game and Parks Commission
NWR: National Wildlife Refuge
UNSM: University of Nebraska State Museum
WPA: Waterfowl Production Area (Federal)
Acknowledgement
Photograph (top) of a Prairie Falcon in Harlan Co 13 Dec 2014 by Joel G. Jorgensen.
Literature Cited
Benckeser, H.R. 1950. Keith County notes. NBR 18: 34-35.
Bennett, E.V. 1983. 1982 Nebraska nesting survey. NBR 51: 26-32.
Caven, A.J., J.D. Wiese, and W.R. Wallauer. 2017. Prairie Falcon depredation attempts on a Greater Prairie-chicken lek in south-central Nebraska. The Prairie Naturalist 49:76-78.
Cox, M.K., and W.L. Franklin. 1989. Terrestrial vertebrates of Scotts Bluff National Monument, Nebraska. Great Basin Naturalist 49: 597-613.
Ducey, J.E. 1989. Birds of the Niobrara River valley, Nebraska. Transactions of the Nebraska Academy of Sciences 27: 37-60.
Dunne, P., D. Sibley, and C. Sutton. 1988. Hawks in Flight: The flight identification of North American migrant raptors. Houghton Mifflin, Boston, Massachusetts, USA.
Lingle, G.R. 1989. Winter raptor use of the Platte and North Platte River valleys in south central Nebraska. Prairie Naturalist 21: 1-16.
Lock, R.A. 1984. Status of raptors and their management in Nebraska. Eyas 7: 10-14.
McClure, H.E. 1966. Some observations of vertebrate fauna of the Nebraska Sandhills, 1941 through 1943. NBR 34: 2-15.
Mollhoff, W.J. 2022. Nest records of Nebraska birds. Nebraska Ornithologists' Union Occasional Paper Number 9.
Morris, L. 1979. Raptors. NBR 47: 18.
Pyle, P. 2008. Identification Guide to North American Birds. Part II, Anatidae to Alcidae. Slate Creek Press,Bolinas, California, USA.
Rosche, R.C. 1994. Birds of the Lake McConaughy area and the North Platte River valley, Nebraska. Published by the author, Chadron, Nebraska, USA.
Short, L.L., Jr. 1965. Bird records from northern Nebraska during the breeding season. NBR 33: 2-5.
Silcock, W.R. 2006. Summer Field Report, June-July 2006. NBR 74: 78-95.
Steenhof, K. 2001. Re: The saga of 5723. Post to KSBIRD-L 16 Feb 2001.
Steenhof, K. 2020. Prairie Falcon (Falco mexicanus), version 1.0. In Birds of the World (A. F. Poole, Editor). Cornell Lab of Ornithology, Ithaca, NY, USA. https://doi.org/10.2173/bow.prafal.01.
Recommended Citation
Silcock, W.R., and J.G. Jorgensen. 2023. Prairie Falcon (Falco mexicanus). In Birds of Nebraska — Online. www.BirdsofNebraska.org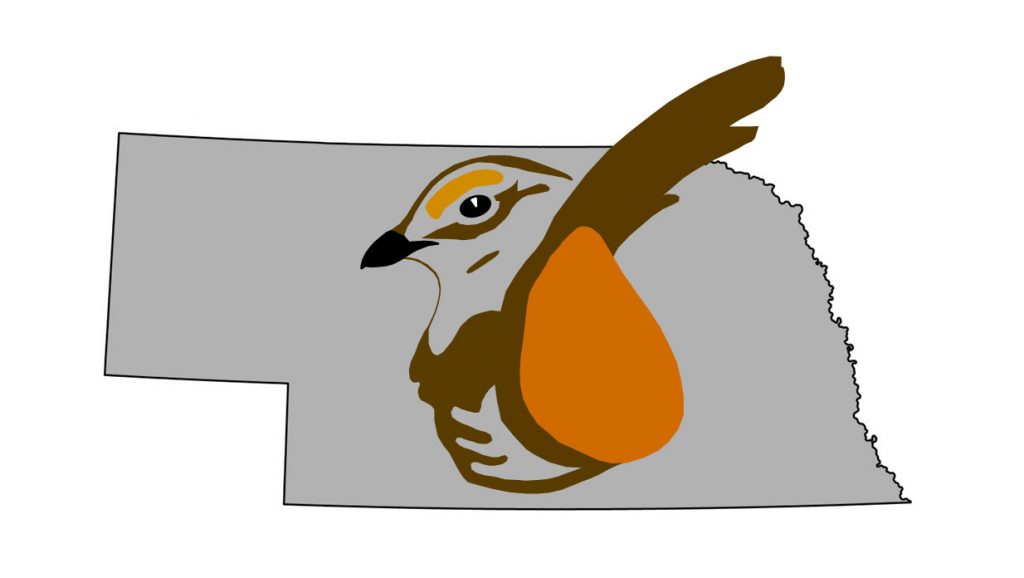 Birds of Nebraska – Online
Updated 31 Mar 2023