Protonotaria citrea
Status: Rare regular spring migrant east, rare casual central and west. Locally rare regular breeder southeast. Rare casual fall migrant east and central, accidental west.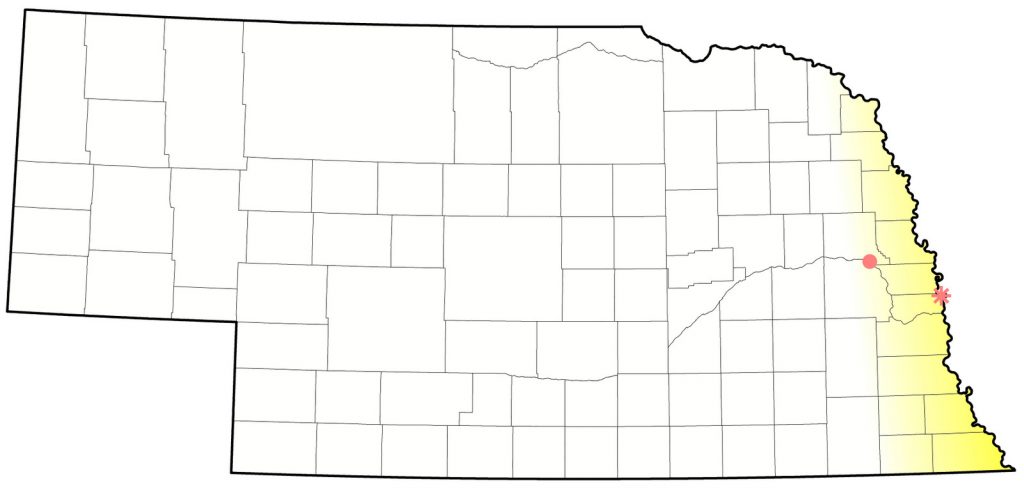 Documentation: Specimen: UNSM ZM6799, 25 May 1901 Child's Point, Sarpy Co.
Taxonomy: No subspecies are currently recognized (Pyle 1997).
Spring: May 2, 3, 3 <<<>> summer
Earlier dates are 18 Apr 2023 Scotts Bluff Co, and 26 Apr 1986 Indian Cave SP, Nemaha Co.
Migrants arrive in early May.
Virtually all reports are from the Missouri River Valley west to Lancaster Co, where one was at Wilderness Park 18 May 2021 (eBird.org). One was at Cottonmill Park, Buffalo Co 31 May 2022.
This species has occurred five times in the Panhandle. A specimen was picked up in Chadron, Dawes Co 6 May 1957 after a heavy rainstorm (Gates 1957), one was in Scotts Bluff Co 15 May 1998 (Brogie 1999), a singing male was at Lake Minatare, Scotts Bluff Co 16-17 May 2002, one was in Scotts Bluff Co 3 Jun 2008, and one was photographed by Roger Goddard in Scottsbluff, Scotts Bluff Co 18 Apr 2023. One was supposedly placed in the collection at Chadron State College but could not be located there by Rosche (1982); perhaps it was the 1957 bird (Gates 1957). Brown et al (2012) considered this species an "accidental to rare spring transient" in the Lake Ogallala area, Keith Co, where two males and a female were netted at the north end of Keystone Dam 17-18 May 1996. Another singing male was in the same Lake Ogallala location 27 May 2006, and there is an older report there 1 Jun 1973.
High counts: 6 at Fontenelle Forest 11 May 1994 and 6 in Sarpy Co 13 May 1995.
Summer: This species may have been more numerous formerly; Bruner et al (1904) indicated that it nested near Nebraska City in Otoe Co and near Omaha around the turn of the century, and Rapp et al (1958) called it an uncommon summer resident in the Missouri River Valley. Mollhoff (2022) cited records of nests with eggs in Sarpy Co 17 Jun 1900 and 29 May 1901. The Missouri River valley in eastern Nebraska is the northernmost extent of the breeding range for the species; oxbows, surrounded by dense riparian woodland, and flooded forest are its preferred habitats. Prothonotary Warblers require forested areas >100 ha in extent for nesting but such tracts are limited in Nebraska. Bank stabilization along the river during the 20th century has eliminated natural oxbow development, and, together with removal of riparian forest, has likely contributed to the relict nature of the breeding range in the state.
Modern evidence of nesting in Sarpy Co includes an observation of an adult carrying nesting material to a hole in a dead tree in Sarpy Co 27 July 1973 (Williams 1973), fledglings being fed in Fontenelle Forest 25 Jun 1986 (Williams 1986), a pair carrying nesting material there 1 Jun 1995, and a single bird carrying nest material at Fontenelle Forest 8 May 2007. Beginning in 2014, nest boxes at Great Marsh, Fontenelle Forest, have hosted at least one breeding pair. In 2014, a pair began using a nest box 14 May; the last fledglings noted were two on 21 Jul. A pair occupied a box in 2016, and probably two additional singles were present in the general area; adults were carrying food to the box 7 Jun. Single birds were seen at Fontenelle Forest 19 Jun-16 Jul 2022, including an apparent juvenile 16 Jul, and there were three reports of singles 17-29 Jun 2023.
The only recent evidence that it breeds in the Missouri River Valley south of Sarpy Co is of a nest with five eggs in a bluebird house near Brownsville, Nemaha Co 27 Jun 2000 (Mollhoff 2022), and sightings 3 Jul 1986 at Indian Cave SP, Richardson Co, and in Nemaha Co 28 Jun 1986 and 7 Jun 2021. One was at Indian Cave SP, Richardson Co 18 Jun 2022.
A surprising extralimital record of nesting was nest building along Beaver Creek, Boone Co 21 Jun 1959 at a location where the birds had been seen the previous year (D. Walters; Gates 1959, Mollhoff 2022).
Additional recent Jun and Jul reports of this species without breeding evidence are from flooded riparian habitat in Sarpy and extreme southeast Washington Cos with these exceptions: 17 Jun 1966 Cass Co and 22 Jun 1985 Knox Co.
Breeding phenology:
Nest-building: 8 May- 21 Jun (Mollhoff 2022)
Eggs: 29 May-27 Jun (Mollhoff 2022)
Nestlings: 7 Jun
Fledglings: 16-21 Jul
Fall: summer <<<>>> Aug 17, 20
There are few fall dates, most undocumented. Departure is probably during Aug, although there are only two documented dates for Aug (above). There are seven Sep-Oct dates, none documented: 8 Sep 2001 Neale Woods, Douglas Co, 10 Sep 1984 Douglas-Sarpy Cos, 12 Sep 1973 Adams Co, 12 Sep 2019 Sarpy Co, 24 Sep 1990 Douglas-Sarpy Cos, 3 Oct 1962 Cass Co, and 4 Oct 1964 Brown Co.
There is one Panhandle report, an adult male 13 Sep 1997 at Lake Minatare (Brogie 1998).
Images
Abbreviations
SP: State Park
UNSM: University of Nebraska State Museum
Literature Cited
Brogie, M.A. 1998. 1997 (Ninth) Report of the NOU Records Committee. NBR 66: 147-159.
Brogie, M.A. 1999. 1998 (Tenth) Report of the NOU Records Committee. NBR 67: 141-152.
Brown, M.B., S.J. Dinsmore, and C.R. Brown. 2012. Birds of Southwestern Nebraska. Conservation and Survey Division, Institute of Agriculture and Natural Resources, University of Nebraska—Lincoln, Lincoln, Nebraska, USA.
Bruner, L., R.H. Wolcott, and M.H. Swenk. 1904. A preliminary review of the birds of Nebraska, with synopses. Klopp and Bartlett, Omaha, Nebraska, USA.
Gates, D. 1957. Thirty-third Annual Cooperative Spring Migration and Occurrence Report. NBR 25: 51-72.
Gates, D. 1959. Thirty-fifth Annual Cooperative Spring Migration and Occurrence Report. NBR 27: 50-67.
Mollhoff, W.J. 2022. Nest records of Nebraska birds. Nebraska Ornithologists' Union Occasional Paper Number 9.
Pyle, P. 1997. Identification Guide to North American Birds. Part I, Columbidae to Ploceidae. Slate Creek Press, Bolinas, California, USA.
Rapp, W.F. Jr., J.L.C. Rapp, H.E. Baumgarten, and R.A. Moser. 1958. Revised checklist of Nebraska birds. Occasional Papers 5, Nebraska Ornithologists' Union, Crete, Nebraska, USA.
Rosche, R.C. 1982. Birds of northwestern Nebraska and southwestern South Dakota, an annotated checklist. Cottonwood Press, Crawford, Nebraska, USA.
Williams, F. 1973. Southern Great Plains Region. American Birds 27: 886-890.
Williams, F. 1986. Southern Great Plains Region. American Birds 40: 1222-1224.
Recommended Citation
Silcock, W.R., and J.G. Jorgensen. 2023. Prothonotary Warbler (Protonoraria citrea). In Birds of Nebraska — Online. www.BirdsofNebraska.org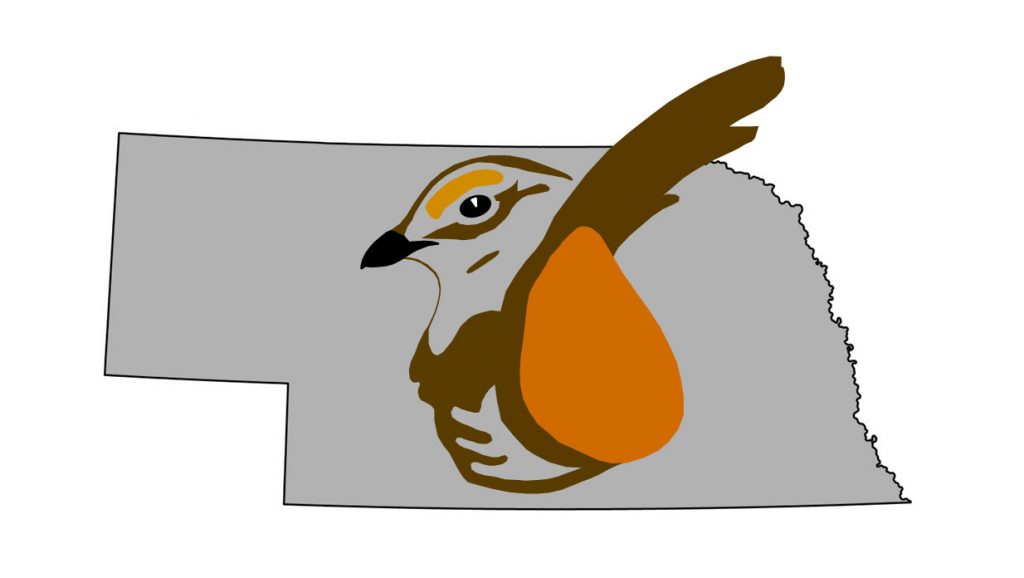 Birds of Nebraska – Online
Updated 24 Sep 2023