Haemorhous purpureus purpureus
Status: Uncommon regular spring and fall migrant and winter visitor east and central, rare west.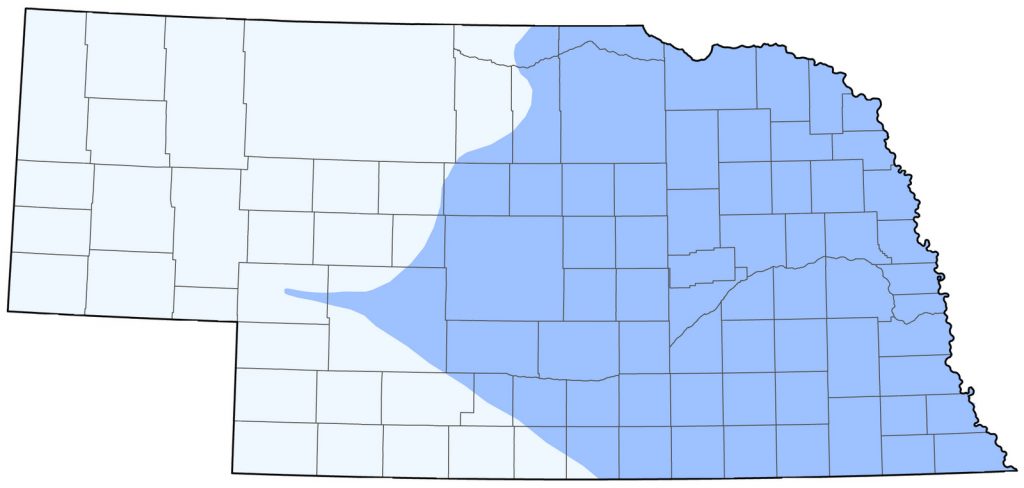 Documentation: UNSM ZM7120, 1891 Lincoln, Lancaster Co.
Taxonomy: Two subspecies are recognized (Pyle 1997): purpureus, breeding in south-central and southeast Canada and the northeast USA, wintering to southeast USA, and californicus, breeding in southwest Canada and western USA, wintering south to northwest Mexico.
Colorado specimens are purpureus (Bailey and Niedrach 1967); californicus is unrecorded east of the Rocky Mountains. Canadian populations breeding west of the Rocky Mountains migrate to California and Arizona, whereas populations breeding east of the Rocky Mountains migrate to the eastern USA (Wootton 2020).
Nebraska birds are purpureus.
Spring: winter <<<>>> May 17, 17, 18
Later dates are 20 May 2019 Burt Co, 21 May 2006 Burt Co, and 21 May 2017 Dixon Co.
Record late and westerly was one photographed at Wildcat Hills NC, Scotts Bluff Co12 Jun 2021 (Sittel, eBird.org).
Departure is by early May. Mid-May reports are few, and so surprising were the four mid-May reports in 2016: 14 May Lancaster Co, 14 May Papillion, Sarpy Co, five on 14 May Walnut Creek Lake, Sarpy Co, and two westerly 18 May at North Platte, Lincoln Co. Similarly, in 2017 there were three such reports: one at Ponca SP, Dixon Co 21 May, four in Buffalo Co 17 May, and one in Dodge Co 15 May. A pair persisted until "mid-May" in Dodge Co in 2008.
A report suggesting that an immature banded 20 Apr in Sarpy Co had hatched in Nebraska was questioned (Mollhoff 1989); we too believe the bander's conclusion was unwarranted.
High counts: 30-40 in Hall Co 20 Mar 2008, 21 at Fremont, Dodge Co 13 Apr 2019, 17 at Pawnee Lake, Lancaster Co 31 Mar 2018, and 12 at Branched Oak Lake, Lancaster Co 22 Mar 2010.
Fall: Oct 10, 11, 11 <<<>>> winter
Earlier dates are 12 Sep 2020 Douglas Co, 17 Sep 2020 Cedar Co, 26 Sep 2022 Sarpy Co, 4 Oct 2010 Lancaster Co, and 6 Oct 2013 Sarpy Co.
Purple Finches occur statewide during migration but are most common in the east. Arrival is in mid-Oct, and migration probably peaks in late Oct (Johnsgard 1980).
High counts: 40 at Wolf Lake, Saunders Co 27 Nov 1999, 30 at Pioneers Park, Lancaster Co 5 Dec 1981, 30 at Niobrara SP, Knox Co 8 Nov 2007, and 25 in Saunders Co 25 Nov 1995.
Winter: Early authors considered Purple Finch to occur only in eastern Nebraska (Rapp et al 1958; Bruner et al 1904). More recently, Rosche (1982) described it as "uncommon to fairly common" in the northwest, although "erratic and irregular." CBC data show fairly even distribution across the state, with somewhat higher numbers in the southeast (Root 1988).
CBC data 1960-2015 show regular occurrence in low numbers, up to 0.4 birds per party-hour (up to 88 birds per year), but there were large spikes in 1980-1981 of 598 birds, or 1.7 /party-hour, and in 2007-2008 of 409 birds, or 1.05/party-hour. High CBC counts include 111 at Branched Oak-Seward 14 Dec 2003.
The winter of 2007-2008 saw a major irruption in Nebraska, with some 520 birds reported, included significant numbers in the Panhandle: 33 were in Monroe Canyon, Sioux Co 28 Dec.
In eastern North America, migration is characterized by biennial eruptions into the southern USA (Wootton 2020); Nebraska CBC data do not clearly show this to be the case, possibly as Nebraska is near the western limit of the wintering range.
It has been suggested that increases in numbers and the range expansion of House Finch may have caused an observed decline in Nebraska Purple Finch numbers (Rosche 1994, Grzybowski 1997). However, statewide CBC data 1960-2015 show Purple Finch numbers are variable, but there is no discernible trend; the assertion that a causal relationship exists between the two species' abundances in Nebraska is not supported by the available evidence.
High counts: 124 at Calamus Reservoir, Loup Co 29 Dec 2007, 30 at Lake McConaughy, Keith Co 29 Dec 2013, and 28 at Pawnee Lake, Lancaster Co 27 Feb 2017.
Images
Abbreviations
CBC: Christmas Bird Count
SP: State Park
UNSM: University of Nebraska State Museum
Literature Cited
Bailey A.M., and R.J. Neidrach. 1967. Pictorial checklist of Colorado birds. Denver Museum of Natural History, Denver, Colorado, USA.
Bruner, L., R.H. Wolcott, and M.H. Swenk. 1904. A preliminary review of the birds of Nebraska, with synopses. Klopp and Bartlett, Omaha, Nebraska, USA.
Grzybowski, J.A. 1997. Southern Great Plains Region. Field Notes 51: 78-82.
Johnsgard, P. A. 1980. A preliminary list of the birds of Nebraska and adjacent Great Plains states. Published by the author, University of Nebraska, Lincoln, USA.
Mollhoff, W.J. 1989. "Young Purple Finch;" some questions. NBR 57: 49-51.
Pyle, P. 1997. Identification Guide to North American Birds. Part I, Columbidae to Ploceidae. Slate Creek Press, Bolinas, California, USA.
Rapp, W.F. Jr., J.L.C. Rapp, H.E. Baumgarten, and R.A. Moser. 1958. Revised checklist of Nebraska birds. Occasional Papers 5, Nebraska Ornithologists' Union, Crete, Nebraska, USA.
Root, T. 1988. Atlas of wintering North American birds, an analysis of Christmas Bird Count data. University of Chicago Press, Chicago, Illinois.
Rosche, R.C. 1982. Birds of northwestern Nebraska and southwestern South Dakota, an annotated checklist. Cottonwood Press, Crawford, Nebraska, USA.
Rosche, R.C. 1994. Birds of the Lake McConaughy area and the North Platte River valley, Nebraska. Published by the author, Chadron, Nebraska, USA.
Wootton, J.T. 2020. Purple Finch (Haemorhous purpureus), version 1.0. In Birds of the World (A. F. Poole and F. B. Gill, Editors). Cornell Lab of Ornithology, Ithaca, NY, USA. https://doi.org/10.2173/bow.purfin.01.
Recommended Citation
Silcock, W.R., and J.G. Jorgensen. 2022. Purple Finch (Haemorhous purpureus). In Birds of Nebraska — Online. www.BirdsofNebraska.org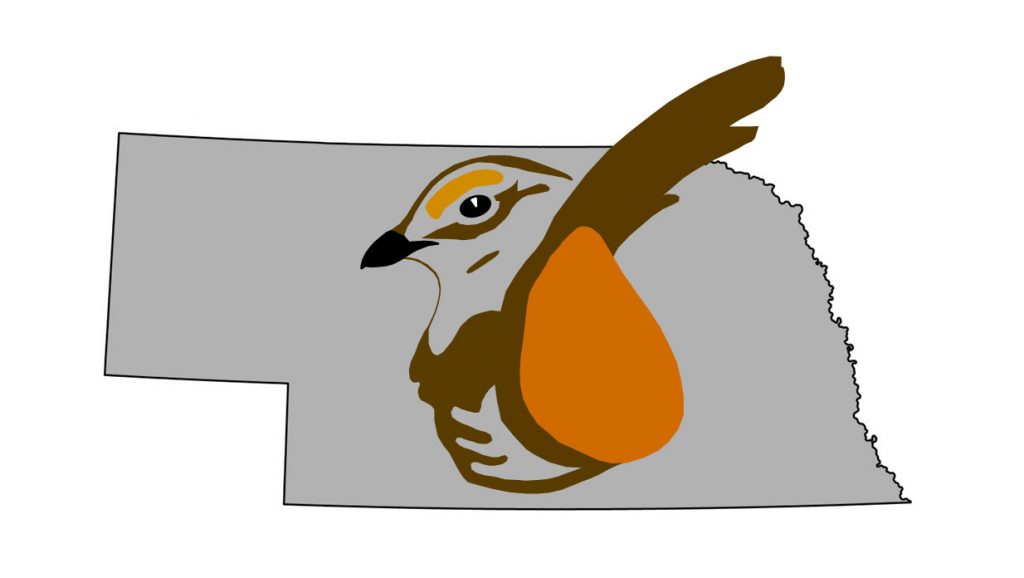 Birds of Nebraska – Online
Updated 27 Dec 2022