Porphyrio martinicus
Status: Rare casual summer visitor central.
Documentation: Photograph: 13 Sep 2019 Hastings, Adams Co (Eric Javins; Brogie 2020).
Taxonomy: No subspecies are recognized.
Summer: There are two documented records:
2 May 1946 Pauline, Adams Co (Ager 1946)
13 Sep 2019 Hastings, Adams Co (cited above)
The first was of a bird seen in a wooded backwater of the Little Blue River near Pauline in Adams Co (Ager 1946). The second was of a juvenile that flew into a semi-enclosed school courtyard in Hastings, Adams Co 13 Sep 2019; it was rescued and released by NGPC personnel and local birder Paul Dunbar at a nearby wetland the same day after being photographed by Eric Javins of NGPC.
There are two other reports, neither with details: Bruner reportedly saw one near West Point, Cuming Co Jun or Jul 1884 or 1885 (Bruner et al 1904) and one was reportedly seen in Gage Co on the rather early date 28 Mar 1962 (Fiala 1970).
Comments: This species is a "notorious vagrant," with most Midwest records Apr-Jun; the birds are usually found climbing in the understory around wooded ponds (Kent and Dinsmore 1996). There are three Colorado records Jun-Sep (CBRC), one in Wyoming in Sep (Faulkner 2010), at least 14 for Kansas Apr-Jun, with one in fall (Thompson et al 2011), one May record for South Dakota (Tallman et al 2002), and six records for Iowa May-Jun (Kent and Dinsmore 1996; Iowa Ornithologists' Union 2017).
Abbreviations
CBRC: Colorado Bird Records Committee
NGPC: Nebraska Game and Parks Commission
Images
Literature Cited
Ager, J.H. 1946. A sight record of the Purple Gallinule for Adams County. NBR 14: 19-20.
Brogie, M.A. 2020. 2019 (31st) Report of the NOU Records Committee. NBR 88: 124-134.
Bruner, L., R.H. Wolcott, and M.H. Swenk. 1904. A preliminary review of the birds of Nebraska, with synopses. Klopp and Bartlett, Omaha, Nebraska, USA.
Colorado Bird Records Committee [CBRC]. 2017. Purple Gallinule records. Colorado Bird Records Committee database, accessed 18 February 2018.
Faulkner, D.W. 2010. Birds of Wyoming. Roberts and Company, Greenwood Village, Colorado, USA.
Fiala, K.L. 1970. The birds of Gage County, Nebraska. NBR 38: 43-72.
Iowa Ornithologists' Union. 2017. Purple Gallinule records. Iowa Records Committee reports of Iowa rare bird records, accessed 21 February 2018.
Kent, T.H., and J.J. Dinsmore. 1996. Birds in Iowa. Publshed by the authors, Iowa City and Ames, Iowa, USA.
Tallman, D.A., Swanson, D.L., and J.S. Palmer. 2002. Birds of South Dakota. Midstates/Quality Quick Print, Aberdeen, South Dakota, USA.
Thompson, M.C., C.A. Ely, B. Gress, C. Otte, S.T. Patti, D. Seibel, and E.A. Young. 2011. Birds of Kansas. University Press of Kansas, Lawrence, Kansas, USA.
Recommended Citation
Silcock, W.R., and J.G. Jorgensen. 2021. Purple Gallinule (Porphyrio martinicus). In Birds of Nebraska — Online. www.BirdsofNebraska.org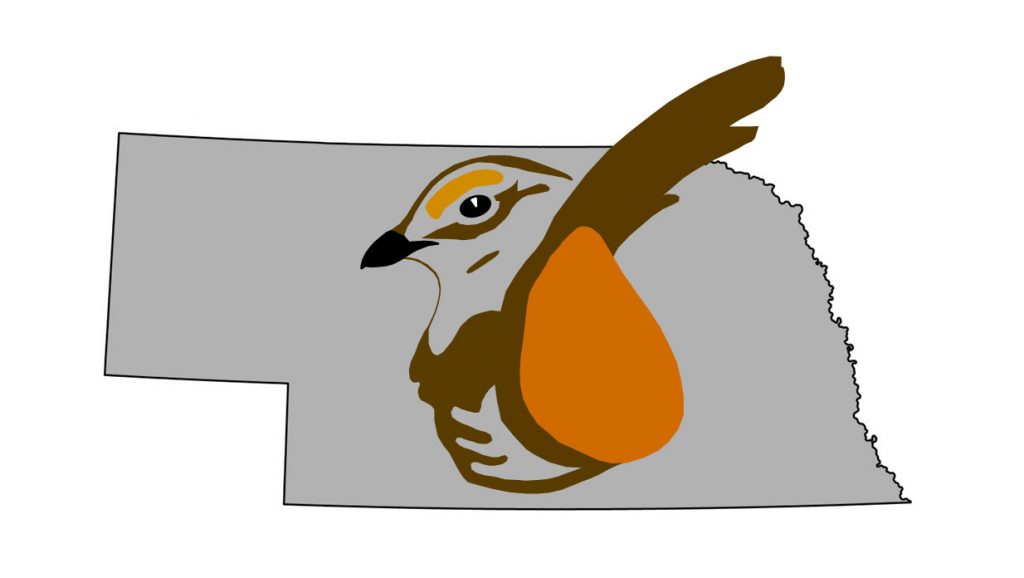 Birds of Nebraska – Online
Updated 17 Mar 2021