Sitta canadensis
Status: Common regular resident north-central and west, rare casual elsewhere. Rare casual summer visitor statewide away from known breeding areas. Uncommon irregular winter visitor statewide.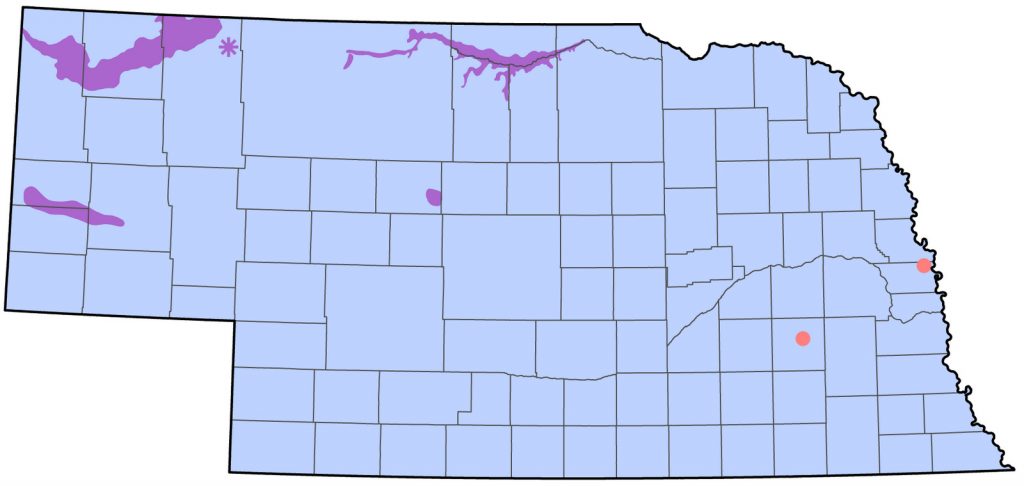 Documentation: Specimen: UNSM ZM6563, 20 Feb 1896 Harrison, Sioux Co.
Taxonomy: No subspecies are recognized (Gill et al 2022).
Changes Since 2000: There are numerous Jun-Jul reports in recent years south and east of the traditional breeding locations, including evidence for breeding (see Resident, below). It appears that Red-breasted Nuthatches are not averse to isolated breeding events in cities and towns with extensive conifer plantings in southeast Nebraska such as Lincoln and Omaha.
Resident: This species is generally sedentary at Nebraska's latitudes (Ghalambor and Martin 2020), although variable proportions of birds disperse away from breeding areas during winter, sometimes in large numbers. The extent of this movement is dependent on cone crop within the breeding range (Bent 1946, Bock and Lepthien 1972), with higher rates of dispersal occurring in years with lower cone seed production. Counts of 43 at NNF Bessey, Thomas Co 30 Sep 2001 and 29 in a small area in Brown Co 6 Sep 2011 probably included resident birds and dispersers.
According to Ghalambor and Martin (2020), the "southern boundary of the breeding range varies from year to year, but in recent times appears to be expanding southward and eastward". There is accumulating evidence for some expansion south and east in Nebraska based on numerous recent Jun-Jul reports (see below), although it is unknown whether such breeders remain as residents.
Red-breasted Nuthatches breed regularly in Nebraska in four main areas, but confirmation of breeding in any of them was not obtained until 1980, that in Cherry Co (Manning 1981; below). Three of the main breeding areas of this species are vegetated by ponderosa pine: the central Niobrara Valley (Brogie and Mossman 1983) west to NNF McKelvie, Cherry Co, the Pine Ridge, and the Wildcat Hills, Scotts Bluff Co. The fourth area is NNF Bessey, Thomas Co where it had been observed year-round as early as 1958 (Bray 1994) and now breeds commonly in planted coniferous woodland.
Short (1961) noted several individuals exhibiting territorial behavior in Dawes Co in 1955, but since then confirmation of breeding on the Pine Ridge has been elusive, although Mollhoff (2001, 2016) showed at least three confirmed breeding records. One of these was apparently a nest with eggs at Monroe Canyon, Sioux Co 31 May 1997 (Mollhoff 2022). Previously, Rosche (1982) had stated that this species was a "very rare summer visitor" which presumably bred, but there was no definite evidence, and Johnsgard (1980) believed that breeding was "probable" on the Pine Ridge and stated that "nest-building has been observed in Sowbelly Canyon, Sioux County". A bull snake entering a nest hole of this species near Chadron, Dawes Co in May 1980 was taken as evidence of breeding (Dueker 1982). A nest with eggs was at West Ash Canyon, Dawes Co 23 May 1999 (Mollhoff 2022) and a single was there 7 Jul 2007. Adults feeding young at the Gordon Cemetery, Sheridan Co 4-5 Jun 2012 were photographed, and at least one was there 3 Jun 2013; they had bred there for "several years" prior to 2013, and one was in Gordon 3 Jun 2018. Summering birds are more frequent on the Pine Ridge after large fall or winter flights, but the species is "highly erratic" (Rosche 1982).
It has also been observed in similar habitat in the Gordon Cemetery, Sheridan Co, and on several visits since 2016 in a ponderosa pine grove near Mullen, Hooker Co, although breeding is not confirmed at the latter location. It was reported as an "occasional nester" at Smith Lake WMA, Sheridan Co during 1989-2018, although details have not been published; in 2018, 1-2 were there 15-16 Jun, and in 2021 one was seen 10 Jun.
There are several recent confirmed records in the ponderosa pine woodland of the Niobrara Valley Preserve and nearby areas in Cherry, Keya Paha, and Brown Cos. In Cherry Co, Manning (1981) found a nest in a "pine tree" and two weeks later, 2 Jun 1980, saw an adult feeding young in the nest hole and also removing a fecal sac. This nest was located at Steer Creek Campground at NNF McKelvie, adjacent to the Niobrara River Valley; a juvenile with two adults was at the location 12 Jun 2004. Mollhoff (2016) showed confirmed breeding during the second BBA at a block that apparently included this site, and one was heard there 1 Jun 2017. Short (1965) collected a paired male with enlarged gonads in Keya Paha Co, northwest of Ainsworth, in pine woodland 19 Jun 1964, and there was at least one other pair present. In 1982 Brogie and Mossman (1983) discovered adults feeding young in one Brown Co and two Keya Paha Co locations; these authors considered Red-breasted Nuthatch to be a "common breeding species in Ponderosa pine woods" in the Niobrara Valley Preserve. One was at Fort Niobrara NWR, Cherry Co 28 Jun 1999. Adults were feeding young in Keya Paha Co 19 Jun 2012.
Beginning with reports 22 Jun 1957 and 30 Jun 1969, Red-breasted Nuthatches were regularly observed in the Wildcat Hills, Scotts Bluff Co; the only evidence of breeding, however, is of one carrying nesting material in spring 1995 (Silcock 1995). There are several reports in the area since, including a count of 14 in Carter Canyon 7 May 1995 that may have been of resident birds. Two were at Scotts Bluff NM 24 May 2003, and one was at West Lawn Cemetery, Gering, 22 Jun 2003.
Especially after large winter eruptions, Red-breasted Nuthatches may breed and establish at new locations, even in the east. Additional areas that may host breeders on a regular basis are Norfolk, Madison Co, Omaha, Douglas Co, and Lincoln, Lancaster Co, although reports at these locations may reflect the presence of numerous active observers.
An adult with a dependent fledgling was at a feeder at Nebraska Game and Parks Commission offices in Norfolk, Madison Co 19-20 Jun 2020; a pair nested there in 2021, with two carrying nesting material during the first week of May and 1-2 birds present through 15 Jun. Also, in Madison Co in 2021, a group of four with apparent juveniles was at New Lutheran Cemetery 27 Jul. One was along Norfolk Avenue, Norfolk 7 Jun 2022. An apparent third nesting in Norfolk in 2021 was suggested by David Heidt as of 22 Aug: "red-breasted nuthatches have come into the feeders for 53 straight weeks as of this weekend. Most of the time it's a single bird, but occasionally there are two (like today) and had 3-4 at a time for three straight days in July". In 2022, 1-2 were at a Norfolk residence through summer until at least 29 Jul (David Heidt, personal communication).
A location with apparently suitable coniferous habitat is Forest Lawn Cemetery, Omaha, where two apparent pairs were present 13 Jul 2008 and three on 27 Jun 2009; the next year, 5-6 birds including "raggedy juveniles" were there 9 Jul 2010. A single bird there 7 Apr 2012 was "acting like setting up a nest". One was gathering nest material in Omaha 27 Apr 2022, a pair was checking a woodpecker hole in Omaha, Douglas Co 7 May 2011, one was in an Omaha yard 25 Jun-21 Jul 2021, and one was in Sarpy Co 7 Jul 2021.
A pair was nest-building at Pioneers' Park, Lincoln, Lancaster Co 25 Apr 2010 and at least one bird was still there 24 May. Similarly, a pair was investigating a likely nest hole in an ash tree at Holmes Lake, Lincoln 9-18 Apr 2014, and at least one bird was present 30 Apr and 11 May, but no additional evidence of nesting was found. The next summer, on 2 Aug 2015, two were defending a possible territory there against kingbirds. Lincoln reports without breeding evidence are 5 Jun 2023 (2) Briarhurst Park; 5 Jun-11 Jul 2023 residence in Lincoln, Lancaster Co;14 Jun 2017; singles at and near Mahoney Park 17 Jun and 1 Jul 2019; 1 Jul 2017; 5 Jul 2018; 6 Jul 2021; and 6-11 Jul 2022.
A flightless juvenile in Seward, Seward Co 12 Jun 2015 also provided evidence of breeding. A female netted 18 May 1994 at Lake Ogallala, Keith Co had a brood patch and five were heard in cedars there early in Jun, but nesting is unknown in the area (Brown et al 1996). One was at Ogallala, Keith Co 15 Jul 2011.
Breeding Phenology:
Nest Building: 8 Apr- 18 Jun (Mollhoff 2022)
Incubation: 20-31 May
Nestlings: 8 Apr- 1 Jun (Mollhoff 2022)
Fledglings: 7 Jun-17 Jul (Mollhoff 2022)
Summer: In addition to the breeding evidence and other summer reports for the various locations cited above, there are several breeding season reports 6 Jun-14 Jul elsewhere without evidence of nesting. Several are in Buffalo and Lincoln Cos. In Buffalo Co, 26 Jun 2016, 2 Jul 2021, 6 Jul 2010, 10 Jul 2018, 10-19 Jul 2023, and in Lincoln Co 12 Jun 2021, 12-16 Jun 2022, 25 Jun 2022, 10 Jul 2012, 10 Jul 2018, and "all summer" (1) 2023. The few others are 17 Jun 2022 Cheyenne Co, 19 Jun 2018 Atkinson, Holt Co, 27 Jun 2020 Kimball Co, a pair in a Hall Co yard through 30 Jun 2005, and 7 Jul 2016 Banner Co.
Winter: Jul 15, 16, 16 <<< >>> Jun 4, 5, 5
The above dates are from areas away from breeding locations. Earlier reports in Jul are considered here to be summer visitors. Likely a tardy migrant was one at Crescent Lake NWR, Garden Co 4-8 Jun 2010.
According to CBC data, Red-breasted Nuthatch is essentially a low-density winter visitor spread evenly statewide, with small numbers present each year and erratic increases in certain years, such as 1980-81, 1983-84, 2004-2005, 2007-2008, and 2012-2013. In 2019-2020 and 2020-2021, high numbers occurred on the Pine Ridge while only normal numbers occurred elsewhere: on the Pine Ridge, 87 were in Sowbelly Canyon, Sioux Co 19 Oct 2019, 92 at Gilbert-Baker WMA, Sioux Co 29 Mar 2020, and 78 there 6 Jan 2021. In the east in 2022-2023, numbers were good, with 66 on the Lincoln CBC 18 Dec.
High counts: 92 at Gilbert-Baker WMA, Sioux Co 29 Mar 2020, 87 in Sowbelly Canyon, Sioux Co 19 Oct 2019, 78 there 6 Jan 2021. In the east, 20 at Chalco Hills RA, Sarpy Co 22 Jan 2022, 14 in Pawnee Co 15 Feb 2013, and 13 at Pioneers Park, Lancaster Co 21 Dec 2018.
Images
Abbreviations
BBA: Breeding Bird Atlas
CBC: Christmas Bird Count
NNF: Nebraska National Forest
NM: National Monument
NWR: National Wildlife Refuge
RA: Recreation Area
UNSM: University of Nebraska State Museum
WMA: Wildlife Management Area (State)
Literature Cited
Bent, A.C. 1946. Life histories of North American Jays, Crows and Titmice. Bulletin of the United States National Museum 191. Two Parts. Dover Publications Reprint 1964, New York, New York, USA.
Bock, C.E., and L.W. Lepthien. 1972. Winter eruptions of Red-breasted Nuthatches in North America 1950-1970. American Birds 26: 558-561.
Bray, T.E. 1994. Habitat utilization by birds in a man-made forest in the Nebraska Sandhills. Master's thesis, University of Nebraska-Omaha, Omaha, Nebraska, USA.
Brogie, M.A., and M.J. Mossman. 1983. Spring and summer birds of the Niobrara Valley Preserve, Nebraska: An annotated checklist. NBR 51: 44-51.
Brown, C.R., M.B. Brown, P.A. Johnsgard, J. Kren, and W.C. Scharf. 1996. Birds of the Cedar Point Biological Station area, Keith and Garden Counties, Nebraska: Seasonal occurrence and breeding data. Transactions of the Nebraska Academy of Sciences 23: 91-108.
Dueker, J. 1982. Bullsnakes. NBR 50: 48.
Ghalambor, C.K. and T.E. Martin. 2020. Red-breasted Nuthatch (Sitta canadensis), version 1.0. In Birds of the World (A. F. Poole and F. B. Gill, Editors). Cornell Lab of Ornithology, Ithaca, NY, USA. https://doi.org/10.2173/bow.rebnut.01.
Gill, F., D. Donsker, and P. Rasmussen (Eds). 2022. IOC World Bird List (v 12.2). Doi 10.14344/IOC.ML.12.2.  http://www.worldbirdnames.org/.
Johnsgard, P. A. 1980. A preliminary list of the birds of Nebraska and adjacent Great Plains states. Published by the author, University of Nebraska, Lincoln, USA.
Manning, R. 1981. Red-breasted Nuthatch. NBR 49: 11.
Mollhoff, W.J. 2001. The Nebraska Breeding Bird Atlas 1984-1989. Nebraska Ornithologists' Union Occasional Papers No. 7. Nebraska Game and Parks Commission, Lincoln, Nebraska, USA.
Mollhoff, W.J. 2016. The Second Nebraska Breeding Bird Atlas. Bull. Univ. Nebraska State Museum Vol 29. University of Nebraska State Museum, Lincoln, Nebraska, USA.
Mollhoff, W.J. 2022. Nest records of Nebraska birds. Nebraska Ornithologists' Union Occasional Paper Number 9.
Rosche, R.C. 1982. Birds of northwestern Nebraska and southwestern South Dakota, an annotated checklist. Cottonwood Press, Crawford, Nebraska, USA.
Short, L.L., Jr. 1961. Notes on bird distribution in the central Plains. NBR 29: 2-22.
Short, L.L., Jr. 1965. Bird records from northern Nebraska during the breeding season. NBR 33: 2-5.
Silcock, W.R. 1995. Spring Field Report, March-May 1995. NBR 63: 34-60.
Recommended Citation
Silcock, W.R., and J.G. Jorgensen. 2023. Red-breasted Nuthatch (Sitta canadensis). In Birds of Nebraska — Online. www.BirdsofNebraska.org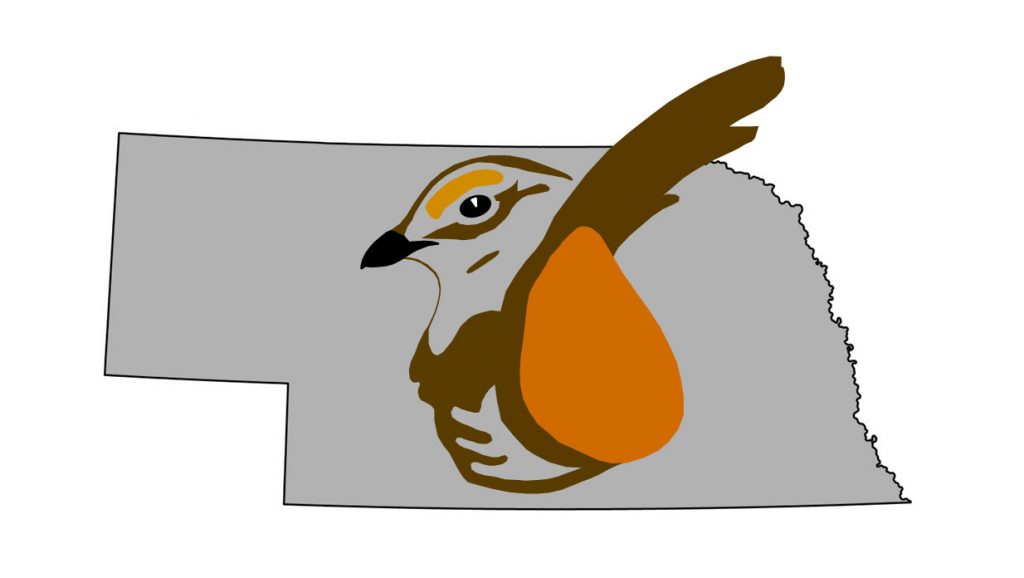 Birds of Nebraska – Online
Updated 23 Nov 2023